The Best Bakery Style Blueberry Muffins Ever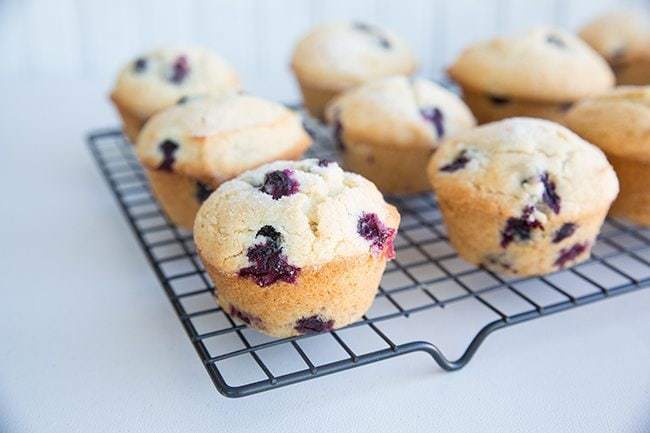 I don't actually like calling things "THE BEST". Those words are saved for sacred occasions, like my Best Buttercream Icing Ever recipe. That is, according to me and the hundreds of commenters on that post, the verified-by-real-people, truly best icing ever. I don't like how the word "best" gets tossed around casually and after 6 years of developing recipes, I can count on one or two hands the number of times I have used that phase. The best is reserved for the cream of the crop.
But my friends, so are these blueberry muffins. And so I use the phrase here, albeit carefully….to announce that these too, have reached the hallowed level of "THE BEST."
I discovered the secrets to amazing bakery style blueberry muffins, y'all.
It's almond extract and a little bit of cornstarch in the flour mixture. Of course you must add the finishing sugar on top, but we all knew that. Some of you may already know about the almond extract and cornstarch, but hey, I'm a slow learner. Almond extract makes blueberry muffins sing.
Oh, hello blueberry muffin that tastes like a cupcake, how are you?
Just look at that delicious crumb inside! That comes from using butter AND oil, another trick here. You get the butter flavour yet the cakey crumb from using vegetable oil.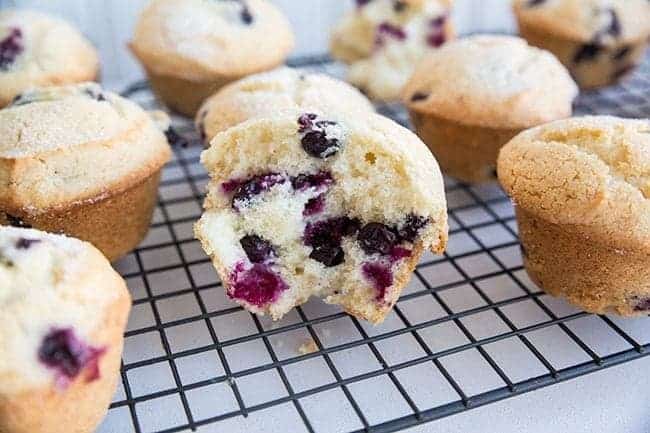 While you should use a sanding/finishing sugar on top, I didn't have any. Yup. That's Magpie for you. I just used whatever was in my cupboard, which was normal white sugar. While it doesn't have the visual appeal or the large crunch factor, it added just that little bit of needed sweetness to the muffin top.
So, let's sum up the secrets to bakery style blueberry muffins.
Cornstarch. Gives it that cakey texture that we love.
Almond extract. Gives it that unique flavour that should be cherry, but our mind tricks us into thinking blueberry.
Butter AND Oil. Butter based muffins are just not the same texture, you need oil to attain that. This way you get the best of both worlds!
Finishing Sugar. It goes without saying that bakery style blueberry muffins almost always have raw sugar on top.
These can be made in pretty muffin liners, but I always prefer a muffin that has a slightly crunchy bottom, as well as the muffin top, and you attain that golden brown crisp all around by spraying the muffin tins with cooking spray and forgoing the muffin liners.
Happy baking everyone! This is a keeper!
Love,
Karlynn

The Best Blueberry Muffins Ever
The best blueberry muffins ever, thanks to a couple of secret ingredients!
Ingredients
2

cups

flour

2

tbsp

cornstarch

2

tsp

baking powder

1/2

tsp

salt

1/4

cup

butter softened

1/2

cup

vegetable oil

1

cup

of white sugar

2

large eggs

1 1/2

tsp

vanilla extract

1/2

tsp

almond extract

1/2

cup

whole milk

2

cups

of fresh blueberries

Optional: finishing sugar to top raw sugar
Instructions
Pre-heat the oven to 375 degrees F.

Fill a 12 well muffin tray with muffin liners, or spray the muffin wells with non-stick cooking spray.

In a medium bowl, whisk together the flour, cornstarch, baking powder and salt.

In a larger bowl attached to stand mixer or with a hand held beater, beat the butter, oil and sugar for two minutes, until creamy.

Add the eggs one at a time, making sure that you are scraping down the sides of the bowl and beating well after each addition.

Beat in the vanilla and almond extract.

Gradually add the flour mixture and milk,  alternating between the two, mixing on low speed the entire time to combine.

Fold in the blueberries until mixed throughout the batter evenly.

Divide the batter evenly between the muffin wells - they will be full! I like to use a cookie dough scoop or an ice cream scoop with a wire scraper inside to get nice, rounded muffin tops.

Sprinkle some finishing sugar on top of the muffins.

Bake for 20-25 minutes, until the tops are beautifully browned and the top springs back when touched. If you have one, insert a cake tester to make sure that they are done.

Remove from the oven and cool.
Nutrition Facts
The Best Blueberry Muffins Ever
Amount Per Serving (12 g)
Calories 0
* Percent Daily Values are based on a 2000 calorie diet.
7