The best buttercream frosting recipe is all thanks to sweet and salty mixing together! This recipe is one of the oldest and most popular on my website, it even made it into my first cookbook! When I first wrote this recipe 9 years ago, no one was using salted butter in their frostings – or at least there weren't any posted online that I could find. This is THE original salted buttercream frosting recipe that went viral and has been shared by hundreds of thousands of people – and this recipe has been read tens of millions of times! This was my very first viral recipe here on The Kitchen Magpie! **Updated February 2018**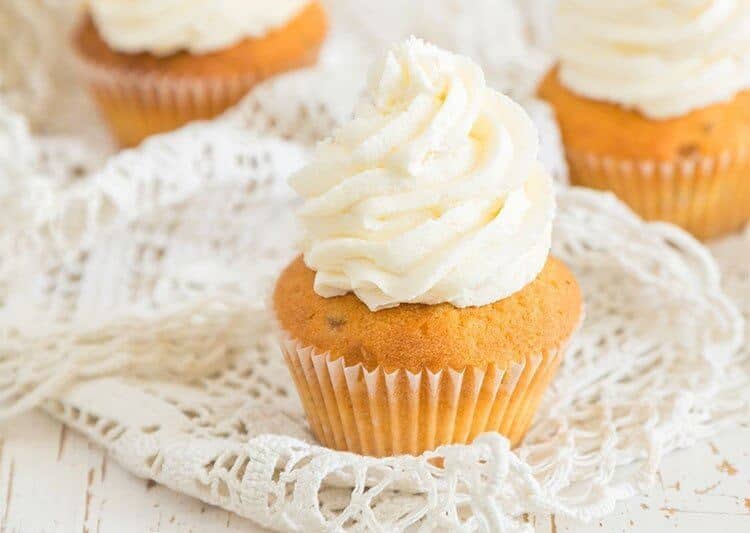 Millions Have Read This Best Buttercream Frosting Recipe!
This buttercream frosting recipe made it in to my cookbook, that's how amazing it is! This recipe was one of the first on my website and has been viewed by tens of millions of people over the years! Isn't that crazy? So I knew when I was writing my cookbook that I had to share it with everyone that bought my cookbook. This buttercream frosting recipe is the best and I have literally not changed a thing since I first published it back in 2010!
This buttercream frosting is still is amazing, melt in your mouth, whippy, ultimate swirly cupcake worthy. It was fantastic on the homemade chocolate cake I made to go with it the very first time I whipped it up. The cake was dense and moist, and paired with a light as air buttercream icing… heaven. Angels dancing on your taste buds. I've tried it on every cupcake that you can imagine and it's even amazing on vanilla. Salty vanilla icing on a vanilla cupcake is heaven for vanilla lovers!
Please go and have a read of my Buttercream Icing FAQ which answers a lot of the questions about this recipe asked in the hundreds of comments on this post below!
What are the buttercream frosting ingredients?
There are four basic ingredients for this buttercream frosting and I have kept it simple and straightforward for years now:
One cup of salted butter
Three teaspoons of vanilla
Four cups of icing sugar
Four to five tablespoons of  coffee cream (18% and up)
Tips and Tricks for the Best Buttercream Frosting
Always use salted butter. When I first wrote this recipe in 2010 there weren't many people that were food blogging compared to today, so I literally couldn't find a SINGLE buttercream frosting recipe on the internet that used salted butter! Now I am sure that if I looked there would be tons of recipes similar to this one.  Oh, how times have changed! So I had discovered that salt and sweet are a match made in heaven for icing and I never looked back. You can also read about the difference between salted and unsalted butter.
Whip that butter, with a paddle beater if you have it, if not, don't worry. You can also use the beaters on your handheld mixer just fine to beat the buttercream frosting! You want the butter to be smooth and creamy before you add the icing sugar.
Fresh icing sugar makes all the difference. Icing sugar/powdered sugar/confectioners sugar goes stale, and you can sure taste it when it does! Crack open a fresh bag for icings, you won't be sorry! Over the years many people have agreed that this is another trick to making great buttercream frosting.
You can make this frosting as light or as heavy as you want by adjusting the amount of heavy cream that you use.
Read this if you are looking for piping techniques.
Take a peek at how to make the perfect buttercream icing in the video below! She does a great job and look at that buttercream frosting! Now, she leaves out the vanilla which is CRAZY so make sure to follow MY recipe but watch it for her buttercream frosting piping technique if you want to learn!
Some More Buttercream Frosting Recipes:
Happy baking everyone!
Love,
Karlynn
Pin This Buttercream Frosting Recipe to Your Desserts or Cakes Boards!
The Best Buttercream Frosting Recipe
The absolute best buttercream frosting recipe you'll find! The secret is salted butter! This recipe was in my cookbook and has been featured everywhere! It's famous! This will frost one 8 inch cake, if you need to frost a large cake make sure to double it!
Ingredients
1

cup

of salted butter

3

teaspoons

of vanilla

4

cups

of icing sugar

4-5

tablespoons

of coffee cream 18% and up
Instructions
Get out the salted butter! Trust me and use salted butter, it's the secret ingredient!

Beat the butter until it is light and creamy. This is important as you are adding the icing sugar next. If the butter isn't creamy you can get lumps in the icing.

Add in the icing sugar. Again, if you are like me and can taste stale icing sugar, you will need a fresh bag.

Add in the cream.. I used 4 tablespoons for my preference, you adjust to what you want.

Stiffer icing = less cream. Lighter icing = more cream. Adjust the amount to your liking by adding one tablespoon at a time until the desired consistency is reached.

Add the vanilla then keep mixing it until fluffy and thoroughly combined.
Recipe Notes
Using salted butter instead of adding a dash of salt ensures that you have salt added throughout the frosting.
If you want low sodium, take out the salted butter and use unsalted.
This frosting freezes very well! You can ice a cake and freeze it, or simply freeze your leftovers to use another day.
If you are making a 9x13 cake, double the recipe.
I find I can cover 16 cupcakes with one batch. How many you can ice depends on how thick you slather the icing on!
Nutrition Facts
The Best Buttercream Frosting Recipe
Amount Per Serving
Calories 223
Calories from Fat 99
% Daily Value*
Total Fat 11g 17%
Cholesterol 30mg 10%
Sodium 101mg 4%
Potassium 3mg 0%
Total Carbohydrates 30g 10%
* Percent Daily Values are based on a 2000 calorie diet.