Tried, Tested, and Trusted Recipes Sinced 2009!
The Kitchen Magpie is among some of the longest-running
and most trusted food websites out there. All of the recipes on this website have been cooked, tested, and eaten by myself or my family members. I believe in quality recipes, not quantity. (However, there are over a thousand recipes on this website since I've been doing this for
so long!) In this crazy online world with so many websites/sources you can't trust, I want you to know right off the bat that my family and I cook and eat what you see on this website.
I don't have recipe contributors that are outside of my family and I believe that your time, money and ingredients are valuable. While I don't guarantee that you will love every recipe as much as we did or that all recipes turn out perfect due to circumstances beyond my control, you can rest assured that all of the recipes were tested, eaten and deemed blog-worthy by us!
Welcome to The Kitchen Magpie!
Welcome to The Kitchen Magpie! My name is Karlynn, AKA The Kitchen Magpie and I live with my two kids, two cats, one dog and one husband in the prairies. Why the Kitchen Magpie? one might ask. Well, my nickname has been Magpie since I was a little girl, and for good reason. I collect recipes, shiny kitchen toys, pretty retro kitchenware and restaurant experiences like a magpie. At any given time in my house, you can find a random assortment of scraps of paper with recipe ideas strewn about the kitchen and something bubbling – or burning- on the stove! I love food, cooking and have a sweet tooth that is insatiable. I feel that I have been truly blessed in this career of mine, read on to find out why!
Writing my first bestselling cookbook was easier than I should admit. It was one of the most amazing things I've done creatively. I did all the photography myself and all of the recipes, of course. My cookbook was not only an amazing thing to write, it also turned out to be a bestseller, which apparently makes me a best-selling cookbook author, which is so crazy to even type!
My second cookbook The Prairie Table is out May 21st, 2019.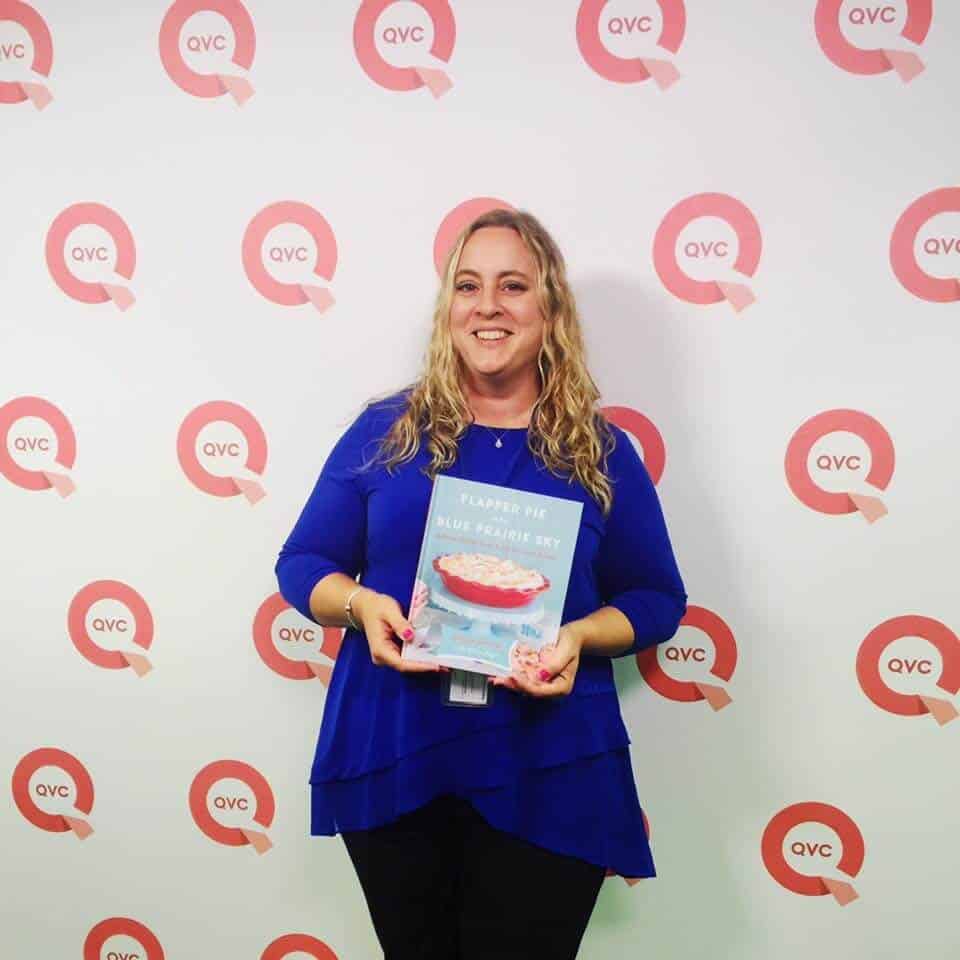 My QVC Cookbook Appearance!
I was incredibly lucky enough to be invited to feature my cookbook on QVC, THE largest shopping network in North America and meet the amazing David Venable from In The Kitchen With David! For any food blogger turned cookbook author, an invitation to appear on QVC with your cookbook is one of the absolute pinnacles of what you can hope for, as they chose only the best of the best, so it's an honor and privilege that you get to carry with you the rest of your career. You can watch my segment below.
My Facebook Live Segment With David Venable from QVC
David is truly one of the most professional, kindest hosts that I have ever worked with, a true gentleman – and boy is he funny! We even did a Facebook live together after the show, which was the icing on the cake and not usually a part of the QVC experience, so I was truly blessed to be asked to do this. He is so beloved by his fans and that carried over into a live segment that had 1700 comments full of kind, amazing fans that watched us cook and chat together! This was truly one of the highlights of my food blogging career and I would join him in the kitchen again in a heartbeat!
My Family's Favorite Recipes
We eat what I write here on this website and after ten years of recipes my family has some favorites! I have two kids that I love more than anything (but maybe not bourbon) and a husband known as Mr Kitchen Magpie because THAT'S RIGHT HE TAKES MY NAME. BOOM. Actually, I took his last name when we married so you know what? It's his turn now. Mr Kitchen Magpie does the cocktails on here and for that, we should all love him forever.
My daughter Ivy loves my chicken and wild rice soup more than anything else I make. She is my picky eater and if she likes it I will tell you this : ANY kid will like it! Oh, parents of picky eaters unite!
Mike (aka Mr Kitchen Magpie) loves my Easy Fried Rice. I asked him and his answer was " your fried rice, hands down.". I have been making this fried rice recipe since we were dating! <3 I think it's what won his heart. That and my ridiculous good looks, of course.
My son Kade eats everything but he claims that my Thick and Chewy Chocolate Chip Peanut Butter Cookies are his favourite. But let's be clear, other than seafood that boy will eat anything. That's just part of being a teenage boy, eat your parents out of house and home!
Me? I'm addicted to anything Disney and my dream is to live in Disneyland for a week. Seriously. Why won't they let me live in Disneyland for a week? So my favourite food is anything at Disney, but if I had to pick my favorite recipe is my Flapper Pie. It's the recipe that went viral. It inspired a cookbook that was accepted by the best publisher out there and became a bestseller, making me a best selling author which is just cool to say! Also, if you haven't eaten a slice of warm falling-apart-because-you-couldn't-wait-flapper-pie that you and your sister made for breakfast with coffee, sitting in your pajamas as adults talking, then you really need to.
Enjoy all of the recipes that I have here, maybe read some of my Disney posts and most of all, welcome and thanks for visiting!
Love,
Karlynn