Did your Mom make these Six Week Raisin Bran Refrigerator Muffins when you were growing up as well?
And if she did, did she store it in: A) the huge Tupperware bowl with a lid that everyone had or B) a 4 litre ice cream pail with a lid.
My mom stored it in an ice cream pail, for sure. I remember my mom making us muffins from this recipe when we were in school and I distinctly remember it being in an ice cream pail. I am pretty sure however that the ubiquitous Tupperware lidded monster bowl was the top choice for moms of the 70's and 80's.
I was happy to see that these muffins ring in at only 140-160 calories each. I had to triple check my nutrition calculator because I didn't believe it, but it's pretty correct if you make 5 dozen ( and you will make really close to that!). So for a junky 1970's muffin recipe that's pretty good!Now I am not claiming that this recipe is healthy, but any means. It has white sugar and oil in it, Raisin Bran cereal, I mean these are not the healthy muffin you are looking for.
But let's face it : muffins aren't exactly healthy, no matter what anyone claims. Sure, you can make them lighter like my Light Blueberry Lemon Muffins  but light muffins are still carb-loaded deliciousness with minor nutritional payout.
I'm just being honest here, sorry.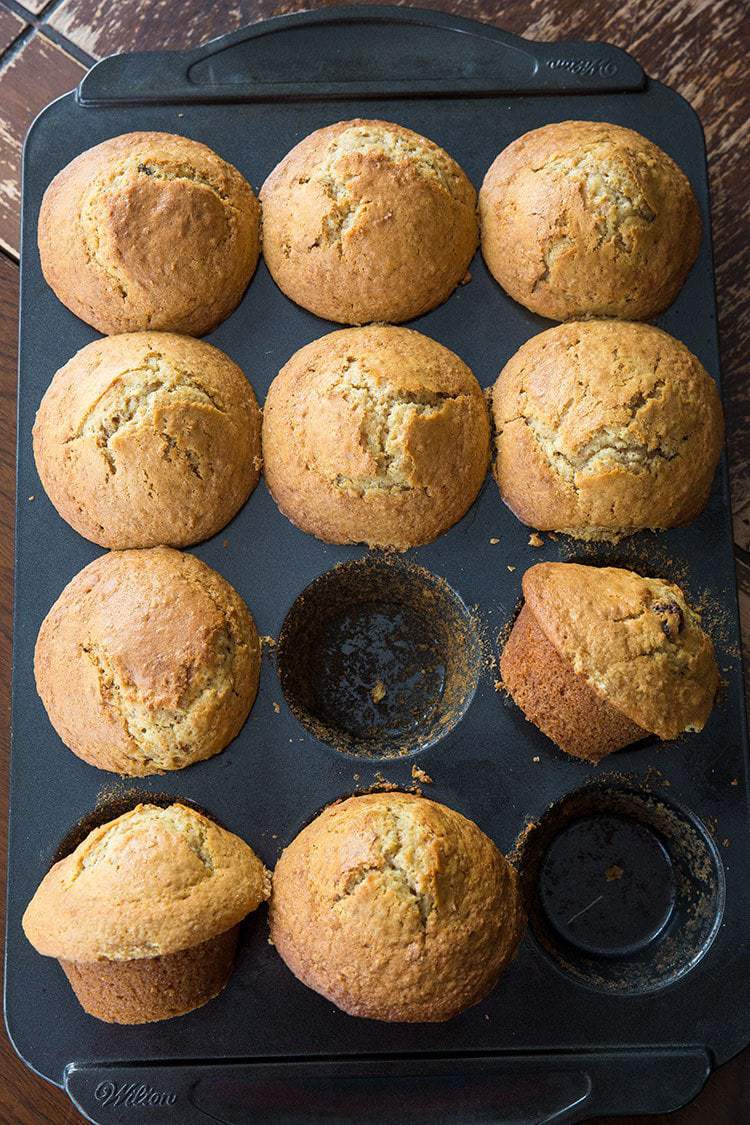 I figure you may as well just enjoy a seriously amazing bran muffin – not for health's sake, but for deliciousness sake – and have a side of fruit salad to help ease the guilt.
Yes, the bran is good for you and yes the extra iron is awesome for those of you that are like me and can't get enough iron it seems. So six week refrigerator bran muffins aren't completely terrible.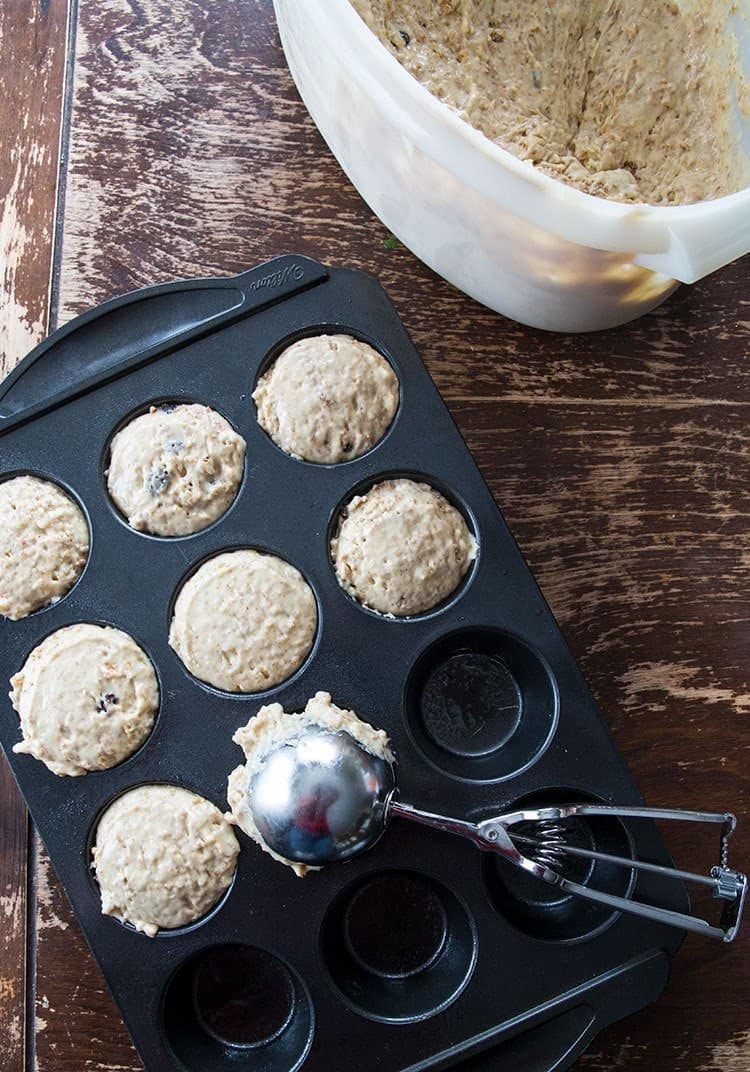 They are also SO GOOOD. Oh man. Those crispy tops and the sweet raisin bran interior? These are one of my favourite muffins and the kids love them for breakfast. They are so fast to bake up in the morning first thing while the kids are getting ready and we all have a hot, fresh breakfast before they go to school.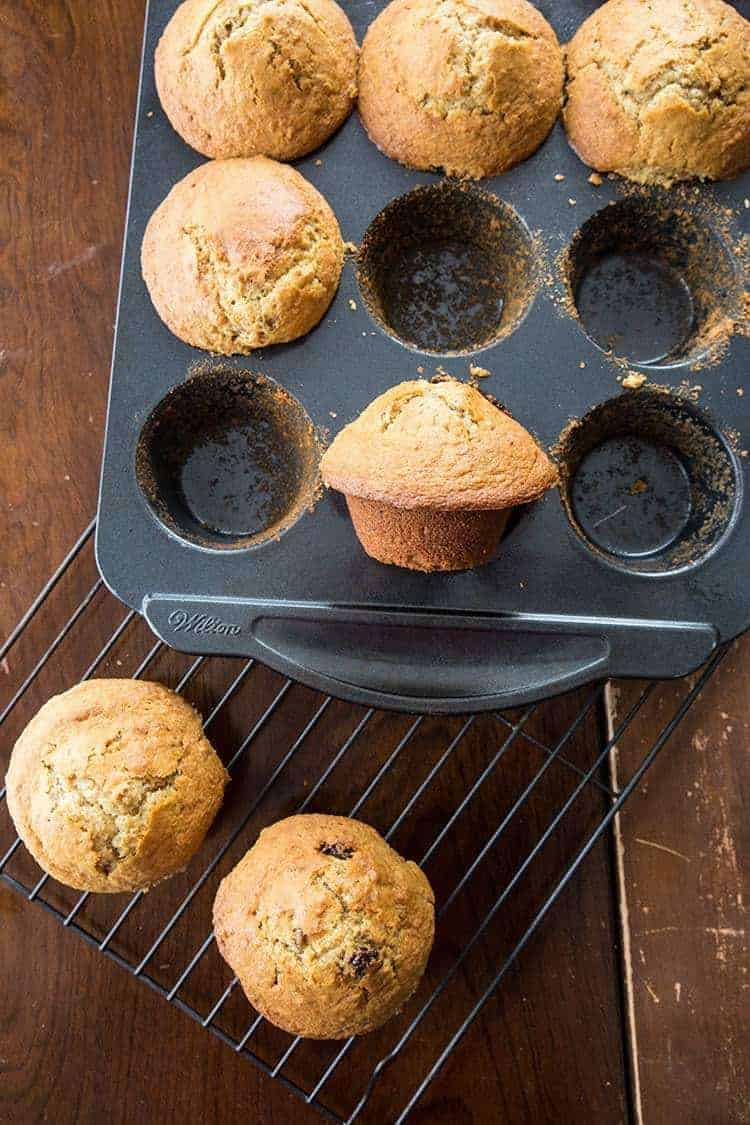 Six week refrigerator bran muffins are pretty much a lifesaver for busy mornings! They also make an appearance for after school snacks before swimming, I love that the batter just sits in the fridge and anyone (yes ANYONE including the kids) can whip up muffins at any time.
So, did your Mom make these when you were a kid?
Happy baking!
Love,
Karlynn
Pin this to your Breakfast or Baking Boards and Remember to FOLLOW ME ON PINTEREST!

Six Week Raisin Bran Refrigerator Muffins
The classic that we all grew up with, Six Week Raisin Bran Refrigerator Muffins
Course: Breakfast Meals
Cuisine: American
Keyword: Six Week Raisin Bran Refrigerator Muffins
Servings: 60
Ingredients
4 eggs
3 cups sugar
4 cups buttermilk
6 cups bran cereal with raisins
5 cups all-purpose flour
1 cup vegetable oil
5 teaspoons baking soda
1 teaspoon salt
Instructions
In a very large bowl, beat the eggs and sugar until well combined.

Stir in the buttermilk, cereal, flour, oil, baking soda and salt; mix well.

Refrigerate at least 6 hours before using.

When you are ready to bake, pre-heat your oven to 400 °F.

Use a large cookie scoop to fill greased or paper-lined muffin cups two-thirds full with batter ( see photo)

Bake for 15-20 minutes or until a toothpick inserted near the center comes out clean.

Store the batter covered, in the refrigerator for up to 6 weeks.
Recipe Notes
Calories and nutritional information are an estimate, actual numbers will depend on brands used and portion size.
62