No one makes banana loaf like Mom does!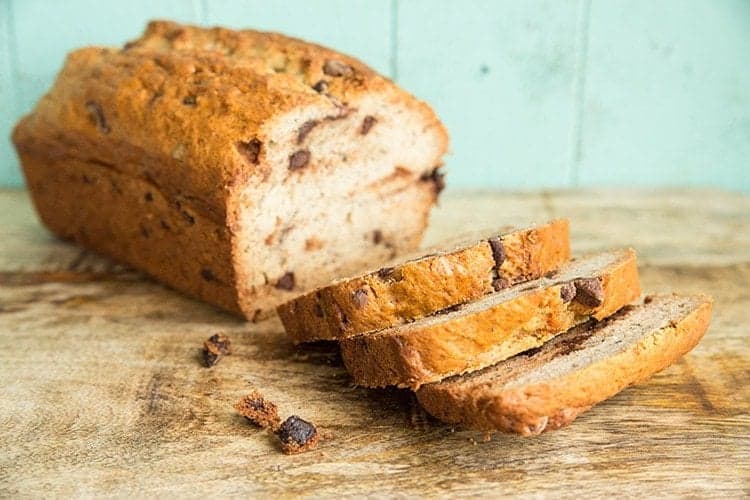 I know, I know. EVERYONE has a Mom's Best Banana Loaf Recipe. This just happens to be my go-to recipe that my Mom has baked for my entire life. It's easy, it doesn't need milk ( this is a very important thing for an absentminded woman like myself) and it uses up 3-4 medium bananas.
And if you know me, I always have bananas in the bottom of my freezer to make banana loaf. THE best banana loaf, that is.
Can I Freeze Banana Loaf?
You can absolutely freeze banana loaf. It's almost better after being frozen, although nothing is better on a cold, rainy afternoon than freshly baked banana bread, still warm from the over, slathered with some butter on top. So you can tell what the weather is like around here lately, as well as what kind of food I crave on miserable days! Nothing gets me baking faster than being stuck inside with nothing to do, except clean my house. And when it comes to cleaning my house, I usually ignore it and start cooking instead. Which means my kitchen is clean..but the rest…well…please don't drop by today. I won't answer the door out of embarrassment.
I think one of the reasons I love this – and consider this the best banana loaf recipe ever – is that it gets a crust on top.
I like a crusty topped banana loaf, I like that toothsome crunch that it gives when you give it a good bite. I also like that it doesn't get too soggy, as banana bread is wont to do.
Can I Double This Banana Loaf Recipe?
This recipe doubles like a BOSS, I tell you.  Here are three other loaves that freeze great!
Then you are using up 8 bananas from your freezer, which of course I have as well. There is usually no less than a dozen in my freezer.How, I don't know because the Rose eats bananas like crazy, so how there are any that get too ripe I'll never understand. But there they are, like magic, in the bottom of my freezer every time I go to get them.
Magic freezer bananas, I tell you!
So what is YOUR mom's best banana loaf recipe? Does she have any tips or tricks that you have loved since childhood?
Speaking of retro recipes, have you tried my Harvey Wallbanger Cake yet? Wowza! It's amazing!
Make sure to try these loaf recipes!
Happy baking babes!
Love,

Mom's Best Banana Loaf Recipe
I know, I know YOU have your own Mom's best banana loaf recipe! This is my mom's that she's baked since I was a kid, so it's my favourite banana loaf recipe ever!
Ingredients
1/2

cup

butter or margarine

yep, Mom's recipe is from the margarine era!

1

cup

of white sugar

2

large eggs

1

cup

of very ripe mashed banana

equals about 3-4 medium bananas

2

cups

of all-purpose flour

1

tsp

of baking soda

1/2

tsp

baking powder

1/2

tsp

salt

1

tsp

vanilla

1

cup

of semi-sweet chocolate chips
Instructions
Preheat your oven to 350 degrees F. Grease and flour a standard loaf pan and set aside.

Cream the butter and sugar together until smooth and combined.

Add in the eggs, one at a time, beating until smooth.

Mix in the mashed bananas.

Whisk together the dry ingredients - including chocolate chips.

Stir in gently, until just combined.

Pour into the prepared loaf pan.

Bake in the oven for 50-60 minutes, until a cake tester or toothpick inserted comes out clean.

Remove and cool in the pan for 10 minutes, then release from the pan and cool on a baking rack.

Keep wrapped or in a container.
Recipe Notes
You can add walnuts or pecans instead of chocolate chips if you want! If you want a super moist loaf, add in another half of a banana!
Nutrition Facts
Mom's Best Banana Loaf Recipe
Amount Per Serving
Calories 3880
Calories from Fat 1548
% Daily Value*
Total Fat 172g 265%
Cholesterol 582mg 194%
Sodium 3386mg 141%
Potassium 2467mg 70%
Total Carbohydrates 538g 179%
Protein 51g 102%
* Percent Daily Values are based on a 2000 calorie diet.
23