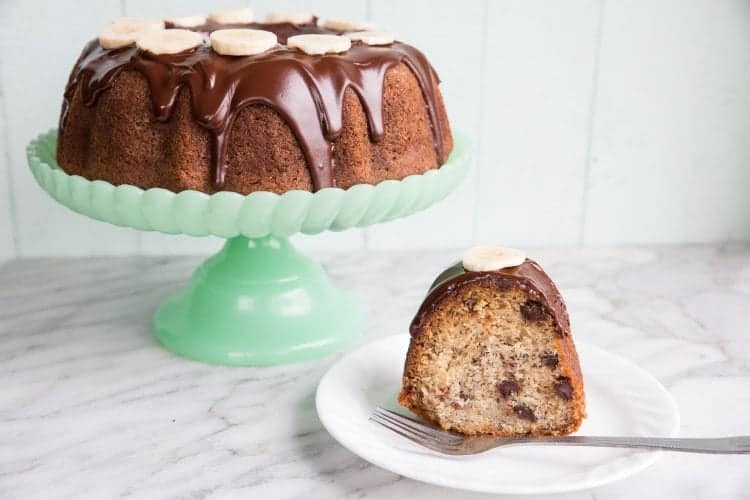 When I am desperate to bake something, whether it's because I need:
a) the stress relief of baking something, anything just let me bake!
b) a sweet tooth fix
c) both are the same thing, no?
…I usually end up rummaging through my tickle trunk of ingredients and see what my mind comes up with.
This last time I had buttermilk in the fridge, chocolate chips and ripe bananas in my freezer.
I wasn't sure how this was all going to shake down, but how bad could it be? Vanilla,banana and chocolate all go together in a banana split, right? And the buttermilk gives it a tang that helps cut the sweetness.
I'm pretty sure that banana buttermilk bundts will be happening in my house more often that not!
The buttermilk is pretty much the secret ingredient to this cake. Buttermilk always lends not only a "tang" to the taste of baking but also almost always ensures that you end up with a moist, amazing bread.
This was a great textured bundt, moist from the buttermilk, sweet with banana flavor and the chocolate makes it so decadent! And that chocolate satin glaze takes this far beyond a boring banana bundt! Add some fresh bananas on top for decoration right before you serve it and you have something ten times more tasty than normal banana bread!
However, if you are looking for banana bread, try my Mom's Best Banana Bread. It actually IS the best!
Happy baking!
Love,
Karlynn

Chocolate Banana Buttermilk Bundt Cake
Buttermillk banana bundt with the added bonus of chocolate chips and a gorgeous chocolate glaze make a perfect tea time treat!
Ingredients
3

cups

all-purpose flour

2

teaspoons

baking soda

1/2

teaspoon

salt

1

cup

of butter

softened

2

cups 

white sugar

2

teaspoons

pure vanilla extract

2

large eggs

4

very ripe bananas

1

cup

of buttermilk

1

cup

of semi sweet chocolate chips

Chocolate Satin Glaze

3/4

cup

semisweet chocolate chips

3

tablespoons

butter

1

tablespoon

light corn syrup

1/4

teaspoon

vanilla extract
Instructions
Kick the tires and light the fires to 350 degrees.

Cream your butter and sugar together in a mixer, or with a hand mixer.

Combine the dry ingredients together using a whisk.

Beat the eggs into the butter/sugar mix, one at a time and beating well after each.

Get your hand blender or whatever you can think of to puree the bananas. In a large container or bowl, puree the bananas until smooth. The smoother the banana's the nicer your cake turns out!

Add in the buttermilk and puree again, until it's a non-lumpy liquid.

Add your flour into the butter mixture and combine completely. .

After you completely mix in the dry, slowly pour in the liquid banana/buttermilk mixture.

Right when it's almost mixed, add in your chocolate chips. Mix slowly until they are combined.

Pour into a greased and floured bundt pan.

Bake at 350 degrees, 40-50 minutes, until a knife inserted comes out clean and it's a gorgeous brown.

Remove and cool for 5 minutes, then invert onto a baking rack to cool completely.

To make the glaze, combine the ingredients in a microwave safe glass measuring cup. Microwave 30 seconds at a time ,stirring after each, until the mixture is smooth.

Pour the glaze over the cake and let set.
Nutrition Facts
Chocolate Banana Buttermilk Bundt Cake
Amount Per Serving (1 serving)
Calories 0
* Percent Daily Values are based on a 2000 calorie diet.
0