The secret to the best baked potato recipe is making baked potatoes that have a delicious salty, crispy outside skin that you and your family are going to want to eat! This is how most restaurants make their oven baked potatoes Just look at the photo below and take in the splendor that a crispy baked potato skin is. These are perfect baked potatoes, a crispy edible potato skin exterior that is left after you scoop out that fluffy, butter-soaked potato interior. This post has been updated from 2010, so if you have seen it before you are a long-timer – and thanks for being a reader here for that long! I've learned a few tricks from some fellow Edmonton chef friends that are going to rock your baked potato world!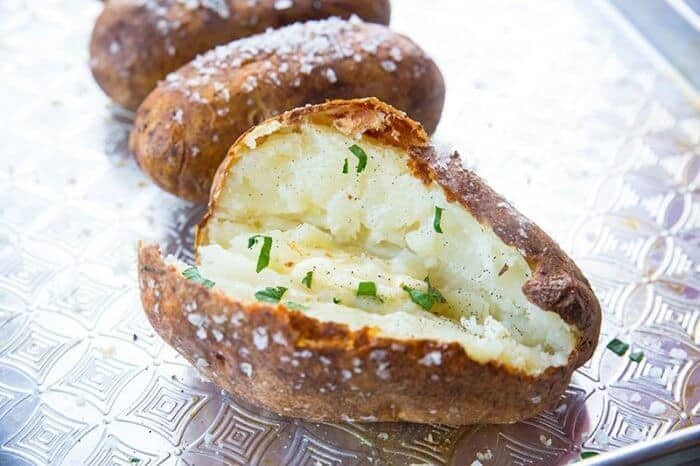 How to Make a Baked Potato Basics
You would think that baking a simple potato wouldn't have so many questions around it, but like anything else in cooking and baking, there are factors that affect the best way to make them! Here are a few basics for baking potatoes that will help you make the best tones ever!
A baked potato is also called a jacket potato and they are the same thing. They are both potatoes baked in the oven or BBQ even until they are soft and fluffy inside.
When a baked potato is properly cooked, you are going to have a crisp outside and soft inside that fluffs up perfectly when you take a fork to it.
The true measure of a good baked potato is that you don't need all of the fixings on top – the ones I make in this recipe were so good with just butter on them. We will get into types of potatoes that will affect your results below!
Baked potatoes take longer to cook than you think they are going to.  Every single time. There are many variables when it comes to baking potatoes, such as size, shape, water content of each potato that you are going to have to be flexible. with your time.
You don't want to wrap your baked potatoes in tinfoil. That's an okay way to bake them over a campfire to protect the skins from burning but they skin won't crisp up.
Step by Step How to Make a Baked Potato Video
What is the BEST baked potato recipe?
I am going to claim that this baked potato recipe is one of the best because I had a lot of advice from chefs that know their stuff! Not that *I* don't know my stuff, (because most times I do!) but it really helps to have my opinion confirmed by professionals. Olive oil can make potatoes a wee bit bitter. In this world where everyone slathers olive oil on everything because it's healthier, we forget that it also adds flavour and a quite bitter one at that. So that's what sets my baked potato recipe apart from the others, and it really does make a difference you guys!
How do I clean a potato before I bake it?
Cleaning a potato before you bake it in the oven is super easy! I know that some people can get grossed out looking at the dirt on the skin of a potato, but if the dark coloring remains after you clean it, it's simply a stain in the skin and not dirt! To clean and prepare a potato for baking you need to:
Wash the potato under cool running water and gently scrub the dirt off. Try not to remove the skin by scrubbing too hard, we want the skin to remain!
Dry gently with a paper towel, again, trying not to remove the outer layer of skin. Pat with paper towels until the potato is dry. You want the potato to be dry so that when you rub the oil on it, it will absorb into the skin better.
Pierce with a fork a few times ( see below why this is important.)
Follow the remaining recipe instructions.
What Type of Potato Works Best for Baked Potatoes?
This is the real question of the day when it comes to baked potatoes!  Here is a small overview of the types of potatoes and their uses:
 Starchy potatoes such as Idaho and Russets: These are your very best choice for baked potatoes as they are high in starch and low in moisture, making them light and fluffy once cooked and absorbent (that means they are going to just soak up that butter!)
All-purpose potatoes ( example:Yukon Gold): Good for roasting, mashing or baking.
 Waxy potatoes ( example:red-skinned potatoes): Red potatoes are the best for soups and salads because they hold their shape after being cooked. There are many recipes that boil then smash red potatoes, so they are also great for crashed potatoes as well!
How do I make a quick baked potato?
There is a trick to making fast baked potatoes that aren't quite as good as fully baked but will still finish in the oven, and that's using your microwave to start out the cooking process fast. This does remove about 50 minutes of baking time!
Pre-heat your oven to 400 °F.
Microwave 2-3 clean, fork-pierced potatoes for 4-5 minutes ( depending on size). Remove carefully and place on  baking sheet . Brush them with olive oil all over, then sprinkle with sea salt.
Bake in the oven for 10-15 minutes until the potato is tender enough to be pierced with a fork easily.
Cut a slit in the top of the potato and push the ends inward to open up. Serve and enjoy.
Do I bake potatoes with or without foil? Is foil faster?
It is thought that baking potatoes in foil speeds up the cooking process, but for my crispy skinned potatoes, you must leave the foil off. If you enjoy potatoes that are soft skinned, then you will wrap them in foil and bake them to achieve that result. However this is all about getting that salty, crispy potato skin on the outside that is so darn amazing!
Why would a baked potato explode in the oven? Do I have to pierce them?
Baked potatoes can explode when steam builds up within them. This is the reason why piercing them with a fork is incredibly important before cooking in the oven or microwave. In fact, it's not even the oven that you need to be worried about ( other than a mess to clean up!) I have heard it from chefs that potatoes can explode AFTER you take them out of the oven – and potatoes have exploded on chefs. Ouch. Pierce the potatoes for safety's sake!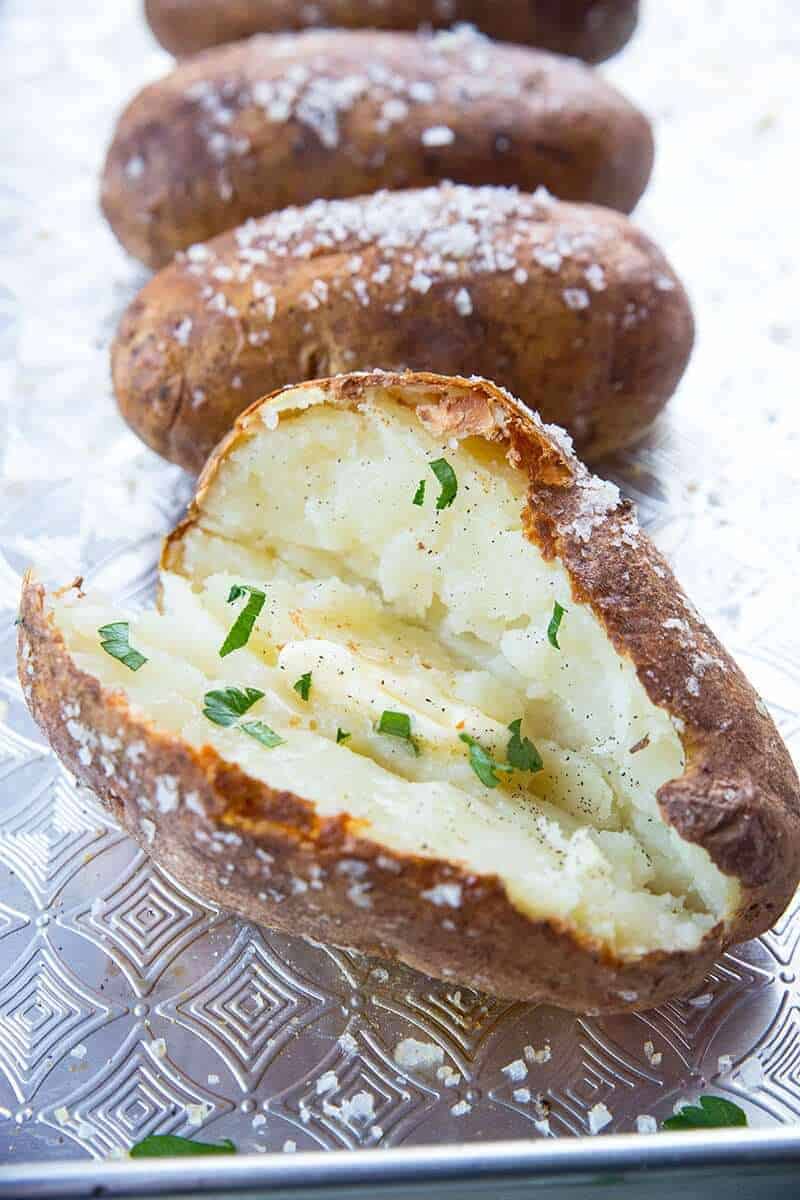 Some More Delicious Potato Recipes From My Website
Here are some of my favourite potato recipes on this website, from soups to salads to main dishes! We love a good feast of potatoes!
Karlynn's Tips & Tricks for Making the Best Baked Potato
Use canola oil. Yes, I know that everyone uses olive oil but here's a secret: restaurants know that olive oil can give high-temperature baked goods a slightly (or quite) bitter taste sometimes. More than one of my professional chef friends have sworn up and down this is how you make potatoes that are crispy and not bitter. Too easy, right?  It can depend on the quality of the oil, how long it's in the oven but the best way is to use a neutral flavoured oil for the best taste possible. Buy a nice cold-pressed canola oil and see how amazing it is! Here is a really good, seemingly non-biased article on canola oil, it's very enlightening.
Bake these on a wire rack to get the air circulation under the potatoes as well.
 Allow yourself extra time. I laugh at recipes that tell you potatoes are baked in 45 minutes – never, ever have I been able to do it! I don't know what's wrong with me, but mine take a solid 60-75 minutes every single time.
Sea salt is going to rock your world on these potatoes. We demolished the potato skins like a pack of wolves and the skins are where most of the nutrients are!
While these baked potatoes are really good loaded up with everything like sour cream, bacon and cheese, I do beg you to try these with just some butter and pepper. Not only does it keep the calorie count down if that's a concern, it really allows you to enjoy the actual flavour of the potato and skin. Plain, simple and delicious.
Happy (baked potato) baking!
Love,
Karlynn
Pin This Recipe to your Side Dishes & Appetizers Boards and Remember to FOLLOW ME ON PINTEREST!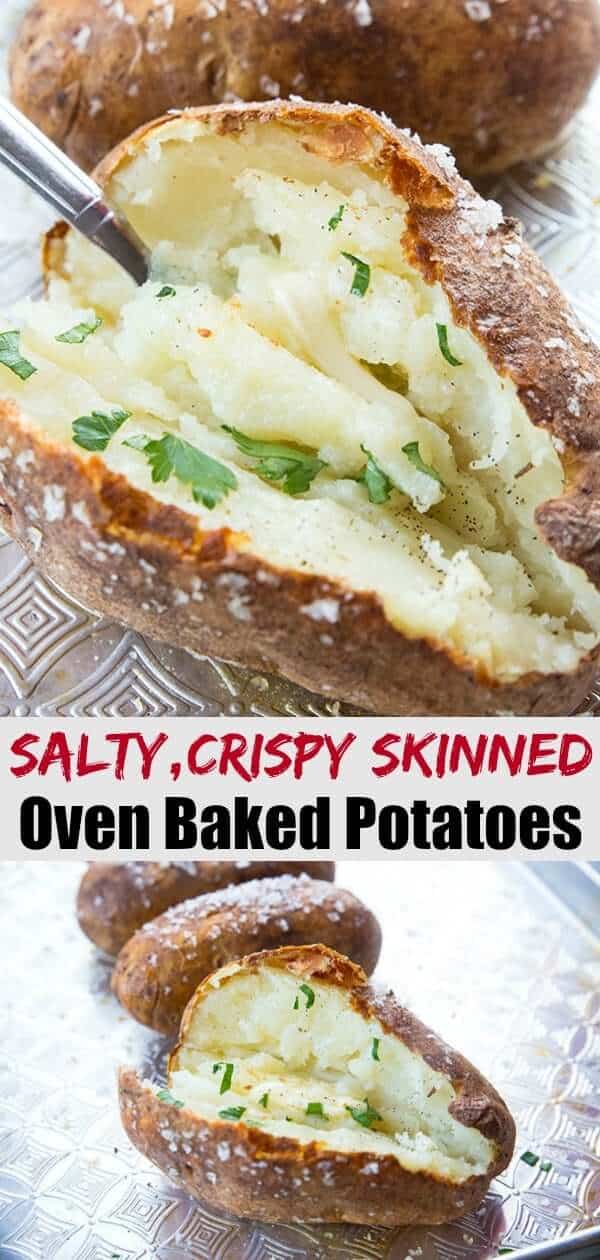 How to Make Salty, Crispy Skinned Oven Baked Potatoes
If you are looking for restaurant quality,salty, crispy skinned baked potatoes, here is how to make the BEST baked potato - with a few secret tricks of the trade!
Course: Side Dish
Cuisine: American
Keyword: baked potato
Servings: 4
Calories: 124 kcal
Ingredients
4 medium/large russet potatoes scrubbed well
4 tbsp cold pressed canola oil or other neutral flavoured oil
4 tbsp flaked sea salt
Instructions
Preheat your oven to 400 °F.

Pierce each potato 3-4 times with the tines of a fork.

Coat each one well in canola oil, then sprinkle heavily with flaked sea salt all over. You need to get a good crust of salt. Place on a wire baking rack in the middle of a baking tray and place the potatoes on top.

Bake in the oven for 60-75 minutes or until they are fork tender. Remove and cool slightly on the baking sheet.

To serve, once they are warm cut a slit lengthwise down the top of the potato, not cutting to the very end however. Take your fingers and place on either side of the potato and push the ends in towards each other to "pop" the center open ( it will look like a restaurant potato now!)


Serve with butter and pepper, or any and all toppings!
Recipe Video
Recipe Notes
These Baked Potatoes are great loaded with butter and green onions to keep it simple, but can be topped with bacon, cheese and sour cream. 
Try them with chili on top, they are fantastic!
Nutrition Facts
How to Make Salty, Crispy Skinned Oven Baked Potatoes
Amount Per Serving
Calories 124 Calories from Fat 126
% Daily Value*
Total Fat 14g 22%
Saturated Fat 1g 5%
Sodium 6976mg 291%
Calcium 0.4%
Iron 0.8%
* Percent Daily Values are based on a 2000 calorie diet.
224