Mike actually turned up his nose when I told him I was going to whip up this Creamy Potato & Hamburger Soup.
He seriously thinks he doesn't like hamburger in soups. Every time I talk about putting ground beef in a soup, he tells me he doesn't like it. And then every single time I make a soup with ground beef in it, he loves it.
Seriously. The guy has this mental block about it. Hamburger soup is awesome, right?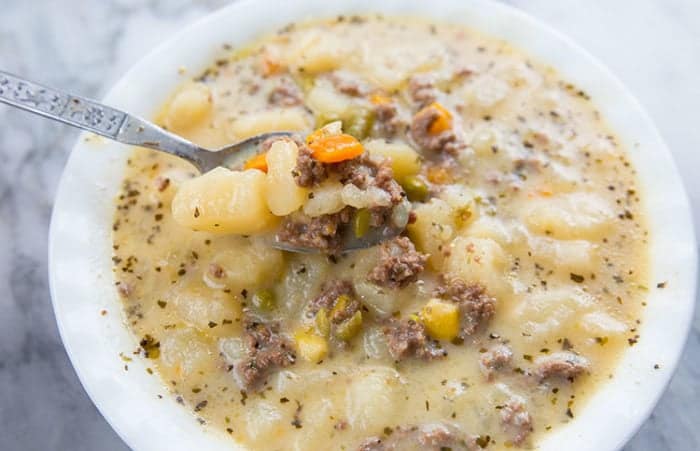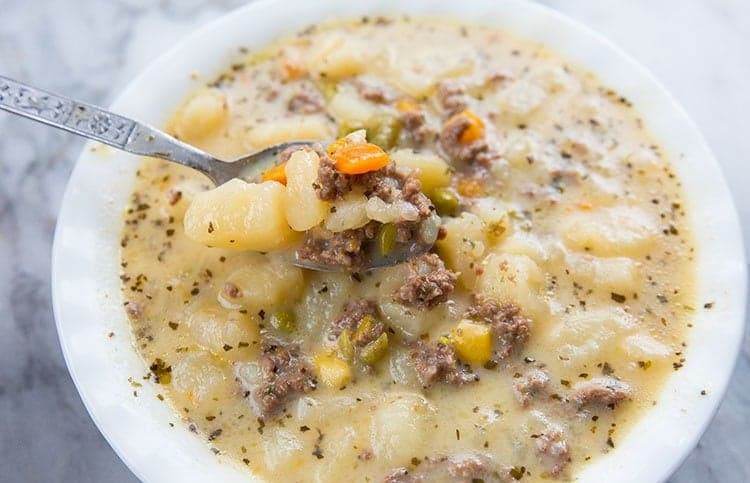 I swear that most of my soup concoctions are because I have a stuff in my freezer, fridge and pantry that I have to use up. I was desperately trying to use up potatoes before we went to the States for Christmas, I had some ground beef in my freezer and always those frozen veggies.
Well, voila. This creamy potato & hamburger soup was the result of my cleaning out my freezer and pantry.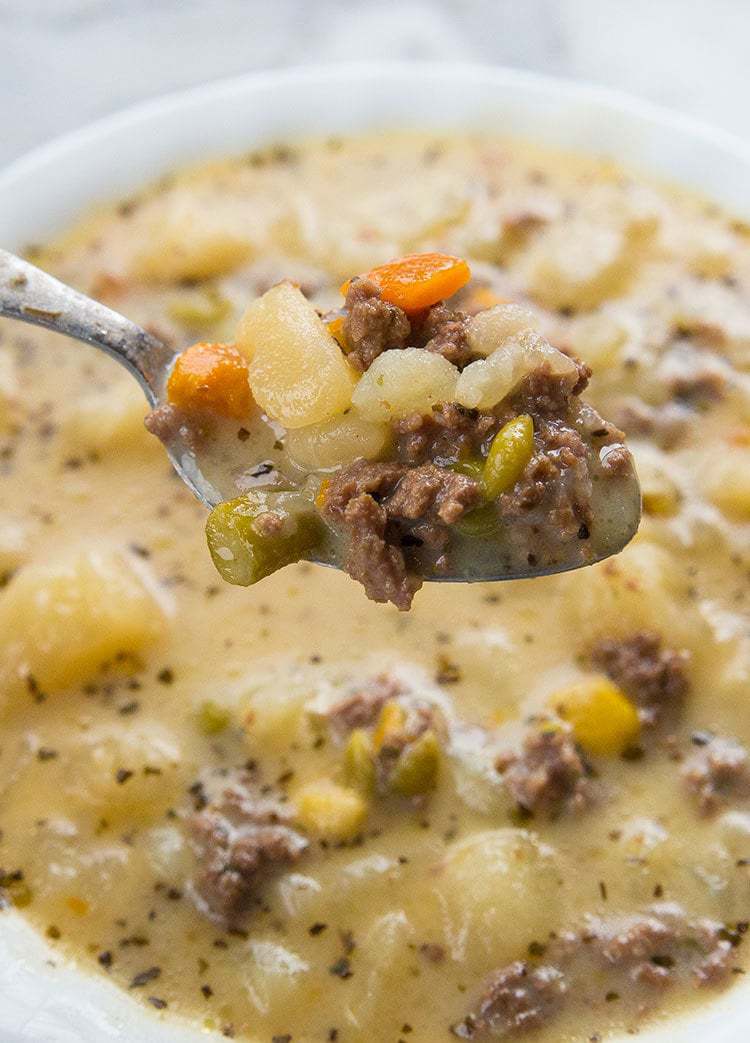 This is similar to my Crockpot Macaroni Cheeseburger Soup which is pretty much one of my favourite soups of all time. This one isn't as rich – athough if you want to add more Velveeta cheese, feel free to do so! – and you can cut it with a dollop of sour cream on top if you wish. Again, remember that Mike doesn't like rich soups, so if he enjoyed this one it should be good for everyone. I love a thick, rich soup. Him? He pretends that he doesn't like ground beef in soup, remember?
Poor Mr Magpie. Good thing we love him so much!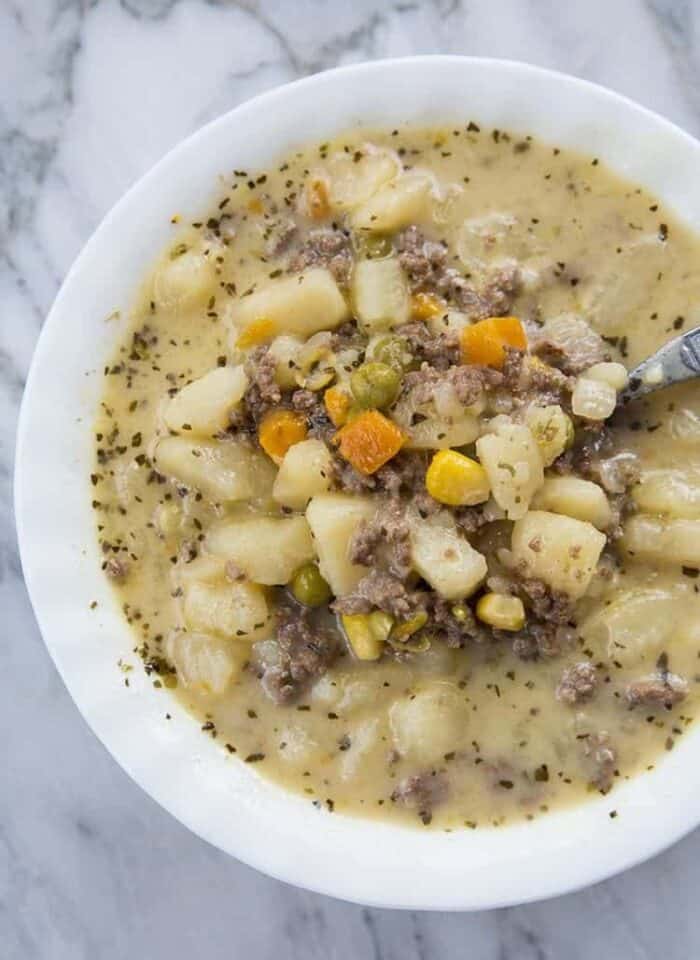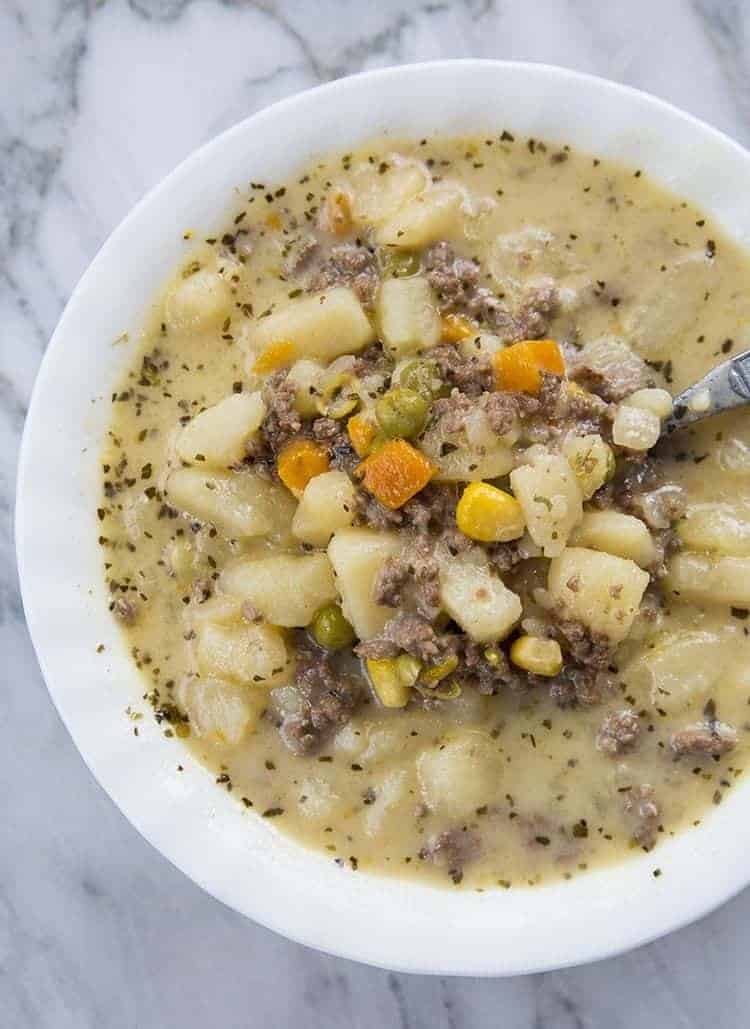 This would be perfect for Christmas Eve after church, Christmas lunch, a New Year's party or any ol' time of the year. It's going on the regular rotation soup list, for sure. I love how easy it is, how stick to the bones hearty it is and most of all, how Mike argues with me every time I make it. 😉
I hope you all made it through the holidays happy and well loved! Make sure that you don't miss my new and amazing Crockpot Meatball Shepherd's Pie! 
Love,
Karlynn

Creamy Potato & Hamburger Soup
This Creamy Potato & Hamburger Soup is comfort food at it's most delicious! Hamburger, potatoes & vegetables all combine to make one great soup.
Ingredients
1 1/2 lbs lean ground beef
1 medium white onion peeled and diced
1 large garlic clove minced
6 cups of chicken broth
6 cups of peeled & diced Russet potatoes
2 cups of your favourite frozen vegetable mix
3 tsp dried basil
2 tsp dried parsley flakes
1 1/2 cups milk
2 tbsp cornstarch
8 ounces Velveeta cheese cubed
Instructions
In a large skillet ,fry the ground beef and onions until the onions are soft and the ground beef browned. Drain the grease.

Fry the garlic until browned and fragrant. Add the beef mixture to the crockpot or stockpot on the stove.

Add in the potatoes, broth, vegetables, basil and parsley.

Cook in the crockpot on low for 6-8 hours, on high for 3-4, or simmer on the stove until the potatoes are tender and starting to dissolve sightly.

Whisk the cornstarch into the milk, then whisk into the soup. Add the Velveeta and let it melt, stirring occasionally. When it's melted in completely, spoon into bowls and serve.
Recipe Notes
You can add more broth if you like a thinner soup, or even 1/2 cup of sour cream at the end to add some tang.
630