This Creamy Mushroom Beef Chuck Roast Recipe had everyone drooling on Instagram when I posted the photo of my Sunday dinner – and I had SO many requests (more like demands) for the recipe that I am posting it right away for you all to have!
Everyone needs a great chuck roast recipe that they can slow cook all day long.  I am extremely fond of using chuck roasts and have a ton of great recipes on this website, like my extremely popular Dill Pickle Pot Roast & Gravy. If you are feeling adventuresome and love pickles, that is the chuck roast recipe for you! This one is for the mushroom lovers and is a guaranteed crowd-pleaser!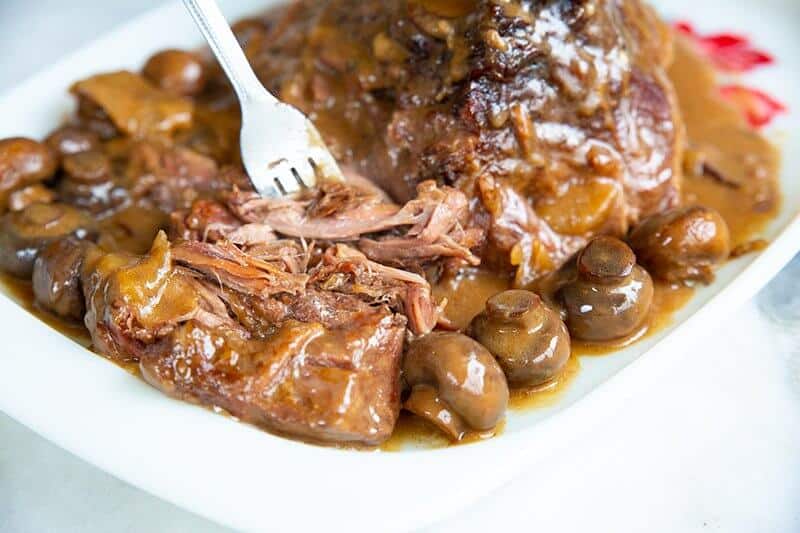 Slow Cooked Chuck Roast Recipe
Oh man, was this good. I mean, mouth-watering, melt-in-your-mouth delicious roast and gravy good. Make this now. I command thee.In all seriousness, this is the perfect dish for when company is coming, you have no time to cook, but you want one heckuva tasty, large meal at the end of the day. The ingredients aren't fancy at all, but the taste IS!
I made this when my brother was over for Sunday dinner as I know he loves a good pot roast. That kid is a meat and potatoes kinda eater ( just like Mr Magpie) and the weather was so cold and cruddy I went into cold weather cooking mode – and that always means a good roast beef.
Here's the photo from My Instagram (make sure to follow and chat with me there!) that had everyone drooling. I especially love the Peppa Pig cup that is my niece's. You can find the Grilled Asparagus recipe on our low carb website and the potatoes are my Instant Pot mashed potatoes. The perfect sides!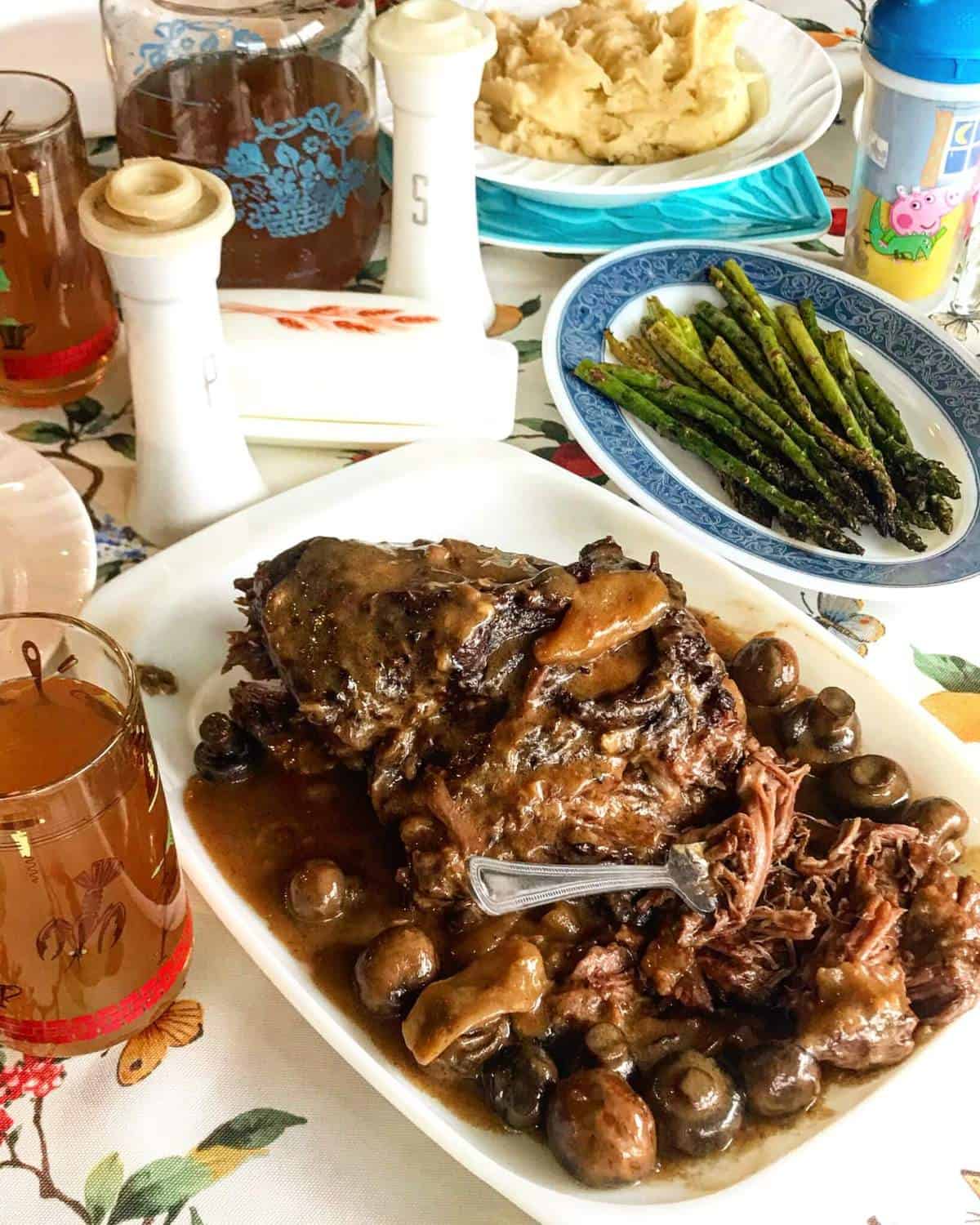 How do you cook a chuck roast in the oven?
Low and slow! I can't believe how many recipes don't have the correct amount of cooking time on them ( I am sure you have heard this rant before) and then people wonder why they aren't ending up with a tender, succulent roast. Chuck roasts, also known as blade roasts here in Canada usually have to be cooked low and slow to break down the meat fibers properly. I've seen recipes that tell you to cook this roast to 165 °F – stop right there and burn that recipe. You don't cook a chuck roast to a certain temperature, it's going to go WAY past that mark. You are going to cook it until it literally falls apart when pierced with forks, like a good pulled pork does.
What is the BEST way to cook a chuck roast?
Best is relative. When I am in a hurry, a pressure cooker or an Instant Pot is the way to go! Sometimes however it is thought that a pressure cooker doesn't really give you the best flavours compared to a low, slow all day roast in the oven – and I think there might be a little something to that. Take a peek at the gorgeous brown crust that this chuck roast develops in the oven – you don't get that with a pressure cooker.  That said,  I won't ever hesitate to use my pressure cooker to make a great chuck roast – it can be done in 2 hours instead of 5 or 6!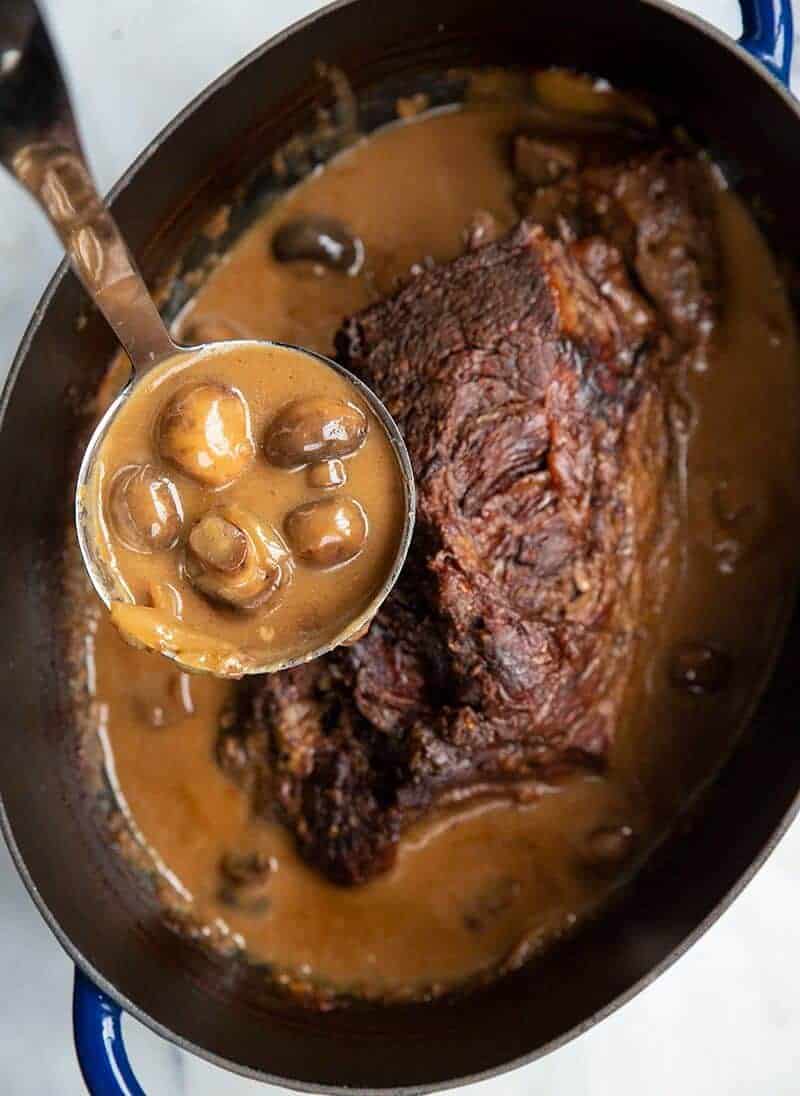 Now you can also make this in your Instant Pot or pressure cooker, simply use the same ingredients I have and follow my post on How to Cook a Roast in the Instant Pot. It will definitely be faster than slow cooking all day long but it is just as tasty! You can also try my Bucket o' Gravy Instant Pot Roast, it is crazy popular!
What to Serve with Chuck Roast:
Here are some great side recipes that go well with this chuck roast recipe:
Here are some more great chuck roast recipes that I love to use:
This uses up all of my favourite cheats – dry onion soup and canned mushroom soup. You can totally use homemade condensed mushroom soup (making that is on my to-master list this winter! ) but really, try not to skip that dry onion soup mix. You can replace it with some onion powder and some garlic powder, but it's just not the same. Besides, everyone needs a good cheat meal once in a while!
This makes the BEST gravy I have ever tasted. The fresh mushrooms cook for hours and release all their moisture into the gravy, the real onion cooks and mostly disintegrates….I am drooling just thinking about it. This chuck roast is absolutely happening again this winter!
Happy cooking, hope you love it!
Love,
Karlynn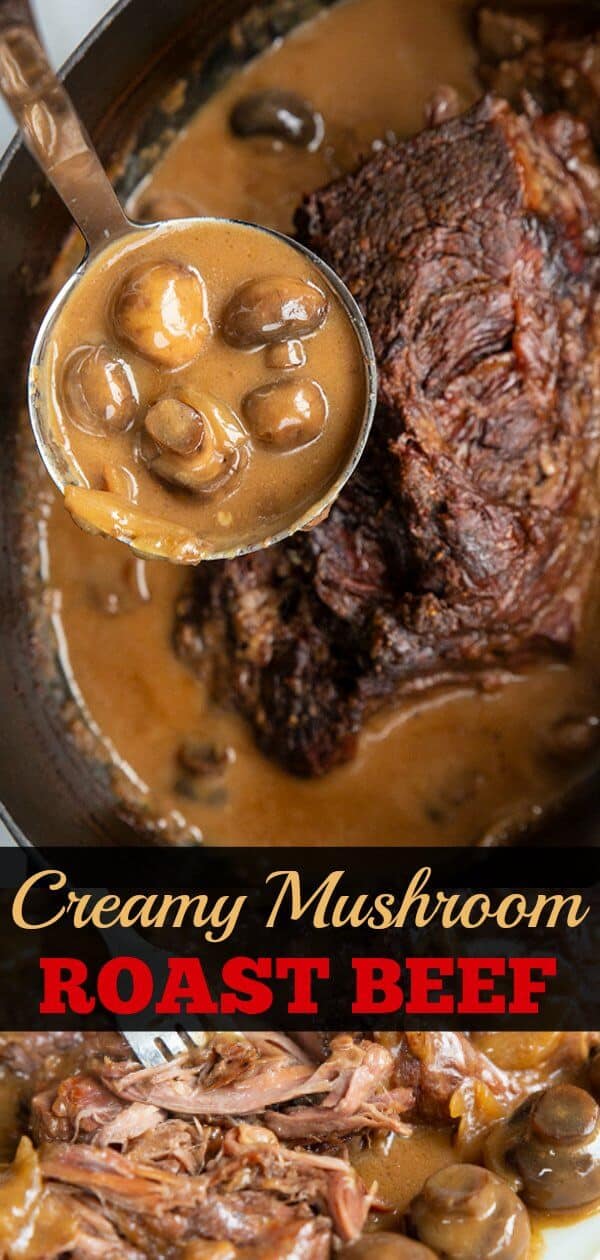 Creamy Mushroom Beef Chuck Roast Recipe
Take a tough chuck roast, slow cook it on low for hours and turn it into a buttery soft roast with a creamy mushroom onion gravy - ALL in one roaster!
Course: Dinner
Cuisine: roast
Keyword: chuck roast
Servings: 8
Calories: 781 kcal
Ingredients
5 lbs chuck roast
1 tbsp olive oil
1 454 g package of white or cremini mushrooms
1 large yellow onion, chopped
1 1 oz. package dry onion soup mix
2 10.75 oz can of cream of mushroom soup
1 1/4 cups water
Instructions
Pre-heat your oven to 400 °F.

Heat a skillet or the Dutch oven over medium heat with the olive oil it. Place the chuck roast in and brown on all sides in the hot oil. Place into the Dutch oven or lidded roaster.

Place the mushrooms and onion around the chuck roast.

Whisk together the two soups and the water until as smooth as possible ( it usually is chunky a bit, that's ok!) Pour over the roast.

Place the lid on top of the roaster/Dutch oven and place in the preheated oven. Cook for 20 minutes then turn down the oven to 325°F.

Cook for another 4-5 hours until the roast pulls apart easily when touched with a fork.

Remove and plate. Whisk together the mushrooms and onions and drippings to make a gravy. Serve over the beef.
Recipe Notes
You can double the gravy ingredients if it will fit - we could have eaten just the gravy!
Nutrition Facts
Creamy Mushroom Beef Chuck Roast Recipe
Amount Per Serving (8 g)
Calories 781 Calories from Fat 414
% Daily Value*
Total Fat 46g 71%
Saturated Fat 20g 100%
Cholesterol 273mg 91%
Sodium 1794mg 75%
Potassium 1419mg 41%
Total Carbohydrates 13g 4%
Sugars 2g
Protein 77g 154%
Vitamin A 1%
Vitamin C 0.9%
Calcium 9.2%
Iron 46.8%
* Percent Daily Values are based on a 2000 calorie diet.
190