If Dill Pickle Pot Roast wasn't a thing before, it sure is now!
This absolutely scrumptious roast came about because I don't like the Mississippi Pot Roast that the entire internet seems to love. (gasp!!) I was struck with the inspiration one day that pickles looked exactly like those peppers (the part I hate) in the Mississippi pot roast. Now please trust me when it comes to the flavour. If you have eaten any German pickled beef (Sauerbraten)  or any Dutch Stamppot, you already know that this is going to be an amazing way to eat roast beef. For those that haven't had those dishes, then trust me that if YOU LOVE PICKLES YOU WILL LOVE THIS DILL PICKLE POT ROAST!
Oh, I have tried that Mississippi Pot Roast and the pepperoncini's made my family ill. For real. No one enjoyed the roast at all ( and yes, I think by now I can follow a recipe hahah!) so I didn't share it here. I might try another one, another day to share with you all, ( without the peppers) but my evil mind went to work on a totally different direction. PICKLES!
Mr Magpie was TOTALLY on board with this. He loved my Dill Pickle Soup recipe  so he was excited to try out a dill pickle pot roast.
It did not disappoint!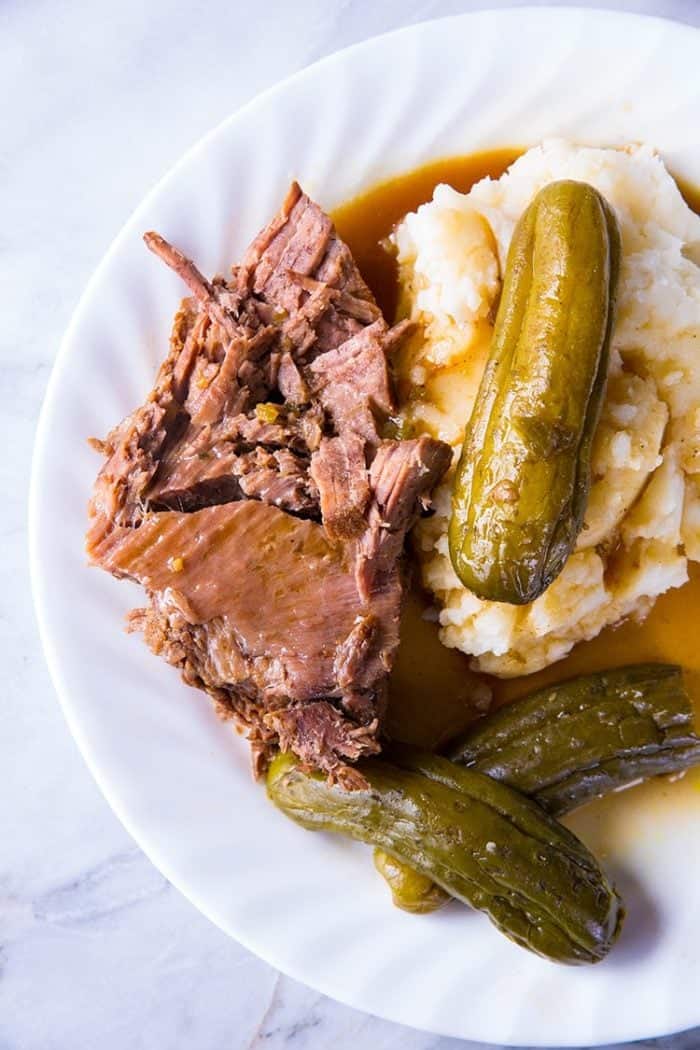 You guys, even the gravy turns out AMAZING!!! I thought that perhaps it would be too pickley, but when you use the Ranch Dressing and two packs of brown gravy mix, the gravy works out. You can pour it all over the roast and mashed potatoes without it turning the entire dish too sour.
So, do you trust me, fellow dill pickle lovers? Do you trust that you have to try this dill pickle roast as soon as you can? I can't wait to hear what you think of it!
Happy cooking!
Love,
Karlynn
PIN This Recipe to Your DINNER IDEAS or CROCKPOT Boards!
Dill Pickle Pot Roast & Pickle Gravy
DILL PICKLE POT ROAST & PICKLE GRAVY! If you love pickles you are going to flip for this pot roast! Similar to the Mississippi Pot Roast but NOT spicy and infused with a fabulous pickle taste! Even the gravy is spectacular!
Ingredients
1

3-4 lb chuck or blade roast, stings removed

1

package of your favourite dry ranch dressing mix

2

packages of your favourite dry brown gravy mix

1

1 liter jar of your favourite garlic dill pickles
Instructions
Place the roast in the bottom of your

crockpot

. Sprinkle the ranch dressing and the brown gravy mixes over the roast. Pour the jar of pickles over top. Arrange the pickles around the roast.

Cook on low all day, for 8-10 hours ( to break down the roast). Remove and serve. The gravy can be strained ( or not! we loved it with the pickle bits) and served over the roast and mashed potatoes.
Sprinkle the ranch dressing and the brown gravy mixes over the roast. Pour the jar of pickles over top. Arrange the pickles around the roast.

Place the lid on the top.

You can now choose to slow cook or to pressure cook.

To slow cook, cook all day on slow cook just like a

slow cooker

.

To pressure cook, use the "stew/meat" button and cook on high pressure for 90 minutes for a small, butcher quality roast or 120 minutes for a large, grocery store quality roast. You can manually release it or let it naturally release. If the roast is smaller, take 10 minutes off this time.

Remove and serve!
35