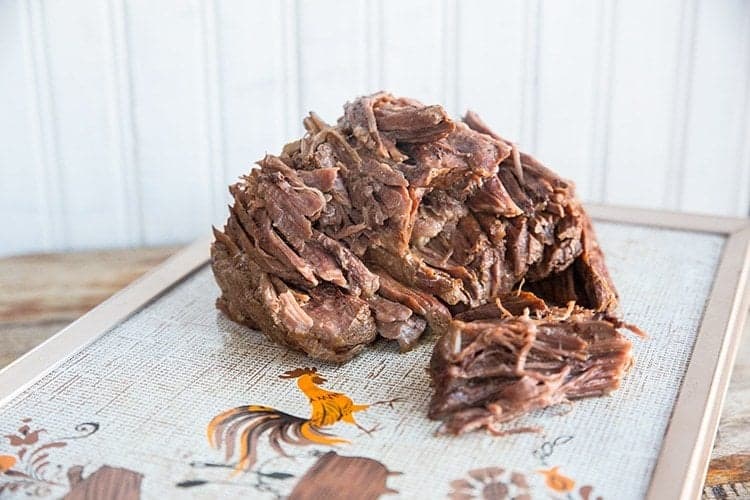 Raise your hand if a good blade or chuck roast is your favourite roast beef to make.
Me, me and me again.
There is nothing like a long, slow cooked chuck roast where the fat melts away and leaves you with tender, juicy bits of delicious beef. It also is fantastic that you can cook it for a good 9-10 hours in a crockpot.
Who bought themselves an Instant Pot this past year?
While they have been around for a while, I think that NOW they are really becoming mainstream, as in not only food bloggers have Instant Pots, that type of mainstream.  I bought mine last summer when they were on for an incredibly cheap price on Prime Day and I swear that it hasn't left my counter for more than three days since then.
The very first thing that you need to learn is how to make a blade/chuck roast in your Instant Pot. Seriously. You will thank me for this later.
If you use a slow cooker/crockpot, you need to own one of these. I kid you not, I can't remember the last time I was so happy with an appliance. The ability to cook a blade/chuck roast in your instant pot in 90 minutes thanks to the high pressure option is incredible. I was running late that day and had these two roasts that I had picked up to make for supper. I put them on at 4 pm and we were eating by 6.
CRAZY AMAZING THIS INSTANT POT IS.
Sorry for the Yoda talk there briefly.
However, cooking those two blade / chuck roasts in the Instant Pot at the end of a very busy day was a lifesaver. I popped them in, threw some ingredients on top ( in the recipe below) and we were eating the best blade roast ever.
What usually takes a day in the slow cooker was achieved by the high pressure setting on my Instant Pot in an hour and a half.
I usually make two roasts so that I have leftovers to eat all week, because there is nothing like leftover blade roast with eggs on top for a massive protein hit in the morning for breakfast.
Leftover blade roast is amazing on salads, in sandwiches and just by itself. I always make sure to make extra!

It looks like there are some great deals on the Instant Pot right now!
US friends:
Products from Amazon.com
‹
›
And for my Canadian friends:
Products from Amazon.ca
‹
›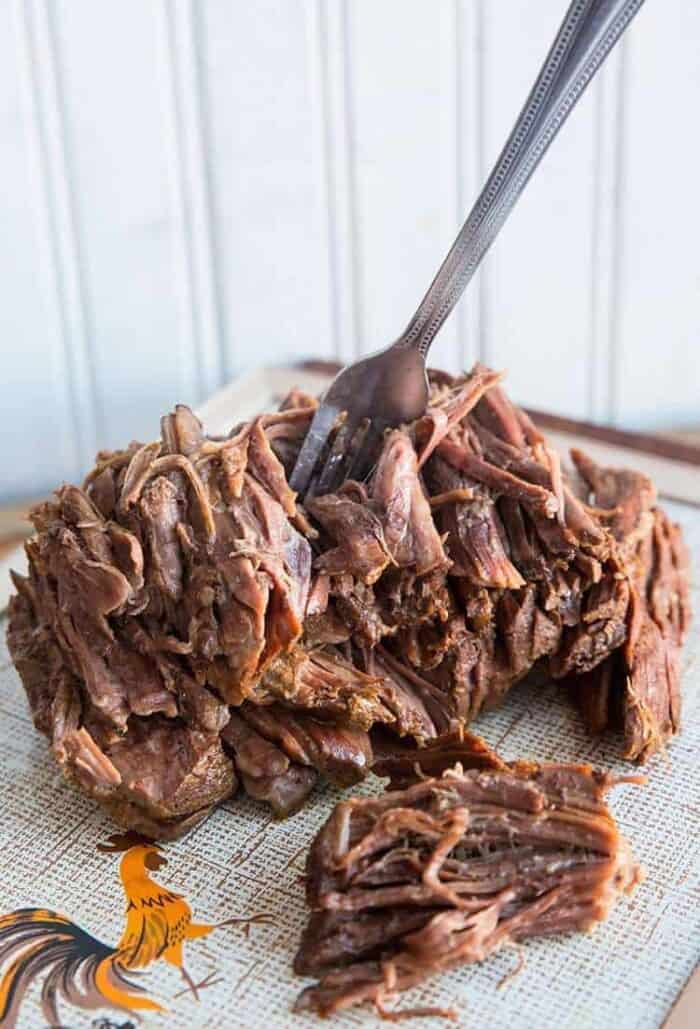 I honestly don't know how used to live without my Instant Pot. I use it for slow cooking, I use it for soup at least once a week ( the high pressure cooks soups in a SNAP! Love it!) and now this whole Best Blade Roast Ever in the Instant Pot? Ugh. In love.
I've been trying to convince my mom and sister that they need an Instant Pot and I think after my mom saw how quickly it cooks a roast, she's on board.
Just writing this post up makes me want to make this roast again. It's similar to that Mississippi roast in the fact that I use a package of dry Ranch dressing in it, but there's no peppers. Trust me, the dry Ranch dressing makes this delicious!
Happy cooking everyone!
Love,
Karlynn

Print
How to Cook a Roast in Your Instant Pot
---
Prep Time:

1 minute

Cook Time:

1 hour 30 minutes

Total Time:

1 hour 31 minutes
Ingredients
5 lbs blade or chuck roast – boneless
1 pack gravy mix
1 pack Ranch dressing mix
1 pack onion soup mix
1 cup water
---
Instructions
Place the water in the bottom of the Instant Pot, the place the roast on top.
Sprinkle the rest of the packages on top of the roast.
Close the Instant Pot and seal it.
Press the meat/stew button and set for a 90 minute cook time. Let it decompress. Remove and serve!