These are honestly the BEST Instant Pot Mashed potatoes you will ever make! I try not to call things the "best" but after I served these Instant Pot Mashed Potatoes Mr. Magpie turned to me and said "Whatever you did when you made these potatoes, write it down so you don't forget. These were the best you've ever made!" I gave him a weird look – because Mr Magpie doesn't really get excited over potatoes even though he's Irish – and gave them a try myself. Whoa Nellie you guys. These are AMAZING potatoes.And I've made a lot of mashed potatoes, my friends, so for him AND I to exult over this recipe must mean that they are pretty amazing. These would be GREAT to use on my Tater Tot's Shepherd's Pie recipe as well!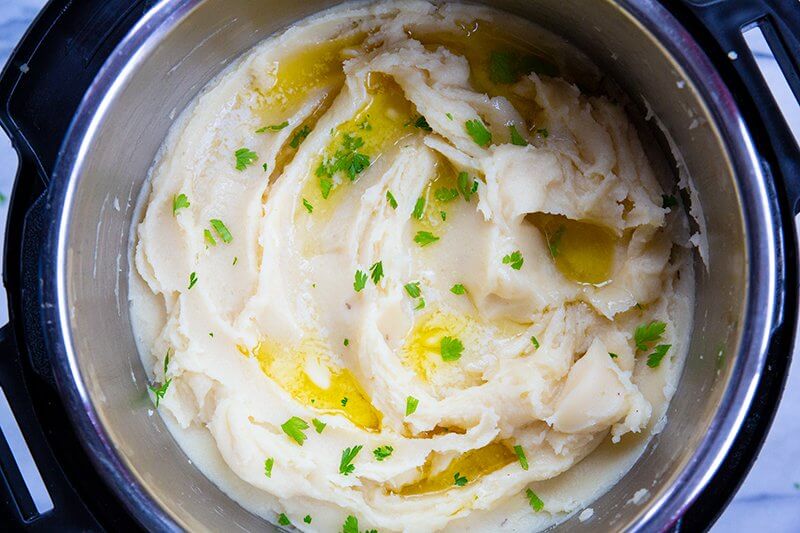 Making Mashed Potatoes in the Instant Pot
I am honestly never going to boil potatoes on the stove again – especially for my holiday dinners and family gatherings. The sheer amount of water that you have to boil, and draining boiling water from potatoes ( and the worry of kids underfoot and carrying a pot of boiling water, allll the time!) and the mess from water boiling over onto the stove every….single…..time and transferring them…do I have you convinced that you need to try Instant Pot mashed potatoes yet?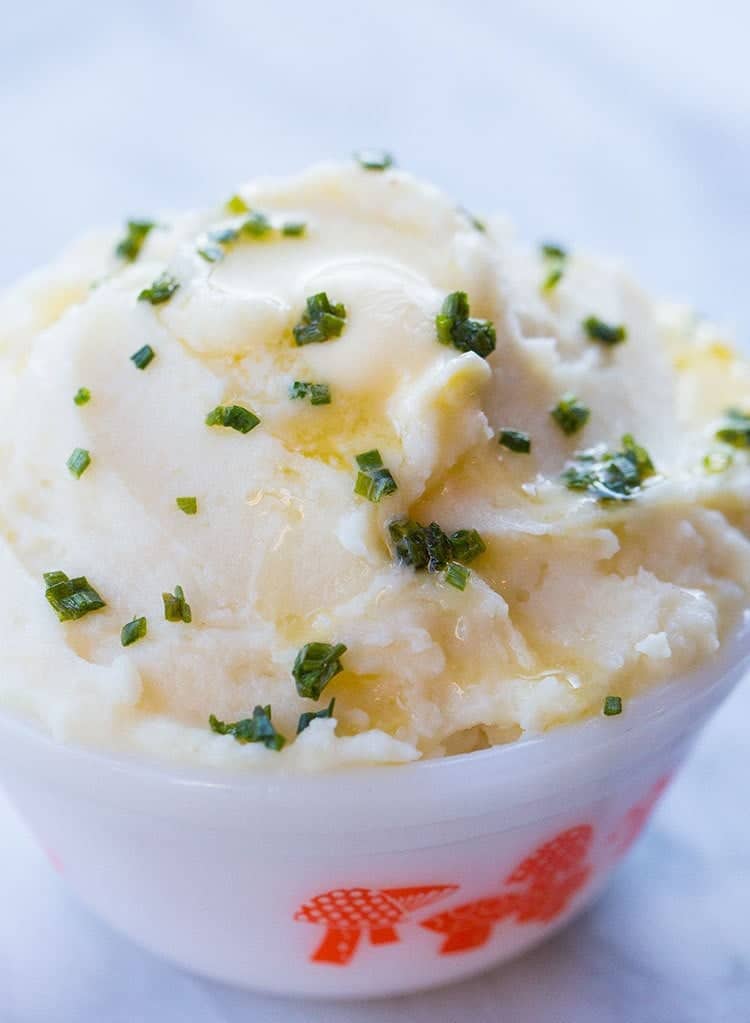 Tips for Making These Instant Pot Mashed Potatoes
The secret of course, is the cup of chicken broth that I put in the Instant Pot. You need liquid to bring a pressure cooker to "pressure", so I put in 10 cups of potatoes, 1 cup of chicken broth and crossed my fingers that the liquid ratio was enough.
It was enough. These Instant Pot mashed potatoes turned out so fluffy and decadent – and they cooked up in 15 minutes! I know a lot of recipe use less time, but these were the fluffiest, best potatoes that I have ever made. You could also use vegetable broth to the same end, if you want a vegetarian version.
USE A HAND MIXER! Oh my gosh you guys. The beauty of an Instant Pot is that stainless steel inner pot. It doesn't scratch easily and strong and you can literally use a hand mixer with beaters and instead of mashing, you can whip these potatoes into a fluffy, gorgeous mashed potato side dish.
Use the right type of potatoes. You can only do  the hand mixer method with Russet potatoes – I have tried it with other potatoes and they turned to glue. You do have to make sure that you don't over-beat them but if you do want the fluffiest potatoes ever, try a hand mixer for a minute after mashing.
Pressure Cooking Mashed Potatoes
Remember that sometimes we don't use pressure cookers just to be fast, but to make food taste better in the end. Potatoes done by pressure cooking with broth are ten times better than any that I have ever boiled and mashed before. The pressure infuses that broth and moisture right into the potatoes like nothing I've ever tasted before, either. Every time I serve these instant pot mashed potatoes to a guest that takes their mashed potatoes seriously, they ask me what the secret is to making them taste so good off of the spoon without a pool of butter or gravy.
These mashed potatoes can be made vegan easily as well and taste amazing WITHOUT having to use dairy in them, just use vegetable broth and whip them up with the hand mixer.
You can buy Instant Pots on Amazon, simply scroll to the bottom of this post to see a bunch of links to Instant Pots that you can purchase.  Seriously, it's the best kitchen appliance I have bought in years! It sits on my counter constantly because there is no reason to put it away, I use it so much.
Happy cooking all!
Love,
Karlynn
Pin this recipe to your Vegetable Dishes or your Holiday Dishes Boards!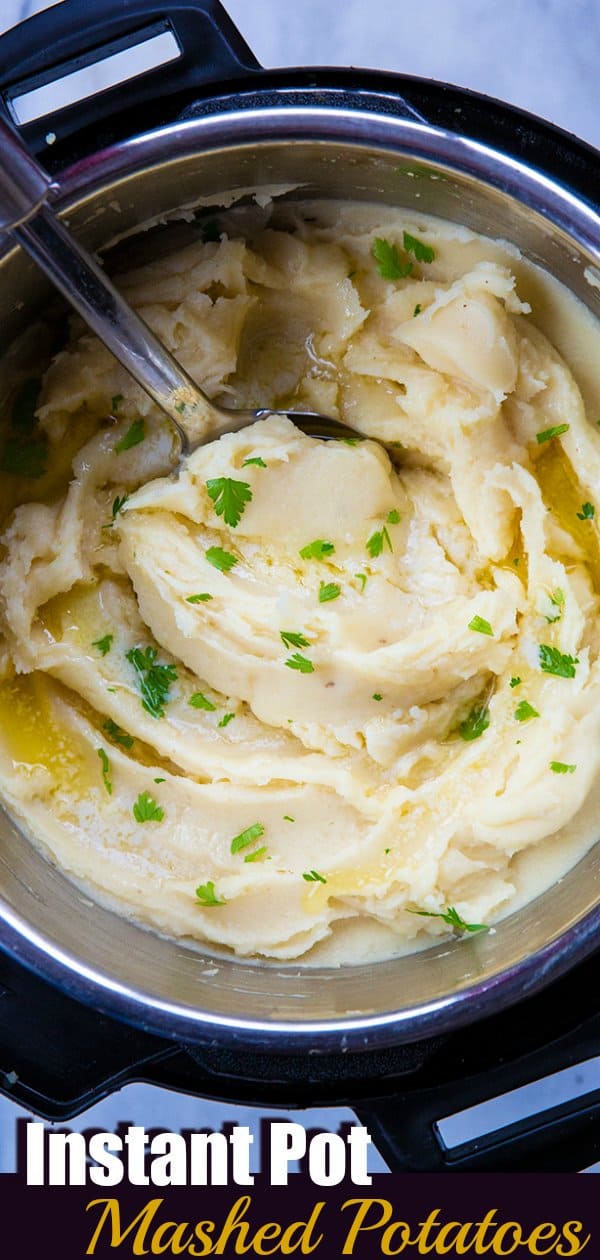 The BEST Instant Pot Mashed Potatoes!
How to make the best Instant Pot Mashed Potatoes! Once you try these you will never made boiled mashed potatoes again!
Keyword:
Instant Pot Mashed Potatoes
Ingredients
10

cups

of large diced russet potatoes

1

cup

of chicken broth

1/4

cup

milk

2

tbsp

salted butter
Instructions
Place the potatoes in the bottom on the instant pot, then pour the chicken broth over top.

Place the lid on top and seal.

Cook for 15 minutes on high pressure - I used the "beans/chili" button.

Manually release the pressure.

Add the butter and milk and mash with a potato masher. ( I do this right in the pot.)

Transfer to a serving bowl and enjoy!
Recipe Notes
I know a lot of recipes cook for 8 minutes, but this recipe with large chopped ( 1 inch pieces) RUSSET potatoes (always russet!!!!) worked perfectly!
Nutrition Facts
The BEST Instant Pot Mashed Potatoes!
Amount Per Serving
Calories 179
Calories from Fat 27
% Daily Value*
Total Fat 3g 5%
Cholesterol 8mg 3%
Sodium 145mg 6%
Potassium 815mg 23%
Total Carbohydrates 34g 11%
Protein 4g 8%
* Percent Daily Values are based on a 2000 calorie diet.
69