This vegetable lasagna with no boil noodles recipe was on the back of a box of lasagna noodles that I picked up the other day, determined to make vegetable lasagna. When it comes to lasagna, a good hearty vegetable is my favorite over all the rest, but it has to be a really good one. This ended up being a fantastic lasagna even though it was my first attempt, a no-boil noodle recipe and a recipe off a box!
No Boil Noodles Vegetable Lasagna
No boil noodles are amazing, I am just going to put that out there.Mike took this vegetable lasagna for lunch the next day and if you follow my blog regularly, that is my success-o-meter when it comes to recipes. If he eats it again, it's a sure fire hit. I took the basics of the box recipe and of course, made one completely different to suit my tastes.
What are no boil noodles?
No boil noodles are pre-cooked and then dried again to make it easier for them to cook up in a lasagna. They are also thinner than regular lasagna noodles. I find that the no boil noodles hold their shape in a lasagna better than the boiled noodles do. No boil noodles work in recipes that use extra water and sauce, which the noodles then cook in and soak up during the cooking process.
Can I Use Regular Lasagna Noodles Without Boiling Them?
I don't recommend trying this at all. The really important part is the sauce measurements for the no-boil noodle method, it worked perfectly! When you look at the amount of water and sauce needed for no boil noodles, the amount you would need for regular lasagna noodles would be a soup.
Can You Still Boil the No-Boil Noodles?
No, this isn't recommended at all. They will fall apart in your lasagna!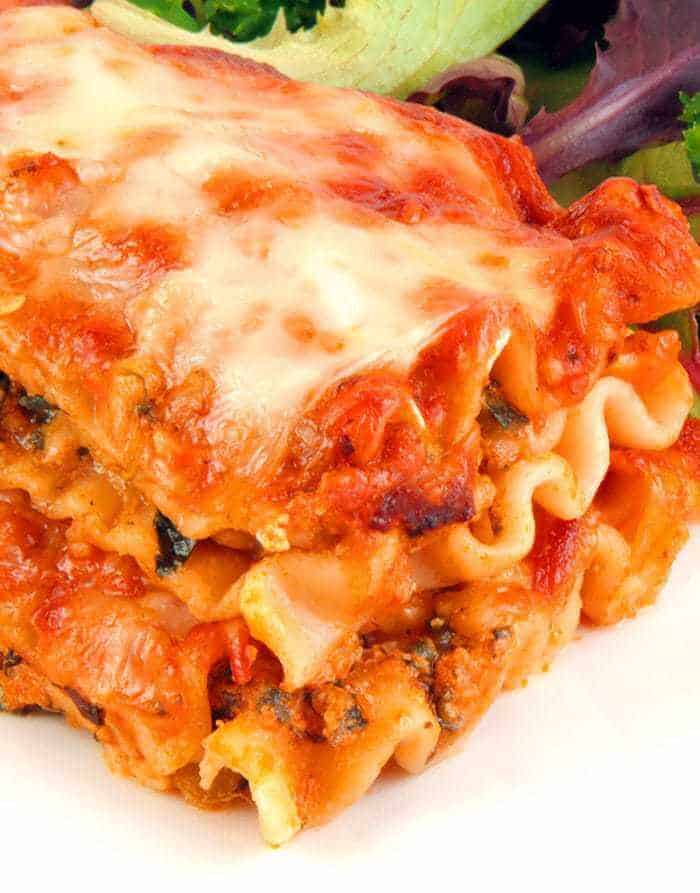 Vegetable Lasagna Tips & Tricks
You can sub in whatever you want for vegetables as long as you cook them beforehand. Cauliflower or broccoli chopped up small and roasted would also be amazing!
You can use vegetable broth instead of water to boost the flavour.
You can add more cheese on top if desired.
I add in tomato sauce to the ricotta layer. It does a good job of mimicking the look of ground beef ( if that's important) but it boosts the flavour of what is honestly a bland layer. I also add spices, which really gives the ricotta layer some taste depth.
Want some more pasta recipes? Try these:
Vegetable Lasagna with no boil noodles
This vegetable lasagna is chock full of oven roasted vegetables, spinach and cheese. It uses no boil noodles which makes for an easy, simple lasagna!
Ingredients
16

oz

box of lasagna noodles, no boil

454

grams

tub of ricotta cheese

1

tbsp

olive oil

680

ml

tomato pasta sauce

1

cup

water

6

cups

chopped vegetables

2

cloves

garlic

8

oz

shredded 3 cheese blend

1

cup

mozzarella cheese

340

gram

bunch of spinach

2

tbsp

Parmesan herb blend spice
Instructions
Preheat your oven to 400 degrees for roasting the veggies.

The first step is to soak your lasagna noodles in water while you chop the vegetables; a long plastic container does the trick. Make sure that they are covered with water.

Chop up your selected vegetables, I used red pepper, mushrooms,carrot, red onion and zucchini. The amount should fill a large baking tray, and it was barely enough!

Toss the vegetables with the olive oil then roast in the oven at 400 degrees until the vegetables are tender.

While this is going on, get your spinach ready by either steaming the fresh or squeezing out the defrosted type. Both need the excess moisture removed. When the vegetables are done, remove from the oven and turn the heat down to 350°F.

To prepare the ricotta mixture, take the whole tub and mix in some spinach, 1/2 cup to a cup depending on your tastes. Add in 1/4 cup of the tomato sauce. Then add 2 tbs of a Parmesan herb spice which makes it tastier than this layer usually is, sometimes this layer gets bland, but not when you spice it up!

Take the pasta sauce and in another bowl combine it with a cup of water. Then on the bottom of a 9x13 pan pour and spread out 1/2 a cup of the mix.

Drain the noodles and then put your first layer on. Don't be afraid to do them patchwork, they do not fit perfectly. I used 4 across the width and one laying at the bottom and this used up the entire box of noodles.

Add another half a cup of sauce on top.

Use 1/3 of your roasted veggies on top of that sauce.

Dab on a 1/3 of the ricotta mixture on top of those veggies. I then put a small layer of the 3 cheese blend (Saporito parmesan/reggiano/romano) on top of the ricotta layer.

Repeat the layers until you have only the top layer of noodles then pour the remainder of the sauce on top.

Cover with tinfoil and bake in a 350 degree oven for approximately 45 minutes or until the noodles are tender.

Remove from the oven and top with the mozzarella cheese then return the pan uncovered to the oven for another 10-15 minutes, until the cheese looks melted and slightly bubbled.

Let it sit for 5-10 minutes, then slice and serve.
Nutrition Facts
Vegetable Lasagna with no boil noodles
Amount Per Serving (8 g)
Calories 555
Calories from Fat 180
% Daily Value*
Total Fat 20g 31%
Cholesterol 62mg 21%
Sodium 856mg 36%
Potassium 1029mg 29%
Total Carbohydrates 70g 23%
Protein 30g 60%
* Percent Daily Values are based on a 2000 calorie diet.
0