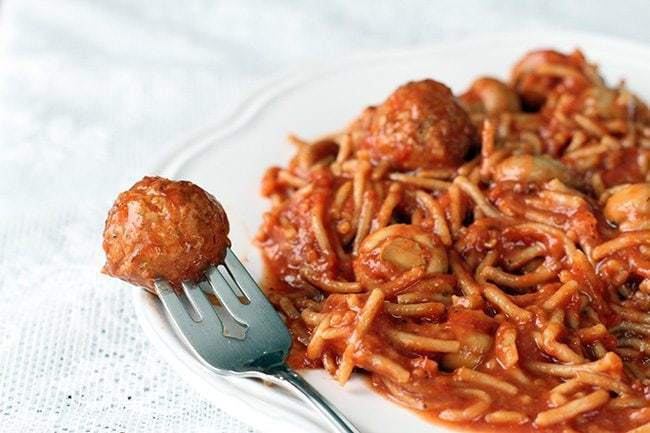 Crockpot spaghetti and chicken meatballs is the perfect dish to start our healthier eating, isn't it? It's still a comfort food but when you use whole wheat noodles and low-fat chicken meatballs, all of a sudden this usually fat laden dish becomes a healthier one!
Let's face it, while we all may not actively "diet" or run to the gym this time of year, we all feel the excess of Christmas and New Year's. I find that January is always a time to bulk up on the fruit and veggies, tuck the desserts to the side for a while and generally make sure I am eating as healthy as I possibly can, so while not actively "dieting" it's certainly a time of year when we need to recharge our healthy eating batteries.
This year is slightly different as we are travelling, I've been trying really hard to balance it all – a challenge when you have to eat out all the time- but it's pretty easy to make sure you have fruit and veggies for lunch, then have a nice decadent dinner. I actually think because I've missed most events that happen in Edmonton this year that I've done a lot better than most Christmas seasons!
I whipped up this crockpot spaghetti on a prayer and a hope. It's not easy to make pasta in the crockpot and even less so when you are actually going to fully cook it in there.
It worked out really, really well! It is most certainly more like a casserole, thicker, chunkier and it depends on how much you break up the spaghetti while making it. Of course, the whole family loved it!
The secret to making this a healthier pasta is to use whole wheat spaghetti noodles and low-fat pre-cooked chicken meatballs. I love the PC Italian Meatballs, they are so flavorful and low-fat as well, adding no grease to your pasta whatsoever. Choose what you like, but make sure they are a pre-cooked meatball!
If you are looking for long noodles in a very light sauce, this is not the dish for you. It's a really fabulous change from spaghetti, when the noodles break up it becomes more like a casserole, thicker and chunkier. Mmmm. So very delish!
While we are at it, here are a few choices from the Life Made Delicious website that are a little lighter fare.
Happy cooking everyone!
Love,
Karlynn
** Remember to join ZIPLIST to create your own online recipe box and then click SAVE on my recipe below to add it! I use my online recipe box ALL the time! **
Healthy Crockpot Spaghetti
Easy and healthy crockpot spaghetti!
Ingredients
48

oz

pasta sauce (2 jars of your choice of pasta sauce)

375

gram

box of spaghetti- whole wheat highly suggested

20-25

precooked frozen chicken meatballs

2-3

cups

water plus as needed at the end
Instructions
Pour one jar into the bottom of the crockpot, spreading out evenly.

Break the spaghetti in half, fitting the whole box into the crockpot on top of the pasta sauce.

Pour half a cup of water over top of the spaghetti.

Pour the other jar of sauce over the spaghetti.

Place the meatballs on top of the sauce.

Cook on high for two hours. (If you have a super hot crockpot, check the ingredients at 1 1/2 hours to make sure the sauce isn't burning on the sides).

Remove the lid, add another 2 cups of water and stir all the ingredients.

Cook for another hour until the noodles are tender and the meatballs are cooked to 165 degrees in the middle.*White flour pasta may cook a lot faster! Add enough water to thin out the sauce to your liking. The sauce can be strong at this point, so taste test and add water to thin it out.

Serve and enjoy!
Nutrition Facts
Healthy Crockpot Spaghetti
Amount Per Serving (8 g)
Calories 297
Calories from Fat 54
% Daily Value*
Total Fat 6g 9%
Cholesterol 46mg 15%
Sodium 1129mg 47%
Potassium 663mg 19%
Total Carbohydrates 46g 15%
Protein 17g 34%
* Percent Daily Values are based on a 2000 calorie diet.
"Disclosure: I am part of the Life Made Delicious. Blogger program and I receive special perks as part of my affiliation with this
group. The opinions on this blog are my own."
0