These are my newest version of my scones, and our favorite so far. Of course lemon makes everything better, but I had a bag of dried cranberries in my cupboard and decided to use them instead of raisins, and the scones are so flavorful it's amazing.
Ingredients:
2/3 cup of sour cream
1/2 tsp baking soda
4 cups of flour
1 cup of white sugar
1 cup of dried cranberries, sweetened
1 cup of margarine or butter
1 lemon
1 egg
2 tsp baking powder
1 tsp salt
Kick the tires & light the fires to 350 degrees.
Mix the baking soda and the sour cream together.
Whisk all your dry ingredients together in a large bowl.
Add your butter and cut in until it's crumbly.
Take your lemon and grate the peel off of it into the flour mixture.
It should look like this, not completely white but you got most of the peel off.
Cut your lemon in half, and squeeze all the juice out, picking out the seeds that inevitably fall into it. They always do, I haven't mastered juicing a lemon and not having all the seeds end up in the juice too.
You should get around this much, almost a 1/4 cup of lemon juice.
Add in enough milk to bring it to 1/3 of a cup. Don't worry if the milk curdles.
Mix the sour cream, milk and egg into the dry ingredients.
Once it's mixed a bit, add in the cranberries.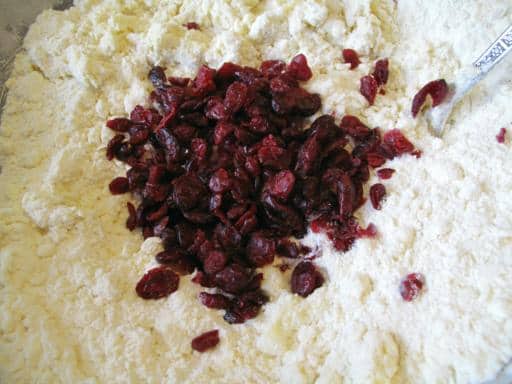 Divide into three balls, then flatten into 6 inch disks. Cut each piece into 6 triangles.
Bake in a 350 degree oven and bake them until they are golden brown, from 15-20 minutes depending on your oven, and be prepared for these to be your new favorite scone!
Print
Lemon Cranberry Scones
---
Author:

Prep Time:

10 min

Cook Time:

15 min

Total Time:

25 min
Description
Delicious tangy lemon scones with the added zing of cranberries.
---
Ingredients
2/3 cup of sour cream
1/2 tsp baking soda
4 cups of flour
1 cup of white sugar
1 cup of dried cranberries sweetened
1 cup of margarine or butter
1 lemon
1 egg
2 tsp baking powder
1 tsp salt
---
Instructions
Kick the tires & light the fires to 350 degrees.

Mix the baking soda and the sour cream together.

Whisk all your dry ingredients together in a large bowl.

Add your butter and cut in until it's crumbly.

Take your lemon and grate the peel off of it into the flour mixture.

Cut your lemon in half, and squeeze all the juice out, picking out the seeds that inevitably fall into it. They always do, I haven't mastered juicing a lemon and not having all the seeds end up in the juice too.

You should get almost a 1/4 cup of lemon juice.

Add in enough milk to bring it to 1/3 of a cup. Don't worry if the milk curdles.

Mix the sour cream, milk and egg into the dry ingredients.

Once it's mixed a bit, add in the cranberries.

Divide into three balls, then flatten into 6 inch disks. Cut each piece into 6 triangles.

Bake in a 350 degree oven and bake them until they are golden brown, from 15-20 minutes depending on your oven