If you haven't tried Sweet Honey Curry Chicken you are missing out on one of the oldest and best chicken recipes on my website! We have been making this chicken dish for years!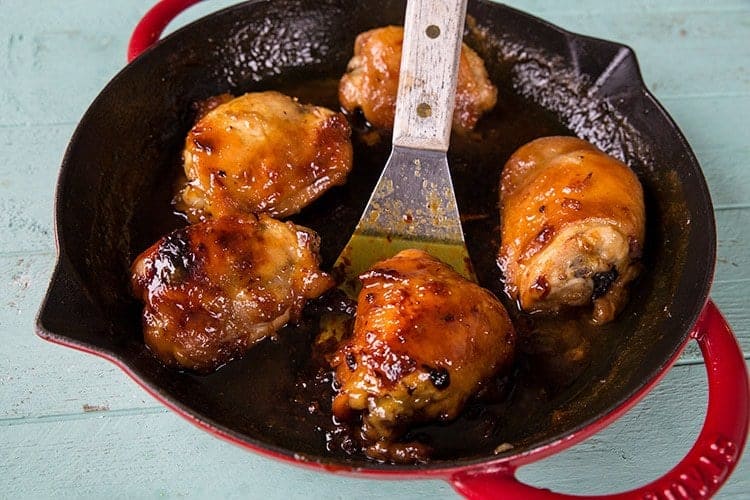 My Sweet Honey Curry chicken has made it onto my list of top chicken dinner recipes.
I would serve this to company, even those with fussy palates, as the curry flavor is incredibly mild, and enhanced by the sweet honey so perfectly, it makes your mouth water just to even smell it.
And its easy. Holy smokes, is this chicken easy!
Ah curry, one of my favorite spices to add some originality to a recipe. One day soon, I will devote a week to curry cooking, I kid you not!  I have a huge repertoire of favorite recipes just waiting to burst forth. Sorry, I am such a tease!
You can either bake the chicken in a 9×13 pan, on a baking sheet or in an oven safe skillet to save yourself a step.
This sweet honey curry chicken has won over many people that thought they didn't like curry, and that includes some of my own family members! Everyone associates curry with spice and mouth burn, but it's simply not true. While curried dishes can indeed make your mouth burn, there are mild curries that you can use to make this the ultimate introduction to those family members that are wary about trying curry.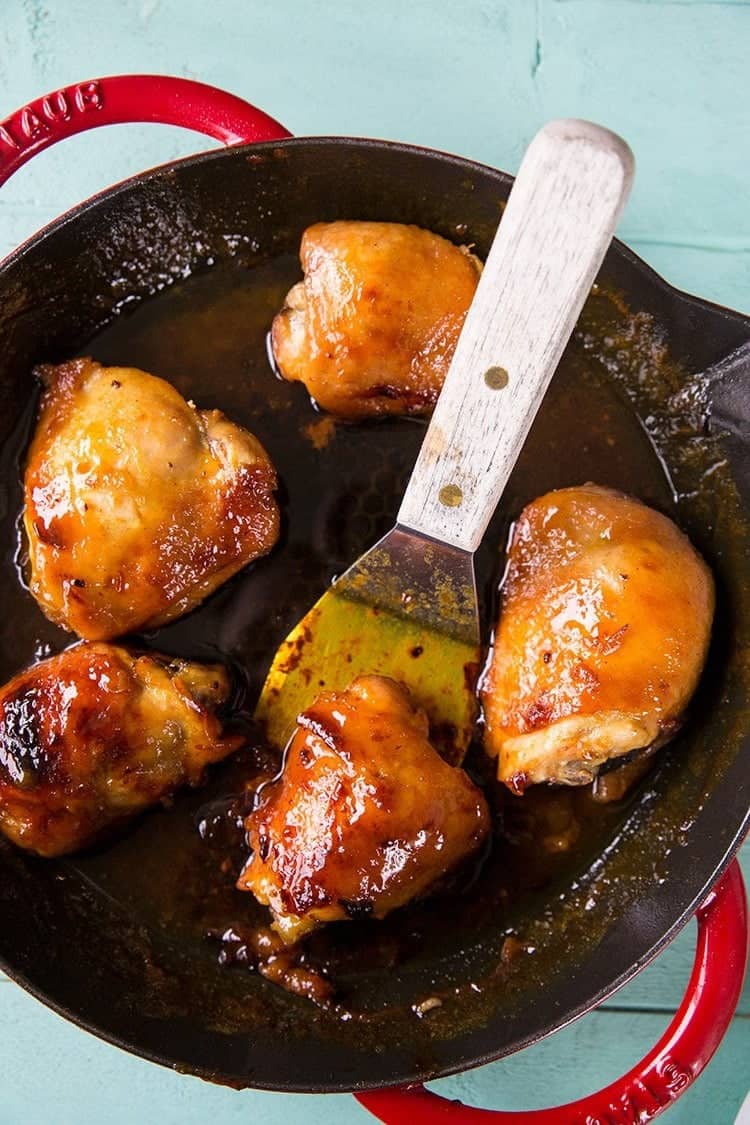 Sweet Honey Curry Chicken Tips & Tricks
Find a mild curry if you are serving this recipe to people that aren't sure that they enjoy the flavour or kids. Kids will eat this recipe happily, but most kids don't like hot spices. This is the perfect introductory dish for them.
I prefer using chicken thighs in this recipe. Chicken breasts are good as well but can dry out a little bit.
This recipe would make great chicken wings!
This is one of the oldest and the best recipes on my website, meaning that we have been eating this sweet honey curry chicken for almost 10 years now! Crazy! If you are looking for another great recipe that introduces some good spices to your family, try my Uncle Bob's Japanese Chicken Wings. They are crazy good!
Happy cooking everyone! If you made it and loved it, make sure to leave a rating and a comment in the comments below!
Karlynn

Pin this recipe to your Dinner or Supper Ideas Boards!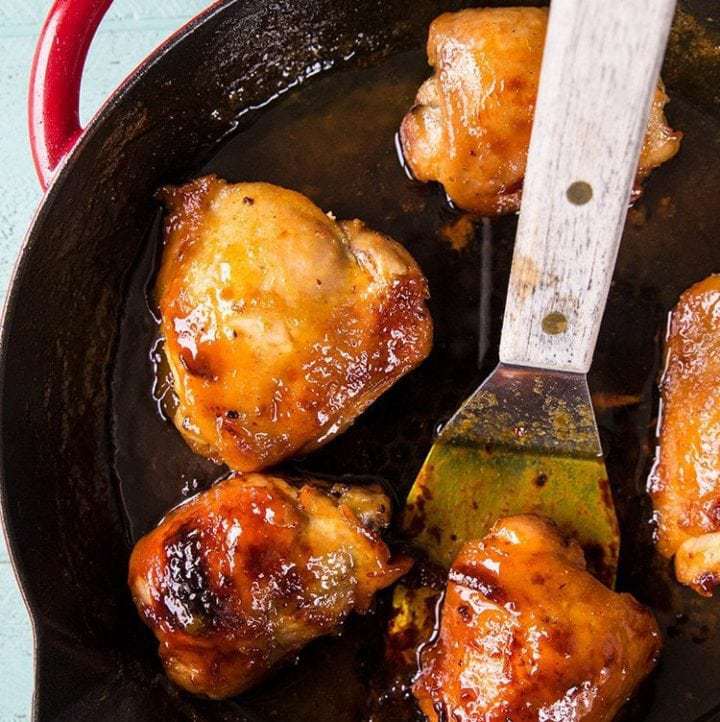 Sweet Honey Curry Chicken
Sweet Honey Curry Chicken, the perfect dish to introduce your family to the delicious taste of curry!
Ingredients
6-8

pieces

of chicken

I prefer thighs but you can cut up a whole chicken too!

1/2

cup

butter

1/2

cup

honey

1/4

cup

prepared mustard

1

tsp

curry powder

1

tsp

salt
Instructions
 Preheat your oven to 350 °F.

Take all of the ingredients except for the chicken and whisk together in a bowl.

Take a large skillet and place some olive oil in in. Fry the chicken to get rid of some of the excess fat and crisp the skin.

If you are using an oven safe skillet, keep the chicken in it. If you aren't, transfer the chicken to an oven safe baking sheet or pan.

Pour the sauce over your chicken pieces, coating them all, then set aside some in a little dish for basting later. You don't have to baste, but there is so much sauce that I love to spare some and use it later.

Put the chicken in your 350 degrees oven and cook until the chicken thighs reach a temperature of 180°F.

Now. Important. The honey can and will burn if you have your rack in your oven set too high. Make sure its in the middle, erring on the lower side. Honey burns. Basting will also help make sure it doesn't burn as well. This is truly the only fiddly part about this recipe.

When its ready, serve it up!
Nutrition Facts
Sweet Honey Curry Chicken
Amount Per Serving (1 piece)
Calories 172
Calories from Fat 99
% Daily Value*
Total Fat 11g 17%
Cholesterol 30mg 10%
Sodium 486mg 20%
Potassium 21mg 1%
Total Carbohydrates 18g 6%
* Percent Daily Values are based on a 2000 calorie diet.
4