The Best Crispy Oven Baked Chicken Legs will transport you right back to your childhood! Who remembers their Mom making Shake and Bake and fighting over the chicken drumsticks? Please tell me that it wasn't only me and my brother and sister… there has to be some of you that would go for the drumsticks first before your siblings could get it? Yes my friends the secret to the crispiest oven baked chicken legs is homemade shake and bake!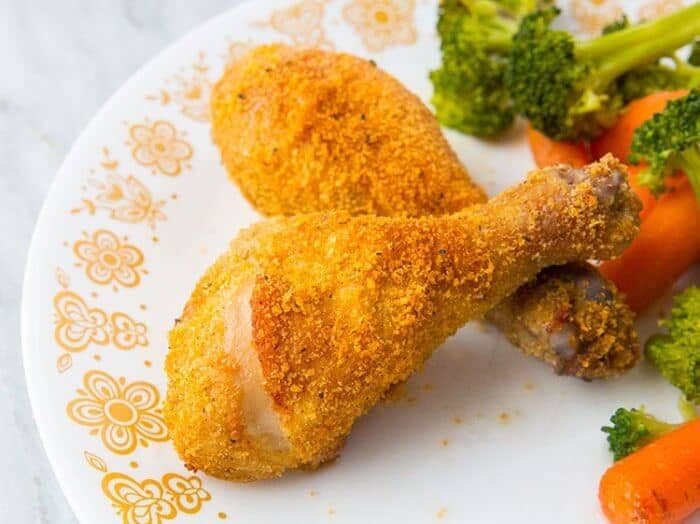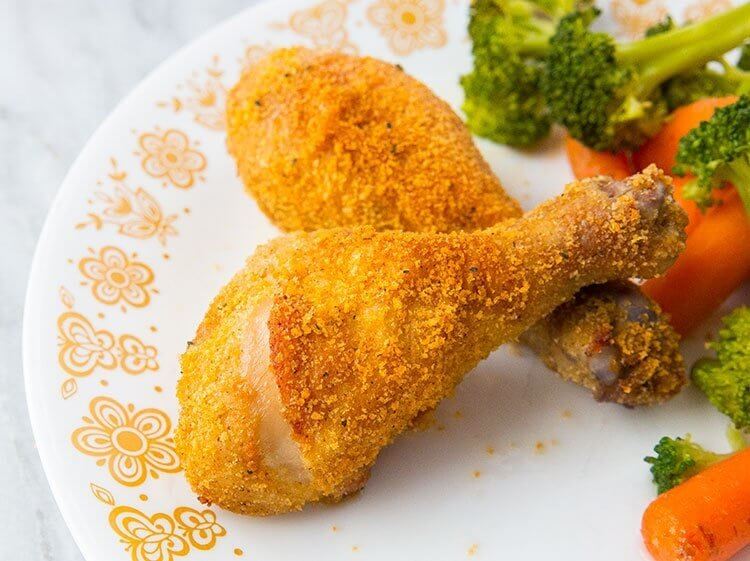 Crispy Oven Baked Chicken Legs for the dinner win.
Like I said in my How to Make Homemade Shake and Bake Mix post, I love using prepackaged goods. I love pistachio pudding mix, I ADORE canned mushroom soup and I have a lot of fun baking with cake mixes. But hydrogenated oil and I do not get along. It's to the point where I eat something with it accidentally I know. My stomach will tell me in about an hour, then I look at the package of what I ate and realize that it has hydrogenated oil in it. EVERY TIME without fail. TMI, right? It's just not good for you and in a world of things that "aren't good for you" I'm going to pick my battles and enjoy sugary desserts and too much wine on occasion instead of things with hydrogenated oil.
How do I make chicken crispy in the oven?
It used to be store-bought shake and bake my friends but now you can make it at home! Let's face it, nothing ever compared to Shake and Bake when it came down to crispy oven baked chicken legs. Nothing ever beat it and that's why it's a staple. All of those other recipes that have oil and seasonings.. I mean, how can it be crispy without breading? You need the crushed up Panko in this recipe to get the crispiest chicken legs ever!
You have to bake chicken legs HOT HOT HOT to get them crispy! Even if you weren't using this recipe, you have to crisp that chicken skin right up on those chicken drumsticks and that means HOT.
You need a thick breading or coating to get the crispiest chicken legs. Let's just take a look at the photo below, shall we? Hot DAMN those are some fine looking chicken legs! ( that sounded more pervy than I wanted…..)
Crispy Oven Baked Chicken Legs Tips & Tricks
Buy chicken legs that have good skin on them. Make sure that the chicken skin looks clean, not ripped, not discolored and basically appear like it would hold the homemade shake and bake perfectly.
Cook it hot just like I say in the recipe!
Really coat on that shake and bake coating. The smashed Panko crumbs in the recipe are really going to be what makes it so crispy!
Make sure that when you bake them on a rimmed baking sheet that you space the chicken legs apart enough that they have room for the hot air to circulate between them. Don't crowd them on the baking sheet!
Cook chicken legs to 185°F. I say this in all of my dark chicken meat recipes, so many people think that it's best at 165 °F. No, that is when it's SAFE to eat. I've learned from many chefs that you need to cook dark meat further to get the best chicken meat texture and flavour! Once you start cooking it just that little further you are going to be mad that you weren't doing this the entire time!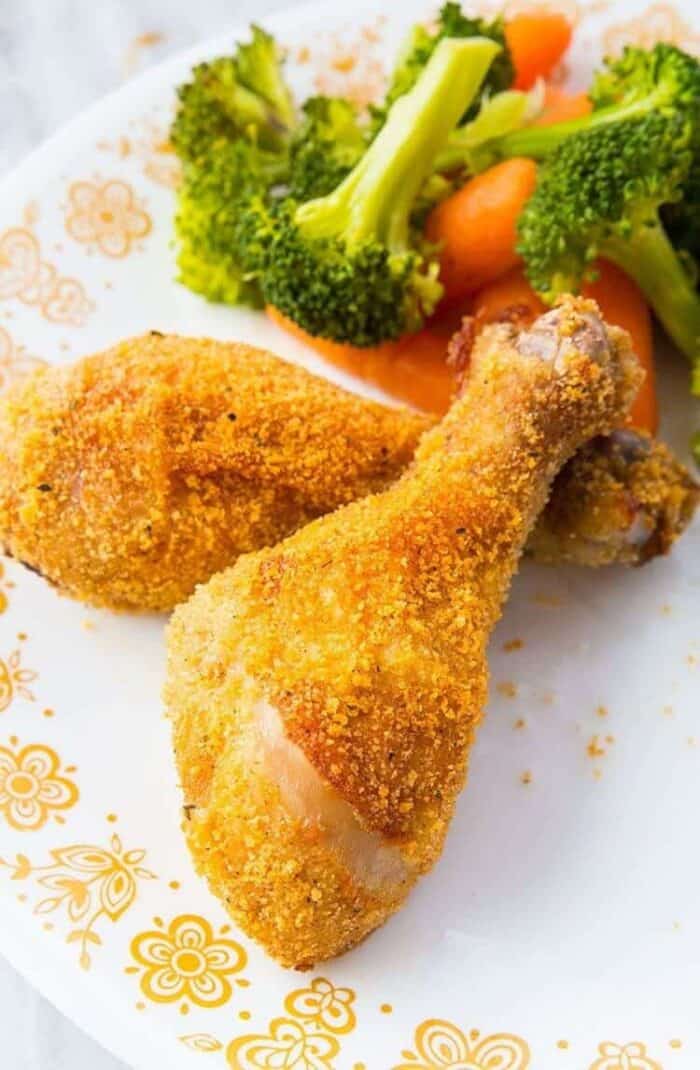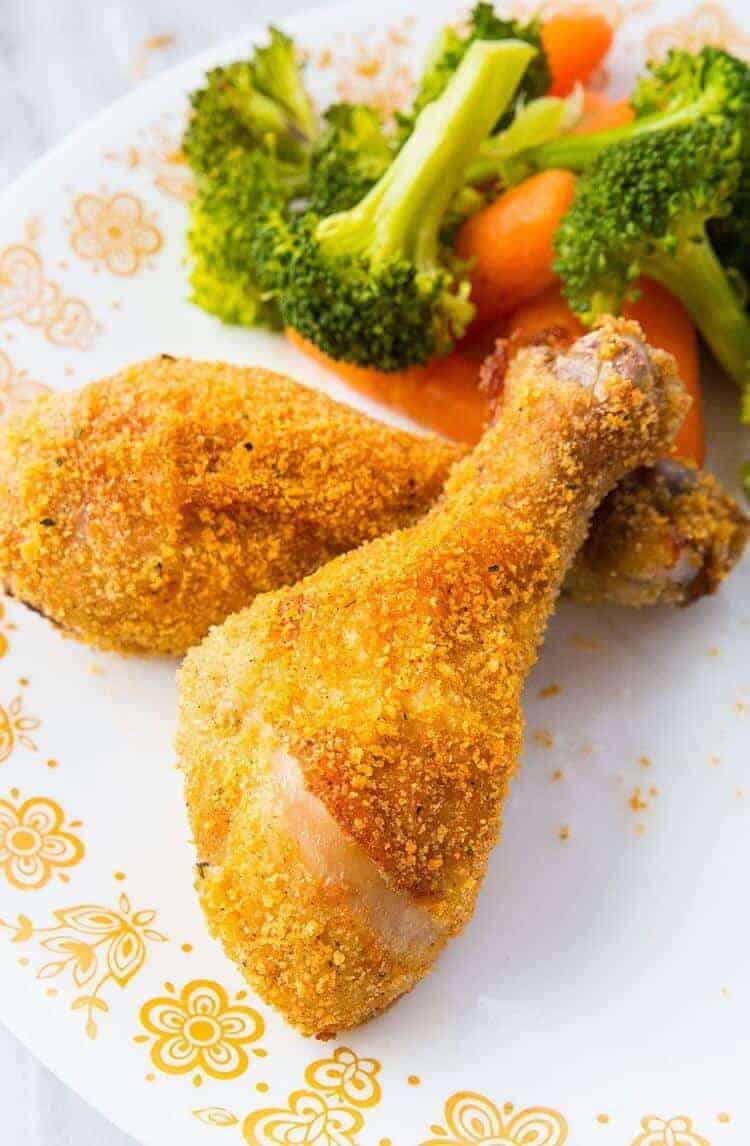 If you are looking for some more great chicken recipes try my:
Happy cooking everyone!
Love,
Karlynn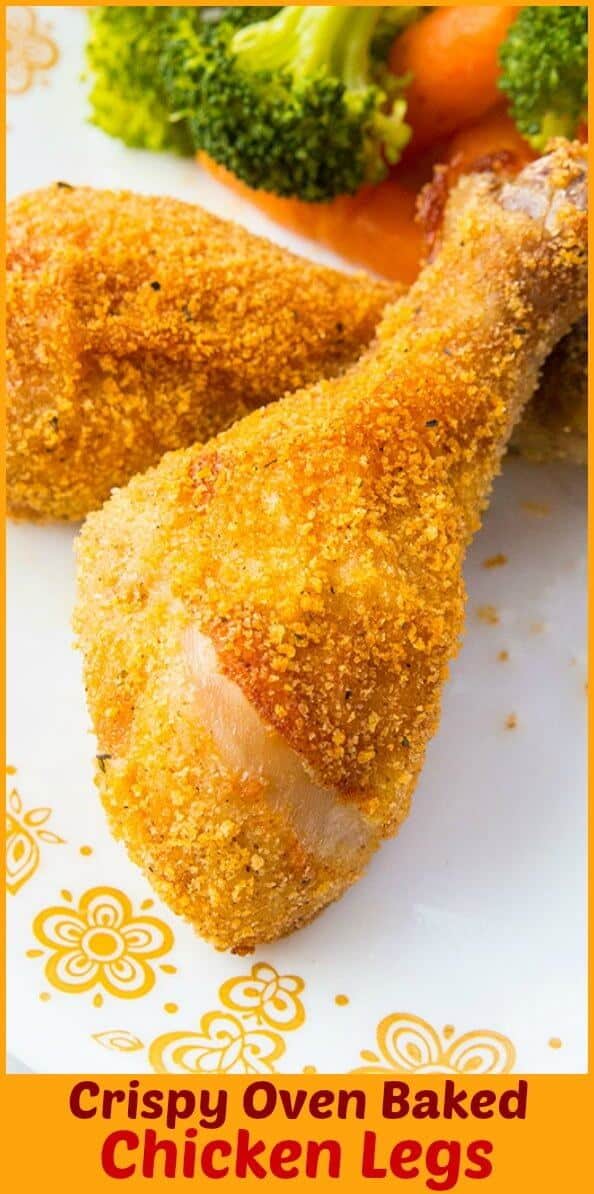 Crispy Oven Baked Chicken Legs
The Best Crispy Oven Baked Chicken Legs will transport you right back to your childhood! Who remembers their Mom making Shake and Bake and fighting over the chicken drumsticks?
Course: Dinner
Cuisine: American
Servings: 12
Calories: 367 kcal
Ingredients
Homemade Shake and Bake Coating
1 227 g box of Panko bread crumbs finely crushed
3 tbsp cornstarch
2 tbsp all purpose flour
3-4 tsp salt
1 tbsp celery salt
1 tbsp onion powder
1 tbsp paprika
1 tsp garlic powder
1/2 tsp dried basil
1/2 tsp dried oregano
1/2 tsp black pepper
1/2 tsp dried thyme
2 tbsp canola oil cold pressed
Instructions
Combine all ingredients into a large plastic bag that seals. Seal the bag and shake the ingredients until combined.

Pre-heat the oven to 400 °F. Place 1 cup of the shake and bake mixture in a large sealing plastic bag. Place the chicken legs, two at a time, in the bag and shake until coated in the mixture. Place on a baking sheet. Repeat until all legs are prepped.

Bake in the oven for 30-35 minutes until the chicken legs reach a temperature of 185 °F. Remove, cool slightly and serve.
Recipe Notes
Remember what I always tell you when it comes to cooking dark chicken meat: 165 degrees is for SAFETY but that isn't what the meat is best cooked to for texture and enjoyment. Cook chicken dark meat to at least 185 °F to break down the fat and fibers, trust me and all the chefs that I know, this is the secret!
Actual calories will vary as this calculates the entire batch of Shake and Bake mix. Actual calories will be less.
Nutrition Facts
Crispy Oven Baked Chicken Legs
Amount Per Serving
Calories 367 Calories from Fat 189
% Daily Value*
Total Fat 21g 32%
Saturated Fat 5g 25%
Cholesterol 119mg 40%
Sodium 1411mg 59%
Potassium 320mg 9%
Total Carbohydrates 17g 6%
Dietary Fiber 1g 4%
Sugars 1g
Protein 23g 46%
Vitamin A 8%
Vitamin C 0.5%
Calcium 5%
Iron 11.7%
* Percent Daily Values are based on a 2000 calorie diet.
172