I did NOT NAME this Man-Catching Oven Baked Fried Chicken, I'm just putting that out there right now off the bat! This is one of the oldest and most popular oven baked fried chicken recipes on my website and this was named Man Catchin' chicken by someone on Facebook years and years ago and the name has STUCK with everyone! Sorry not sorry, I find it hilarious!

This is literally the best Oven Baked Fried Chicken.
I have been meaning to re-shoot the photos and republish this recipe for years now. I think it is one of the most under-loved recipes on my entire website, I keep thinking to myself " If only everyone knew how delicious and easy this chicken is!" So now I'm bringing my oven baked chicken back, with a brand new name. I'd like to thank Kristina's husband ( I'll fill this in with a name if he comes forward later) for the name. When she told me on my Facebook Page that she was making my oven baked chicken that her husband called " Man Catching Chicken" and everyone started calling it that….. I knew that it was getting a new name. Who's going to argue with a bunch of my readers on Facebook? Not this blogger!
This recipe is SO OLD I didn't even have it in a print format!It was called Oven Crispy Chicken and look at how little my Rose is! She's sooo cute just chowing down on that drumstick!  Oh my goodness, that recipe was one of my first ever on my website, so it is definitely due for a reboot!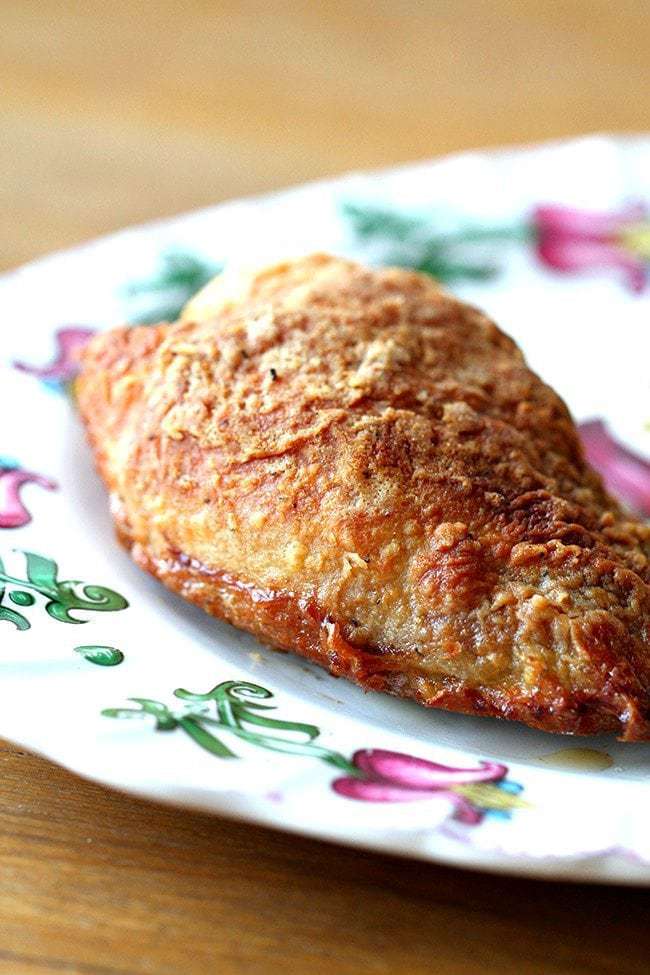 The pictures for this chicken always make me drool, but the best part is that YOUR oven baked chicken should turn out exactly like the photos, heck, maybe even better!
Important Tips & Cooking Advice For Oven Fried Chicken
I USED to tell everyone not to use butter because it would burn. I LIED hahaha! Thank you to all my readers that tested this recipe over the past 8 years and have weighed in. Hey, I was a fledgling blogger, what did I know way back then? Heck, what do I even know now….
MAKE SURE to let the chicken sit in the fridge for half an hour. This guarantees a crispy skin that doesn't fall off right away! This I have never, ever been wrong on and I will stick by my advice! This is the scientific magic that helps this be the best oven fried chicken ever!
This recipe is probably the best one to make oven fried chicken breasts. Chicken breasts are my least favourite cuts of chicken to oven bake, to be honest. They dry out so easily. This recipe helps prevent chicken breasts from being too dry.
What are the best chicken pieces to use in this recipe?
You can use any and all chicken pieces from chicken thighs, to chicken breasts and even chicken drumsticks! I would dare say that you can even try making chicken wings with it and I think I've been inspired to try! Whatever cut of chicken you have on hand, you can use and this recipe will be a success!
So here is an oldie goldie of a recipe you guys! I love a good walk down memory lane – it's quite the long memory lane when you have been blogging for almost a decade now! Sheesh. We are getting old together, aren't we?
Here are some other chicken recipes that you might like to try:
Love you more than chocolate,
Karlynn

Man Catching Oven Fried Chicken
Amazing oven baked fried chicken that is as close to deep fried as you're ever going to get! Check out the secret to a fabulous crispy skin!
Course:
Dinner, Main Course
Ingredients
1 1/3

cups

of flour

1

tbsp

garlic powder

2

tbsp

seasoning salt

1

tsp

paprika

1

tsp

pepper

2

large

eggs

1/3

cup

of margarine ( or butter!! it works!)

8

pieces

of your choice of chicken, SKIN ON
Instructions
Whisk together the first five ingredients in a medium sized bowl.

Grease a baking sheet large enough for 8 pieces of chicken and set aside,

Beat the eggs in a small bowl.

Line up your bowls and your baking sheet in this order from right to left; egg, flour, then baking sheet.

First, dip your chicken into the flour mixture and cover it completely.

Dip it into the egg mixture, then into the flour mixture again for a second coat.

Place on the baking sheet.

Repeat with all chicken pieces.

Place in fridge for half an hour.

Preheat your oven to 400 degrees F.

Melt the margarine ( or butter!) and drizzle evenly over the top of the chicken pieces.

Bake for 30-40 minutes or until the chicken reaches the appropriate temperature (165 for Breast meat, 180 for dark meat)

Remove and serve!
Nutrition Facts
Man Catching Oven Fried Chicken
Amount Per Serving (4 servings)
Calories 338
Calories from Fat 162
% Daily Value*
Total Fat 18g 28%
Cholesterol 135mg 45%
Sodium 3662mg 153%
Potassium 121mg 3%
Total Carbohydrates 34g 11%
Protein 8g 16%
* Percent Daily Values are based on a 2000 calorie diet.
315