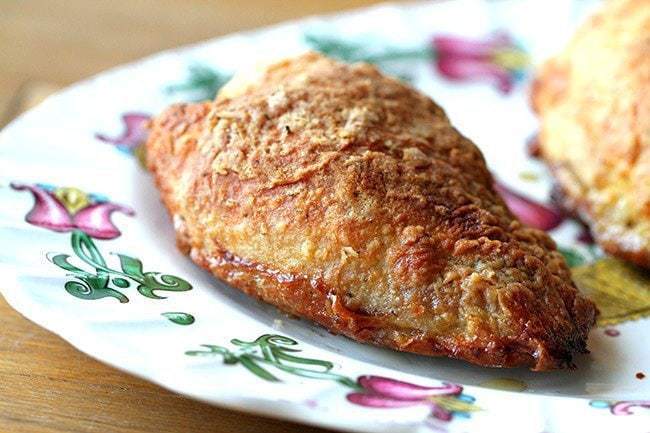 This is literally the best Oven Baked Fried Chicken out there, folks. I have been meaning to re-shoot the photos and republish this recipe for years now. I think it is one of the most under-loved recipes on my entire website, I keep thinking to myself " If only everyone knew how delicious and easy this chicken is!"
So now I'm bringing my oven baked chicken back, with a brand new name. I'd like to thank Kristina's husband ( I'll fill this in with a name if he comes forward later) for the name. When she told me on my Facebook Page that she was making my oven baked chicken that her husband called " Man Catching Chicken" I knew that it was getting a new name.
This recipe is SO OLD I don't even have it in a print format! You can see it here and look at how little my Rose is! She's sooo cute just chowing down on that drumstick!  Oh my goodness, that recipe was one of my first ever on my website, so it is definitely due for a reboot!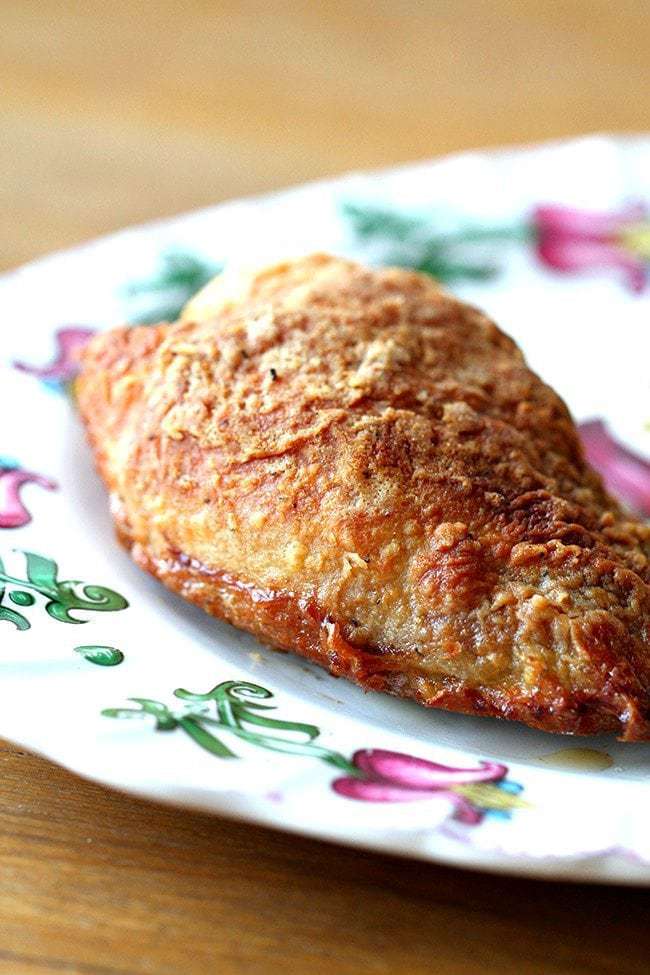 Important things to note:
Do NOT ignore Magpie and use butter on the chicken instead of margarine, the smoke point isn't high enough and it will burn. You have to use margarine on it.
MAKE SURE to let the chicken sit in the fridge for half an hour. This guarantees a crispy skin that doesn't fall off right away!
Let me know what you think!
Love you more than chocolate,
Karlynn

Print
Man Catching Oven Fried Chicken
---
Author:

Prep Time:

40 min

Cook Time:

40 min

Total Time:

80 min

Category:

Dinner
Description
Amazing oven baked fried chicken that is as close to deep fried as you're ever going to get! Check out the secret to a fabulous crispy skin!
---
Ingredients
Ingredients:
1 1/3 cups of flour
1 tbsp garlic powder
2 tbsp seasoning salt
1 tsp paprika
1 tsp pepper
2 or 3 eggs
1/3 cup of margarine
8 pieces of your choice of chicken
---
Instructions
Whisk together the first five ingredients in a medium sized bowl.

Grease a baking sheet large enough for 8 pieces of chicken and set aside,

Beat the eggs in a small bowl.

Line up your bowls and your baking sheet in this order from right to left; egg, flour, then baking sheet.

First, dip your chicken into the flour mixture and cover it completely.

Dip it into the egg mixture, then into the flour mixture again for a second coat.

Place on the baking sheet.

Repeat with all chicken pieces.

Place in fridge for half an hour.

Preheat your oven to 400 degrees F.

Melt the margarine and drizzle evenly over the top of the chicken pieces.

Bake for 40-50 minutes or until the chicken reaches the appropriate temperature (165 for Breast meat, 180 for dark meat)

Remove and serve!