'Tis is the season that I get to try out all sorts of kitchen appliances! Man, I love this time of year and I love what I do for a living. I get to try out SO many neat things and so many cool kitchen appliances.
This time around, I am trying out the Phillips Airfryer, an appliance that has been on my to-try list for as long as I can remember. The main point to an Airfryer is that that you can create healthy, homemade meals in mere minutes – with less fat.
As someone that has avoided a deep fryer all of her years – yes, even for my doughnuts chapter in my cookbook I used a large,deep frying pan- I really wanted to try an Airfryer out. The secret to the healthy frying is that the Phillips Airfryer uses their proprietary Rapid Air Technology. Thanks to this technology, the airfryer fries, bakes, roasts and grills with little to no oil, making it a perfect solution for fast, tasty and healthy meals and snacks.
Can I call French fries healthy now? All jokes aside, I will be trying out french fries in my last post on the airfryer. I love a good French fry but unfortunately there is nothing like deep frying them. Wait until my last post and we are going to delve into how French fries turn out on the airfryer!
Right now we are going to start with my own recipe, then I will be posting more posts later on, that involve testing Gordon Ramsey's recipes!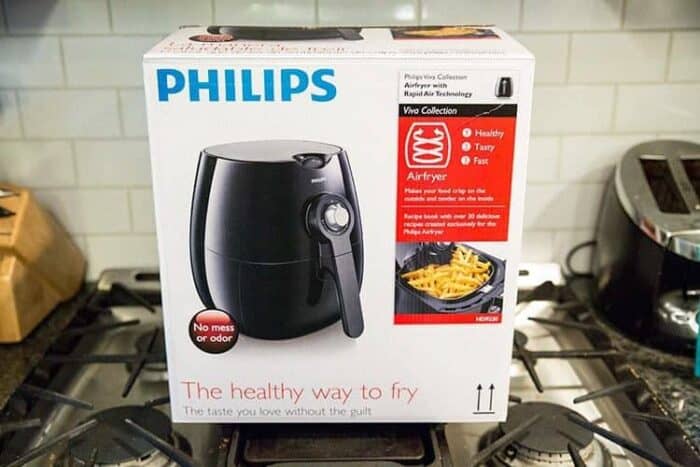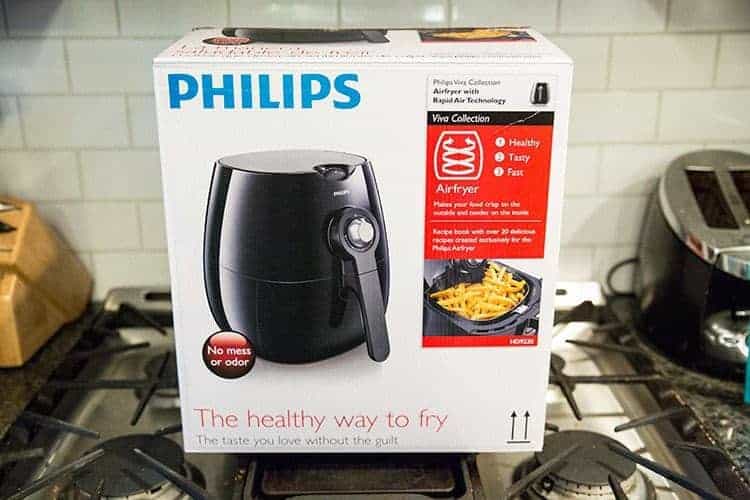 That's right, I get to try out one of HIS recipes next! But for now, I wanted to test out how this baby works.
Can you get a crispy, crunchy texture without all that oil?
Well, take a peek at my air fried chicken!
I made three chicken thighs in the Phillips Airfryer and they were a HIT. Look at how crispy that skin came out! My son devoured these – as 12 year olds are wont to do – and asked for more!
So while I would only place 4 small chicken thighs in the airfryer, this would also work with chicken wings! The airfryer can only handle a certain capacity – see the manual- so it makes only a small meal, say for two people. ( or one 12 year old boy.)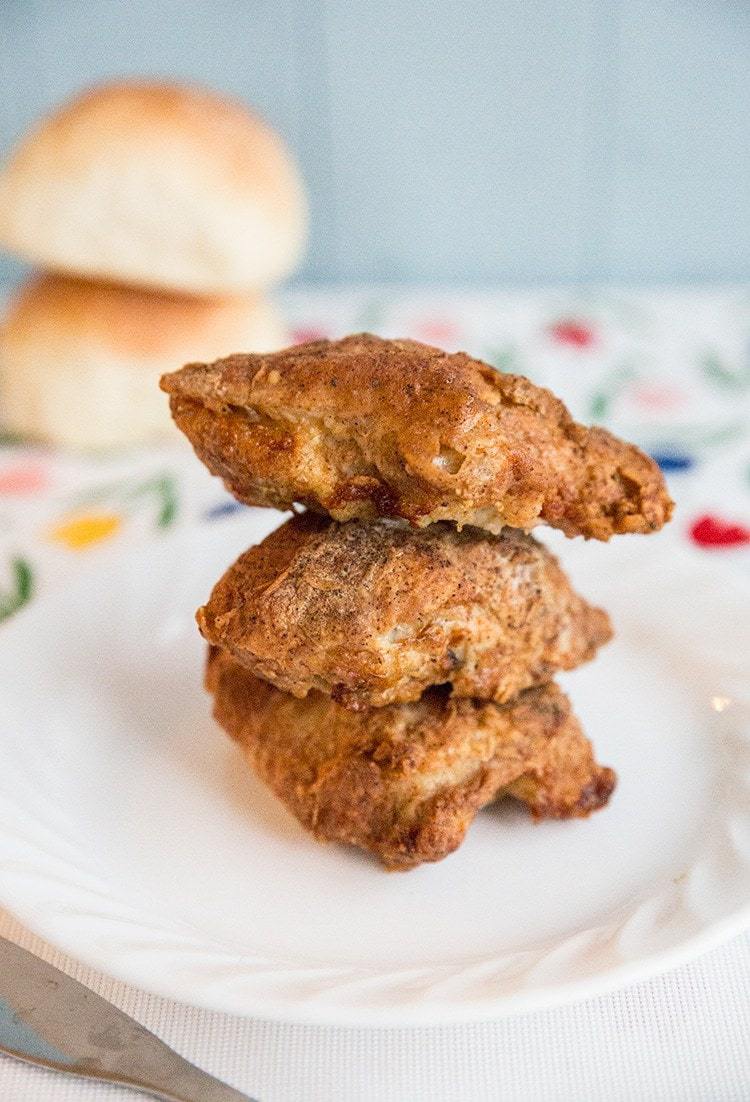 The Phillips Airfryer comes with a fabulous recipe booklet that has 25 delicious recipes. Better yet, the Philips Airfryer app can be downloaded for free and has over 200 recipes; available in multiple languages and platforms so that you can get cooking!
What I really loved about this chicken is that I used no grease at all. Nada. I put the chicken in there and it cooked up beautifully without a drop of grease added.

The container itself is SO easy to clean.  As you can see, you can fit another chicken thigh or random piece of chicken in there, but you want to make sure that you follow the instructions as to the amount of meat that you can place in there. You simply place the food into this little basket and away you go! It's so easy!

This recipes uses one of my very favourite seasonings in the world : Old Bay Seasoning. It's a very East Coast spice mix ( I was SO happy to have it in New Jersey when we visited) but this Alberta girl has been using it for years already. Mike and I will simply sprinkle Old Bay onto our chicken drumsticks and roast them thusly, with nothing else on it. You could easily do the same with the chicken drumsticks in the Phillips Airfryer as well, if you want a gluten-free option!
So, who has an airfryer and what do you think about it? Who has been wanting to try an Airfyer like I have?  Stay tuned for two more posts where I delve into this appliance and really try it out!
Love you more than chocolate,
Karlynn

Some of my other recipes you may like:
This post has been sponsored by Phillips, but all opinions remain my own.
AirFryer Fried Chicken
Delicious "fried" chicken done in an AirFryer!
Course: Main Course
Cuisine: Chicken
Keyword: air fryer chicken, air fryer fried chicken
Servings: 4
Calories: 327 kcal
Ingredients
1/2 cup all purpose flour
1 egg beaten
4 small chicken thighs
1 1/2 tbsp Old Bay Cajun Seasoning
1 tsp seasoning salt
Instructions
Pre-heat the Air Fryer to 390 degrees.

Whisk together the flour, salt and the Old Bay.

Dredge the chicken through the flour mixture, then into the egg, then back into the flour mixture again. Shake off excess flour very well.

Place the 4 chicken thighs into the bottom of the AirFryer cooking compartment. Cook for 25 minutes or until the chicken reaches 180 degrees.

Remove and serve.
Recipe Notes
Old bay is what makes this so good!
Nutrition Facts
AirFryer Fried Chicken
Amount Per Serving
Calories 327 Calories from Fat 180
% Daily Value*
Total Fat 20g 31%
Saturated Fat 5g 25%
Cholesterol 151mg 50%
Sodium 686mg 29%
Potassium 321mg 9%
Total Carbohydrates 13g 4%
Dietary Fiber 1g 4%
Protein 21g 42%
Vitamin A 28.1%
Calcium 2.1%
Iron 12.3%
* Percent Daily Values are based on a 2000 calorie diet.
288