Creamy Garlic Parmesan Chicken & Potatoes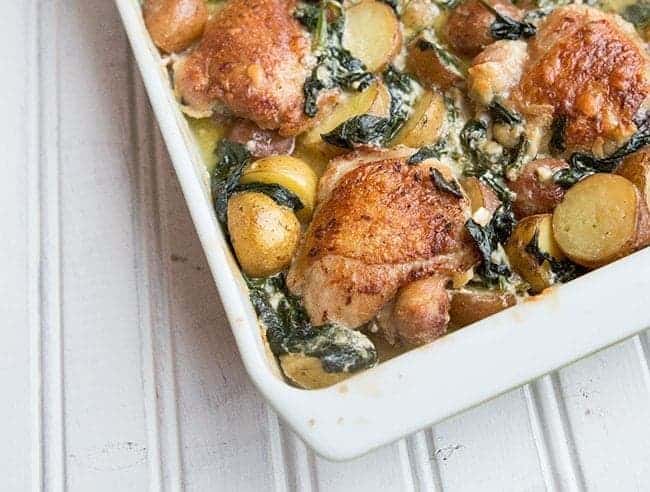 Truth or dare time.
Truth: The sauce is so good in this dish, I considered drinking it.
Dare: I dare you to look at these photos and resist making this. Try, I dare you. It simply can't be done.
This Creamy Garlic Parmesan Chicken & Potatoes was a craving of mine that culminated in one of the best chicken dishes I've ever made. Sure, sure, everyone says that, but when you have a craving and what you make satisfies it completely, you end up in love.
Crispy chicken skin. Creamy garlic and parmesan sauce. A little bit of acidic bite in the sauce from the spinach and lemon. Starchy, amazing potatoes
This here folks, was dinner perfection.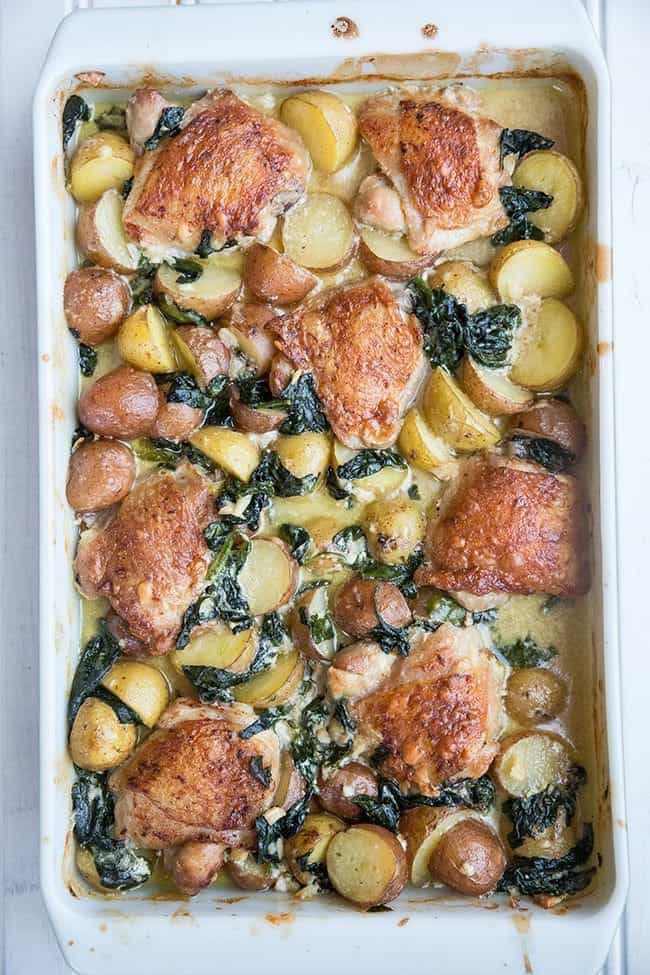 The true beauty of this dinner lies in its simplicity and it's adaptability. There is enough sauce that you can add in 3-4 more chicken thighs and a few more potatoes to feed an even larger crowd or have leftovers for the next day, depending on the size of your pan.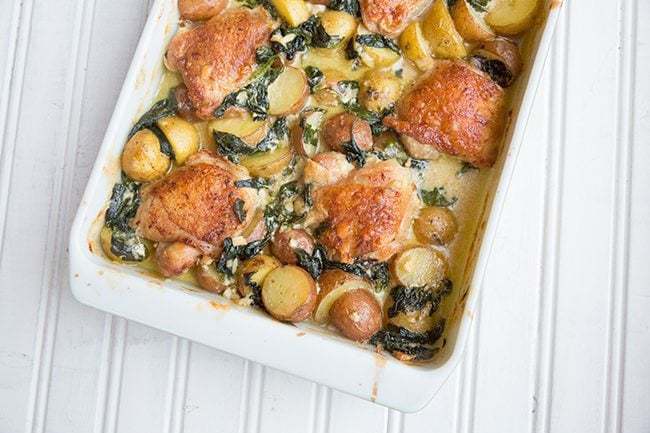 It's fast, simple and I literally whipped this up on one of the busiest days of our week, Wednesdays and we still had time to enjoy it. The initial prep is fast and then you have a good half an hour to round everyone up, gather your bearings as to "the plan" for the evening and then sit down to eat.
Am I the only one that needs "the plan"? Sometimes it seems that we are so on the go I have to line everyone up (Mike included) and say "Look me in the eye. This is the plan. We eat. You kids get your Scouts/Cubs uniforms on. Mike, find dues. Mr K, you find books. Miss Rose, you're in charge of letting Root Beer outside before we leave. Now GO GO GO!"
Just me?
This is the perfect meal for those GO GO GO nights. Fast, delicious and oh-so loaded up with comfort food warmth. As I write this today is Wednesday, our crazy day, which inspired me to get this recipe up for everyone. Try it this week – or weekend- and let me know what you think!
Happy Cooking everyone!
Karlynn

Creamy Lemon Garlic Butter Chicken & Potatoes
Easy and fast Creamy Garlic Parmesan Chicken & Potatoes, a one-dish wonder for dinner!
Ingredients
6-7 in bone- skin-on chicken thighs
1 tbsp butter
1 tbsp vegetable oil
Garlic Parmesan Cream Sauce
2 tbsp butter
7-8 cloves garlic smashed then roughly chopped
2-3 cups baby spinach
1 cup chicken broth
1/4 cup heavy cream
1/3 cup freshly grated Parmesan
1/2 tsp to 1 lemon juice to taste
4 cups baby potatoes sliced in half or quartered if you have small chicken thighs
Instructions
Pre-heat the oven to 400 F.

Melt butter and oil together in a large frying pan over medium-high heat. Add in the the chicken thighs.

Fry unti the skin is very crisp and brown on both sides. Drain the chicken and place into a large 9x13 baking pan of choice. Drain the fat from the pan and place back on the stove.

Melt the next two tablespoons of butter,

Add in all of the garlic and fry for 1 minute. Add in the spinach and then saute until the spinach shrinks.

Whisk in the chicken broth, cream and Parmesan. Add in lemon juice to taste.

Cook for an additional 2-3 minutes.

Place baby potatoes between the chicken in the 9x13 pan. If you have large chicken thighs, halve the baby potatoes, if you have smaller ones, quarter them so that they cook faster.

Pour the spinach and cream sauce over top of the chicken and potatoes.

Bake the chicken in the oven for 25-30 minutes or until the thighs reach a temperature of 175 °F and are tender and cooked all the way through. The potatoes should be tender.

Remove and serve.
Nutrition Facts
Creamy Lemon Garlic Butter Chicken & Potatoes
Amount Per Serving (4 -5 servings)
Calories 0
* Percent Daily Values are based on a 2000 calorie diet.
69