Raise your hand if you love a good honey mustard chicken!
Raise your hand if you love rotisserie chicken!
My friends, I have just made chicken that blew my mind and it combines both of those things.
I know, I'm crazy, but you all know that chicken can be a tough bird to cook. The breast cooks faster than the thighs and it can be hard to get a whole chicken evenly cooked.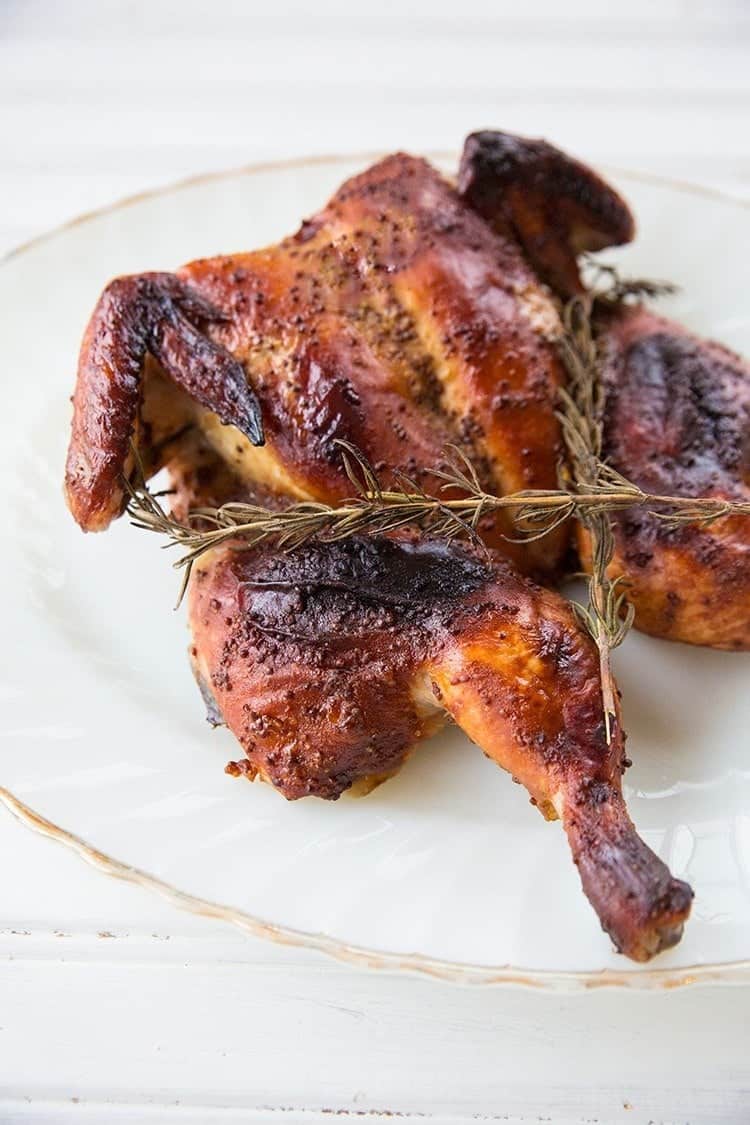 The secret to this chicken was an appliance that I'd never tried out before, the Panasonic Steam Convection Oven – a combination oven that harnesses the power of high-density steam to deliver perfectly cooked, delicious, and nutritious meals, fast.
Whether it's steam, convection, grilling, microwave or a simultaneous combination of a few, this culinary conversation piece keeps the important nutrients inside and helps at home chefs prepare their foods to mouth-watering, healthy perfection every time.
The REAL secret in the above few sentences?
The combination cooking.
Combination cooking appliances have existed in many professional kitchens for a long time and they are simply nicknamed "combi's."  If you have ever wondered why restaurants get their chicken cooked so perfectly, the "combi" is how you get amazing rotisserie chickens (and many other amazing dishes, but for now, I'm totally stoked about the chicken.). Those pro-level combi's can run you $10k  PLUS. I would know, I've looked as I've wanted to play around with a steam convection oven for years and am so happy I discovered this one!
The new Panasonic Steam Convection Oven has an MSRP of $1,499.99 and is available at retailers nationwide and via Panasonic's eStore. Here it is, the combi for home cooks!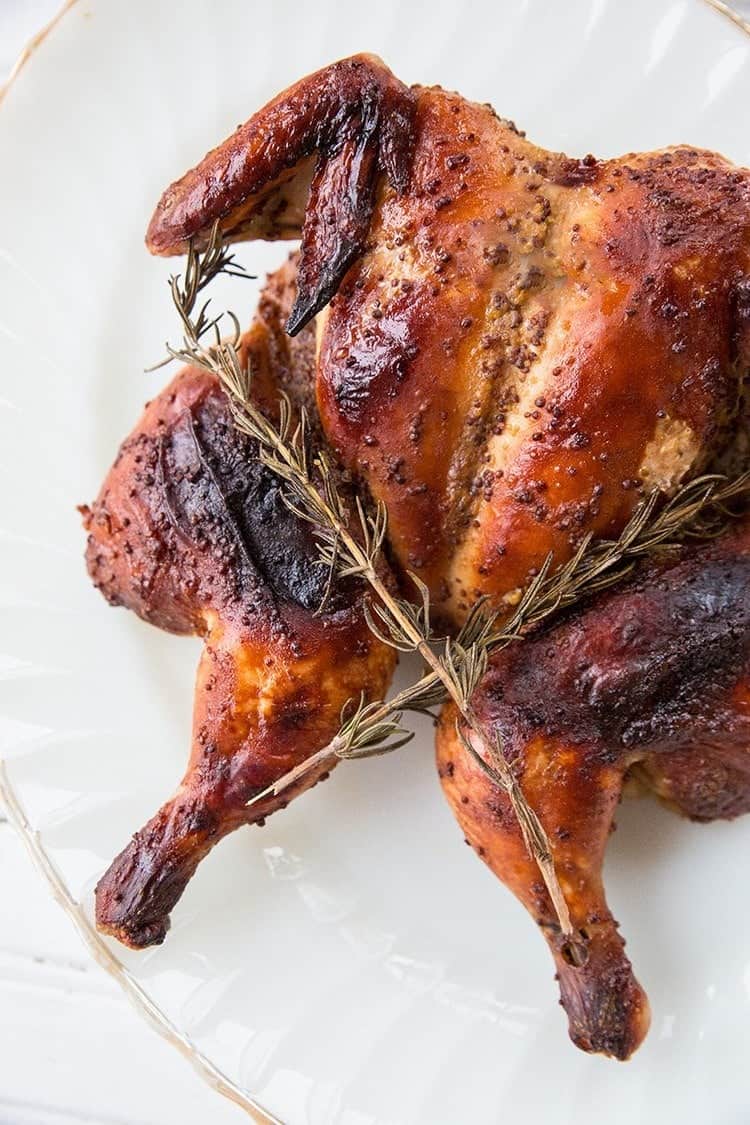 This isn't a glamorous chicken shot below, but I was trying to show you all how juicy this chicken breast is. This was cooked – see the video – with the combination 3 setting- steam and convection.
We took one bite and were hooked on this appliance.
Mr. Magpie took a bite and exclaimed "Your parents are going to be SO excited over this chicken! It tastes like the rotisserie chicken from the store!"
Yes, my Mom and Dad eat rotisserie chicken about twice a week, it's their favourite meal. I can't wait to show my Mom how this oven makes restaurant-quality chicken, while preserving its nutrients!
This spatchcocked chicken took less than an hour in the Panasonic Steam Convection Oven! Isn't that crazy fast? I've already determined that this is going to be on my counter for holiday meals, cooking up the extra side dishes while the turkey takes up my main oven. And chicken. You can roast up a chicken for chicken soup in less than an hour, you guys!  You will have to spatchcock it (which is just cutting the spine out, it's super easy) and let the oven do the work!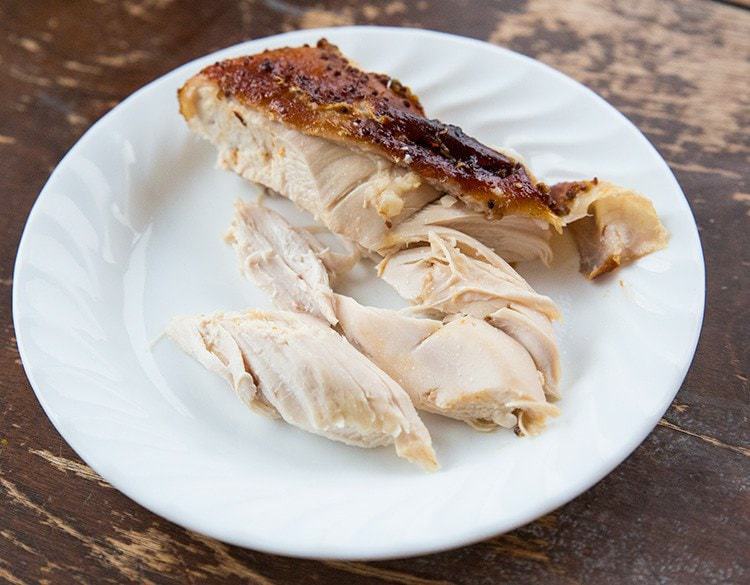 For those of that like to kitchen geek it up like I do, here are some more specs:
Intuitive electrostatic glass swipe, touch and tap panel interface makes it easy to scroll through multiple cooking options and set precise cook times and techniques.
The Panasonic Steam Convection Oven offers a wide range of pre-set cooking options that automatically determine optimal cooking time and power level for all foods. Whether the recipe calls for one function or combination cooking, these options take the guesswork out and keep the nutrients in.
High density, Turbo Steam enables speedy, professional results every time.
19 Auto Cook settings use steam, convection or grilling in combination with microwave cooking to deliver perfectly cooked and crispy fish; delicious and tender roast beef, lamb and poultry; and nutrient packed, fresh veggies.
19 Sensor Cook microwave options quickly and easily cook favourite foods, from quinoa, brown rice, and oatmeal to omelets, soup and pasta.
Plus, cleaning and maintenance settings with one touch of a button.
Full LED lighting uses less power than traditional ovens to efficiently, effectively and environmentally support your cooking needs.
For more information about how the new Panasonic Steam Convection Oven is changing the way Canadians are getting healthy, fast visit www.Panasonic.com/ca/steam and follow along on social media with the hashtag #GetHealthyFast!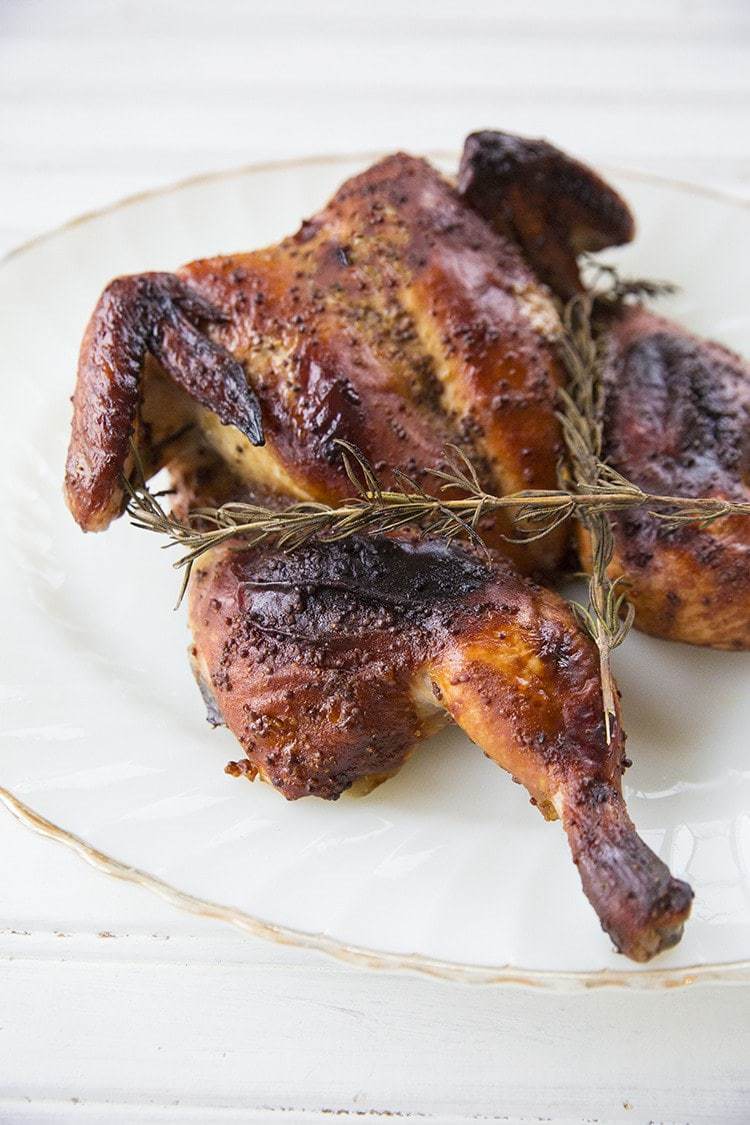 You know what else?
My sometimes-likes-chicken-but-mainly-only-butter-chicken son ate a plate of this. A PLATE, you guys. He just doesn't eat chicken like that, but apparently this chicken is the bomb. The honey mustard baked chicken bomb.
Happy Cooking, everyone!
Love,
Karlynn

 *This post has been sponsored by Panasonic, but all opinions are my own**
Spatchcocked Baked Honey Mustard Chicken
Ingredients
1

lbs

medium chicken 3-4 – spatchcocked

back spine removed with kitchen shears and laid flat

2

tbsp

honey

2

tbsp

Dijon Mustard

2

tbsp

Grainy Mustard

2

rosemary sprigs
Instructions
Place glass shelf into the lowest rack setting in the Panasonic Steam Convection Oven.

Place chicken on the wire rack included with the oven.

Mix together the honey and mustards, then baste the chicken thoroughly.

Place the rosemary sprigs on top of the chicken.

Cook the chicken for 50 minutes on the Combo 3 setting, or until it reaches a

temperature

of 175 degrees F.

Remove and serve.
Nutrition Facts
Spatchcocked Baked Honey Mustard Chicken
Amount Per Serving (1 g)
Calories 0
* Percent Daily Values are based on a 2000 calorie diet.
2