This month's Patak's post is all about spring and simple. And shrimp. Today's recipe is apparently brought to you by the letter S, boys and girls!
Salads are my mainstay during the day for lunch and most likely because I get to torture Mike now and feed him salads at lunch every day they are a healthy meal that's fast, easy and means I get my vegetables in without really thinking about it.
Mike and I have also started using the BBQ almost every day at lunch now that the weather is great. It's usually chicken for our salad, but this time we moved on to shrimp!
When I was looking for a sauce to use, I considered a few, but I knew right about that the mild curry paste was perfect. I didn't want raging hot shrimp, I merely wanted a great curry taste with a smidgen of heat.
I also, after 14 years of marriage, finally have Mike eating shrimp.
It's a miracle.
I figure in another 14 years we'll move on to lobster.
Curried Shrimp Salad
This is literally a 10 minute lunch, and that's if you have to chop the romaine lettuce like I did. It's so fast, easy and healthy to make! Grill the shrimp up on skewers on the BBQ (top rack so they don't burn) and they take mere minutes to cook!
I used ranch dressing and blue cheese to cool the spice down and it works like a charm, just like it does with buffalo sauce.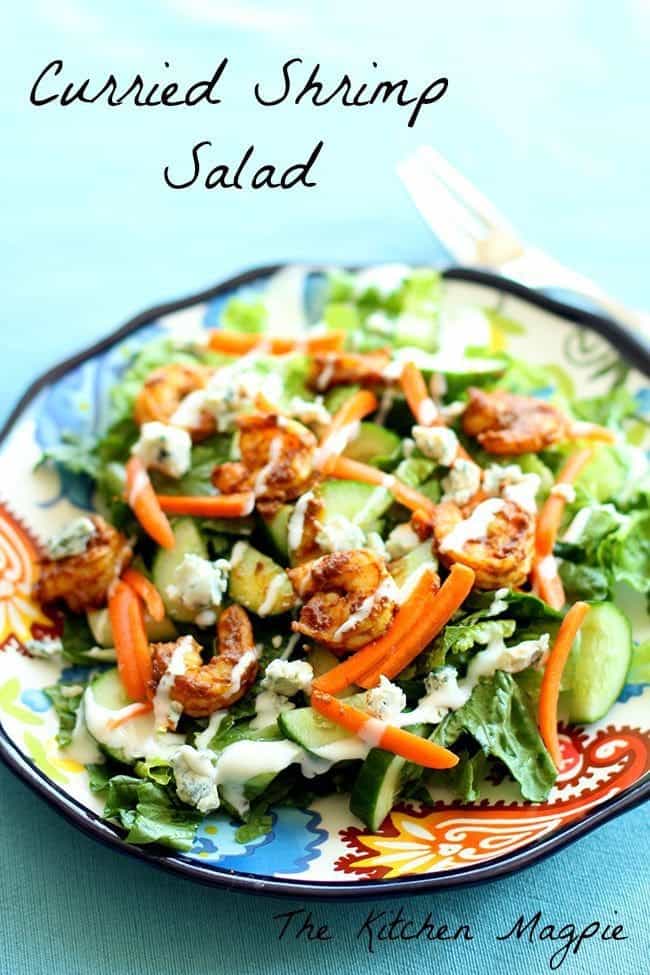 You can mix in other vegetables, but when you are using a spice like curry or hot sauce, you need cooling vegetables. Cucumber and celery and the best ones that add that "cooling " factor you need to offset the heat, so that one element doesn't overpower the other. Water chestnuts are also an amazing choice!
Happy cooking everyone! I hope that you loved this easy, summery salad! Happy BBQ-ing!
Love,
Karlynn
Simple Curried Shrimp Salad
Easy, summery and delicious BBQÂ'd curried shrimp salad! Ten minutes is all you need for this amazing and healthy lunch!
Ingredients
16

raw shrimp peeled

deveined , rinsed and patted dry

1-2

tbsp

Patak's Mild Curry Paste

6

cups

of chopped romaine lettuce

1 1/2

cups

of diced cucumbers

1/2

cup

sliced carrots

Ranch dressing or blue cheese

1-2

tbsp

crumbled blue cheese
Instructions
Place the shrimp onto BBQ skewers and brush them with the curry paste.

Place on the BBQ and cook for 3-4 minutes per side, until pink and cooked through. Cook them on the top rack so they don't burn.

Combine the lettuce, cucumbers, carrots and dressing in a bowl.

Divide the salad between two plates.

Top the salad with the BBQ curry shrimp and blue cheese crumbles.
Nutrition Facts
Simple Curried Shrimp Salad
Amount Per Serving (2 g)
Calories 0
* Percent Daily Values are based on a 2000 calorie diet.
0