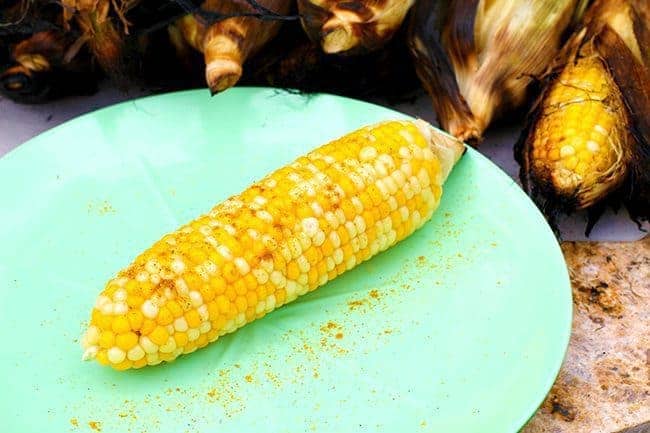 I should take a picture of my outdoor kitchen at our trailer. We don't really rough it, at all and truth be said I am past the age where I want to rough it. I'm a creature who loves her comforts, that's me. So when my dad brought a new fancy BBQ for the trailer and was going to take the old one, I vehemently disagreed.
TWO barbeques, I said, were perfect for cooking and since I did most of the cooking for everyone, I knew what I was talking about.
The big barbecue stayed and probably because no one wanted to take over the cooking!
Now I have a lovely area to cook outside the trailer, instead of trying to prep everything inside. I'll take a picture next time I am at the lake. It's simple but it's great!
I needed that big ol' second BBQ because of items like this.
Corn on the cob when everyone was out visiting at the lake. When my entire family is out there, we have 3 kids and 6 or 7 adults.
So a party, in essence.
Now cooking for a part of 10 means space and that big ol' BBQ was perfect. I cooked up a dozen corn on the cob perfectly while my Dad grilled some steak on the new BBQ.
This roasted corn on the cob with husks combines my new love of curry and honey. Remember how I keep saying it goes on anything?
Well, it does my friends.
This was some of the best roasted corn on the cob that I've ever had. Doing it on the BBQ gives it an amazing roasted flavor and the curry and honey? Holy Dinah yes. So. Good. The sweet corn is just perfect with curry, I couldn't imagine a better foil for it.
I always cook corn on the cob with husks as well. The husks may burn but even that adds a smokey flavor to the corn within! I must admit, I like the cobs a bit browned…mmm. So good.
Again, this goes with my eating healthier while camping this summer. I have another recipe I want to try out for roasted corn on the cob. I'm thinking a Tex Mex roasted corn on the cob would be divine!
Happy cooking everyone! Thanks for stopping in!
Love,
The Camp Cook Karlynn
Curry & Honey Corn on the Cob
BBQ Roasted Corn on the Cob, with a honey butter spread and curry sprinkled on top? The best corn on the cob I've eaten in years!
Ingredients
6

in

ears corn unhusked that has been soaked water for hours

6

tablespoons

unsalted butter

2-3

tbsp

melted honey

2

teaspoons

curry powder
Instructions
Preheat the bbq to around 350 degrees.

Place corn, in its husks, directly on the BBQ rack.

Roast until tender and cooked through, about 40-45 minutes.

Peel down the husks.

Combine the butter and honey.

Rub each ear of corn with 1 tablespoon of the butter/honey mix.

Serve immediately, sprinkled with the curry powder.
Nutrition Facts
Curry & Honey Corn on the Cob
Amount Per Serving (6 g)
Calories 0
* Percent Daily Values are based on a 2000 calorie diet.
0