This post may contain affiliate links. See my privacy policy for details.
Over the years I have compiled a few Halloween recipes here on the The Kitchen Magpie, but it's not actually my-end-all-be-all holiday. I live for Christmas, so often Halloween is an afterthought when it comes to recipes! However I do love a good trip for Halloween in Disneyland, of course! So since I don't post that many, here is a round-up of my Halloween recipes for you all! They are all super easy and fast to make! You will have to excuse some of the super old and terrible photos on these and in some you can see how little my kids are!! Sniffle, they grow up too fast, darn it!
Fast easy and adorable these are always a hit!
I had a neighbor that gave out popcorn balls (ah the good ol's days when you could do that and your parents let you eat them!) and they are my favorite treat!
I hate mice, so these cupcakes gross me right out. But by using gummy mice you save a ton of time and they look, well, eww. I used homemade cake and icing but hey, go ahead and use store bought to save time!
The base caramel popcorn recipe is sooo good, just throw a few candy bugs on it for Halloween!
These are extremely easy and quite possible the cutest thing you can make for Halloween!
One of the rare times I have made decorated sugar cookies so trust me, they are fairly easy to make!
You can eat these year round, not just for Halloween!
Hello sugar rush! Cute and easy to make!
These cookies are good for any time of year, but they made super cute Halloween cookies!
Another good recipe for cut out cookies.
My first " viral" pin on Pinterest many many years ago! So easy to make and so cute! You can also make Witches Hats as well.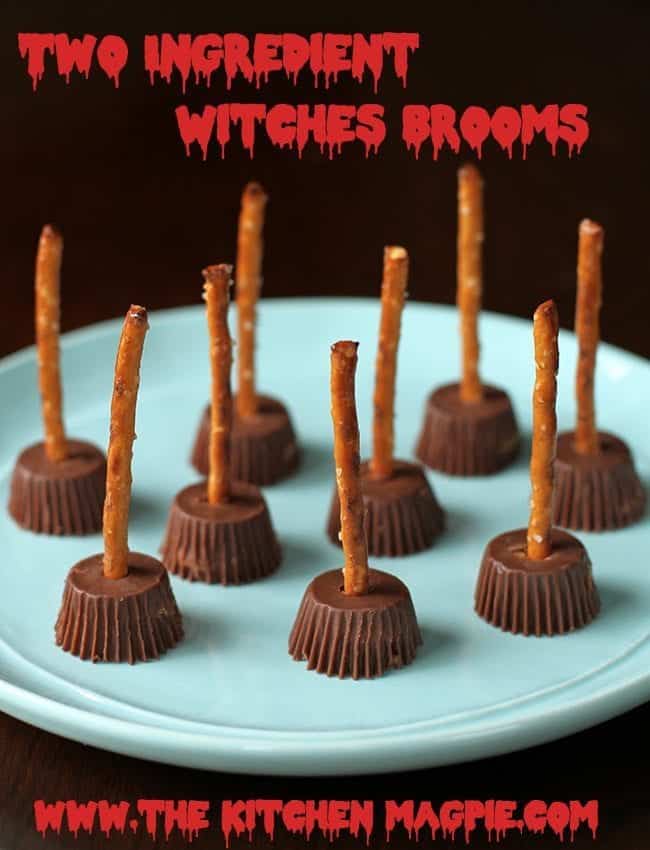 So pretty and so healthy! A great way to serve fruit for Halloween!
Let's get into LEFTOVER HALLOWEEN candy recipes! I have a few of them! Here is another post on leftover Halloween candy recipes.
A great way to use up candy – then take these cookies to the office!
Again just hide the candy in a trifle and take it to the office!
Hurts your teeth and Mr Magpie still talks about how much he loved it!
Hope I gave you some ideas!
Love,
Karlynn

PIN THIS RECIPE to your HALLOWEEN RECIPES Board and Remember to FOLLOW ME ON PINTEREST!