Old-Fashioned Southern Honey Butter Rolls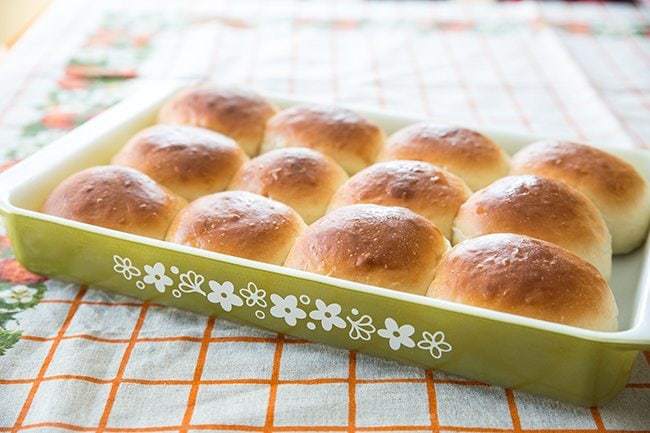 A recipe for  Old-Fashioned Southern Honey Butter Rolls recently caught my eye on Facebook. "Honey Butter Rolls?" I mused, scrolling to find the link to the recipe " Now what on earth are those?" How could I not investigate this further, with the words honey and butter trilling through my head like a sweet siren's song?
Lo and behold, when reading the recipe for the rolls I realized that Southern Honey Butter Rolls are really close to my family's recipe for Babka, the eggy Easter bread that Ukrainians traditionally bake – and eat loaf upon loaf of for a week straight it seems. This melding of food in cultures never ceases to amaze me, how closely it all is intertwined.
I based this off of my family's recipe for Babka, knowing that a couple of extra egg yolks in a dough take the final product over the top. And like all things Ukrainian – or Southern for that matter! – this recipe makes two dozen buns, just in case we are feeding an army.
These were beyond a hit.
You'll need two 9×13-ish sized pans (I say "ish"  because my Pyrex pans are a little bigger) and a few hours of your time. The key to these is to let them rise fully and completely, which takes at least 50 minutes and I would err on the side of caution and make sure they are allowed an hour at each rising.
Take a peek at the bun below, then take a look ay the finished product. These buns need to rise, and they need to rise a lot in order to be the best buns out there.
Look at how much they rose and baked up to fill the spaces in the pan!
An hour each rising folks, no less. You will not experience Old-Fashioned Southern Honey Butter Rolls bliss if you don't let them rise long enough! Be patient!
Is there anything more dreamy than a pan of homemade buns? Especially these Old-Fashioned Southern Honey Butter Rolls?
I don't think there is.
If you don't want to make two dozen buns, freeze half of the dough after the first rise. Punch the dough down, divide it in half and place half into a freezer safe bag. To use, simply defrost, form into buns as directed and let rise for the second time.
The honey butter combo is really what makes these so special. Taking a pastry brush and swirling golden dabs of sweet goodness over the top of these beauties sets them apart from your ordinary dinner roll. The best part is that you are going to have leftover honey butter and to be frank it's simply amazing when slathered on half of a fresh from the oven roll.
I think I have found my holiday go-to bun recipe in these  Old-Fashioned Southern Honey Butter Rolls and this is definitely the recipe I'll use for when I host large family dinners. The kids happily took buns to school for their lunches the following few days and I loved that this recipe was a sanity saver in more ways than one!
Happy Baking everyone!
Love,
Karlynn
Old Fashioned Southern Honey Butter Rolls
Old Fashioned Souther Honey Butter Rolls, a rich eggy bun topped with a decadent honey butter topping!
Ingredients
1/4

cup

warm water 100° to 110°

2 1/4

tsp

traditional yeast

1

teaspoon

honey

1 3/4

cups

milk

1/2

cup

butter

2

large eggs

2

eggs yolks

1/3

cup

honey melted

4

tsp

salt

6 1/2

cups

all-purpose flour

1/2

cup

butter softened

1/4

cup

honey
Instructions
Grease (2) 9x13 baking pans and set aside.

Combine first 3 ingredients in the bowl attached to a stand mixer fitted with the dough hook and let stand until mixture bubbles.

Place milk in a large microwave safe mixing up and heat until foamy. Remove and place butter in the milk ,swirling until it's melted into the milk.

Cool the milk mixture to around 100 °F . Beat the eggs and egg yolks together until light and creamy, then mix into the milk. Stir in the honey and salt until the salt has dissolved. Add to the yeast mixture.

Slowly add the 6 1/2 cups of flour, continuously mixing with the dough hook on medium speed. Combine completely, then let the dough hook knead the dough for an extra 4-5 minutes. Remove and place into large well oiled bowl . Cover with plastic wrap, and let stand 1 hour or until doubled in size.

Punch down dough. Turn dough out on a well-floured surface. Divide into two equal parts. Divide each of those pieces into 12 balls and roll until smooth in shape. Place 12 dough balls into each 9x13 pan. Cover and let rise in a warm place free from drafts, 1 hour or until doubled in size.

Pre-heat your oven to 400 °F.

Mix together the 1/2 cup softened butter and 1/4 cup honey until completely incorporated.

Bake rolls for 14-15 minutes until very golden brown and the tops sound hollow when tapped. Remove from the oven and brush the tops with a fair amount of honey butter.

Serve with the remaining honey butter!
Nutrition Facts
Old Fashioned Southern Honey Butter Rolls
Amount Per Serving (2 dozen buns)
Calories 0
* Percent Daily Values are based on a 2000 calorie diet.
0