Do you know the wonder of making crock pot mashed potatoes yet?
DO YOU KNOW??
Well, my darlings, I am here to make sure that you know the glory that is crock pot mashed potatoes. When it comes down to an Easter or Christmas dinner, or hey, even a Sunday feast, this is the only way that mashed potatoes are ever going to be made again in my house. I have been making them this way for a while now, but let's face it, who ever called me a good blogger that's timely and on top of things?
*crickets chirping*
That's what I thought.
To start, let's face it, that steaming, pain-in-the-rump pot of potatoes simmering away right before your big holiday meal is usually either:
– ready too early and you have cold mashed potatoes OR
– the last thing ready and you have lumps in your potatoes because you didn't cook them enough.
And if you are me, you are ALREADY HOT from running around making the meal. That steaming pot of mashed potatoes is making you mad, making your mascara run, fogging up the house windows and is totally that aforementioned pain-in-the-rump.
Just me? It can't be just me. The mashed potatoes of a meal drive me batty, I am always panicking about them.
Not anymore.
You cook these babies all day long in your crock pot and then they are ready to serve when you are.
I might have giggled over that last part.
The potatoes stay hot, they will always be cooked and there's no lumps.
I like to make my potatoes, then serve them in a gorgeous casserole for dinner right at the end when I am ready, topped in layers with all the toppings so that everyone takes a scoop and gets ALL the goodies at once on their plate.
Can you even believe how easy these are?
A note, you don't want to put any milk IN the crock pot before the potatoes cook all day, as it will turn the potatoes brown. Not that I don't love the browned bits of milk, (yum yum!) but let's face it, picky eaters will NOT. Make them plain to start, then add in the milk at the end!
Happy Cooking!
Love,
Karlynn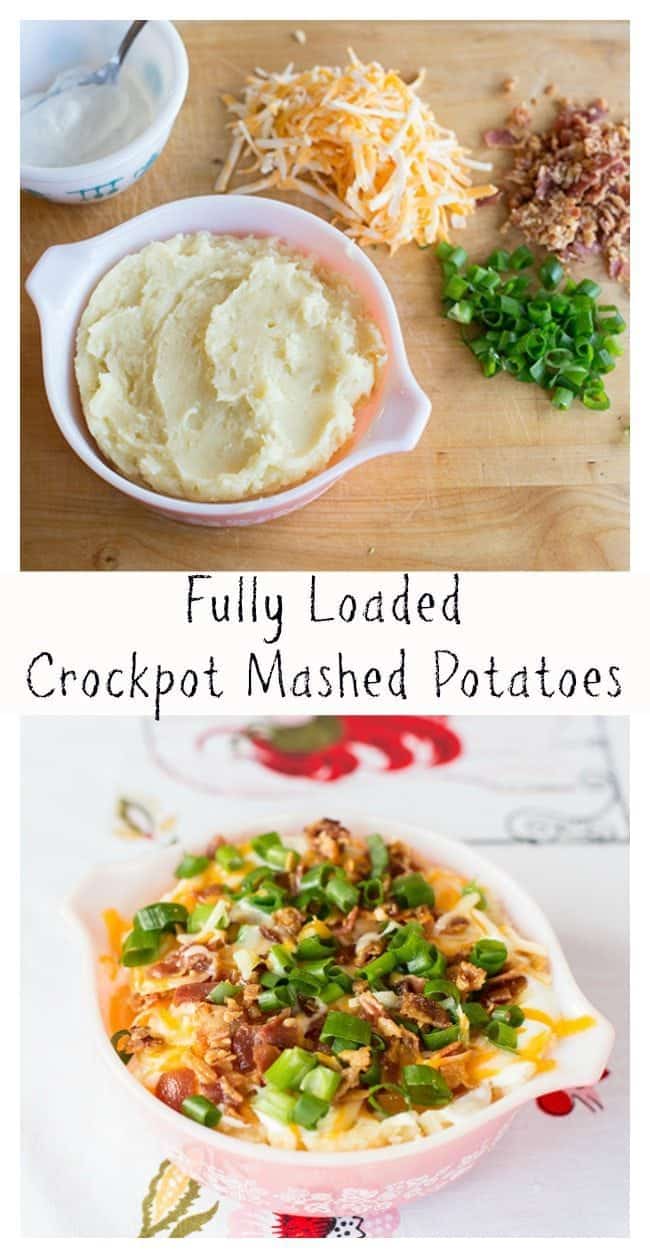 Fully Loaded Crock Pot Mashed Potatoes
Never mess around with boiling your holiday mashed potatoes ever again! They are fabulous in the crock pot and easy on the cook!
Keyword:
Crock Pot Mashed Potatoes
Ingredients
3

lbs

yellow potatoes like Yukon Gold

peeled and sliced in one inch chunks

1

cup

vegetable broth

1/4

cup

butter
Finish and Topping
1/2

cup

milk

5-6

slices

cooked bacon diced

1-2

cups

shredded cheese

1/2

cup

chopped green onion

1/2

cup

sour cream
Instructions
Grease the inside of the crockpot with the butter.

Place the prepared potatoes inside of the crockpot, then pour the vegetable broth over them.

Cook on low all day, or on high for 3-4 hours.

When the potatoes are ready and YOU are ready, mash them with a potato masher. Add in enough milk to make them creamy, then place into your casserole of choice. Top with the toppings in your preferred order.

Place on table and let everyone spoon out their portions.
Recipe Notes
Nutritional values may vary.
Nutrition Facts
Fully Loaded Crock Pot Mashed Potatoes
Amount Per Serving (8 g)
Calories 578
Calories from Fat 315
% Daily Value*
Total Fat 35g 54%
Cholesterol 88mg 29%
Sodium 766mg 32%
Potassium 1596mg 46%
Total Carbohydrates 47g 16%
Protein 20g 40%
* Percent Daily Values are based on a 2000 calorie diet.
2