Chicken Cacciatore is a wonderful rustic Italian chicken dish chock full of vegetables, a thick, rich tomato based sauce and pieces of chicken all simmered together. The end result is a deliciously healthy yet decadent dish that the entire family will love. You can serve this slow cooker chicken cacciatore over rice or your favourite pasta, the choice is up to you.
Chicken Cacciatore in the Slow Cooker
Chicken cacciatore is usually make in a skillet or braising pan on top of the stove, frying the chicken up first, removing it and cooking the vegetables in the fat. Following that, a can of tomatoes is added, along with red wine and the chicken is returned to the pan for a long, low simmer of around an hour. While it certainly is the traditional way of making chicken cacciatore, I wanted to make a slow cooker version that can low and slow cook all day and doesn't have to be babysat on the stovetop.
This worked like a charm and it's because I use chicken thighs and not chicken breasts. I know everyone is always alll the rage about chicken breasts  – and I do like them too! –  but chicken thighs are where it's at for slow cooking.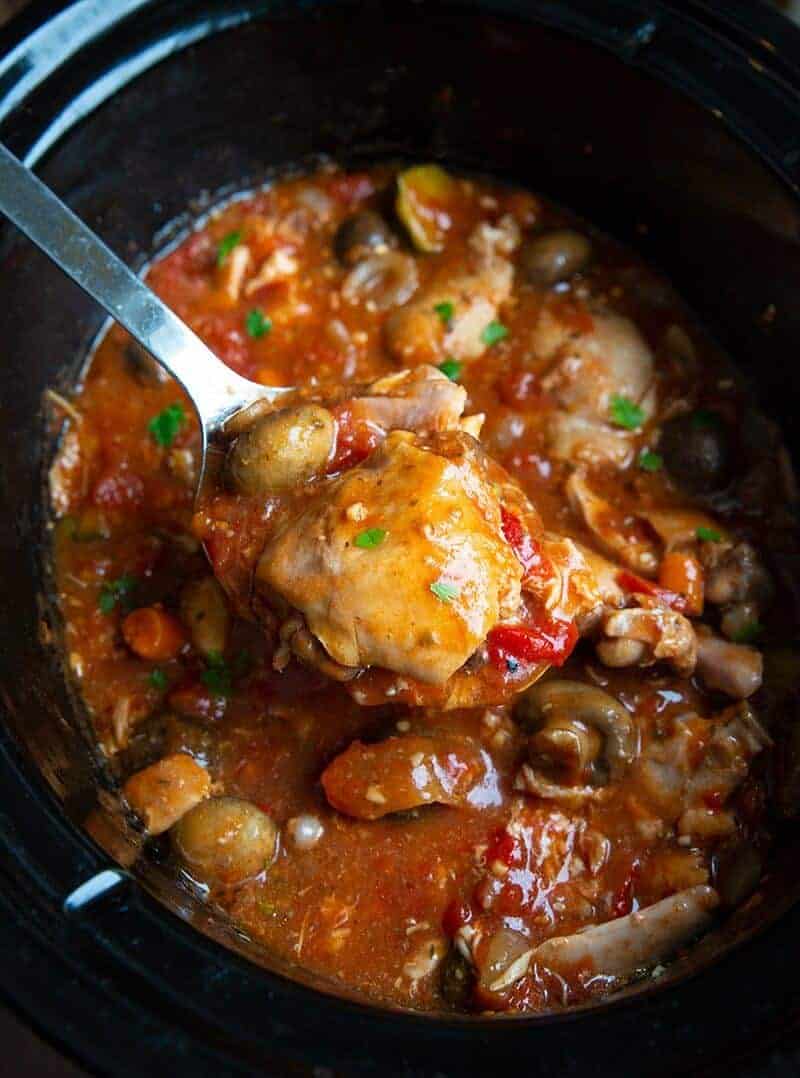 What is in Cacciatore?
Traditionally cacciatore can be made with chicken or rabbit as the word "cacciatore" literally means "hunter-style" in Italian. Thus cacciatore is supposed to be simple : onions, herbs, occasionally bell peppers, tomatoes, wine and the meat. However as I wanted to make a vegetable and protein loaded meal this chicken cacciatore has:
chicken thighs
onion
red/green peppers
carrots
 tomato paste
 stewed tomatoes
oregano
mushrooms
 zucchini
 garlic
 red wine
 chicken stock
Karlynn's Tips & Tricks for Making Chicken Cacciatore
I use tomato paste because the vegetables are going to release water, especially the mushrooms, It gets too soupy using another can of juicy tomatoes. I like a little bit of a thicker sauce. I have been known to use ketchup to thicken it up when I don't have tomato paste and it works like a charm!
Chicken cacciatore is usually made with SKIN ON chicken, so I usually leave the skin on and cook it that way. I am sure that the reason is the fat from the skin cooks into the dish, which makes it even richer. The choice is up to you, you can use skinless and boneless chicken thighs as well.
You can play around with the types of vegetables and the amounts. My family doesn't like too many peppers in it, so I use red peppers minimally in mine.
Use chicken thighs. It's just not as rich and rustic with chicken breast and chicken breasts really do dry out.
The lovely thing about chicken thighs is they just fall apart instead of dry out when cooked like this, I would never use chicken breast in this recipe.Chicken thighs just get better and better the longer they cook, while chicken breasts dry out, even when they are cooking in a liquid.
Now, this is not a true traditional chicken cacciatore and nor am I claiming it is, there are far more vegetables in my version than there is in the original. I love to use carrots in mine and to be honest you guys, the point of a good chicken cacciatore is to use up what you have on hand. Don't be afraid to throw in what's in your vegetable drawer in your fridge, it's far better to not waste food than it is to be "original"! This dish has so many possibilities and that's why it's so popular, a true hunters dish, you use what you have on hand.  I also LOVE zucchini in this dish, it holds up so well in the slow cooker!
Happy cooking!
Love,
Karlynn
Don't forget to PIN THIS RECIPE TO YOUR DINNERS BOARD and remember to FOLLOW ME ON PINTEREST!
Chicken Cacciatore
This Crock pot Chicken Cacciatore is a wonderful rustic Italian chicken dish chock full of vegetables, a thick, rich tomato based sauce and pieces of chicken all simmered together. The end result is a deliciously healthy yet decadent dish that the entire family will love.
Course: Main Course
Cuisine: Italian
Keyword: Chicken Cacciatore
Servings: 8
Calories: 270 kcal
Ingredients
6-8 chicken thighs
1 onion, roughly chopped
1/2 red or green pepper
2 cups mushrooms
1 cup sliced carrots
2 cups chopped zucchini
6 oz tomato paste
28 oz stewed tomatoes ( I use diced, you can use whole)
3-4 cloves garlic, minced
1 tsp oregano
2 tsp sugar
1/2 tsp salt
1/2 tsp pepper
2 tbsp red wine (optional)
1 tbsp chicken stock granules
Instructions
Combine everything but the chicken pieces in the slow cooker.

Give it a taste. Want more red wine? Add more now. More stock for a salty taste? Go right ahead. Sample it now before you contaminate it with chicken.

Place the chicken thighs on top, then press them into the middle of the sauce, making sure they are covered, but it's better that they don't touch the bottom and cook right in the middle. Then cover and cook!

This took 4 hours in the slow cooker on high and will take all day (7-8 hours) in the slow cooker on low. This is the perfect meal to start in the morning when you head to work.

Serve over rice or pasta.
Recipe Notes
Nutritional values will vary depending on ingredients used.
If you leave out the sugar this recipe rings in at 13 grams of NET carbs per serving, making it a healthy low carb choice.
Nutrition Facts
Chicken Cacciatore
Amount Per Serving
Calories 270 Calories from Fat 126
% Daily Value*
Total Fat 14g 22%
Saturated Fat 3g 15%
Cholesterol 83mg 28%
Sodium 674mg 28%
Potassium 933mg 27%
Total Carbohydrates 18g 6%
Dietary Fiber 4g 16%
Sugars 11g
Protein 18g 36%
Vitamin A 71.4%
Vitamin C 38.4%
Calcium 6.6%
Iron 16%
* Percent Daily Values are based on a 2000 calorie diet.
35