This post may contain affiliate links. See my privacy policy for details.
Table of Contents
Last May we set out on a transatlantic cruise with Royal Caribbean to start out our two month stay in Europe with the kids. Not only was it our first transatlantic cruise, it was our first time cruising with Royal Caribbean period. We've never checked them out before but were definitely lured into giving them a try due to their inexpensive prices when it came to transatlantic travel.
Now, if you want to know What a Transatlantic Cruise is Really Like, you'll have to read that post. Just click the link. It's all the truths about travelling across the pond for two entire weeks!
First things first: the pool area. It's allll about the pool area for the kids and us. Does the pool have a great bar? Then we like it. I liked the pool area on the Brilliance of the Seas. The bar was tended by good staff and the drinks were delicious!
Do you notice the dude at the bar in both of these photos? Guy in the navy shirt with white stripes?

Why are we not surprised that it's Mike?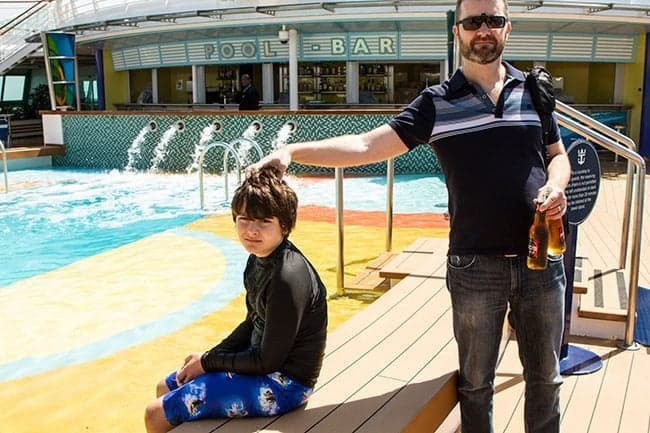 Now for those of you that would rather swim than drink ( AKA anyone under 21) the pool area is great. I watched many a movie on that big screen while sipping away at my latest cocktail.
Like this strawberry daiquiri.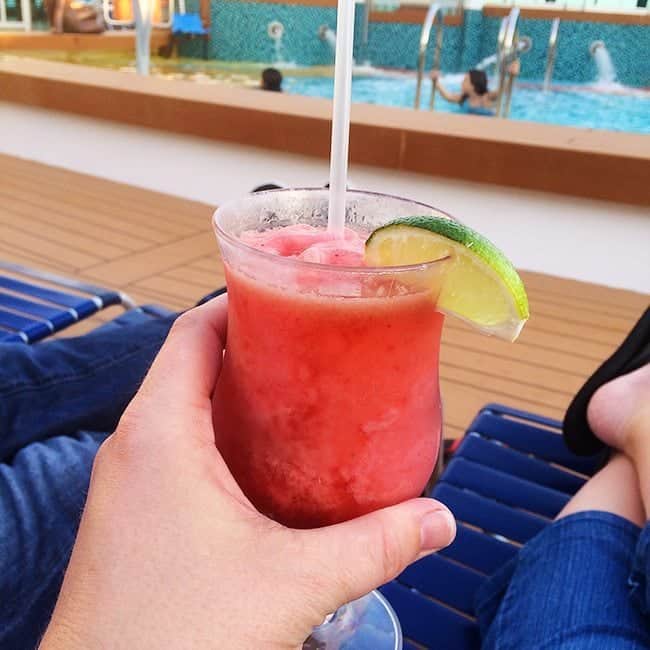 Or this Pina Colada.
The adult only pool ( allowed for kids in inclement weather, I do believe if I remember correctly) we called the Elephant Pool, but it was known as the Solarium.
And it also had a bar.
Now I know I sound like someone that drinks far too much when I say this, but purchasing the drink package for the cruise was the best thing we've ever done. We had calculated the costs out to breaking even at 5 or 6 drinks a day and (here I go sounding like a lush) on a cruise it's not that hard to do. We bought the second from the top package that didn't include mimosas and coffee, but included cocktails and wine up to a certain point.
We spent a lot of time in their wine bar Vintages (pictured below), in a before dinner ritual of trying out all sorts of wines
Now really. Picture two cocktails by the pool in a couple of hours in the sun (remember, they are slushy and not that boozy and you don't finish them usually) followed by a glass of wine before dinner, relaxing for an hour, followed by the ability to request a glass of wine for each course at dinner ( again, not needing to finish it but pairing it with the meal) and then perhaps a cocktail later on at 10 if you are at the casino or listening to music.
Didn't take much to get up to 6 drinks, did it? Now, it's definitely WAY past the one or two glasses of wine per day that is recommended, but it's vacation.
The ship, while older, is in nice shape. I'm not that picky of a cruiser, to be honest. When you get a cheap cruise, you are going to get an older ship. We chose the Brilliance instead of a cruise on one of their new Quantum ships that just came out in 2015 because it was literally 2 thousand dollars cheaper. When you're spending 2 months in Europe, Mama needed that two grand!
Oh look, another bar! The Centrum bar was filled with live music and entertainment every night, a great place to hang out and sip a wine.
The Centrum was a great place to see small little quick musical guests and other fun activities.
Speaking of activities, there was plenty to do. The kids are always up for a round of mini golf and while it gets windy up there, it was a lot of fun.
The kids loved the kid club – Adventure Ocean Youth Club- on the ship. They always make cruise ship friends and my daughter this past time made a friend she loved to bits. She'd call her up and they would go meet at the club for hours of fun.
There are also lots of family activities, more than we could possibly attend in a day. She loved the Build a Bear workshop in the kids club and used some of her money to make a souvenir.
The food was good, the typical cruise ship fare. We did sneak away to the "pay" restaurant Izumi and had hot rock and ramen, which was a nice treat but I honestly wouldn't bother again with it. We really enjoyed the sit down dinner every night and to be honest, even the buffet was good every time we went.
So while I could write for hours, I'll call it an end here! If you have any questions, comment below and I'll get back to you!

PIN THIS RECIPE to your TRAVEL Board and Remember to FOLLOW ME ON PINTEREST!
Make sure to check out all of my posts on cruise ship food, cruise ship rooms, cruise ship tours, travel and information as well!
Cruise Ship Tour: Royal Caribbean's Brilliance of the Seas
What's A Transatlantic Cruise Really Like?
Disney Wonder Dining: Triton's
Disney Wonder Dining: Animator's Palette
Disney Wonder Dining: Goofy's Galley
Disney Wonder Dining: The Parrot Cay
Disney Wonder Dining: The Beach Blanket Buffet
Disney Wonder Dining Rotation & How It Works
Ten Things That Will Surprise You On Your Disney Cruise
What is There for Kids to do on Cruise Ships?
Disney Wonder Cruise : Review of Dolphin Extreme Swim & Turtle Farm, Grand Cayman
Disney Wonder Stateroom Review and Walkthrough: Cabin 6083
Disney Wonder Stateroom Review and Walkthrough Cabin 6630
Disney Wonder Merrytime Disney Cruise – Christmas on a Cruise?
Happy cruising!
Karlynn