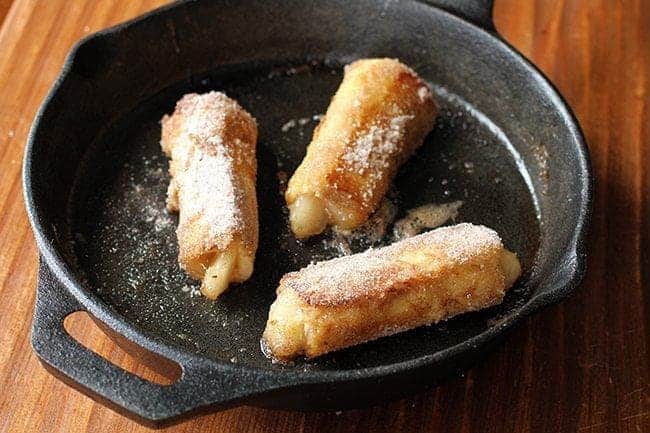 I'm sure by now you all have seen my Strawberry Nutella French Toast Rolls that I made on Breakfast Television last week. Those French Toast rolls were an absolute hit with everyone, I mean, how can they not be? Nutella in any way, shape or form = awesome.
I wanted to try another camping recipe out, one that was a little less fiddly, one that didn't have any prep whatsoever, pretty much. It's not like the Nutella French Toast Rolls were hard, I just wanted to make some that were as simple as can be.
And what could go better with cinnamon sugar than apple Pie filling? Not much.
While the Nutella Strawberry ones were definitely decadent, the fresh strawberries helped trick you into thinking that they were ok for breakfast.
These my friends, are all dessert. Dessert business all the way around. There's no fooling yourself, not even for a moment. These Apple Pie French Toast Rolls taste exactly as they sound.
Like. Apple. Pie. With a side of french toast-like white bread.
So I'm sorry for how evil these are but I just HAD to. As soon as I made the other French Toast Rolls I knew that these were the very next ones I was going to make. The ingredients are so simple that you can pack them and take them camping. A cast iron pan over the fire will cook these up beautifully and yes, you can make these for dessert if you are so inclined. You don't have to put any syrup on the at all, but if you wanted to make them over the top, then go ahead! A little vanilla ice cream and you are set!
Happy Cooking everyone!
Love you more than French Toast Rolls,
Karlynn
** Remember to join ZIPLIST to create your own online recipe box and then click SAVE on my recipe below to add it! I use my online recipe box ALL the time!  And please rate my recipes every chance you get!** 
Camping Recipe: Apple Pie French Toast Rolls
Ingredients
12 slices white sandwich bread - square shaped is best!
1 can of apple pie filling
2 eggs
3 tbsp milk cup milk
dash of vanilla
1/2 cup granulated sugar
2 tsp ground cinnamon
butter for the frying pan
Instructions
Remove the crust from the bread.

Using a rolling pin, flatten out each piece of bread.

Spread some apple pie filling onto the bread, as much as you can fit in. (approx 2 tbsp)

Roll the bread up tightly and place seam side down while you are making the rest.

Whisk the eggs, milk and vanilla together in a shallow bowl or small pan.

Combine the sugar with the cinnamon on a small plate.

Heat a skillet set over medium heat and melt 2 tbsp of butter.

Take each roll and dip into the egg mixture, coating completely.

Place them in the pan seam side down.

Cook until golden brown, making sure to turn them so they brown on all sides.

Remove the fully cooked rolls from the frying pan and place immediately into the cinnamon sugar and roll until completely covered in sugar.

Serve plain, with syrup or my brown sugar sauce.
Nutrition Facts
Camping Recipe: Apple Pie French Toast Rolls
Amount Per Serving (4 g)
Calories 0
* Percent Daily Values are based on a 2000 calorie diet.
43