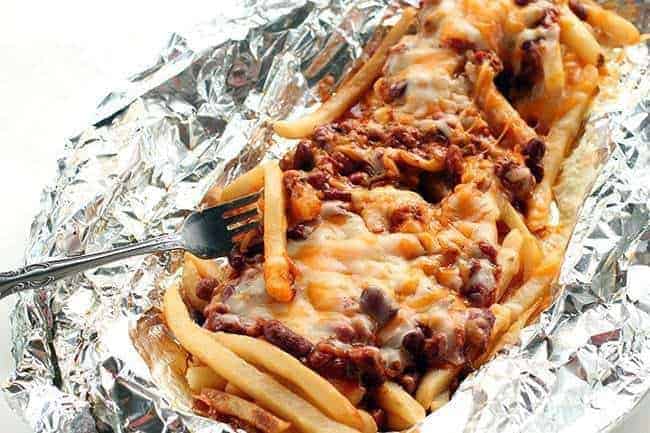 If anyone would make chili cheese fries on the BBQ, I swear, it would be me.
Yes. On the BBQ. In tinfoil.
You are welcome for this crazy addition to your junk food cooking repertoire.
To be fair, it's not that bad for you, if you buy a healthy chili, low fat cheese and some non-oil laden fries. I'm serious. In the grand scheme of junk, this ain't that bad.
Fine, it's not that healthy either, but hey, we were camping!
Ever since I had this idea, my son and Mr Magpie have been pestering me non-stop to make them and honestly, can you blame them? I don't ever make chili cheese fries at home. It's like when we are camping it's no holds barred. Junkier food is allowed and dessert happens more often then it doesn't.
You simply take a small package of fries and place them in a cooking oil sprayed tin foil packet. Then you cook them on the BBQ at the same heat as the package dictates (usually around the 425 degree F mark) and voila!
Fries! With little brown grill marks even!
Then you pour a can of chili on top and sprinkle cheese….
..return them to the BBQ until…
Cheesy Chili Magic Happens!
So. Good. You. Guys.
Now I know you are going to ask and yes you can make this in the oven. Heck, I would, because dudes, you are totally saving on washing dishes! We got out four forks and chowed down like wolves.
I uh, don't suggest the wolf part, but you know what I mean. And you know how I hate washing dishes.
Happy Cooking my loves!
Karlynn

Campfire Chili Cheese Fries Tin Foil Dinner
Easy, delicious and done on the BBQ! These chili cheese fries won't heat up your kitchen and can by made when you are camping!
Course: BBQ
Servings: 4 servings
Ingredients
1 small package frozen french fries not mega family size
one can of chili of choice
1 cup shredded cheddar cheese
Instructions
Spray the inside of a large doubled-up sheet of foil with cooking spray.

Place the frozen fries in the middle of the sheet; fold to enclose.

Cook the fries on your BBQ or over a campfire until they are cooked - around 15-20 minutes.

Spread the chili and cheese over the fries.

Close the packet again and cook until the chili is hot and the cheese has melted.

Remove, cool slightly and enjoy! We just ate it with forks right out of the package!
Nutrition Facts
Campfire Chili Cheese Fries Tin Foil Dinner
Amount Per Serving (4 g)
Calories 0
* Percent Daily Values are based on a 2000 calorie diet.
132