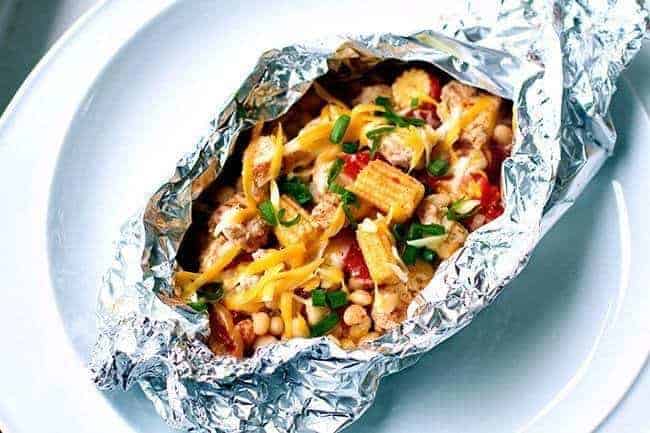 You CAN eat healthy while camping! Who knew?
These little beauties were an absolute, 110% hit with the family. Chicken foil packets are the way to go when camping! Of course my daughter's had no spice, but other than that, we were good to go! My son wolfed this down and Mike and I couldn't believe how delicious this was! It doesn't even feel like a healthy meal, and those are the best kind!
We all know that we eat like crap when we are camping.
Cookies. Cinnamon buns. Hobo pies over the fire. Marshmallows and S'Mores. The list is endless of junk food that we eat out at the trailer.
This year we are going to be spending a LOT more time out there and I refuse to feed the kids hotdogs and marshmallows when we are at the lake. I've been concocting more healthy camping meals already on the two weekends we were out there and this one will be on the menu all summer long!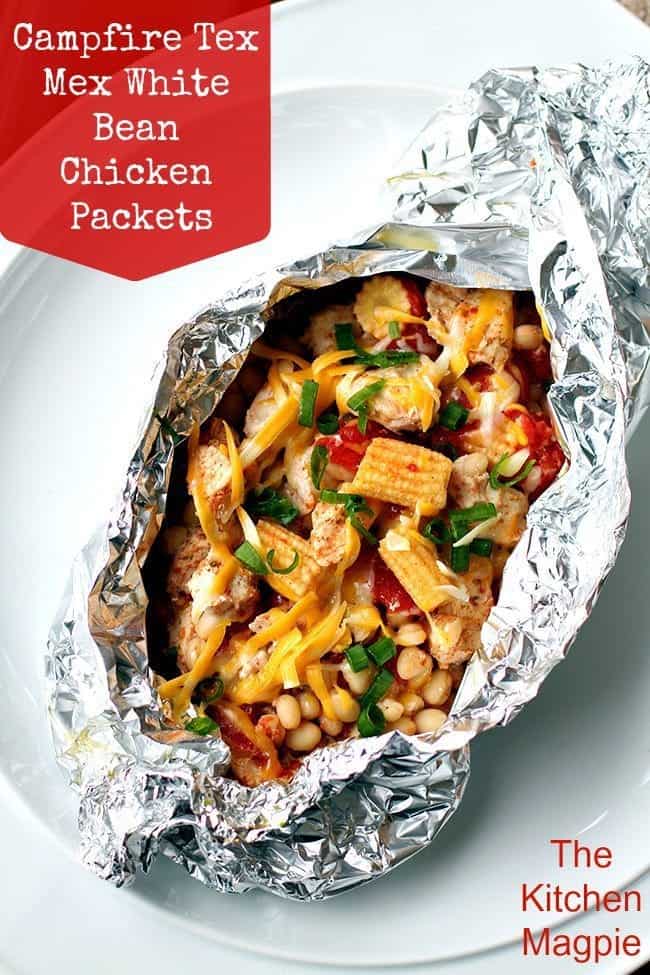 So while I love my cereal bars and my campfire desserts, we have to eat more like this when we are out there, and then I can sneak in those desserts now and then!
What healthy meals do you enjoy while out camping?
Love,
Karlynn
Campfire Tex Mex White Bean Chicken Packets
Healthy and delicious Tex Mex flavored chicken and white bean foil packets! Who knew that eating healthy while camping could be this easy?
Ingredients
1 can of navy beans drained and rinsed 15oz
1 can of diced tomatoes drained 10oz
1 can of corn bits
1 tbsp Mexican Spice Blend or more to taste!
4 boneless skinless chicken breasts diced
1/2 cup shredded cheese Mexican blend
chopped green onion to top
4 tin-foil squares about 18" x 12"
Instructions
Combine all ingredients, excepting the cheese and green onion, in a large bowl.

Place 1/4 of the mixture on each foil square, then fold up the tinfoil so that the mixture won't leak while turning the packet over the fire.

Place on a BBQ grill or the grate over a campfire and cook for 20-25 minutes, turning the packets occasionally so that everything is cooked evenly.

When the chicken has been cooked thoroughly, remove from the fire and cool slightly.

Turn out the foil packets onto a plate, top with cheese and green onion.

Enjoy!
Nutrition Facts
Campfire Tex Mex White Bean Chicken Packets
Amount Per Serving (4 g)
Calories 0
* Percent Daily Values are based on a 2000 calorie diet.
76