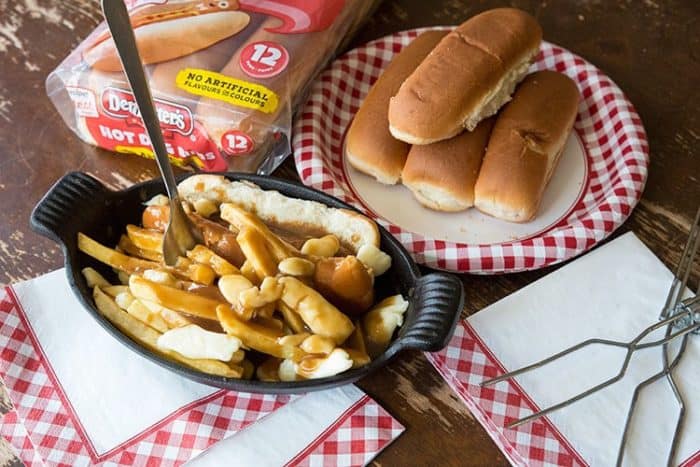 I have been waiting MONTHS to make a poutine hotdog! I had to wait until the weather was nice, we needed hotdog roasting weather in order to do it with the kids. There's nothing better than a warm day and a firepit going to make you feel that summer is finally on it's way!
The second recipe that I have partnered with Dempster's for uses their hotdog buns and I knew right away that poutine hotdogs were on the menu! I noticed that the Dempster's hotdog buns have a new recipe for their softest buns ever and this is what I love about partnering with brands that we use at home.
We LOVE Dempster's hotdog buns and they are always the brand that I will choose off of the shelf when it is summer hotdog season!
The best part about making poutine hotdogs is that you can make them in your backyard. There's no need to go camping (although these are so easy you can also make them while camping!) you can make family memories in your own backyard this summer. Kids remember these moments; a fire in the backyard, Mom and Dad helping them out and relaxing as a family together….without even leaving your backyard! We get so caught up in the whirlwind of life that we forget about the small moments. Simple moments like sitting around the fire in your own backyard, hotdogs in hand, laughing about some crazy joke that Dad told everyone. Those are the moments that count.
This year is Canada's 150th anniversary and there are celebrations galore going on! Not just on July 1st (Canada Day) but all summer long. Families and friends have already geared up to throw BBQ's and get-togethers and there are going to be a lot of memories from all of the wonderful parties coming up this summer.
And I say, make poutine hotdogs at ALL of them!
Can you just guess how happy my kids were with this concoction?
It's also the best way to have another #Breadventure with the kids! What could be more adventuresome than concocting the ultimate Canadian hotdog – one covered in poutine!
Over. The. MOON.
These combined their two favourite foods into one dish. We had so much fun not only making the poutine hotdogs, but the video to go along with it as well! They love helping out with food videos, from the prep to the shots to the action. They are so my kids!
Poutine hotdogs pretty much sum up everything great about summer in Canada! Poutine is THE Canadian food, and hotdogs are the quintessential summertime treat! Put them in a soft Dempster's bun, add fries, cheese curds and top with hot, steaming gravy and you will have a hotdog treat that is sure to impress the kids, family and your friends!
There is also a digital coupon that you can all head here to receive and try out this recipe yourselves! Pick up some delicious hot dog buns and let me know what you think!  If you make them, share a photo on social media and tag it with #Breadventure or #Dempsterscelebrates150! I would love to see your poutine hotdog creations!
To celebrate summer and Canada's 150th anniversary, Dempster's has another giveaway for you guys! This time it's an awesome inflatable couch! One lucky reader will win this and have fun in the sun!
Follow the instructions below to enter the contest! Good luck everyone and let me know if you try the poutine hotdogs!
Karlynn
How to Make Poutine Hot Dogs!
How to make poutine hot dogs!
Ingredients
One pack of Dempster's Hot Dog Buns

4

hotdogs

1

bag of French Fries

2

packs of Brown Gravy Mix

1

bag of cheese curds
Instructions
Pre-heat your oven or BBQ ( you can make fries on the BBQ) to the required

temperature

for your French fries.  Cook according to package directions.

Cook the hotdogs, on the BBQ, stove or fire.

Prepare the gravy mixes.

Place the cooked hot dogs into the Dempster's hot dog buns. Place on a plate and add French fries.

Add the cheese curds on top, then pour desired amount of gravy on top of hot dog and fries.

Enjoy!
0