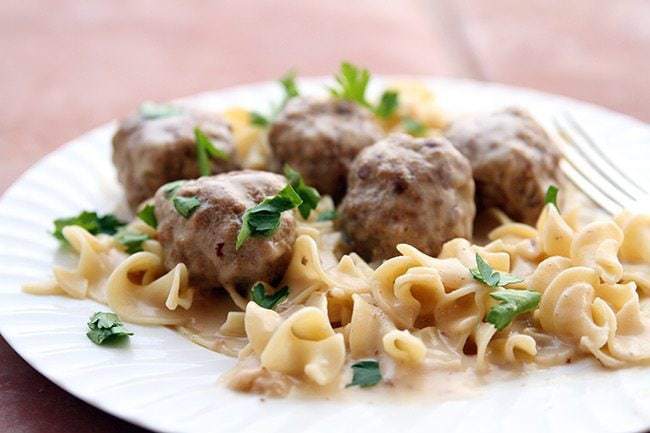 I really didn't think that Mike was going to like these.
And I made them despite that.
Yes, just call me Super Wife.
In all honestly, classic Swedish Meatballs have been on my To-Make list for as long as I can remember. There is something just right about the beefy, creamy sauce that makes them one of my favorite comfort foods.
So what do I go ahead and make?
Turkey ones.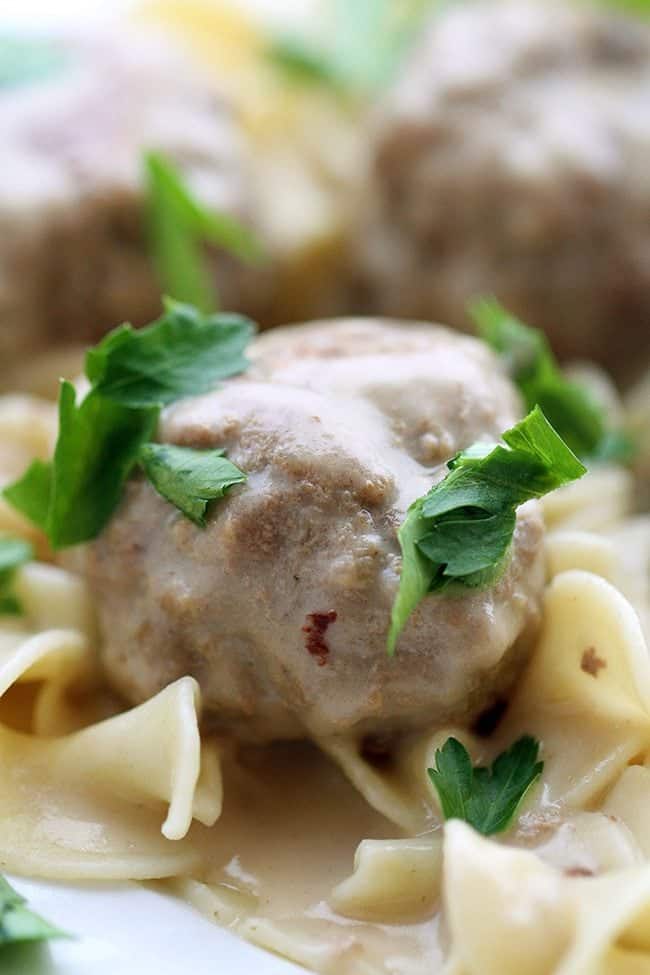 Before you call the men in the white coats, there is a reason to my insanity. I used up all the ground beef that I had set aside in the fridge for meatballs in spaghetti for the kids and the rest was – of course- frozen.
Am I the only one who seems to only need ground beef when it's frozen? I can keep it in my fridge until it goes bad and never use it. Put it into the freezer? I'll need that rock of meat within a day.
So I ran with it.
I had ground pork (not frozen by some miracle) and ground turkey in the fridge. Wait a sec…. I'm not sure what that ground turkey was for….hmm. Well, there's obviously some other recipe I'm forgetting now…
Back to the recipe.
While I can totally get behind turkey meatballs…I'm thinking that they are going to be too dry without that ground pork. Let's face it, you're not trying to kid yourself into thinking these are low-fat. They use sour cream, butter and cream.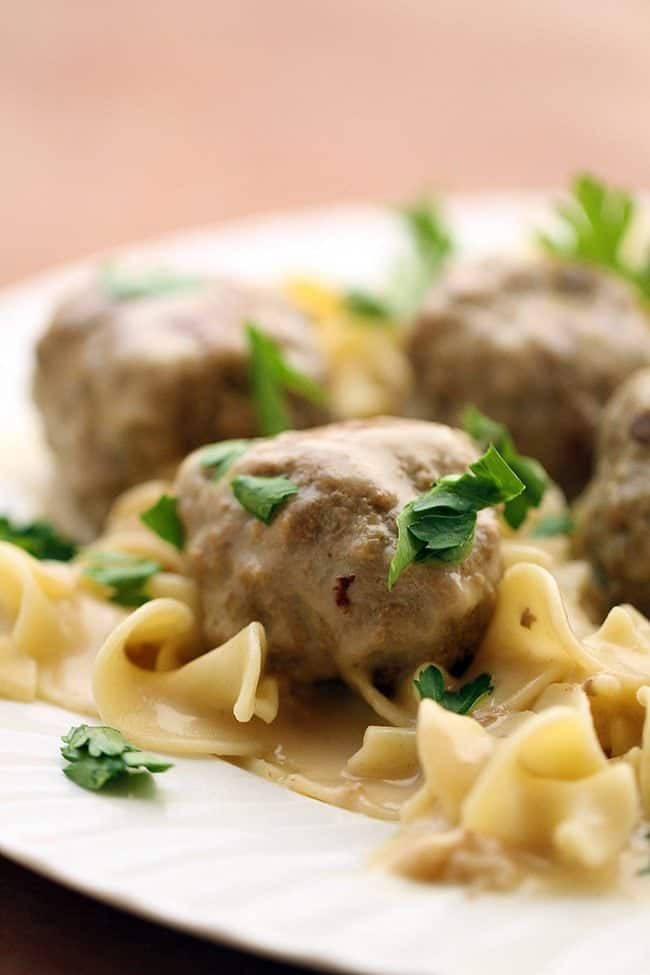 These are absolutely divine. I can't tell you how much I love the cranberries and while yes, that seems Christmasy (trust me to be a season behind!) they made the meatballs. The allspice paired with the tang of those red winter berries? SO GOOD you guys!
And Mike? He loved these.
My jaw hit the table. I honestly thought I would be the only one eating these since the kids are usually a wash. Nope. Three out of four of us ate them! My son loved the sauce and managed to eat a couple meatballs – a miracle- and Mike even ate them as leftovers with spaghetti noodles the next day.
Mike doesn't eat leftovers, nor weird turkey cranberry meatballs.
What Twilight zone am I in?
Make 'em. Let me know what you think.
Love you more than chocolate,
Karlynn

Classic Swedish Meatballs
Cranberries give these turkey and pork Swedish Meatballs a delicious little zing to them!
Ingredients
1

tablespoons

olive oil

1/2

white onion diced

1

pound

ground turkey

1

pound

ground pork

1/3

cup

minced dried cranberries

1/2

cup

bread crumbs

2

large egg yolks

1/4

teaspoon

ground allspice

Kosher salt and freshly ground black pepper to taste

FOR THE GRAVY

1/4

cup

unsalted butter

1/3

cup

all-purpose flour

4

cups

chicken or turkey broth

3/4

cup

sour cream

1/4

cup

heavy cream

Kosher salt and freshly ground black pepper to taste

2

tablespoons

chopped fresh parsley leaves
Instructions
Heat 1 tablespoon olive oil in a large skillet over medium heat. Add onion, and cook, stirring frequently, until onions have become translucent, about 2-3 minutes.

Combine ground turkey , ground pork, cranberries, bread crumbs, egg yolks, allspice,and cooked onion in a mixing bowl.

Stir until well combined. ( I use my hands)

Roll the mixture into -1 1/2 - 2 inch meatballs.

Place meatballs into a large skillet and cook until all sides are browned, about 7-8 minutes.

Drain on a paper towel-lined plate.

Rinse the skillet out and melt butter in the skillet.

Whisk in flour and lightly brown it.

Slowly whisk in the turkey broth - and whisking contstantly- cook it until slightly thickened.

Stir in sour cream and heavy cream, then add the meatballs back in.

Cook another 8-10 minutes until the sauce is thick and the meatballs are cooked completely.

Serve over egg noodles and garnish with parsley.
Nutrition Facts
Classic Swedish Meatballs
Amount Per Serving (24 meatballs)
Calories 0
* Percent Daily Values are based on a 2000 calorie diet.
0