Thick & Chewy Peanut Butter Chocolate Chip Cookies have been on my mind for about 2 weeks now. I have no idea why, I can't remember seeing any spectacularly mind-blowing thick and chewy peanut butter chocolate chips cookies in a store or bakery, or even remember talking to anyone about them. Who knows, I might have looked into my pantry, saw PB and chocolate chips and had the thought burning in the back of my brain since then. For some reason I needed to make a crazily decadent, thick & chewy peanut butter chocolate chip cookie and it had to be LARGE.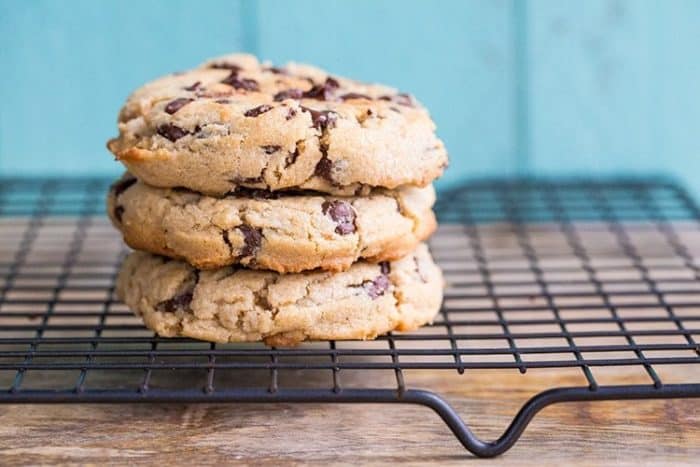 Thick & Chewy Peanut Butter Chocolate Chip Cookies
What I do know is that I have discovered a couple of tricks to bakery-style cookies. Or maybe not. This may not be the way that bakeries get those huge yet flat cookies that are all the same shape and thickness, all the way around. However this is the way that *I*  will now get those perfect cookies at home without using shortening ( the usual trick for commercial bakeries) or huge ovens that bake perfectly.
I mean, let's look at these Thick & Chewy Peanut Butter Chocolate Chip Cookies for a second.
Ooooh, man. Yes please.
So here's what I discovered after two batches.
Don't flatten them AT ALL before baking.
Even if they stay a dome shape – which they will on non-humid days – don't worry. The trick to not having the edges brown too much like the ones on the left is to start them out in the ice cream scoop size. If they are still a dome shape you simply take a spatula or a flat flipper/turner and slowly press down on the freshly baked cookie, right when they come out of the oven. That's how you get those beautiful crinkled little edges that the cookie on the right has. If you are baking on a humid day, odds are that your dough will be stickier than usual. Try adding another 2- 3 tablespoons of flour to make it less sticky but odds are they are still going to bake up thick and chewy if you still adhere to the DO NOT FLATTEN BEFORE BAKING RULE.
Oh, did I say ice cream scoop a few seconds ago?
Yes, I did. And ice cream scoop is the perfect size to make these large and in charge cookies. Yes, you only end up with 12-16 cookies from this recipe, but they are huge cookies.
Also: If all else fails, cut the butter.
Less butter has always meant thicker, chewier cookies and is the secret to my popular Thick & Chewy Chocolate Chip Cookies.
If these aren't as thick as you want, cut the butter down to 1/3 cup of a cup. Cookies are a persnickety lot. If you live somewhere humid, they'll spread out and flatten like a pancake.
Yesterday, these turned out perfectly and I had to use a flipper to flatten them into the thick, chewy, delicious delights below. They were PERFECT DOMES that didn't even shift from their original shape.
Today I used the same recipe to make sure that they are still great and they flattened out all on their own because it's snowing here in Edmonton. I could have added that 2-3 tablespoons of flour, but to be honest they turned out just as great as the ones below.
Peanut Butter Chocolate Chip Cookies Tips & Tricks
Now, I know that YOU know this, but the secret to the best cookies is to under bake them slightly. These just need to be browned all lovely on the outside and under baked on the inside. Fifteen minutes were perfect for mine, but watch yours and see. If you over bake them, they will still be delicious, but not chewy!
So in order to get these cookies that thick, you are going to have to work a little. Try one out on your cookie sheet and if it flattens, add some more flour to the dough. Odds are that we are going to have more humid days than not, now that winter is here.
If flour doesn't work, cut that butter down to 1/3 of a cup in your next batch. You might have to eat a few batches before you get the feel for what your dough should be like ( it's not a super-sticky dough, by the way) and I know that taste testing thick and chewy peanut butter chocolate chip cookies is going to be a hard job.
More great cookie recipes:
You got this.
Love you more than chocolate,
Karlynn

Pin This To Your Dessert Ideas Boards and Remember to FOLLOW ME ON PINTEREST!

Thick & Chewy Peanut Butter Chocolate Chip Cookies
How to make decadent Thick & Chewy Peanut Butter Chocolate Chip Cookies with my method that makes perfect cookies every time!
Keyword:
Peanut Butter Chocolate Chip Cookies
Ingredients
1/2

cup

butter softened

1

cup

brown sugar packed

1

large egg

2

tsp

vanilla extract

1/2

cup

peanut butter

creamy or chunky up to you

1 1/4

cups

all purpose flour

1/2

tsp

baking soda

1/2

tsp

salt

2

cups

of semi-sweet chocolate chips
Instructions
Pre-heat the oven to 375 degrees F.

Using the paddle attachment, cream the butter and sugar together in a bowl attached to a stand mixer.

Mix in the egg until combined, then add in the peanut butter and vanilla extract. Mix well.

Whisk the dry ingredients together then add to the butter mixture, mixing together thoroughly.

Mix in the chocolate chips by hand until evenly distributed throughout the dough.

Using an ice cream scoop, fill the scoop until it's full, flattening the bottom until it's level with the straight edge of the scoop.

Place by rounded cookie scoop onto parchment lined baking sheets.

Bake in the oven for 14-15 minutes, or until golden brown all over.

Remove from the oven.

The cookies should still be in a dome shape.

Using a flat spatula or egg flipper etc, press each cookie down until evenly flat. They should be about 1/2 inch to 3/4 inch thick.

Leave the cookies on the trays to cool completely after flattening.

Enjoy your super thick and chewy peanut butter chocolate chip cookies!

Store in a container for 3-5 days, but I doubt they will last that long.
Nutrition Facts
Thick & Chewy Peanut Butter Chocolate Chip Cookies
Amount Per Serving
Calories 321
Calories from Fat 162
% Daily Value*
Total Fat 18g 28%
Cholesterol 26mg 9%
Sodium 209mg 9%
Potassium 212mg 6%
Total Carbohydrates 34g 11%
Protein 4g 8%
* Percent Daily Values are based on a 2000 calorie diet.
407