I seriously love stuffed cookies and I haven't made any new ones on this site for a while! What am I thinking? I am going to have to rectify that soon! Until then, I am going to share with you my super duper base "stuffed cookie" dough recipe, where the secret is to cut the butter amount in half so that the cookies doesn't spread out all over the place and keeps those goodies baked inside!
Stuffing cookies full of the best sweets and treats is not new by any means.We have been putting everything we can into chocolate chip cookies since the Tollhouse recipe came out. Everyone who has whipped up their own chocolate chip cookie recipe has tried putting another ingredient in the middle of it.
But every chocolate chip cookie recipe I have ever come across looks like lumps of dough baked around a treat. Which tastes just as great, don't let me steer you wrong, but I wanted to create a chocolate chip cookie recipe that hid the goodie inside completely, that kept the "treat" whole instead of melted and looked purty.
I like purty lookin' cookies. I can't help it.
If I am going to sit down and eat 1 billion calories in a cookie, it better not look like a lump o' dirt.
So, no dirt lump lookin' cookies on this site!
I hope. Let me know if you spot any, ok?
Now, I have looked at a LOT of recipes for stuffed chocolate chip cookies. None of them seem to avoid getting that "lump" sitting on top of the cookie that is just your treat covered in a wee bit o' cookie. Most are the exact same recipes I have here on my site, there isn't much change to the basic chocolate chip cookie.
This recipe however makes the perfect stuffed cookie.
Voila. Pretty cookies!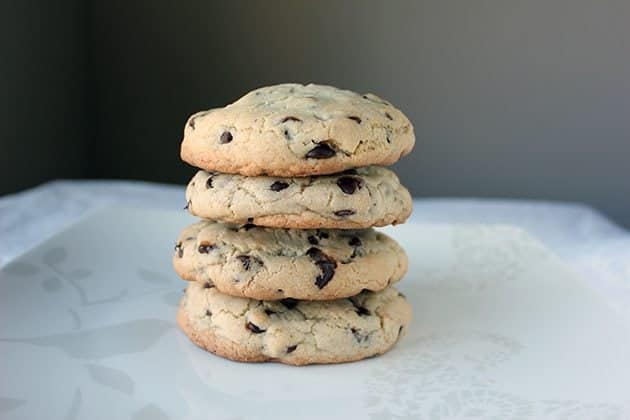 Now, you can make them plain dough cookies like the KitKat one below, if you don't want chocolate chips in the mixture.
This is also a beautiful dough to use when you are baking with your kids. It's easy to make, it's not too sticky and they will have so much fun making stuffed cookies with you!
So now..
..go forth and stuff cookies! And you better let me know what crazy concoctions you have baked into this dough! Do it and have fun!
Love ya more than chocolate!
Karlynn
The Perfect Cookie Dough for "Stuffed Cookies"
Ingredients
2 1/4 cups of all purpose flour1 tsp baking soda1/2 cup of butter3/4 cup of packed brown sugar3/4 cup of granulated sugar1 1/2 tsp vanilla2 eggsOptional: 2 cups of semi-sweet chocolate chips to make choco chip cookies cups Your choice of treat: mini chocolate bars Peanut Butter etc.
Instructions
Kick the tires and light the fires to 350 degrees.Cream together your butter and sugar until it's light and fluffy. Add in the eggs and vanilla, mixing thoroughly. Beat in the flour, baking soda and salt.When that is done, if you want to make chocolate chip cookies, fold in the two cups of chocolate chips by hand, and prepare to put them on some parchment paper lined cookie sheets.Making sure there is the same amount of dough on either side of your chosen treat, pinch the top and bottom dough together like a dumpling, then smooth and mold into a pretty dome shaped cookie.(To REALLY make sure they stay pretty, chill the cookies in the fridge before baking! This really helps!)Place on the parchment paper lined cookie sheet and bake at 350 degrees for 15-17 minutes, depending on how thick your cookies are. They will be golden brown on the bottom and top when done.Enjoy!
Nutrition Facts
The Perfect Cookie Dough for "Stuffed Cookies"
Amount Per Serving (24 g)
Calories 0
* Percent Daily Values are based on a 2000 calorie diet.
4