This post may contain affiliate links. See my privacy policy for details.
If you are ever going to pin, save or otherwise worship a post on my website, this ultimate Monkey Bread Round-up is it! I realized while thinking about making Monkey Bread for Christmas this year that I alone have three recipes for Monkey Bread on The Kitchen Magpie alone now.
THREE MONKEY BREAD RECIPES.
It's a sickness this time of year. The holidays are meant for Monkey Bread in my house, apparently.
Let's start with the recipes on my own website, then move on to other awesome bloggers that have some amazing monkey bread recipes!
Classic Monkey Bread – You guys!!! This recipe is retro 2011 Kitchen Magpie and is soooo good! Look at that photo. I was just a baby photographer at the time. But this is classic monkey bread that you gotta stuff in your face come Christmas morning.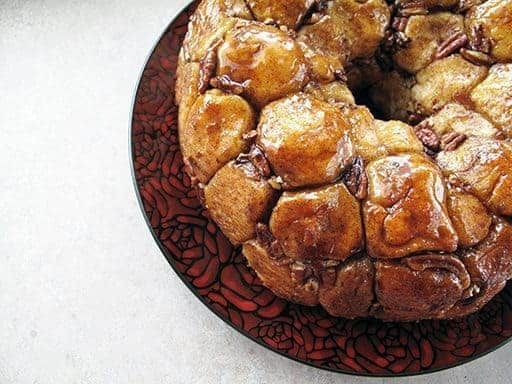 Christmas Monkey Bread – are you surprised that I came up with a Monkey Bread recipe that was full of Christmas cherries? Me neither. It was actually a reader that suggested this amazing idea!! Also – this was circa 2014. My photography was improving slightly.
Babka Monkey Bread! I took my family's sweet traditional Ukrainian Easter Babka bread and turned it into a Monkey bread! This makes TWO bundts, perfect for LARGE family gatherings!
Lemon Monkey Bread from the Recipe Rebel.
Shut. UP! This looks amazing and totally something that the lemon lover needs to be making this Christmas!
Cinnamon Bun Chocolate Coconut Pecan Monkey Bread from Jo & Sue. This combines all of my loves into one monkey bread and uses pre-made cinnamon buns, which makes this quick, easy and seriously delicious!

How about Bourbon Bananas Foster Monkey Bread from Cake & Knife?? Two desserts in one!!
If we are still on a fruit theme, let's add this Caramel Apple Monkey Bread from Our Best Bites onto the list as well.
Cranberry Raisin Money Bread fits right in with the holiday taste profile!
Nutella and Cream Cheese Stuffed Monkey Bread from Girl & the Kitchen… I just laughed at how decadent this must be!!
This Strawberry & Cream Cheese Monkey Bread from Positively Splendid looks positively amazing!
S'mores Monkey Bread?? Cathy from Lemon Tree Dwelling is my kinda baker!
Pecan Pie Monkey Bread from Swanky Recipes…yes, please.
Snickers Monkey Bread from The Gold Lining Girl. WHOA!!! Mind blown!!
Amy in the Kitchen whipped up this amazing Pumpkin Cream Cheese Monkey Bread. Mmm. Pumpkin….
Chocolate Chip Monkey Bread from Daily Leisure. Because CHOCOLATE.
This is recipe #2 from Cathy at Lemon Tree Dwelling because apparently she's as crazy as I am about Monkey Bread. Pineapple Upside down Monkey Bread. Shut the front door!
Let's go savoury now! There are some really amazing savoury monkey breads out there, perfect for pairing with beer and wine for your holiday parties!
I have literally been obsessing for days over this pull apart PIEROGIPineapple Upside down Monkey Bread. BREAD from Food Well Said. Ugh. So awesome on so many levels!!!!
This Ham & Swiss Monkey Bread from Lemons for Lulu looks like a protein packed carb boost to your day!
Plain Chicken's Parmesan Garlic Monkey Bread Muffins are too cute – and look delicious!!
Mozza Stuffed Pesto Pizza Monkey Bread from Gringalicious. Look at that cheese!!!!
Overnight Ham, Egg & Cheese Monkey Bread from the Seasoned Mom. Think she'll adopt me??
Rosemary Lemon Monkey Bread from Flour Arrangements. You had me at rosemary, this sounds fantastic!
Taco Monkey Bread from Adventures of a Nurse – must try.
Savoury Herb & Cheese Monkey Bread from Five Heart Home – All you need is a glass of wine and you're set!
Cheesy Chicken Ranch Monkey Bread from I Wash You Dry. Hello ultimate winter comfort food!
And there you have it! Twenty five of the most delicious looking monkey bread recipes out there!
Happy Baking!
Love Karlynn