This post may contain affiliate links. See my privacy policy for details.
It's game time, so it's also time for Super Bowl 2018 Recipes!
This coming Sunday is one of the most looked forward to sports events of the year : Super Bowl Sunday. And with Super Bowl Sunday comes Super Bowl food! Let's think past the usual beer and nachos this year – though I do love a good beer and a plate of nachos – and try some new food to grace your Super Bowl tables.
I've rounded up the most delicious recipes from some of Canada's best food bloggers to help us all out! There are so many delicious ideas here that I have no idea which ones to choose. If only someone could magically make them all for me and just drop them off at my house. Hint, hint.
Let's start with dips, shall we? The humble dip is the perfect party food, balancing a plate of chips and dip on your knee while cheering on your favorite sports team is almost a ritual in itself. The dip recipes below however, go far past the usual guacamole and salsa.
Super Bowl Sunday Dips
Is this a meal? A snack? Who cares, it's buffalo chicken dip that you cram onto a chip and shovel into your mouth.
Dill, onion and real pickles, oh my! Skip the dill pickle chips and whip up this dip instead.
Shut. The. Front. Door.
Quick, easy, healthy and delicious!
Super Bowl Sunday Small Snacks
I kinda can't get over these. Cheese curds, gravy and potato skins. 'Nuff said.
Baby potatoes stuffed with cheese, wrapped in bacon AND it's finger food? I'll take two dozen please.
There is nothing better than a plate of deep-fried pickles at a party! Pair it with the Chipotle Ranch Dip mentioned in the recipe and you have one amazing snack!
Tostido Scoops make these perfect little game day bites!
Super Bowl Sunday Chicken Wings & Ribs
My Salt and Pepper Chicken Wings
The most popular chicken wings on my website!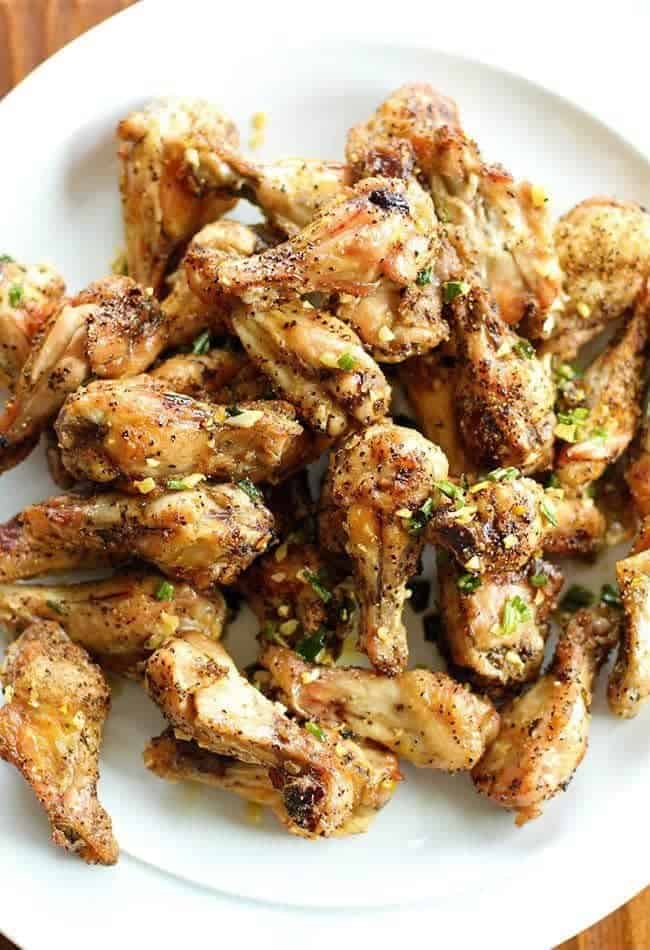 If only she would deliver these from BC…..
These look absolutely amazing!
There's nothing better than some jazzed up hot wings for game day!
Sweet and spicy wings are good on their own. but when you add in a beer to cool things down, you have perfect snackage.
Skip the traditional ribs and try this Greek version instead.
Super Bowl Sunday Nachos
Skip the normal nachos and try these pizza nachos instead.
Because nachos don't have to be junky.
Using pitas instead of chips is brilliant!
Super Bowl Sunday Sweet Endings
Yes, please.
Trifles are the perfect make ahead, serve yourself dessert for parties.
Because every party needs a square. Of something chocolatey, that is.
White Chocolate Chip Macadamia Nut Cookies. My favourite cookie ever!
Have a fabulous Super Bowl Weekend everyone!
Love,
Karlynn