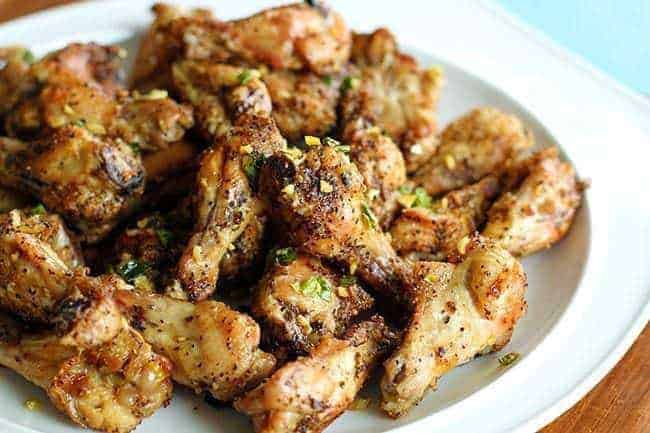 STOP. DROP. AND COOK these Salt and Pepper Chicken Wings.
I mean it. Make these absolutely RIGHT NOW.
This is me bossing you around. Go to the store, get thee some chicken wings and make these this weekend.
I am so excited to share this recipe with you guys that I am typing this up as fast as my wee fingers can. I have a pile of kids Cub camping gear to pack, my own things to pack for this weekend and a dirty kitchen (well, that's nothing new) and I am seriously ignoring my mile long To-Do list in order to get this recipe to you STAT.
Do any of you like the salt and pepper squid from most Chinese restaurants? It is the one thing that my sister and I agree on when it comes to food. She hates anything spicy, but will eat that squid.
These wings mimic that squid – minus the breading!
I have been looking for a mind-blowing Salt and Pepper Chicken Wing recipe for as long as I can remember.
Dudes.
This is it.
Just look. And drool.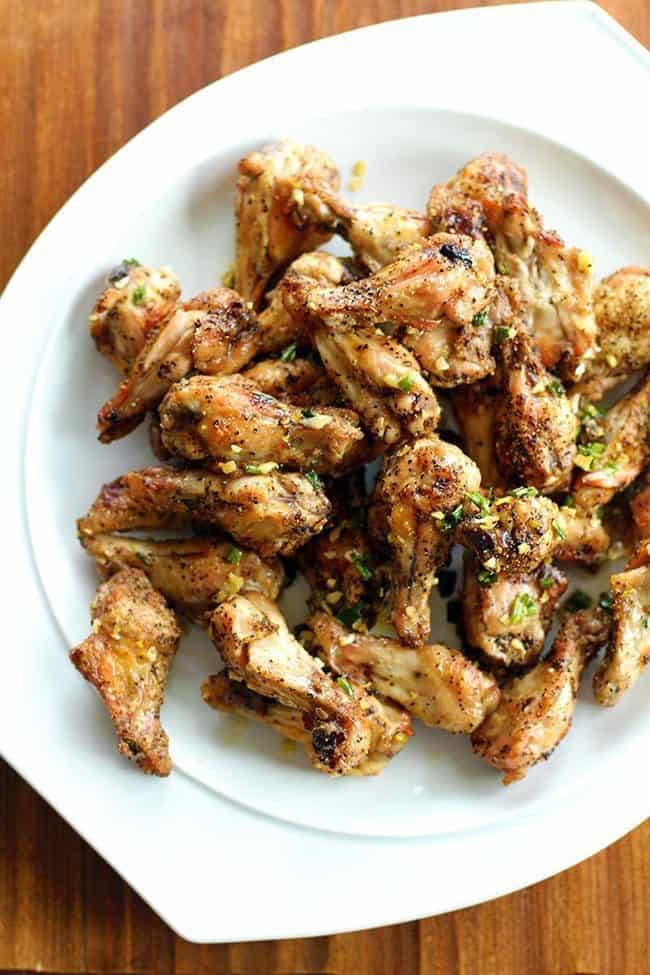 Now, I try not to be bossy.
But I am.
You pin this recipe RIGHT NOW, you hear me?
Do. Not. Lose. This. Recipe.
These wings are so simple that I literally had all the ingredients in the fridge. The addition of sesame oil, green onions and garlic is brilliant.
Sure, maybe some of you knew this already. I didn't. This is a slightly Asian inspired take on Salt and Pepper Chicken Wing and it makes all the difference. A big thanks to Des from Life's Ambrosia for the base idea for these wings!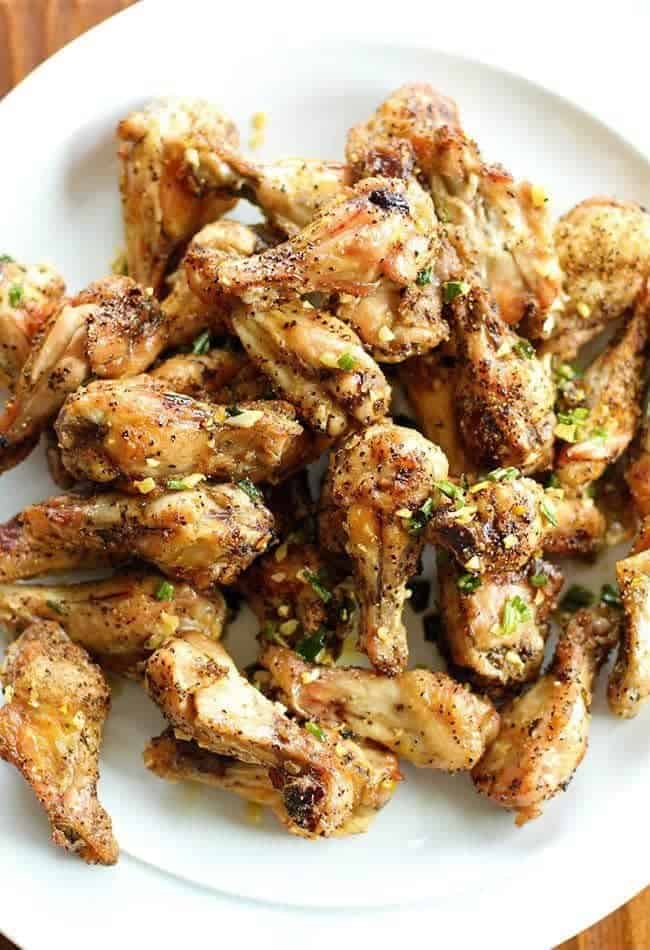 Now you. Reader you. Go and get the ingredients for these and make them this weekend. This is a large recipe that makes approximately 36 wings, so enough for 6 people to have as a snack.
I also have a high salt ratio, as I like salty, salty wings. If you want less salt, leave out one teaspoon. Mike and I had these for dinner and then ate them the next day as well.Do you even want to know how they tasted cold?
Better than hot. Oh em gee you guys, the best cold chicken I have ever eaten! The flavors just soaked in overnight and well.. it took all my willpower to leave some for Mike for his lunch. Don't be scared of red pepper flakes, that is a classic combination – sesame oil and red pepper flakes, just like my favourite Chinese dishes!
Happy cooking!
Love you more than chocolate,
Karlynn
Pin this to your Game Day or Snack Boards!!!

Amazing Salt and Pepper Chicken Wings
Amazing, mind-blowing salt and pepper chicken wings. Green onion, garlic and sesame oil make these the most amazing wings you will ever eat.
Ingredients
3 pound party wings approx. 36 wings
3 teaspoon salt
4 teaspoons crushed black pepper
4 teaspoons sesame oil
5 cloves garlic chopped
4 green onions diced
 chili pepper flakes optional but the heat is nice!
Instructions
Preheat oven to 450 degrees.

Combine salt and pepper together in a bowl. Place chicken wings on a lightly oiled baking sheet. Sprinkle the wings with the salt and pepper, then shake on the baking tray to cover completely.

Bake for 15 minutes then turn and bake for another 15-20 minutes until crispy and cooked through. We like our wings very crispy.

As soon as the wings are close to being done, heat the sesame oil in a skillet over medium heat then add the garlic and onions. (jalapeno as well if you are adding it in.)

Cook until the garlic has browned slightly.

Remove chicken wings from oven and place in a large bowl.

Toss the chicken wings with the garlic oil until completely coated.

Place on a serving platter, spooning any leftover garlic oil over the top.

Serve and enjoy!
Nutrition Facts
Amazing Salt and Pepper Chicken Wings
Amount Per Serving (6 g)
Calories 0
* Percent Daily Values are based on a 2000 calorie diet.
336