This post may contain affiliate links. See my privacy policy for details.
These Juicy Brown Sugar Baked Pork Chops have convinced me to make them in the oven more often. No more dry, unpleasant pork chops! These juicy brown sugar baked pork chops are melt in your mouth tender! If you need to use up pork loin as well, try my Stuffed Pork Loin!
Table of Contents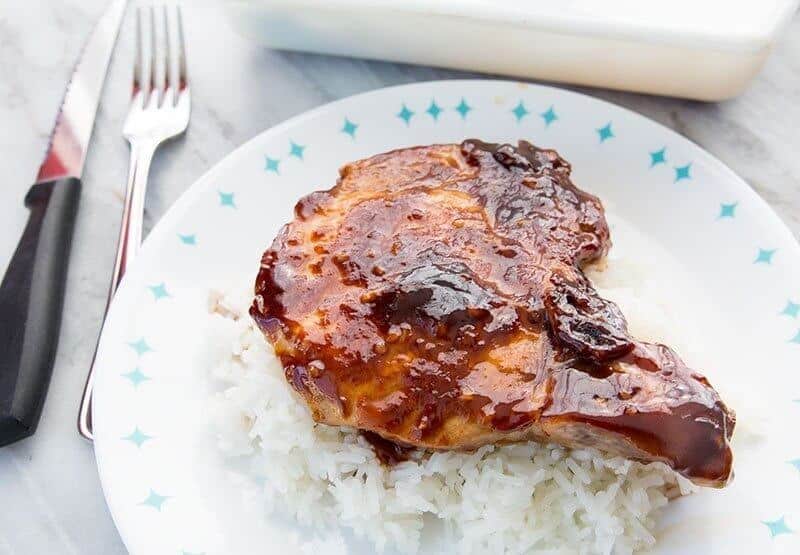 How To Oven Bake Pork Chops So They Are Juicy, Flavorful And Tender.
Oven baked pork chops are fast and easy, you simply pop them in and let them cook while you prep the rest of the dinner. This is my favorite pork chop recipe! (of course, because it's sweet with garlic, how can you lose?)The time has come my friends, to enjoy pork chops like they have always been meant to enjoy. Tender. Juicy. Succulent. Does this sound like the pork chops that you ate growing up? Of course it doesn't!
Our parents had to cook the ever living heck out of pork and we ate shoe leather as children. Mr Magpie actually wouldn't eat pork chops until the new recommended pork cooking temps came out. We honestly didn't eat much pork the first ten years of our marriage. Now, this is an often requested weeknight dinner!
Some tips before you get started
What's Better, Bone-in or Boneless?
Don't buy boneless pork chops. Believe it or not, buying pork chops with the bone in is much better. Why is this? Bones actually lend flavor and moisture to the meat and removing them will lead to a less satisfying overall taste. Furthermore, pork chops with the bone still attached help slow down the speed at which the meat is cooked which in turn, gives you more leeway time wise when cooking.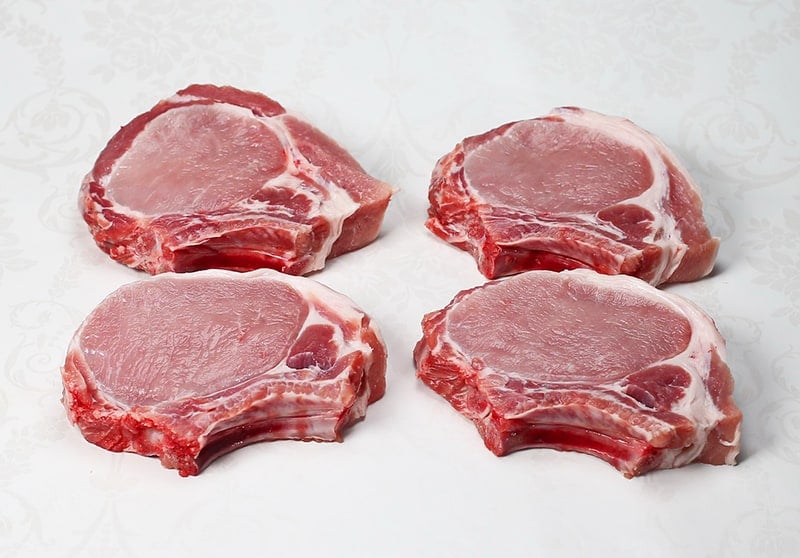 Room temperature meat makes a difference!
Let your pork chops come to room temperature before cooking. According to most chefs, letting the meat sit for 20-30 minutes at room temperature allows for more even cooking throughout! If you transfer directly from the fridge to the oven without letting it sit first, you may end up with some areas being more cooked than others. Try this tip and taste the difference!
Fat means flavor!
Don't cut the fat off! This might seem like a no brainer but cutting off the fat is like guaranteeing your pork chops will taste more bland than normal. Never cut the fat off before cooking, there are very few instances with any meat when this is recommended.
Foolproof cooking with an Instant-Read Thermometer!
Always use a meat thermometer when cooking. A fast digital one like my much treasured Thermapen are the best for instant readings. Make sure you only cook to the recommended safe temperature which is currently 145 degrees Fahrenheit.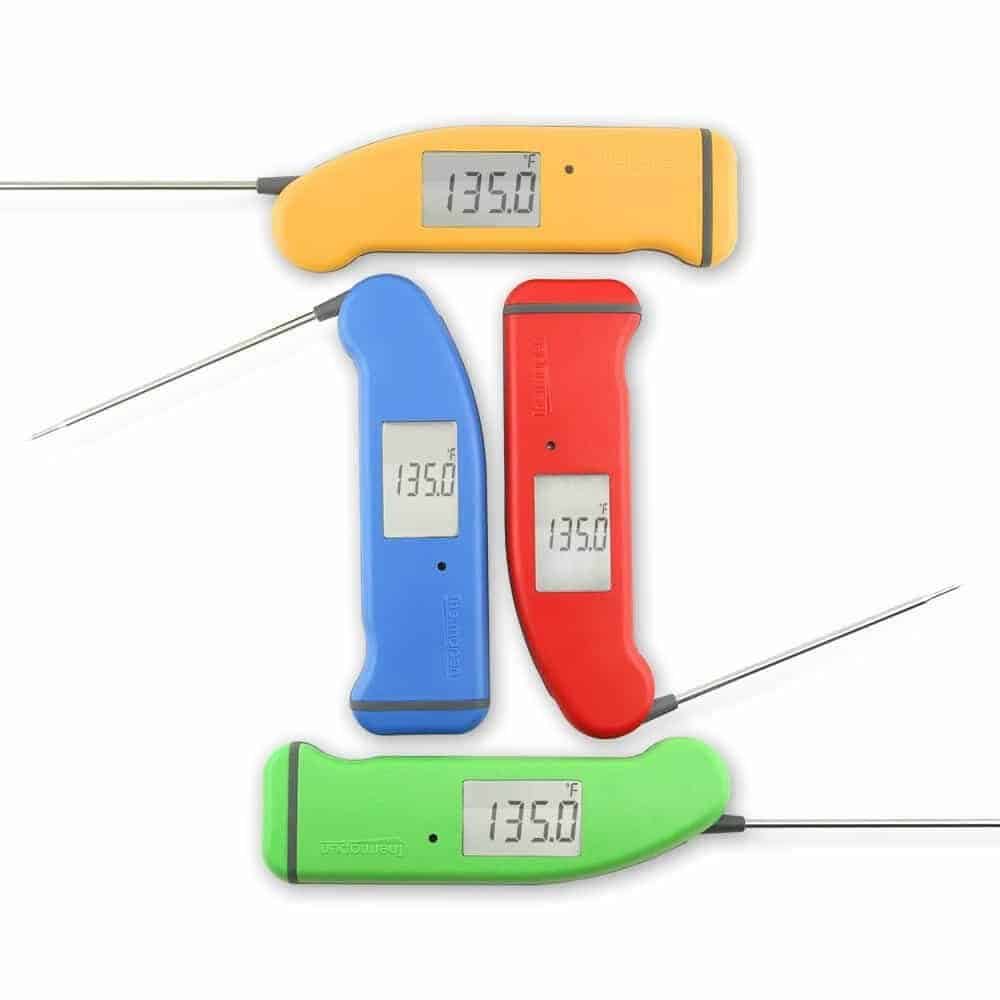 Ingredients
Soy sauce – use low sodium if you want to cut down on salt
Worcestershire Sauce – this is a super key ingredient for flavor
Minced garlic – fresh is best but I love using jarred minced garlic for a fast trick (avoid garlic powder if possible)!
Ketchup – use your favorite brand
Brown sugar – this gives the sauce it's caramel flavor
Pork chops – thicker is best but even in my video I used fast fry to show you how easy this is!
Directions
Preheat your oven to 350 °F.
In a small bowl, stir together the soy sauce, Worcestershire, garlic, ketchup and brown sugar . Adjust this mixture to taste, some people like more ketchup along with the brown sugar. Once you have adjusted it to taste, move on to the next step.
Pat dry your pork chops with a paper towel to remove any leftover moisture or blood from the packaging, then place the pork chops in the bottom of a baking pan. Pour the sauce over the pork chops.
Bake in the oven for 25-30 minutes, or until the pork chops reach an internal temperature of 145 °F.
Remove and serve. The sauce is excellent on rice!
When are the pork chops done?
You'll know these oven baked pork chops are good to go when they reach an internal temperature of 145 °F. As mentioned above, this usually takes about 25-30 minutes in the oven but for fool-proof cooking, check them at the 20 minute mark with a digital instant-read thermometer to know for sure. All ovens are different so they make take a little less time or a little more depending on the brand of oven.
Watch us make this recipe
What is the Best Way to Cook Pork Chops?
Oven baked is the best way if you don't have time to babysit them on the stove in a skillet. While it's far easier to gauge the temperature when cooking them on the stove ( it's easier to insert the thermometer when you are cooking on the stove rather than opening the oven time and time again) oven baked means that you don't have to watch them as closely.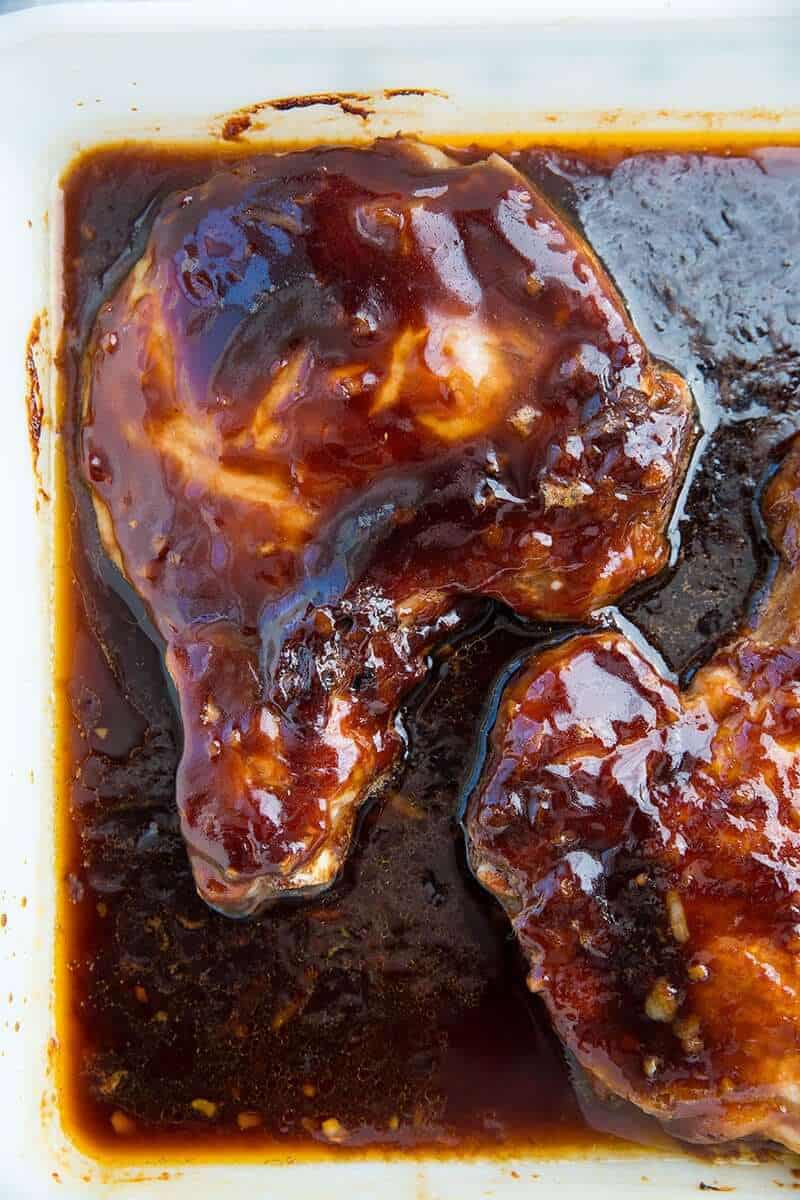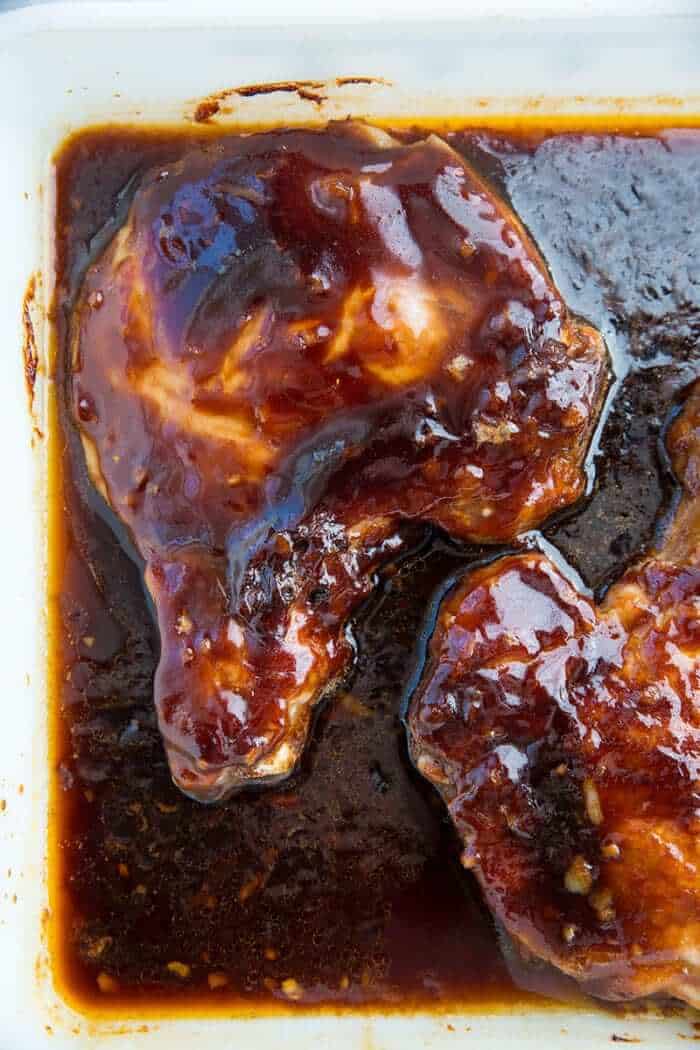 How to Choose your Pork Chops
When it comes to selecting your pork chops, I always recommend at least an inch thick if you can get them. How long they take to cook in the oven depends on how thick the pork chops are. If they are the "normal" size (I would call 1/2 inch thick pork chops a standard size throughout grocery stores) then they can take anywhere from 25-30 minutes. However, if they are thicker (and these are the best ones in my opinion) they can take 35-40 minutes. I adore a good one inch thick pork chop and if I can, I will choose those. Ask your local grocery store butcher if they can cut you pork chops an inch thick.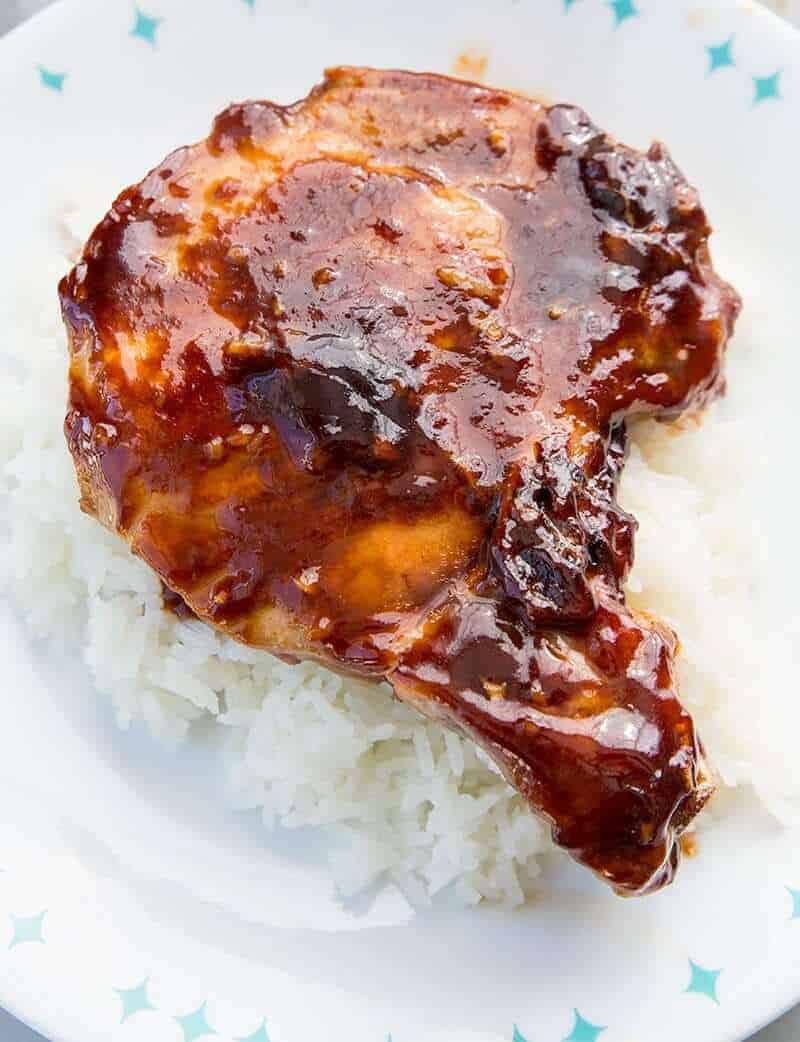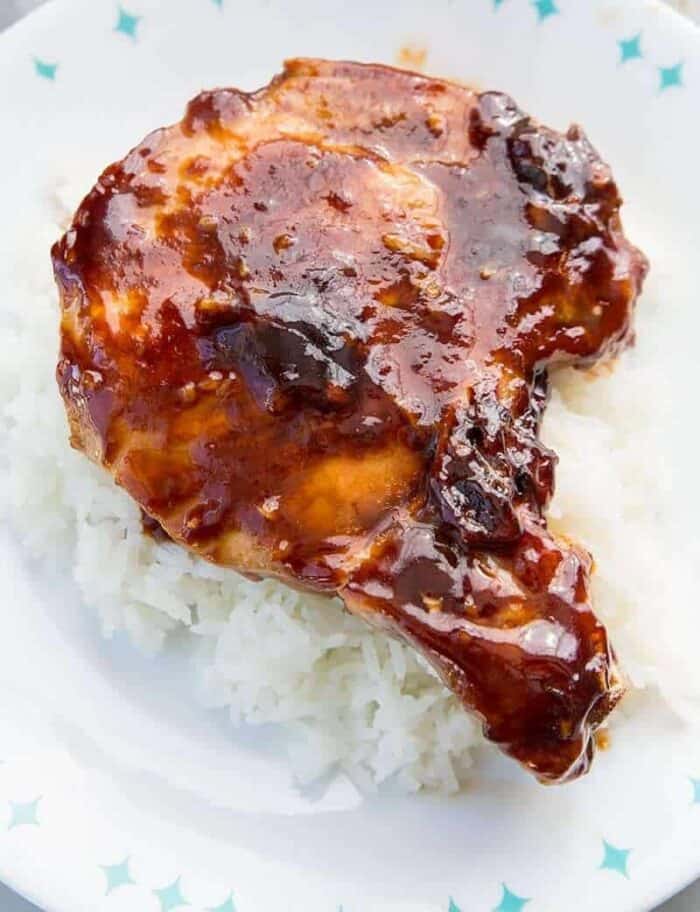 What Temperature Should Pork Chops be Cooked To?
You can now cook pork to 145 °F. I recommend using a solid digital meat thermometer to check your temperatures and make sure they are cooked correctly. I personally use a Thermapen which is excellent because it gives you a reading right away without losing too much heat from the oven/bbq/etc. They also come in pretty colors like this: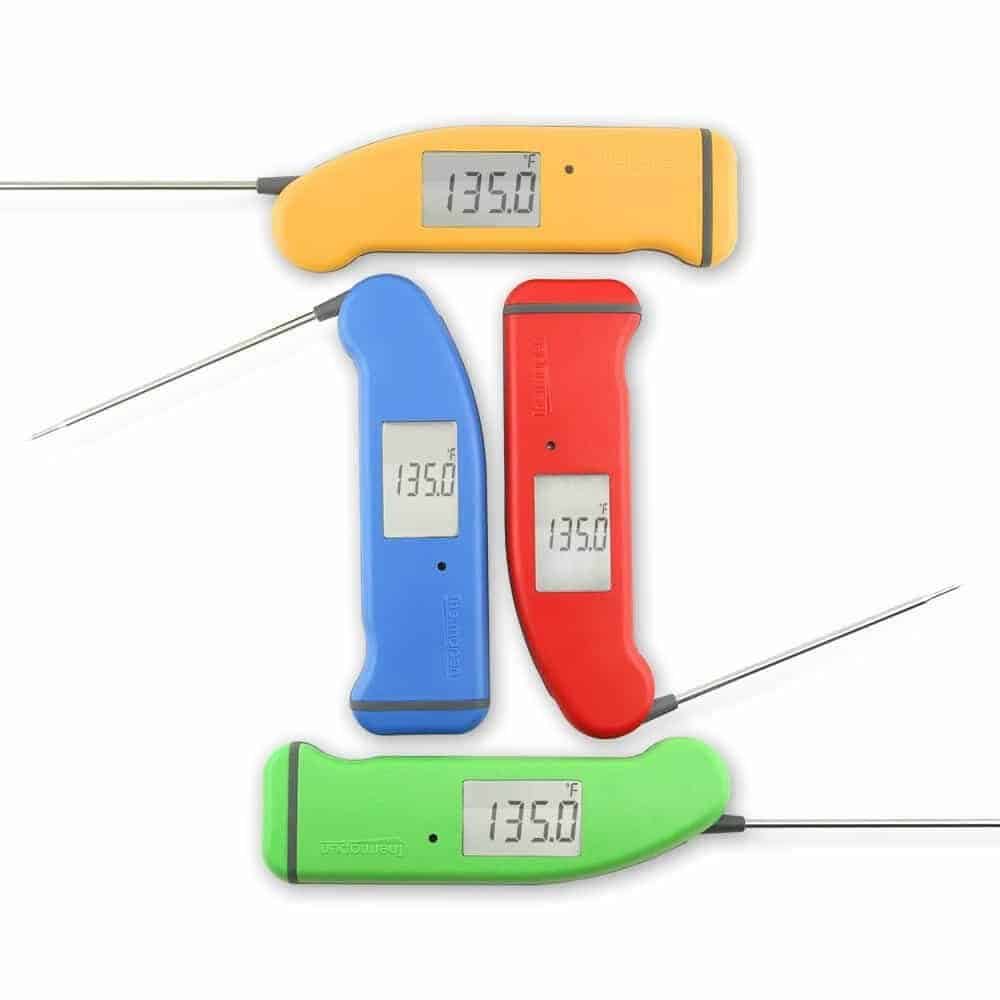 How do you cook pork chops without drying them out?
Pork is a very lean meat on the surface and as you know will dry out very fast. Even these oven baked pork chops that have a sauce are cooked lower. That homemade shake and bake mix of mine has olive oil in it, which makes up for the lack of fat on the outside of the chops. That's why you can bake those at 400 degrees, you will get a seriously crispy, amazing pork chop! For any other that doesn't have an oil based coating that crisps up, cook it at 350 °F. To make sure they don't dry out, just keep an eye on their internal temperature and make sure to follow my tips above and not cut the fat off or use boneless pork chops.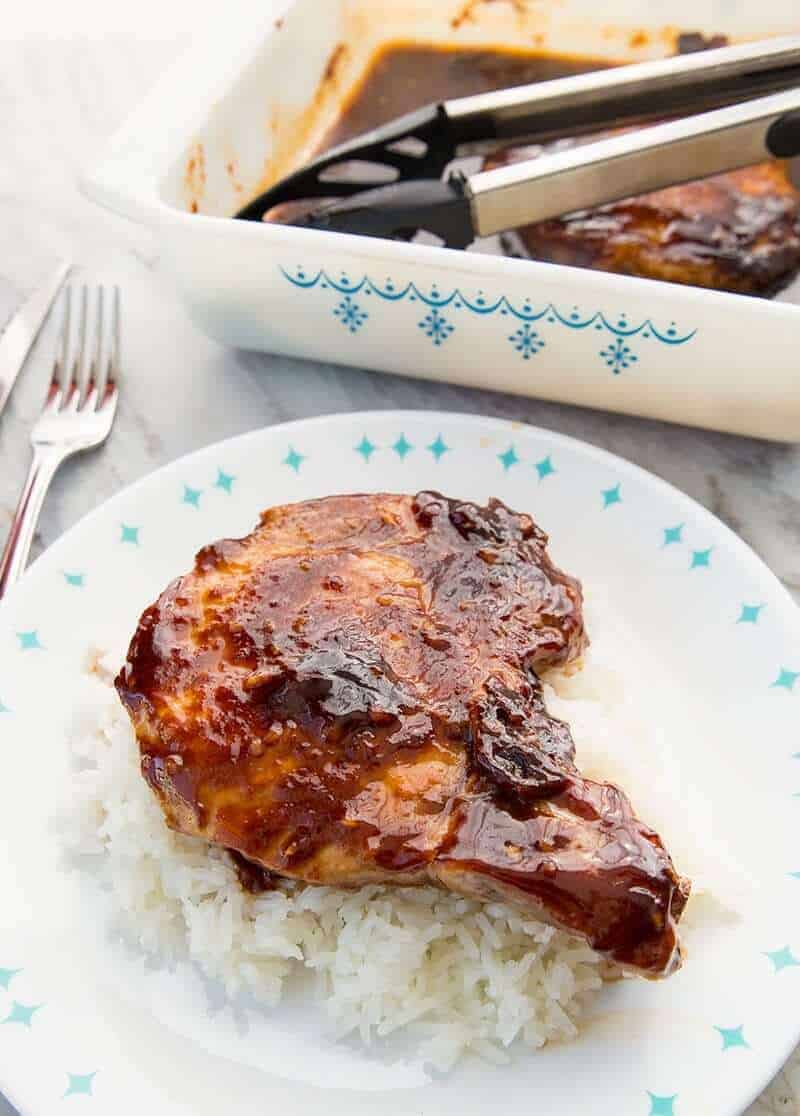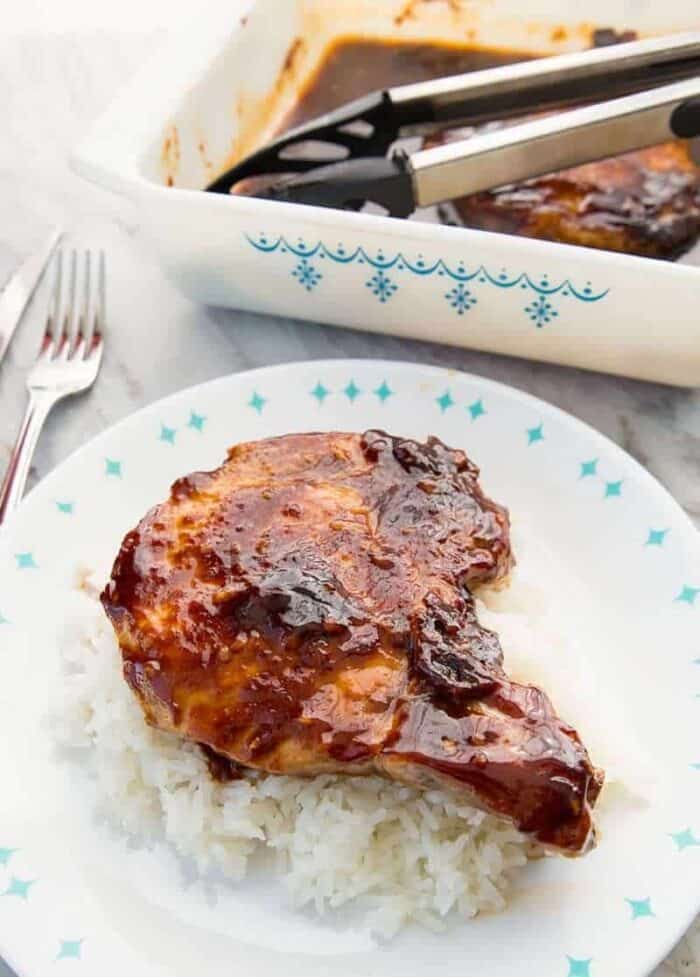 How to Store the Leftovers
When it comes to these tender pork chops, I highly doubt you'll have any leftovers but on the rare chance that you do, you can store them in an airtight container in the fridge for up to 2 days. I personally recommend eating them the next day though otherwise the marinade and the pork may start to dry out, and nobody wants that to happen!
Is Pork Healthy or Unhealthy
Pork is a very lean meat, not unlike chicken, and as such, it's a great choice for people on a diet (such as low carb) or those of us looking to reduce our calories and focus on food that is packed with nutrition. It's also rich in iron and zinc as well as other vitamins and minerals your body needs. Pork is also full of high quality protein. Want to learn more about the health benefits of pork? Check out this article on WebMD: https://www.webmd.com/diet/pork-good-for-you
What to Serve With Pork Chops
I personally like to serve these ones up on a bed of rice but you can also serve with a side of vegetables soaked in butter or over mashed potatoes.
Mix things up and try a few of these options:
Try my Broccoli Salad for a healthy side dish, it's always a family favorite.
In the middle of winter and want something fresh? My winter citrus avocado salad is a taste of summer on a plate!
Nothing beats a good sweet dinner roll recipe for a comfort food side dish.
How do I make Shake and Bake pork chops?
That's SO easy! You just get my Homemade Shake and Bake recipe and bake away! This is honestly the best Shake and Bake recipe, all ingredients that you have at home in your pantry and easy as heck to make! You're going to love it!
Need some more Pork Dinner Recipes? Try these!
Happy cooking!
Love,
Karlynn

Don't forget to PIN THIS RECIPE to your DINNERS Board and remember to FOLLOW ME ON PINTEREST!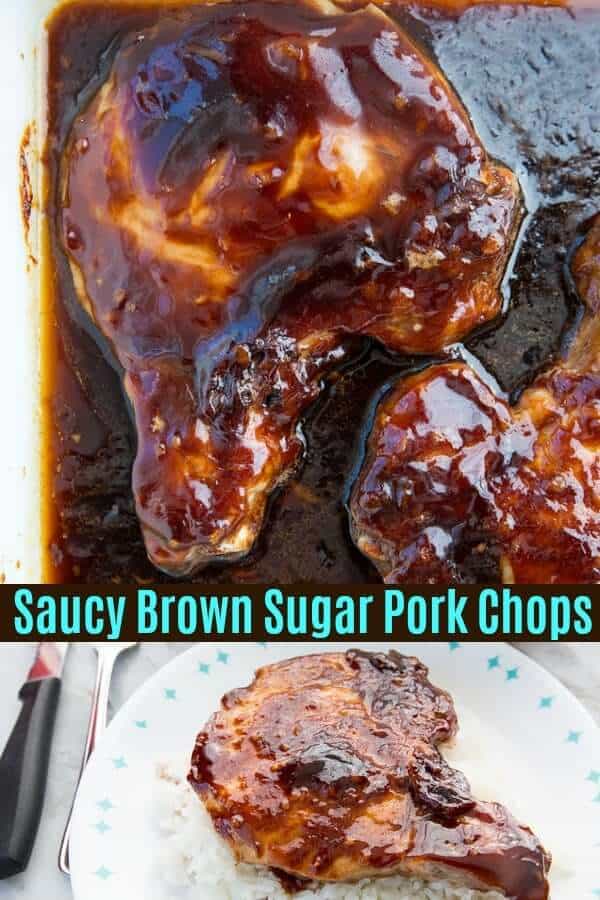 Saucy Brown Sugar Baked Pork Chops
Saucy Brown Sugar Baked Pork Chops are a fast, easy and delicious way to bake pork chops! The entire family will love them!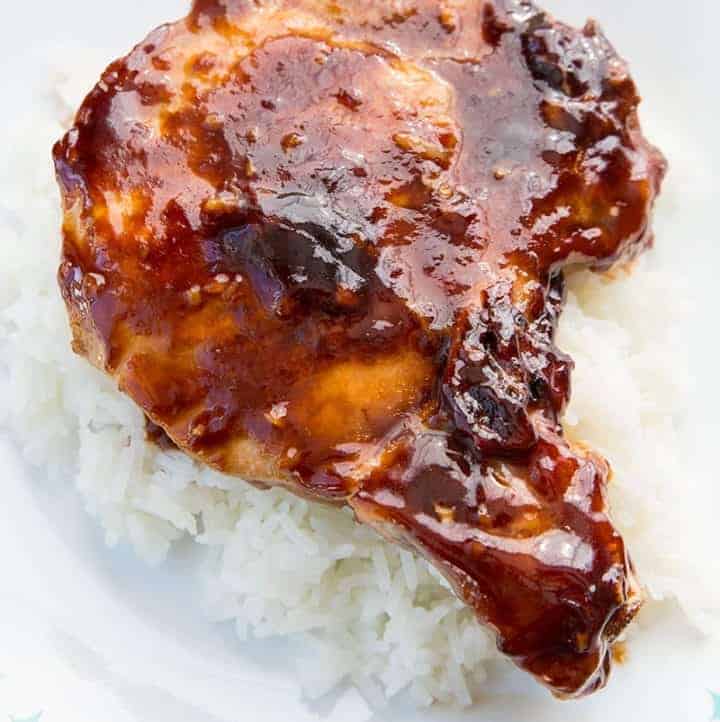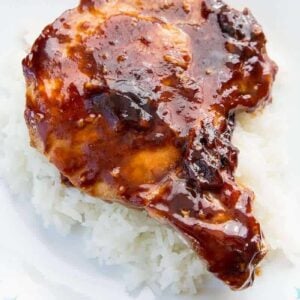 Prep Time

5

minutes
Cook Time

30

minutes
Total Time

35

minutes
Course

Main Course
Cuisine

North American
Servings

4
Calories

339
Author
Ingredients
2

tablespoons

soy sauce

1

tablespoon

Worcestershire Sauce

1/2

tablespoon

minced garlic

1/4

cup

ketchup

1/2

cup

brown sugar

4

pork chops
Instructions
Preheat your oven to 350 °F.

Stir together the soy sauce, Worcestershire, garlic, ketchup and brown sugar . Adjust this mixture to taste, some people like more ketchup along with the brown sugar. Once you have adjusted it to taste, move on to the next step.

Place the pork chops in the bottom of a baking pan, cast iron skillet or oven safe skillet of your choice. Pour the sauce over the pork chops.

Bake in the oven for 25-30 minutes, or until the pork chops reach an internal temperature of 145 °F.

Remove and serve. The sauce is excellent on rice!
Recipe Notes
Nutritional facts will vary due to size of pork chops and products used.
To measure the temperature, insert the thermometer into the deepest part of the pork chop
Nutrition Information
Calories:
339
kcal
,
Carbohydrates:
32
g
,
Protein:
30
g
,
Fat:
9
g
,
Saturated Fat:
3
g
,
Cholesterol:
89
mg
,
Sodium:
752
mg
,
Potassium:
636
mg
,
Sugar:
30
g
,
Vitamin A:
75
IU
,
Vitamin C:
1.5
mg
,
Calcium:
37
mg
,
Iron:
1.4
mg
All calories and info are based on a third party calculator and are only an estimate. Actual nutritional info will vary with brands used, your measuring methods, portion sizes and more.
Made this recipe?
Share a photo of what you made on Instagram or Facebook and tag me @thekitchenmagpie or hashtag it #thekitchenmagpie.
Please rate this recipe in the comments below to help out your fellow cooks!
Learn to cook like the Kitchen Magpie