This post may contain affiliate links. See my privacy policy for details.
This simple and easy recipe will show you exactly how to cook a boneless pork loin roast. I know this might be simple for some of you but we all have to start cooking somewhere and actually, the USDA has re-vamped their cooking temperature guidelines when it comes to cooking a pork roast. Did you know that we no longer have to cook pork roasts until they are shoe leather like our Moms & Grandparents did?
Yup. We now get to cook them to 145 °F.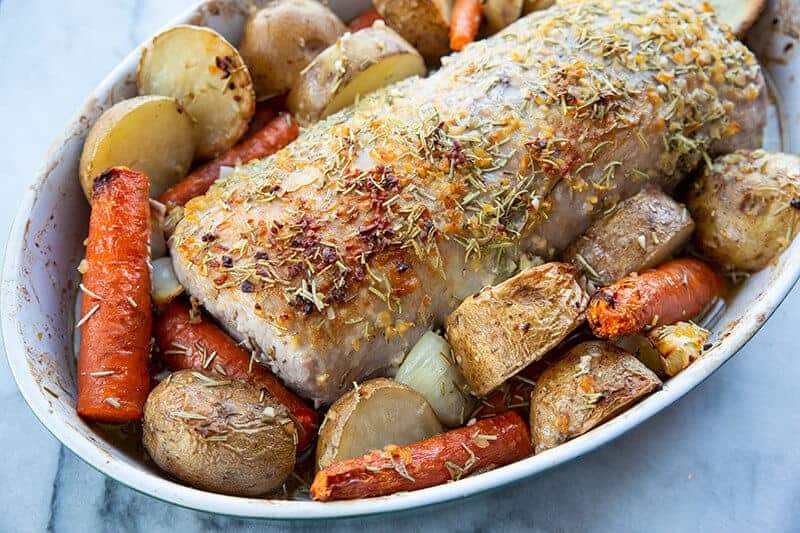 How to Cook a Boneless Pork Loin Roast
It does take some getting used to, the fact that your pork roast will be slightly pink in the middle. The first time I made it my Mom was appalled. APPALLED. That's the only word I can use. She couldn't believe that I was trying to kill my family by feeding them under cooked pork.
That's why I'm writing up this quick how-to post, because this is the NEW how to cook a boneless pork loin roast method. No shoe leather. Gravy is a delicious addition if wanted, not a necessity so that you don't choke on a bone dry roast. Trust me, once you start treating pork more like a beef roast instead of chicken ( we all freak when chicken is pink!) you are going to love pork roasts again!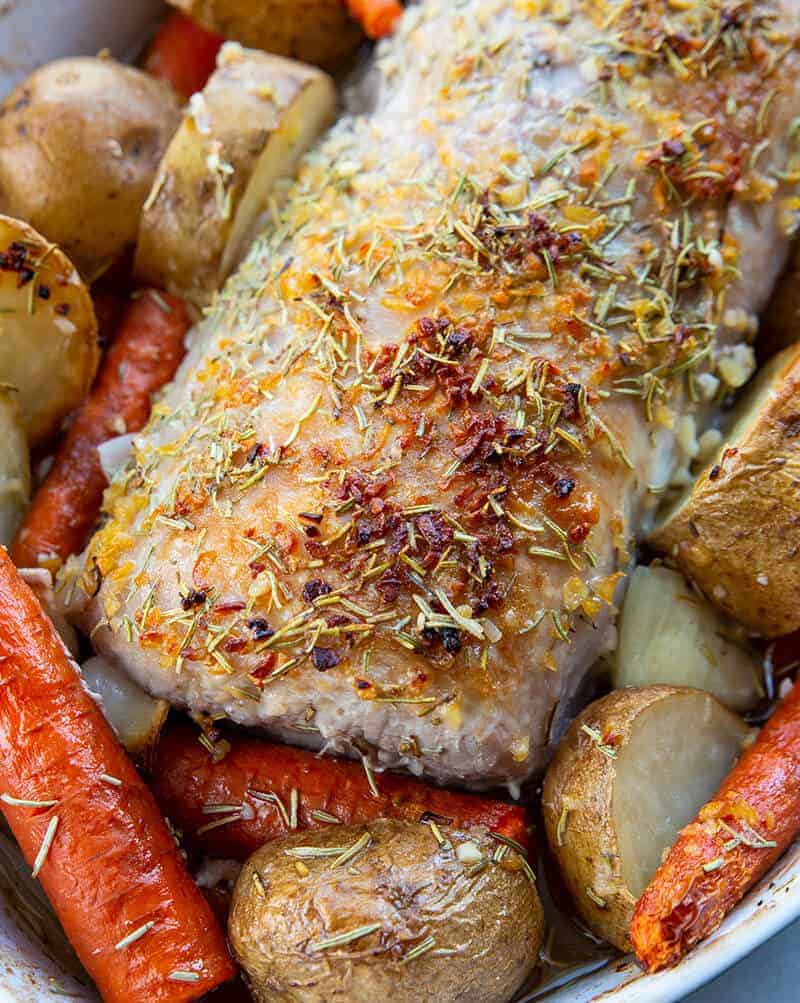 How Many Minutes Per Pound for Pork Loin?
The rule of thumb is usually 25 minutes per pound at 350 °F. This method that I use is the high heat method : you start the roast off at 450 °F for 15 minutes, sear in the juices and then turn down the oven to 300 °F. With my method you can also count on a good 20 minutes per pound AFTER the initial roasting at 450°F as the oven is going to have residual high heat for a while after you turn the oven down.
The only exception is when you have a thinner pork loin roast or a thicker one. I had a huge Costco pork loin for the photos (you have seen those suckers, right? What giant pig those came from I don't want to know!) so my roast in these photos took 120 minutes on the low heat to cook. IF you have a thinner pork loin roast, adjust accordingly. A trick by the way for those Costco pork loins – cut them in half and freeze them separately. Or in thirds. They are so big and so cheap!
What's the Difference Between Pork Loin and Pork Tenderloin?
Pork loin is round and flat, think of the meat as looking like a boneless pork chop. It is still round but is wide. Pork tenderloin is very round, smaller and is a literal circle when you cook it up. Tenderloin is very tender but if you cook this pork loin roast correctly it's also an amazing dinner!
Is Pork Loin a Good Cut of Meat?
Pork loin can be overcooked and dried out easily but if you get a good roast with a fat cap on the top, that fat will help! Always choose a pork loin roast that has a lot of fat on the top, I will literally dig through those Costco roasts until I find one! I'm that person lol. Then you have to make sure that you cook it properly – using this recipe.
Tips for Roasting a Tender, Juicy Pork Loin
Searing in the juices at that high heat of 450°F to start is what makes this the best pork loin recipe around .Once you sear those in, you aren't losing the moisture into the oven as badly. You then turn down the oven and cook it lower than usual, which also helps to make it a moist roast pork.
The butter and olive oil crust on top is really important. It helps to form a barrier on the top fat that helps keep the roast moist and also once melted provides the vegetables and the bottom of the roast with moisture.
Always roast a roast FAT SIDE ON TOP. Any other way is losing out on that natural, fantastic tasting juiciness that the fat cap provides. You need that fat to be dripping down the pork, why would you want to lose that?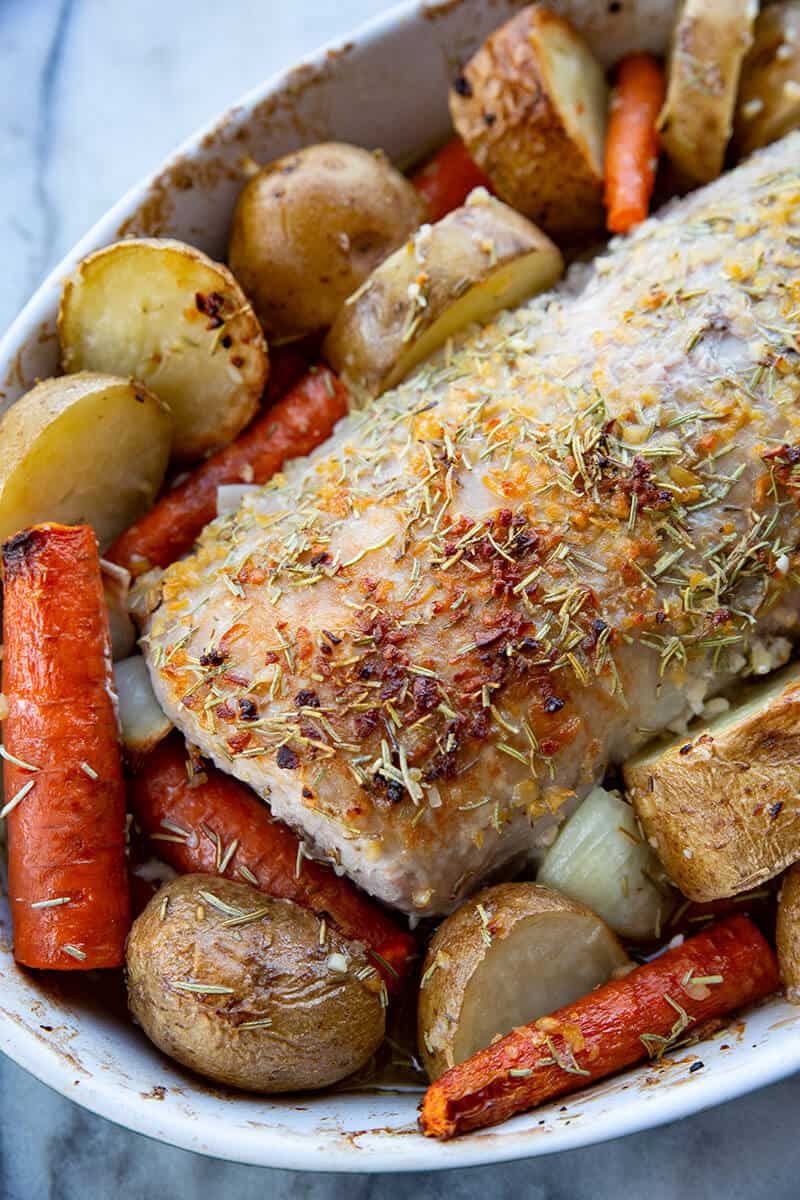 The recipe is plain, simple and one of my favorite ways to cook up a roast. The ends are going to be well cooked – better for those people that are still having a hard time eating pink pork- but the center?
Perfection. I will never go back to eating show leather pork again! So who else has hopped on board? Did you find it a mental challenge to eat pink pork?
If you are looking for other pork recipes, try my recipes for:
Love,
Karlynn

Pin this recipe to your Suppers Board and remember to FOLLOW ME ON PINTEREST!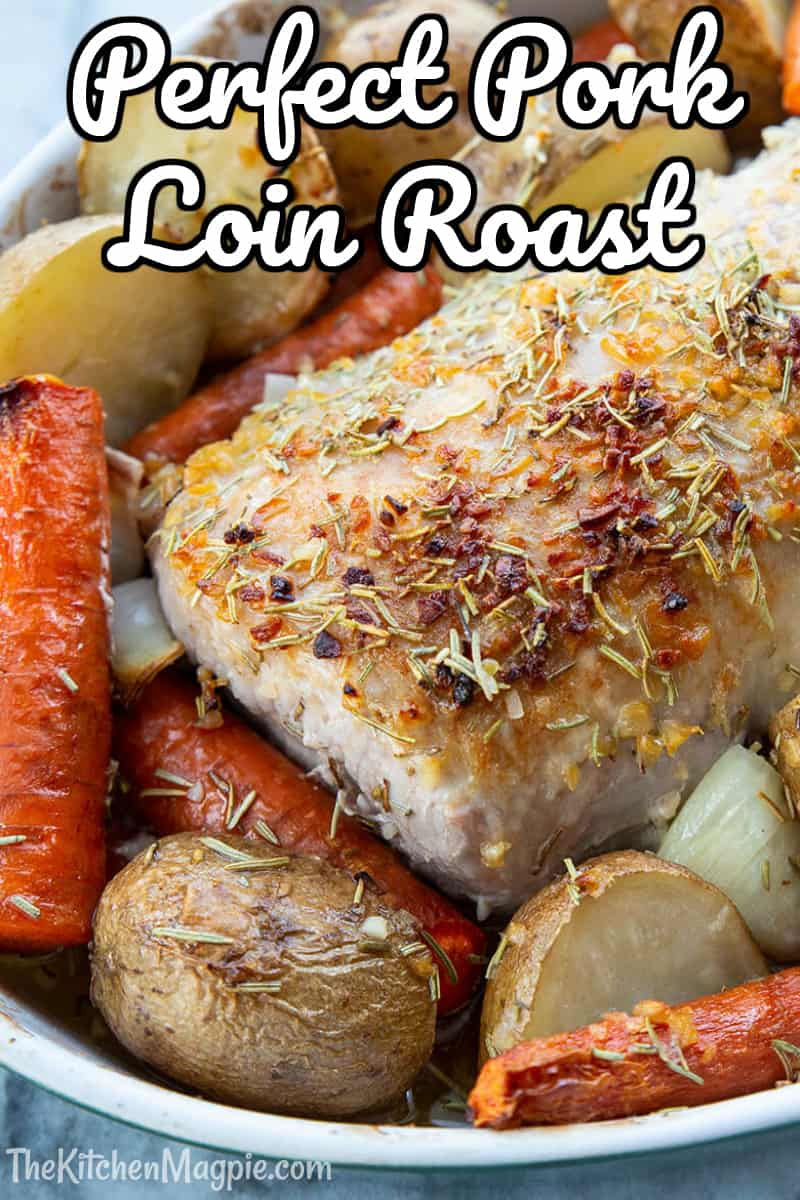 Buttery Garlic Rosemary Pork Loin Roast Recipe
How to Cook a Boneless Pork Loin Roast from start to finish! This roast pork recipe has a delicious crispy garlic butter exterior and a perfectly cooked interior.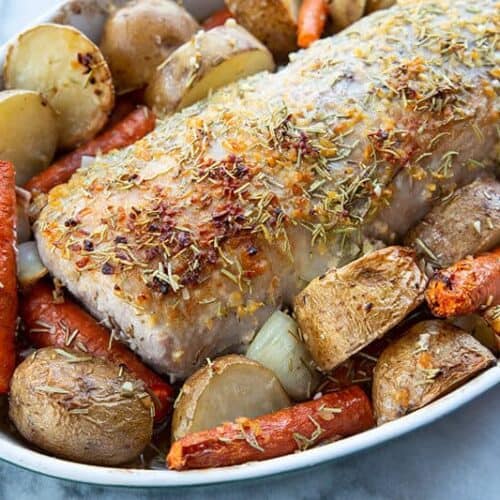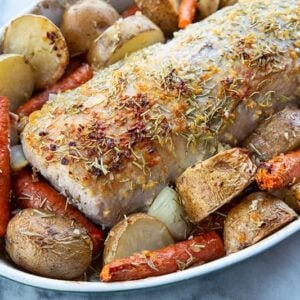 Prep Time

5

minutes
Cook Time

1

hour

30

minutes
Total Time

1

hour

35

minutes
Course

Main Course
Cuisine

American
Servings

8

servings
Calories

467
Author
Ingredients
1

4-5 pounds boneless pork loin roast

1/4

cup

butter

softened

1/4

cup

olive oil

7

garlic cloves

minced

1 1/2

tablespoons

coarse sea salt

3

tablespoons

chopped fresh rosemary

1

teaspoon

freshly ground black pepper

1-2

pounds

of chopped carrots.potatoes and onions

see notes for sized
Instructions
Preheat your oven to 450° F.

In a small bowl, combine the butter, oil, garlic, rosemary, salt and pepper, and mix until a paste forms.

Pat the pork roast with a paper towel to remove excess moisture and then rub 2/3 of the seasoning mixture onto the roast, covering the top and sides.

Place the roast in the bottom of a large roaster.

Place desired vegetables around the roast. Dab the remaining seasoning mixture over the vegetables.

Roast in the pre-heated oven for 15 minutes, then turn the oven temperature down to 300° F. Do not open the oven!

Let the roast continue to roast for another 20-25 minutes per pound of meat, around 100 minutes or until the internal temperature reaches 140° F when a meat thermometer is inserted into the middle.

Remove the roast from the oven and cover it with foil. Let it rest 10 minutes, then slice and serve.
Recipe Notes
New USDA recommendations are that pork can now be safely cooked to 145 °F.
The vegetables should be cut as small as you see in my photo, my roast cooked for 90 minutes as it was almost 6 pounds.
Carrots should be no wider than 1/2 inch, potatoes should be cut around 1/2 inch thick to ensure that they are cooked by the end of the roasting time. Smaller  sized vegetables will cook better.
Nutrition Information
Calories:
467
kcal
,
Carbohydrates:
9
g
,
Protein:
62
g
,
Fat:
18
g
,
Saturated Fat:
4
g
,
Cholesterol:
172
mg
,
Sodium:
1485
mg
,
Potassium:
1271
mg
,
Fiber:
4
g
,
Sugar:
2
g
,
Vitamin A:
9645
IU
,
Vitamin C:
7.6
mg
,
Calcium:
108
mg
,
Iron:
3.3
mg
All calories and info are based on a third party calculator and are only an estimate. Actual nutritional info will vary with brands used, your measuring methods, portion sizes and more.
Made this recipe?
Share a photo of what you made on Instagram or Facebook and tag me @thekitchenmagpie or hashtag it #thekitchenmagpie.
Please rate this recipe in the comments below to help out your fellow cooks!
Learn to cook like the Kitchen Magpie