Sooo, pulled pork and I aren't the best of friends.
There, I said it.
When I traveled to the States and hit the Southern areas of BBQ bliss, I ate ribs.
I ate slaw.
I ate cornbread and I ate brisket and I ate BBQ chicken. I ate and ate and ate everything BBQ that I could get my fork on, because here in Edmonton we don't get real BBQ.
I did not eat pulled pork.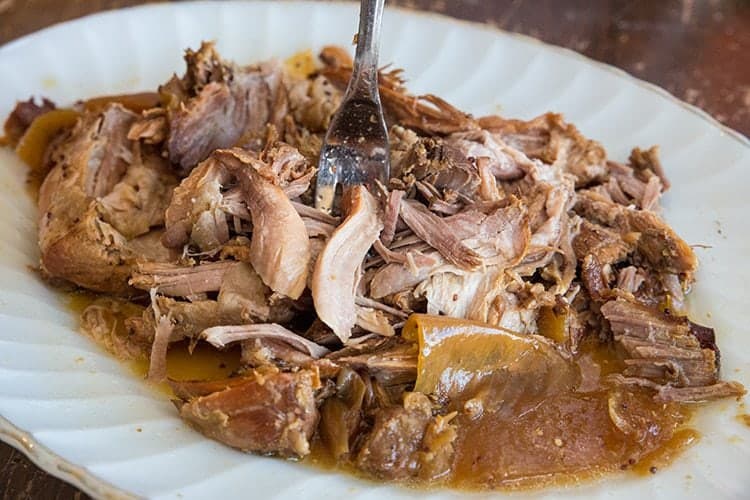 Ok, Ok, I know. I'm crazy. I have my own recipe for Pulled Pork  – Beer n' BBQ Pulled Pork. And in that post my friends, I also talk about how it's really not my favourite sandwich. It's too…too much.
Too much flavour and then it's too much bun and it's not what I want.
Wow, did I sound like a stompy kid or what?
Here's the thing : I LOVE PULLED PORK. When you say those words however, everyone thinks of the saucy, drippy BBQ pulled pork.
What I mean is that a pork shoulder roast cooks up like a beef blade roast, which is my favourite. The fat melts away when you cook it low and slow and you are left with this amazing meat that is seriously delicious. It's my favourite cut of meat. So I wanted to make a pulled pork recipe that was delicious, but wasn't all saucy/BBQ saturated flavour.
So why not cook it in apple juice and mustard all day? Why not indeed. It turned out so delicious that Mike and I ate it with a side of salad and needed nothing else.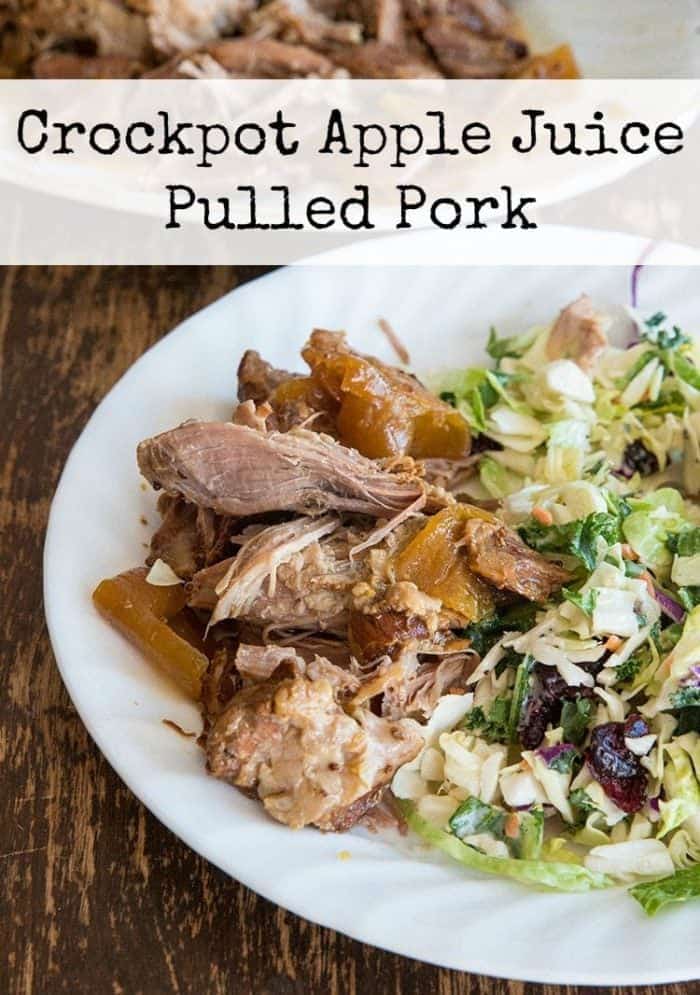 It's really hard to photograph pulled meat of any sort well, so I hope that I did it justice. This is delicious. This apple juice pulled pork is for those of you that are like me and just want pulled pork that doesn't have to be eaten in a bun.
I will definitely be playing around with this cut of pork more and more, as I find pork has a very mild flavour that will work with almost anything!
Happy cooking, all!
Love,
Karlynn

Ingredients
1-2

tbsp

oil

1 3-4

lb

pork shoulder roast

1

red onion

quartered

1

cup

sweetened apple juice

2

tbsp

seeded

whole grain mustard

1

tbsp

dijon mustard

1

tbsp

melted honey

1/2

tsp

salt
Instructions
Place the onion around the roast. Whisk together the rest of the ingredients, then pour over the roast.

Cover with

tinfoil

, then place the lid on top. Cook all day on low, until the roast is falling apart and pulls apart easily.

Serve with the onions and a little bit of the sauce if wanted.
Nutrition Facts
Amount Per Serving (6 g)
Calories 0
* Percent Daily Values are based on a 2000 calorie diet.
6