These sweet dinner rolls are a copycat roll of my favourite restaurant in the States.  For my American readers, you're going to know which sweet dinner rolls I am trying to replicate here. When we travel in the States, we love to pop into the local Texas Roadhouse, where ever it is that we happen to be staying at the time. They have great steaks, amazing deep fried dill pickles and the best sweet buns and honey butter. Soooooo good while they are warm. One of the best things out there, let me tell you from one carb addict to another. Those buns are the best!
Don't be scared of making buns, by the way. They are pretty easy. When it's just for your family they don't have to look all perfect either. Actually, even for company. If you're making homemade rolls then they can applaud you and love your wobbly buns! Hmm. That wording seems a little bit odd…just me? Wobbly buns….
Sweet Dinner Rolls Dough Tips and Tricks
The secret to good buns is a good dough. See the photo below? This is about the tackiness level you want to attain with your dough. It should stick to your hand slightly, but not so much that you can't get it off easily.
The dough should also roll into a nice little ball like this. Slightly tacky, but easily formed into a dough ball.
You can either bake these on cookie sheets like I did or you can put them into a 9×13 pan and bake them so that they stick together in one rectangle of buns. You would then simply pull them apart to eat them.
Easy as pie. Actually, easier than pie. I'm still not sure who thought that comparing things to being as "easy as pie" because anyone that has actually MADE pie, knows that it can be a royal pain in the butt. Sweet buns for dinner are ten times easier!
You guys, I love fall. I love that baking becomes a cozy, highly anticipated event, instead of one that you cram into the early mornings of summer before the house becomes too hot. Don't get me wrong, I love that summer is full of BBQ food, salads and fresh vegetables from my garden. That time is done now and I am more than ready to bake all day long, eagerly anticipating the extra heat that the oven throws into the kitchen, balancing out the fact that I keep my windows open until the snow falls. I am that person. I am a little crazy when it comes to fresh air in the house and my windows are open for as long as I can manage it. Which is usually until Mike doesn't have a sweater to put on that is warm enough to handle my preferred polar bear temperatures in the house. He usually will come into the kitchen and tell me that I'm crazy and I probably am, but I prefer fresh air in the house even if it means I need to wear a sweater.
Who else is embracing fall and baking up a storm in their kitchen?
Happy baking everyone! And happy Fall!
Love you more than butter,
Karlynn
PIN THIS RECIPE to your BAKING RECIPES Board and Remember to FOLLOW ME ON PINTEREST!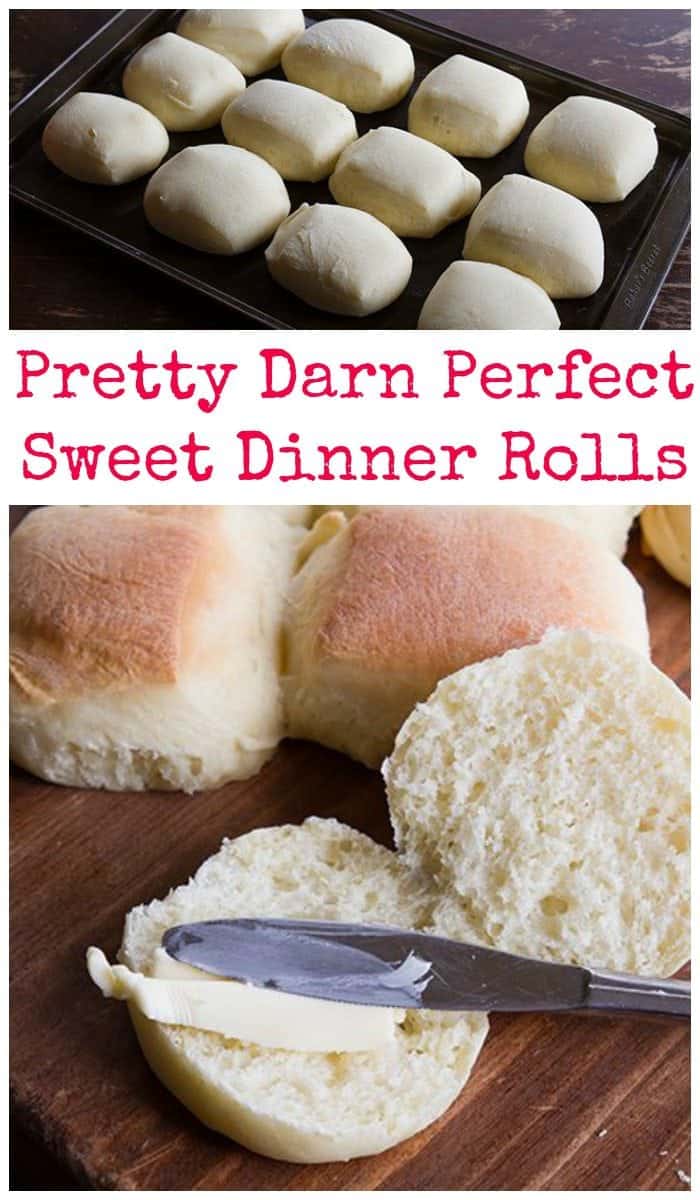 Pretty Darn Perfect Sweet Dinner Rolls
My favourite Sweet Dinner Rolls recipe is the perfect accompaniment to soups, stews and your holiday meals. Step by step photos make them easy as pie!
Keyword:
sweet dinner rolls
Ingredients
1

cup

milk scalded and cooled to around 100 °F

2 1/4

tsp

yeast

1/4

cup

warm water

2

tbsp

melted butter

1/4

cup

granulated sugar

1/4

cup

melted honey

1

large egg beaten

1

tsp

salt

3 1/2- 4

cups

of all purpose flour

Honey Cinnamon Butter

1/2

cup

softened salted butter

1

teaspoon

cinnamon

2

tablespoons

melted cooled honey

2

tablespoons

powdered sugar
Instructions
In the bowl of a stand mixer with a bread hook attached, combine the milk, warm water, sugar and yeast. Mix until the sugar is dissolved. Let it sit until it starts bubbling.

Add in the melted butter, honey, egg and salt; stir until combined.

Start the mixer on low and add in the flour, one cup at a time. Knead with the mixer until the dough becomes smooth and slightly tacky (see photo above)

Place into a well greased large bowl. Cover with a damp cloth and let rise in a warm place for around 50-60 minutes, or until doubled in size.

Grease two 9x13 pans with butter and set aside.

Punch dough down and turn out onto a floured board. Roll dough into a one inch thick rectangle. Cut into 24 pieces.

Place 12 rolls in each 9x13 pan. Cover and let rise again until doubled in size, around 35-30 minutes.

Pre-heat your oven to 350 °F. Place both pans of buns into the oven and bake for 15-20 minutes until very golden brown on top.

Remove from the oven and cool slightly, then turn out onto a cooling rack. Try not to separate the buns until you eat them, this keeps them from drying out!

Combine all ingredients of the Honey Butter together until smooth. Serve with the buns to enjoy a Texas Roadhouse experience!
Nutrition Facts
Pretty Darn Perfect Sweet Dinner Rolls
Amount Per Serving
Calories 221
Calories from Fat 45
% Daily Value*
Total Fat 5g 8%
Cholesterol 20mg 7%
Sodium 147mg 6%
Potassium 63mg 2%
Total Carbohydrates 37g 12%
Protein 4g 8%
* Percent Daily Values are based on a 2000 calorie diet.
1