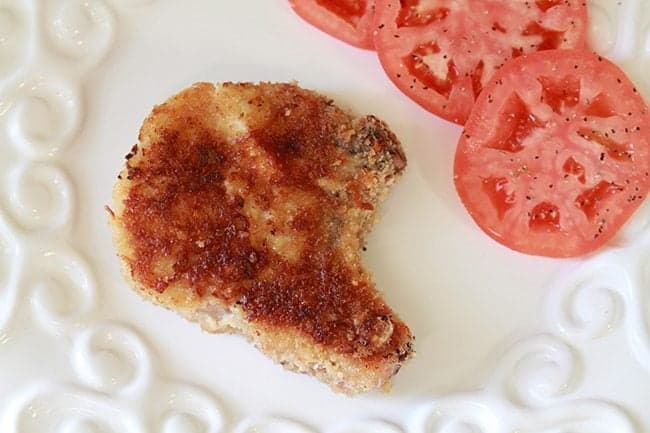 I'm not sure if you've noticed, but I have a love for all things retro. Retro Pyrex and glassware, retro cocktails and most certainly retro food.
Remember my Watergate salad recipe?  It doesn't get more retrolicious than that, I'm afraid, green pudding and all.
Thjere's a reason that we all love the food from our childhood's – or most of them – and it's because that was years before things got all fancy-schmancy in the food world.
Like Panko Porkchops.
These were the epitome of a classy dinner back in the day, with the parmesan panko crust fancying up what normally would have been cooked in cream of mushroom soup or simply pan fried into hockey pucks. We are lucky now that pork doesn't need to be cooked until it's dry as a bone which in itself breathes new life into all of these old recipes. Pork can now safely be cooked to an internal temperature of 145 °F, making a huge difference in the texture of porkchops.
I find that the main reason a lot of people don't choose to make porkchops anymore is because of the old guideliens where we had to cook the meat to a show leather temperature.
This recipe is straight from a 1960's Better Homes & Gardens cookbook and now with our new cooking guidelines, it's even better than before. The new temperature yields a juicy, tender meat and when you coat it in the Panko it's all sealed up like a little happy piggy present for us to eat.
Just look at that crust. Absolutely divine.
A meat thermometer is one of the best investments that you can buy for your kitchen, I don't know how I managed without my Thermapen thermometer .  (don't worry, not an affiliate link, I really love mine!) It's quite pricey but my Dad actually bought all three of us kids one for Christmas a few years back. It's the best thermometer I've ever used, accurate within seconds and so easy to use. Maybe put one on your Christmasa list! It has seriously changed my cooking life.
So here it is, in all its retro glory. Panko Parmesan Porkchops. Give them a whirl and cook them to the new temperature, I gurantee you'll have a new retro favorite again!
Love you more than chocolate,
Karlynn

Print
Parmesan Pork Chops
---
Author:

Karlynn Johnston

Prep Time:

35 min

Cook Time:

20 min

Total Time:

55 min

Category:

Dinner
Description
Simple yet delicious, these Parmesan Pork Chops are going to be a new family favorite!
---
Ingredients
4 inch loin pork chops one thick
1/2 cup flour
1/2 tsp salt
1/4 tsp pepper
2 eggs beaten
1 cup fine breadcrumbs
1/3 cup grated Parmesan heese
1/3 cup butter
---
Instructions
Whisk together the flour, salt and pepper.

Coat a porkchop in beaten egg, then dip in the flour mixture. Dip into the eggs again, then dip into the breadcrumb mixture.

Set porkchops on a small baking sheet and place into the fridge until chilled, to set the coating.

When the chops are chilled, melt the butter in a large skillet. Place the porkchops into the skillet and cook until browned on both sides and they reach an internal temperature of 145 °F. Remove and let rest for 3-4 minutes.

Serve and enjoy!