I'm just going to come out and say it. You HAVE TO make my new Minty Grinch Crock Pot Candy this Christmas.
There are no two ways about this recipe you guys. This is my favourite new Christmas treat to whip up. Crock pot candy is definitely all the rage this year, I've seen it everywhere. Then last night – literally last night- it's like the Grinch himself came down as a muse and whispered into my ear:
"Why not make Christmas green crock pot candy?"
Oh heck yah, Santa Baby, why not indeed.
I literally shot the video for this treat TODAY. That's how excited I was with my new creation. I ran out first thing this morning to get green candy melts, white chocolate and candy canes.
Then I wondered if peanuts and mint went together flavour-wise and had a minor panic attack. Argh! What if this was the wrench in my brilliant plan?
It wasn't.
Peanut and mint go together PERFECTLY in this crock pot candy. I should have known, there are tons of dishes that match the two flavours together but I like a good dose of self doubt every now and then. Keeps me in line, you know.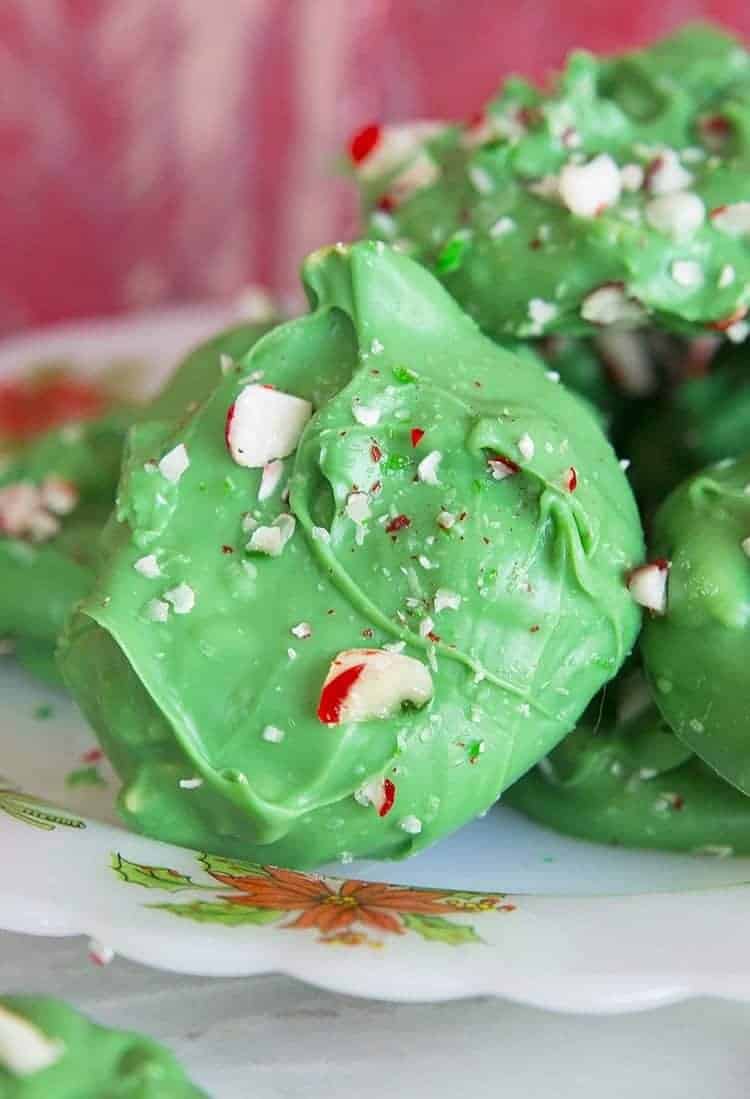 Then I had another moment and freaked out about them setting. No other crock pot candy recipes used candy melts – they all use almond bark. Omg! What if I wasted all those ingredients? Damn that seductive Grinch whispering sweet green nothings in my ear!
No need to panic, Magpie. These set up like a boss.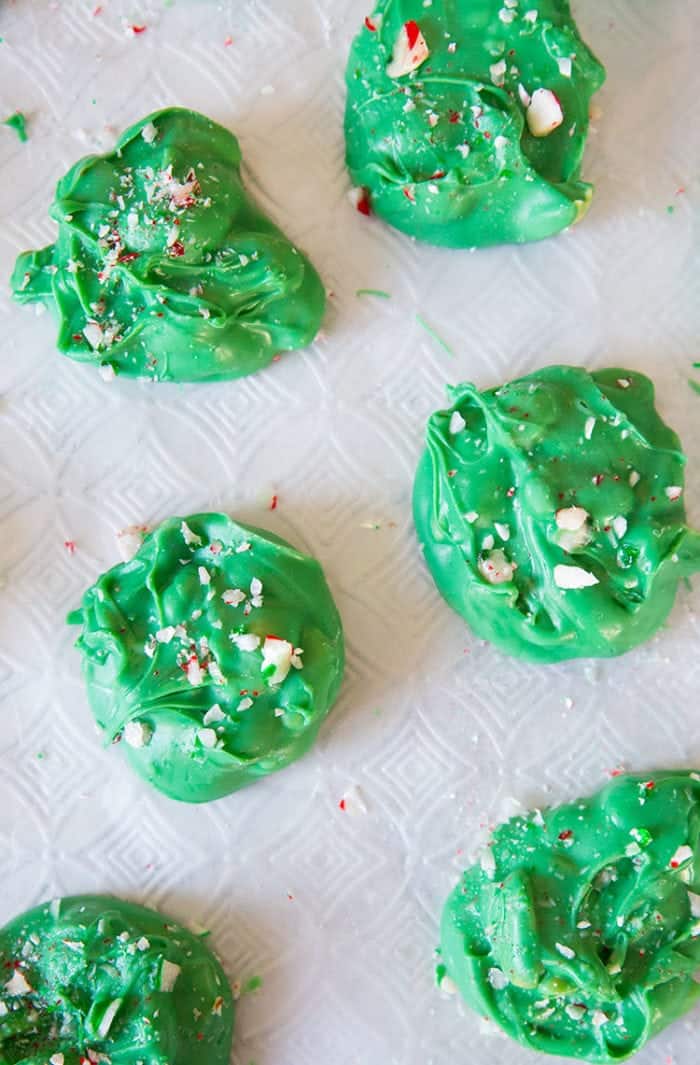 I am so thrilled that I was able to get this recipe to you guys in time for your Christmas baking! Heck, there is absolutely NO baking involved in my Minty Grinch Crock pot Candy! Set it in the crock pot on low, go get something else done ( or sit and have a glass of wine) and come back and finish them up.
If you need some other awesome Christmas dessert ideas, try these favourites of mine:
Chocolate Corn Flake Meringues – Gluten Free!
Retro Betty Crocker Candy Cane Cookies
Happy non-baking! Love you guys more than that Grinch!
Karlynn
Pin this recipe to your Holiday, Christmas or Crock Pot Boards & REMEMBER TO FOLLOW ME ON PINTEREST! 
Minty Grinch Crockpot Candy
My new Minty Grinch Crockpot Candy is sure to be a family favourite for Christmas and it couldn't be easier to make! Simply put it in the crockpot and in an hour you have candy!
Ingredients
2

12 oz. bags of green candy melts

6

oz.

white baking chocolate

2

cups

dry roasted peanuts

salted

3/4

tsp

mint extract

1/2

cup

broken candy canes
Instructions
 Place the green candy melted and baking chocolate into a crockpot set on LOW.

 Heat in the crockpot for 1 hour, or until melted. If you know that you have a crockpot that runs hot, make sure to stir every 20 minutes or so.

Stir in the peanuts and the mint extract.

Drop by tablespoonfuls onto waxed paper. Sprinkle with the broken candy cane. Let sit until completely cooled. Store in a sealed container or freeze.
Recipe Video
Recipe Notes
You can leave out the mint if you want and have plain chocolate and peanuts!
Nutrition Facts
Minty Grinch Crockpot Candy
Amount Per Serving
Calories 86
Calories from Fat 45
% Daily Value*
Total Fat 5g 8%
Sodium 60mg 3%
Potassium 68mg 2%
Total Carbohydrates 7g 2%
Protein 2g 4%
* Percent Daily Values are based on a 2000 calorie diet.
101