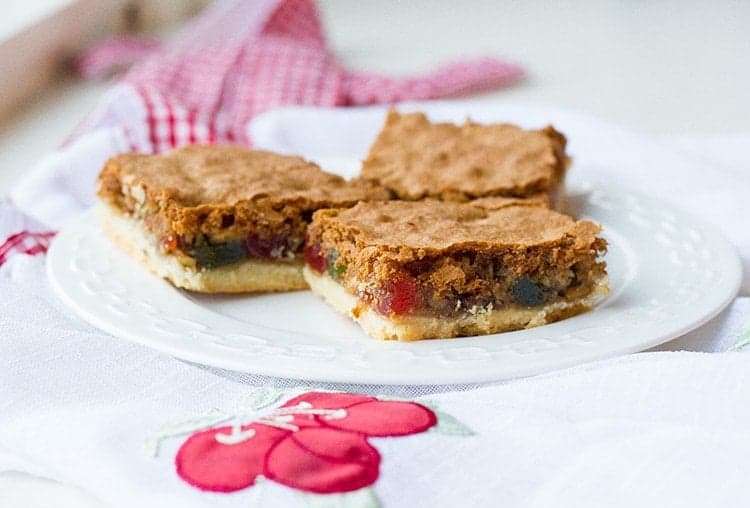 Oh, do these Cherry Slice Bars ever taste like Christmas to me!
Yes, I am running full tilt into preparing for the holidays here on The Kitchen Magpie, folks. Why waste time? It's already the 21st of November and we have around a month to start getting ready for the big day. Things are ramping up massively around here, expect me to be posting delicious goodies almost every single day.
Actually, Mr Magpie's going to be back in action for his Thirsty Thursday gig, and I think he's going to be doing more than one post per Thursday. I mean, let's face it, if he posted only one drink a week that means you'd get like 5 new drinks before Christmas. And that's just not ok. There's a reason the saying is eat, drink and be merry, am I right or am I right?
Fine.
You all know that I just want to taste-test more than one new cocktail a week. Stop judging me, Christmas is my busy season. My liver and pancreas are put to the test between the sugar and the booze.
It's all about keeping them in tip-top shape!

These classic bars were in my Grandma Marion's Christmas Tree of Happy ( the plastic Christmas tree that she would load up with dainties (bars/squares) every Christmas from her pre-made stash of goodies in her freezer.) When I saw the recipe, I knew that I had to share them with everyone.
Walnuts, coconut and green and candied cherries.
Do those ingredients ring a bell for anyone else? The shortbread base, the delicious filling of all of those three ingredients and that delicious thin, brown, crispy crust? I can't be the only one that remembers eating these bars as a child every Christmas.
I'll also let you in on another little secret : I've actually also done some Christmas shopping.
Crazy, right?
I've reorganized my house from top to bottom, done a ton of sponsored work here on The Kitchen Magpie ( Mama's gotta pay the bills, yo) and baked up a storm for you guys. The tree is up. The outdoor lights are up. I finally got the yard done. The garage is actually clean enough to park one car in (cue the angels singing over this one) .
That can only mean one thing.
I'm totally forgetting something massively important.
Like the fact that today is my son's 13th birthday! Ok fine, that's not forgetting. How could I forget that I have a teenager now?
When I actually feel like I'm the least bit organized though, the other shoe usually drops…I'll let you know if and when it does, k?
Until then, let's talk about Christmas.
Who's getting excited? Ready? Bought my cookbook as a gift for every relative they have? Get on it, they are selling like hotcakes and it's the gift that keeps on giving. Or something like that.
Happy baking guys!
Love you more than Christmas,
Karlynn

Walnut Cherry Slice Bars
Ingredients
1/2

cup

butter

2

tbsp

icing sugar

1

cup

flour

2

eggs well beaten

1 1/2

cups

brown sugar

2

tablespoons

flour

1

teaspoon

baking powder

1/2

cup

medium coconut

3/4

cup

to 1 candied cherries cut in half

1/2

cup

chopped walnuts
Instructions
Combine butter, icing sugar and flour.

Press into greased

9 X 9

pan.

Bake at 350 degrees for 10-12 minutes.

Remove from oven.

Turn oven down to 325 degrees.

Mix all other ingredients together and pour over baked cookie base.

Bake for 35-40 minutes.

Let cool well in pan before slicing
3