This homemade guacamole recipe is seriously the BEST. I've copied what I've seen done at Mexican restaurants where I have loved their guacamole, with great success! If I can whip up this Easy Chunky Homemade Guacamole Recipe on a Thursday night and proceed to eat it for dinner, then this really is the easiest homemade guacamole recipe that you are ever going to find. Did you know that guacamole was first invented by the Aztecs in what is now called Mexico? True story! Now guacamole or "guac" as we North Americans call it is eaten worldwide! The word guacamole literally translated is "avocado sauce".  And I put that sauce on everything! 
How to Make Thick & Chunky Homemade Guacamole Recipe
First and foremost, guacamole is an avocado based dip or spread, so you need some avocados. I have discovered in many, many trials of eating guacamole that I don't like it smooth, it needs to have some texture. When I do buy the store-bought guacamole, it is only in my desperate times when I don't have time to make it. I honestly try to make time to make homemade guacamole because once you start, it's honestly the only thing you like. Avocado is very forgiving and all you REALLY need to make homemade guacamole is:
avocados
red onion
garlic
cilantro
lime juice
flaked sea salt.
Notice how I didn't mention jalapeno peppers? Look, I live in Canada and there is one store in my area that carries jalapenos. Walmart. I kid you not, the two other grocery stores don't carry fresh jalapenos. Not only that, they come in a pack of 3, so unless I am making a massive batch or really craving a nice spicy jalapeno I will leave them out of my guacamole.
Notice how I also didn't mention tomatoes? A large amount of the guacamole that I have eaten in Mexican restaurants don't have tomato. Actually, a lot don't even have onions. It seems that the simpler your guacamole, the better! However, to make this really amazing chunky guacamole, I suggest using tomatoes. The tomatoes were amazing in this recipe. A note though, you do have to drain the tomatoes well after slicing them, I usually prepare them first and then let them drain in a colander while I prep the rest of the ingredients.
How to Make Guacamole Video
How long does guacamole last?
Guacamole will only last 1-2 days in the fridge, although the quality will deteriorate, there is no doubt about it. If you make sure there is a layer of lime juice on top, it will help keep the guacamole from turning brown. Your best bet? Make it and eat it. I have to refrigerate mine for 30 minutes to an hour after making it as I can't stand eating warm guacamole ( I mean, I will but it's not my favourite, let's be real I will never pass up on guacamole!) and it doesn't go brown. After a day it will start to go watery and it's just not worth ruining expensive avocados!
What about guacamole mix?
Look, I have tried every mix out there and they are all pretty gross, let's face it. All you need to make amazing homemade guacamole for flavour is onion, garlic and cilantro. Those aren't that hard to have on hand, like the jalapeno is. There's a reason that I call this easy guacamole, you don't have to mess around with serrano or jalapeno peppers at all. This chunky guacamole is delicious without them.
How can you tell if an avocado is ripe?
Everyone likes to joke about avocados turning bad the moment that you turn your back, so the best bet is to pick avocados the day that you are going to use them. Haha, as if, right? That never happens, so let's be real. I pick avocados that are firm to the touch yet very sightly yielding. Don't manhandle them, just gently squeeze them to see if they are firm and yield a bit. You don't actually want avocados that are soft, they are always brown inside in spots.
Homemade Guacamole Tips & Tricks
The photo below shows you my #1 secret to making the best homemade guacamole- flaked sea salt. I first ate it on guacamole at a restaurant off the beaten path in the US that boasted of having the " best guacamole in the state". Sure sure, I thought, but we wanted Mexican food that night and tried it anyways. It literally was THE BEST guacamole I have ever eaten and part of it was because of the crunchy, flaky sea salt.
Use freshly smashed avocados. That was the other secret to that amazing guacamole. They smashed it, seasoned it with garlic, cilantro and sea salt and brought it straight to your table. We ended up ordering another bowl it was so amazing!
If you want a smooth guacamole, try this one at Simply Recipes guacamole 
The lime juice will actually help keep the guacamole from browning, but like I said in #2, fresh is the best!
My main secret to this guacamole recipe? You are going to mash ONE avocado as a base for the rest of the chunky ingredients. This makes it absolute guacamole perfection, I kid you not! By mashing one of the avocados you are creating a "sauce" that will coat the avocado chunks, the tomatoes etc and it is honestly the best way to make guacamole ever!
You can keep this in the fridge for an hour or two, I personally don't like warm guacamole so I have to refrigerate mine for an hour or so. It won't go brown as long as you cover it and use it within a couple of hours for sure.
The cumin is a nice flavour but I only like a smidgen of it in the guacamole.It will overpower the other fresh taste of the tomato/garlic/onion and those are what make guacamole so good. Use it at your own risk!
Drain those tomatoes!  Slice them and drain them to get all the seeds and juice out of them. I place them in a colander in the sink and then just swish them around every minute or so while prepping my other ingredients. The seeds and juice eventually fall through and then you have perfect tomatoes for guacamole.
Guacamole is HEALTHY for you!
I don't like the term superfood, but if I had to apply it I would definitely call guacamole one! When you make homemade guacamole, you are using at least 3-4  incredibly healthy foods – onions, garlic, avocados and tomatoes. When you pair it with crisp vegetables instead of tortillas? A power meal. I like to use carrots, celery and cauliflower for scooping the guac when I feel like skipping the chips.
I will feed this homemade guacamole to everyone from now on – and I'm sure that there is at least one friend that is going to read this and ask me why I'm not making it for her. You know who you are but don't worry, I'm going to make sure that this is on the menu for all of our future girls weekends away. I ate this for supper the other night with homemade pita chips and it was the best supper I've had in months. Forget holiday dinners, I could seriously live on this. Homemade guacamole is pretty much my favourite food, you guys, and I plan on eating this once a week for supper – and I'm totally serious. Now that I've mastered my favourite recipe, it's guacamole game on!
If you are looking for some more appetizers or entertaining recipes, try these:
If you need some party cocktails try these:
Hope you love it! Let me know in the comments!
Love,
Karlynn
 Pin This Recipe to Your Party Snacks or Appetizers Boards!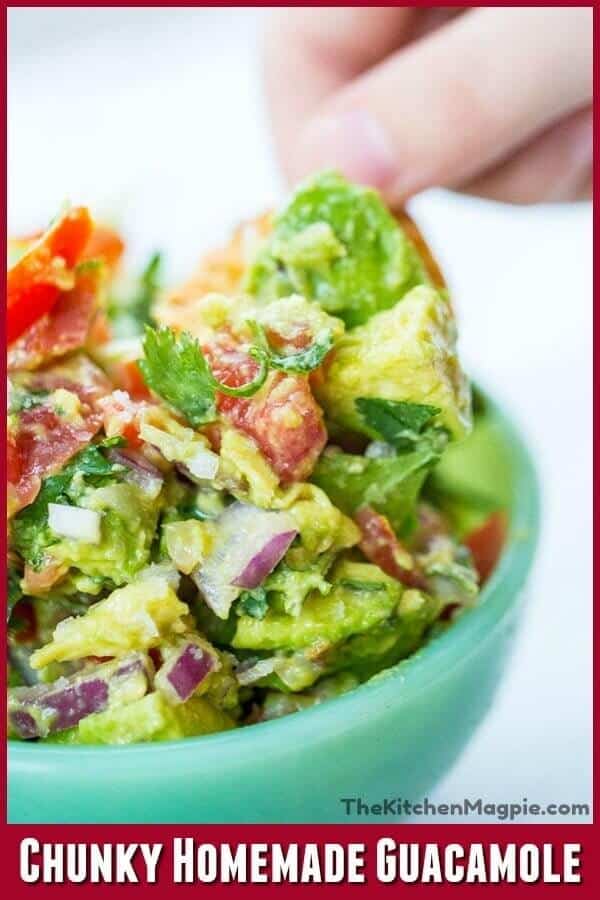 Easy Chunky Homemade Guacamole Recipe
Do you love chunky guac? Then my Easy Chunky Homemade Guacamole Recipe is the one for you!
Course: Appetizer
Cuisine: Mexican
Keyword: homemade guacamole
Servings: 4
Calories: 265 kcal
Ingredients
3 large ripe but firm avocadoes
1/2 cup finely diced red onion
1 cup diced Roma tomatoes drained well
1 tbsp minced garlic
2 tbsp lime juice
1/2 cup cilantro chopped
1/4 tsp cumin if wanted
1 tbsp flaked sea salt
Instructions
Cut the avocados in half, remove the pits and then scoop out the insides with a spoon, leaving them as whole as you can. Mash ONE avocado - trust me, this is the secret to making this perfect!

Cut the remaining two avocados into chunks, I usually do it around 1/3 of an inch. Make sure they are a good size for scooping, not too large!

Place the MASHED avocado in a medium bowl. Add in the red onion, tomatoes, garlic, lime juice and cilantro. IF you are using jalapeno or cumin, add them now as well. Mix together well. Once this is combined,add in the avocado chunks. Mix until they are coated. Add in the sea salt to taste - I always use more, I LOVE it salty! Add more lime juice at this point as well, to taste.

Serve right away, or refrigerate for an hour or two.
Recipe Video
Recipe Notes
Guacamole is very much a "make it to your own taste" dish. I LOVE it salty and limey, so adjust it at the very end to suit your own tastes.
Nutrition Facts
Easy Chunky Homemade Guacamole Recipe
Amount Per Serving
Calories 265 Calories from Fat 198
% Daily Value*
Total Fat 22g 34%
Saturated Fat 3g 15%
Sodium 1842mg 77%
Potassium 883mg 25%
Total Carbohydrates 18g 6%
Dietary Fiber 11g 44%
Sugars 3g
Protein 3g 6%
Vitamin A 8.5%
Vitamin C 31%
Calcium 4.5%
Iron 8.3%
* Percent Daily Values are based on a 2000 calorie diet.
24