This post may contain affiliate links. See my privacy policy for details.
Meatballs are delicious and versatile, but they can be tricky to make at home. Why not learn all of the necessary steps to making some delicious Easy Homemade Meatballs all on your own?
Once you have perfected your meatball-making skills why not try something a little more complicated like these Classic Retro Porcupine Meatballs? Or for a fun appetizer make sure to try Grape Jelly Meatballs!
Table of Contents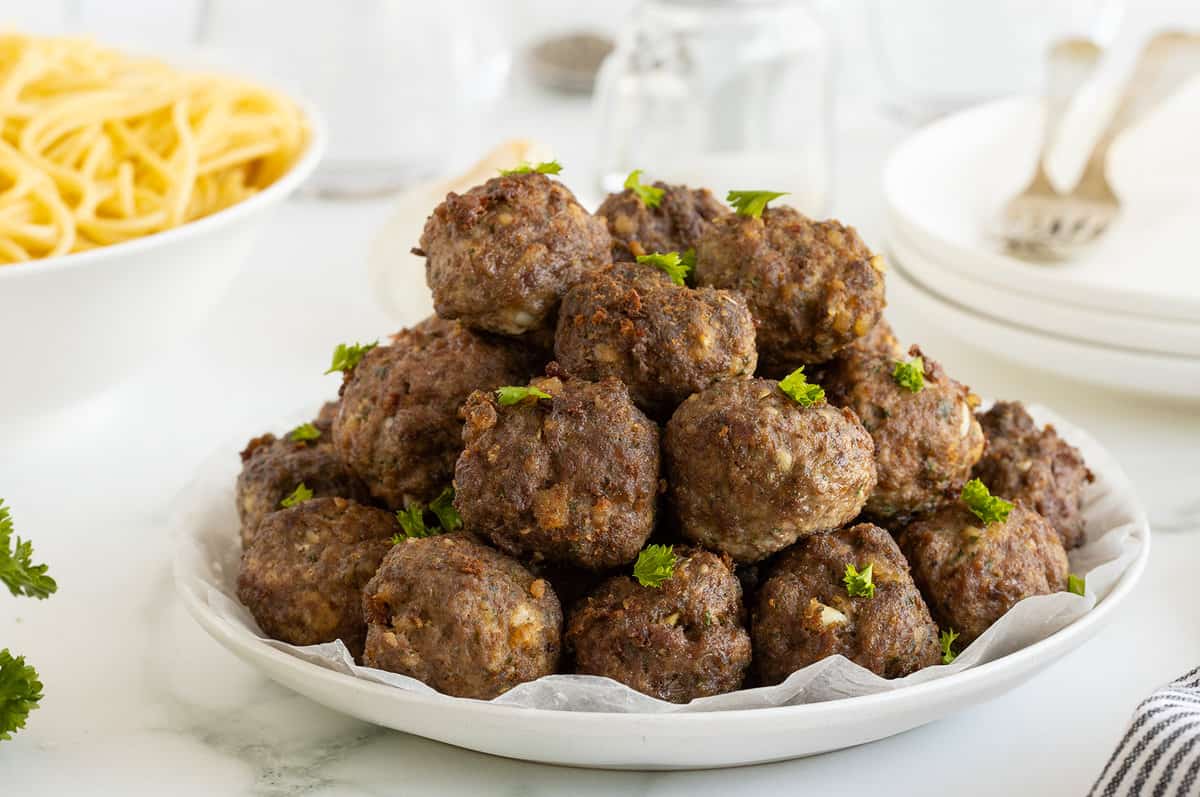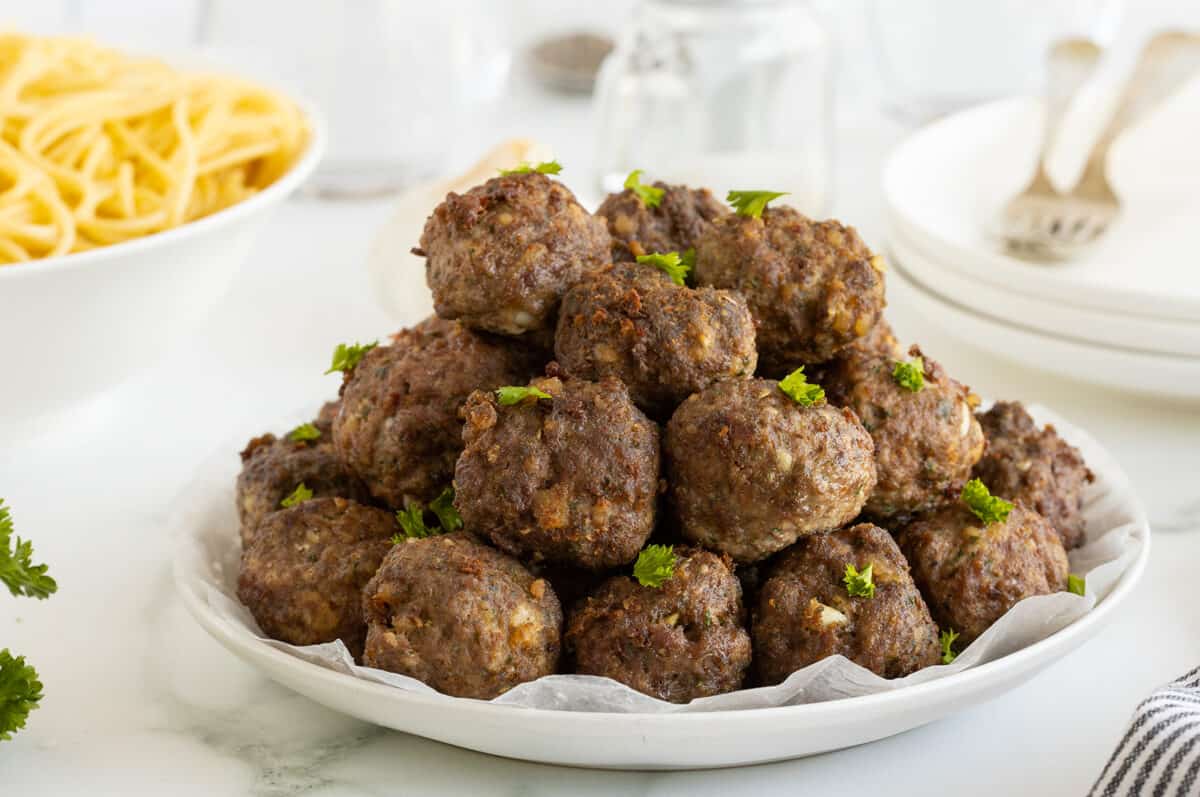 How To Make Meatballs
Meatballs are just great; whether they are in spaghetti, a casserole, or served in marinara sauce in a sandwich, they are one of the most versatile and tasty ways to get some delicious protein into your diet.
When making your own meatballs, however, there are a few hurdles you need to overcome to be able to make the perfect meatball.
Here is a little guide to teach you not only the steps to making a meatball but how to make the best one possible.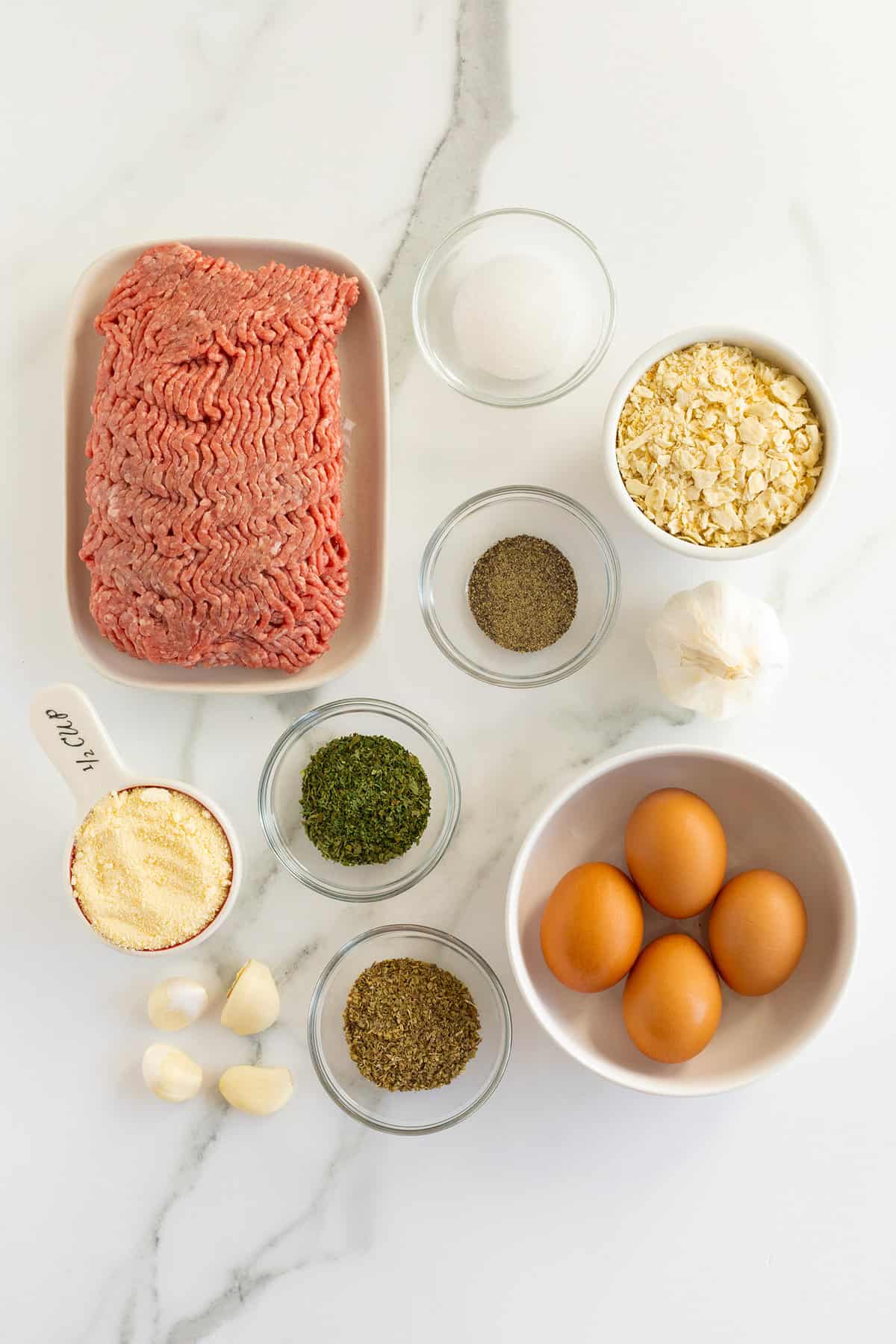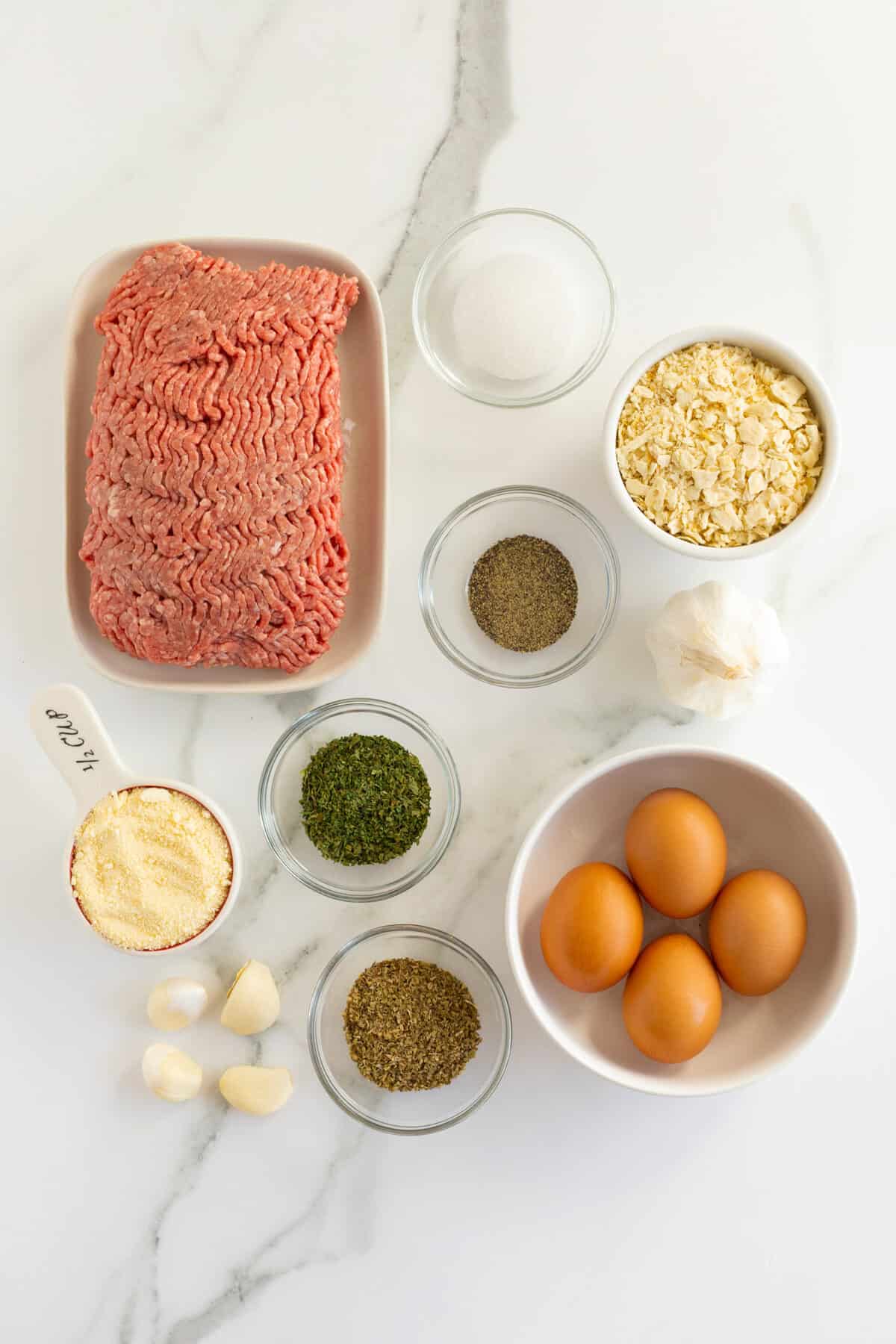 Choosing The Right Meat
The first step to making great meatballs is choosing the right meat.
Ground beef is the most commonly used meat for meatballs and for good reason. Beef is juicy, savory, and tender, but you can also use ground pork, turkey, or any other combination of meats.
The main difference between using different types of meat is going to be the temperature that the meat is officially safe to eat, as well as its final tenderness.
Beef and pork cook pretty similarly, so you can expect a similar final texture, whereas chicken and turkey mince are poultry, and are thus going to have a totally different flavor profile, as well as final texture.
You can also think about combining different types of meat together – a common combination is 50% beef mixed with 50% pork, to produce a juicy, super savory meatball.
Choose whichever meat you prefer, but beef on its own is probably the simplest and safest option.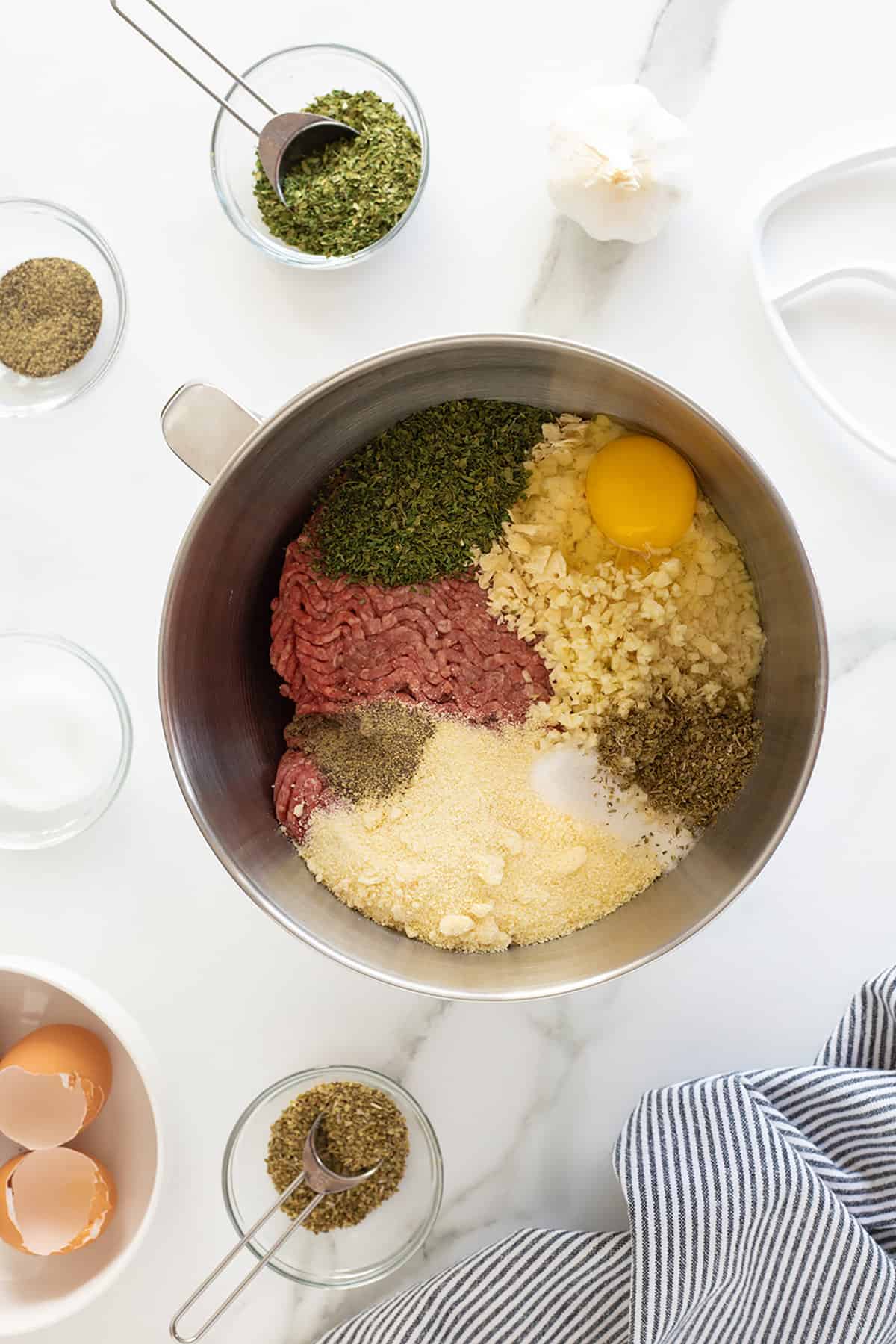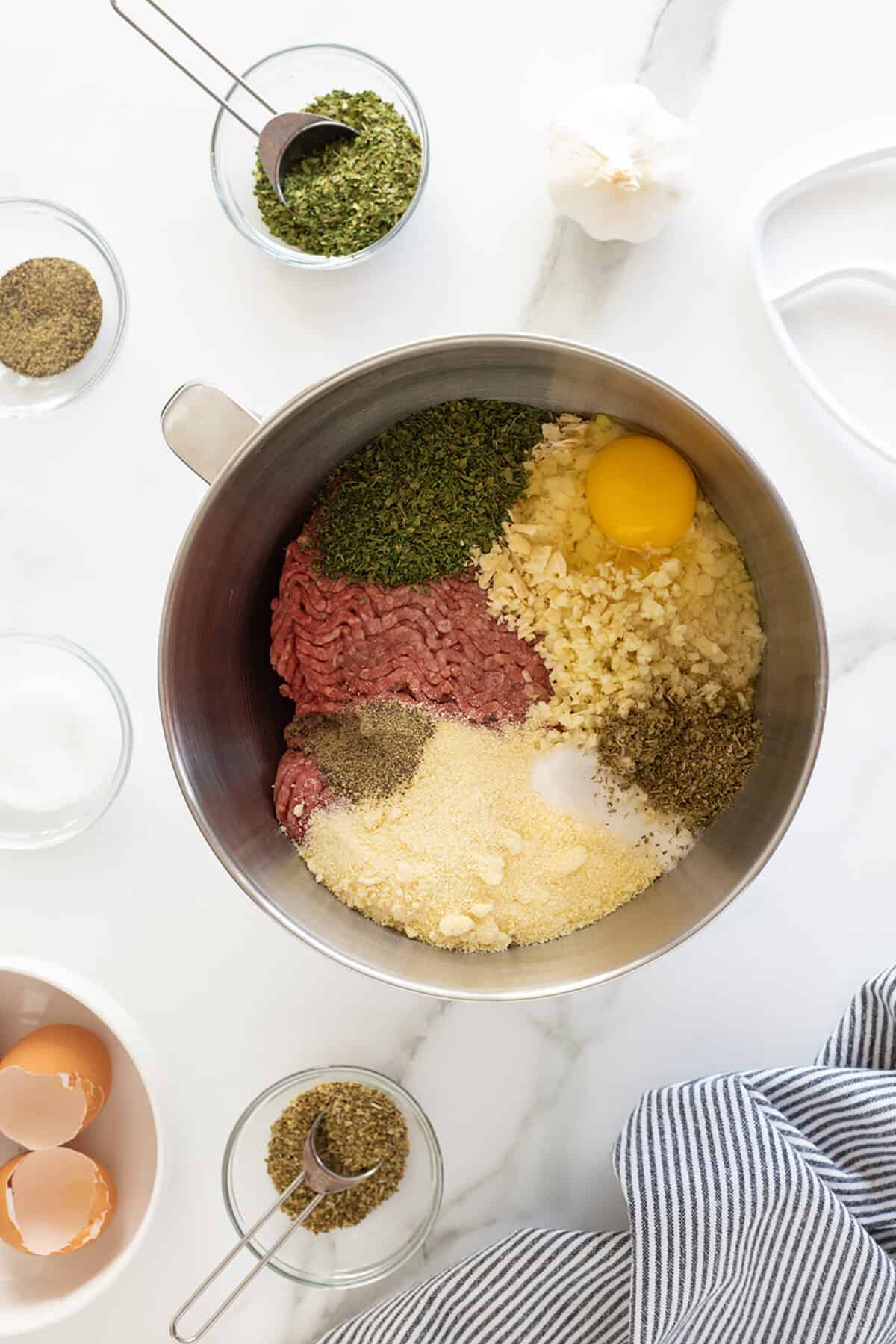 Deciding On Your Meatball Seasoning Blend
The next step to make perfect meatballs is to decide on your seasoning blend.
While some people might think meatballs are nothing more than meat rolled into a ball, meatballs are actually a great opportunity to experiment with different flavors, and there are countless seasoning options available.
A classic blend for making meatballs includes garlic, onion, salt, and pepper, but you can also add in herbs like oregano, parsley, or basil for extra flavor.
A little bit of cheese, like Parmesan or mozzarella, added to the meatball mixture is also a great idea. Not only does it add a ton of additional flavor, but it adds a deep, rich saltiness and cheesiness, as well as the potential for that little bit of cheese stretch.
Experiment with different flavors until you find a blend that you love, but just remember to keep the salt content in mind. You want to make sure that your meatballs are decently salty, to ensure that every bite is properly salty enough to make it taste right.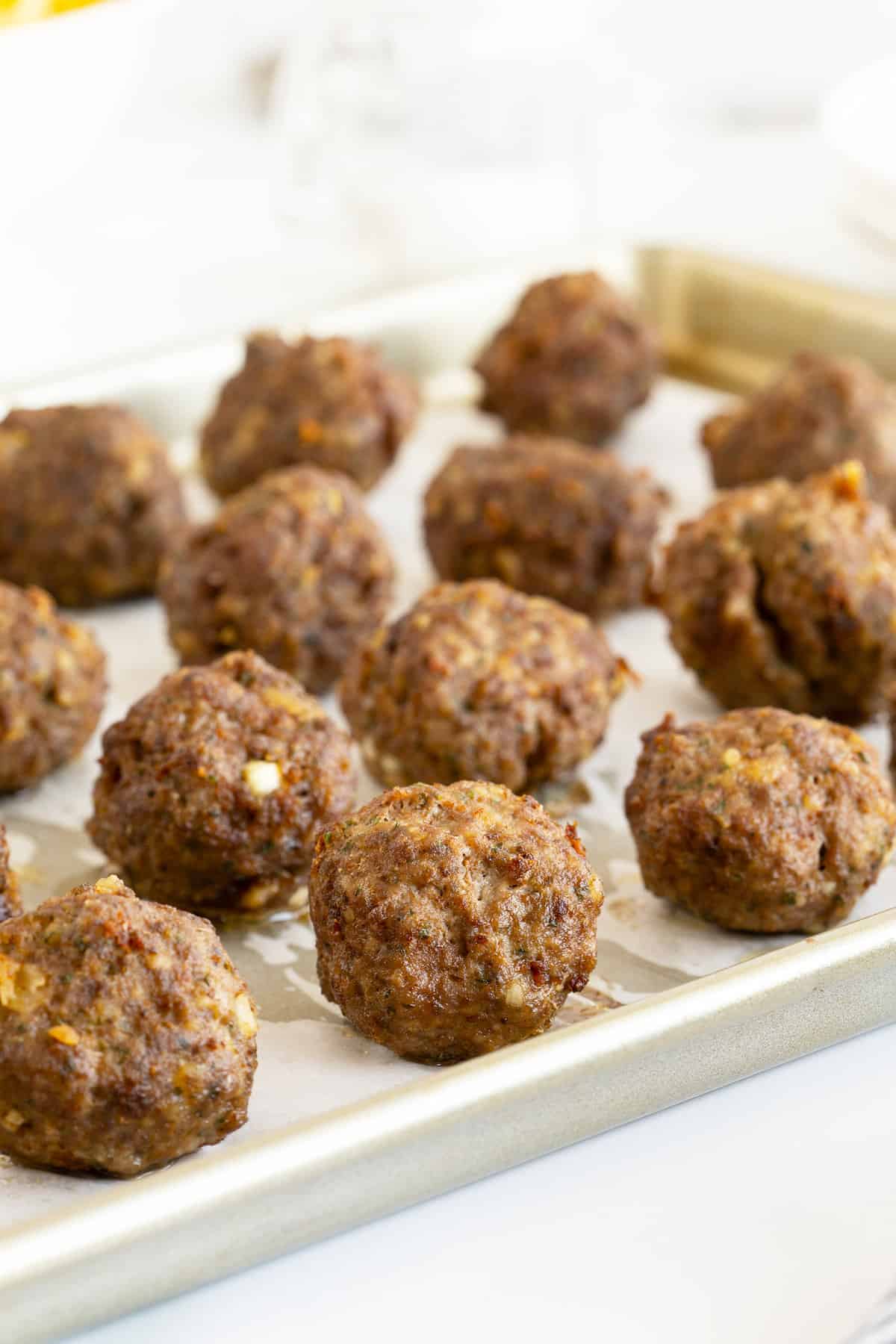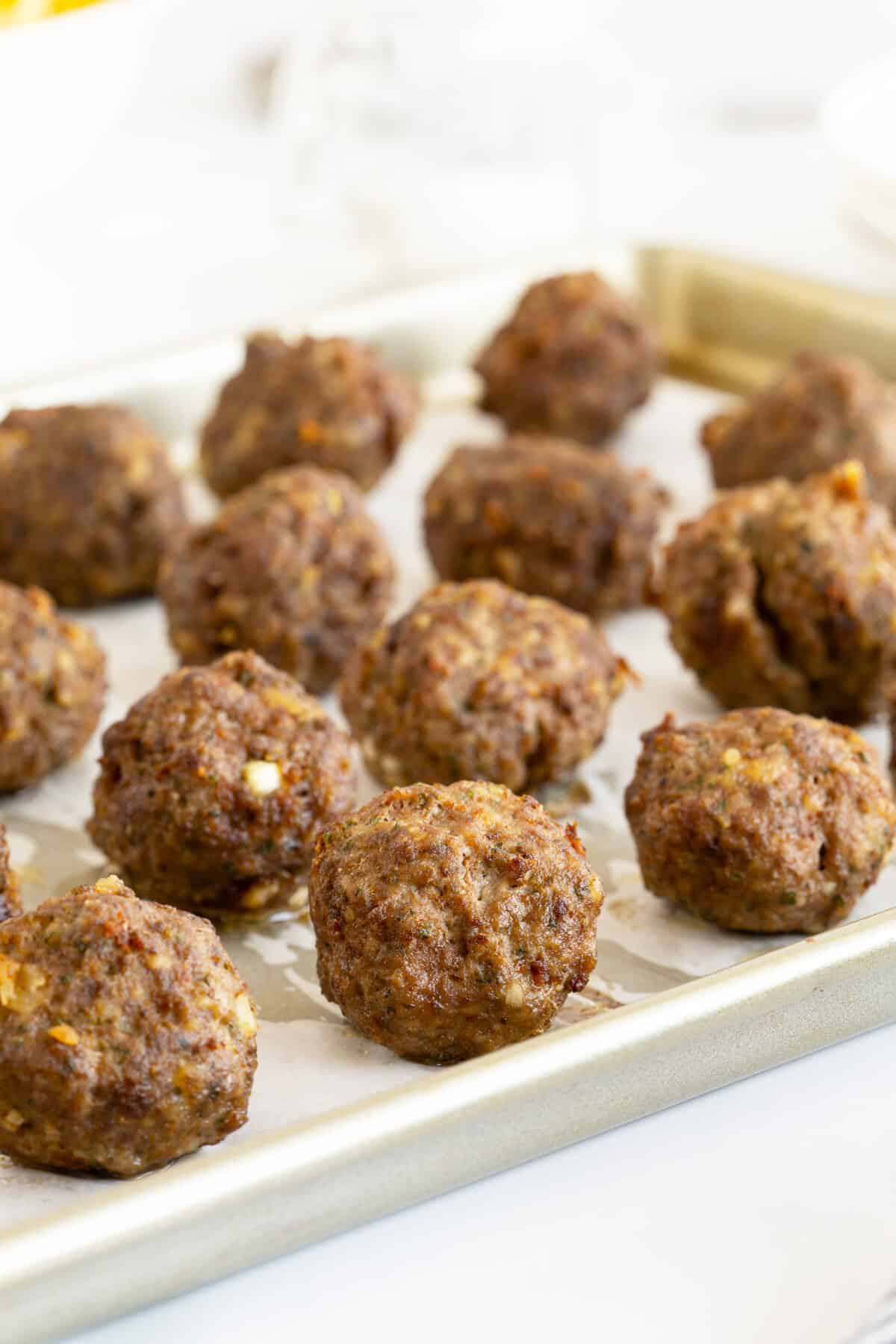 Tips For Mixing Meatballs For The Best Texture
The biggest thing that tends to catch people out when making meatballs is their tendency to become chewy and almost sausage-like.
Well, the key to avoiding this tacky, chewy, gross texture is to ensure you don't overmix your meatball mixture.
Just like when making cookies, overmixing causes it to toughen up and get chewy.
Instead, only mix your meatball mixture just enough to ensure everything is mixed together, and then stop. You don't want it to clump up or turn into a thick ball, so stop the moment you think it looks just about mixed enough.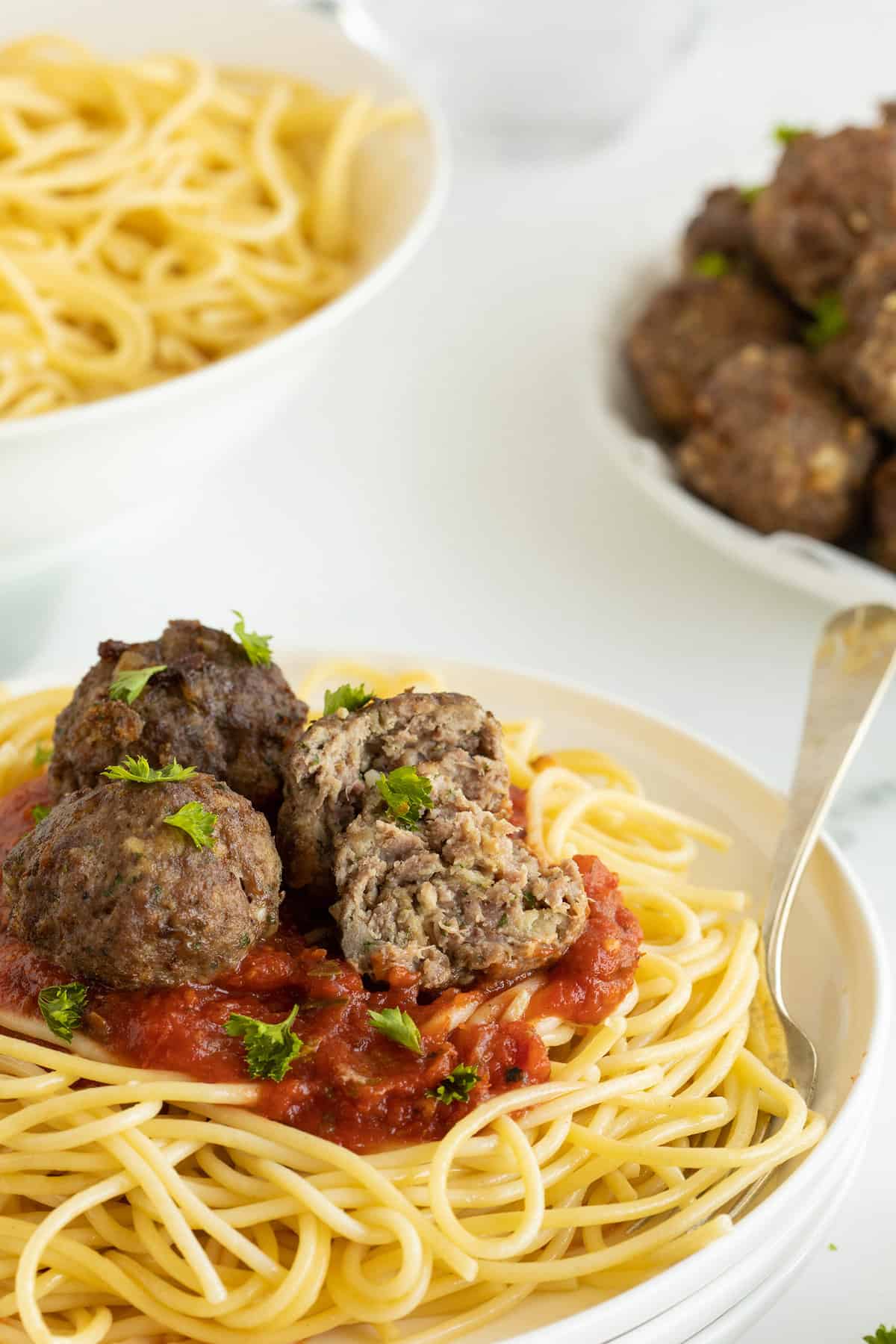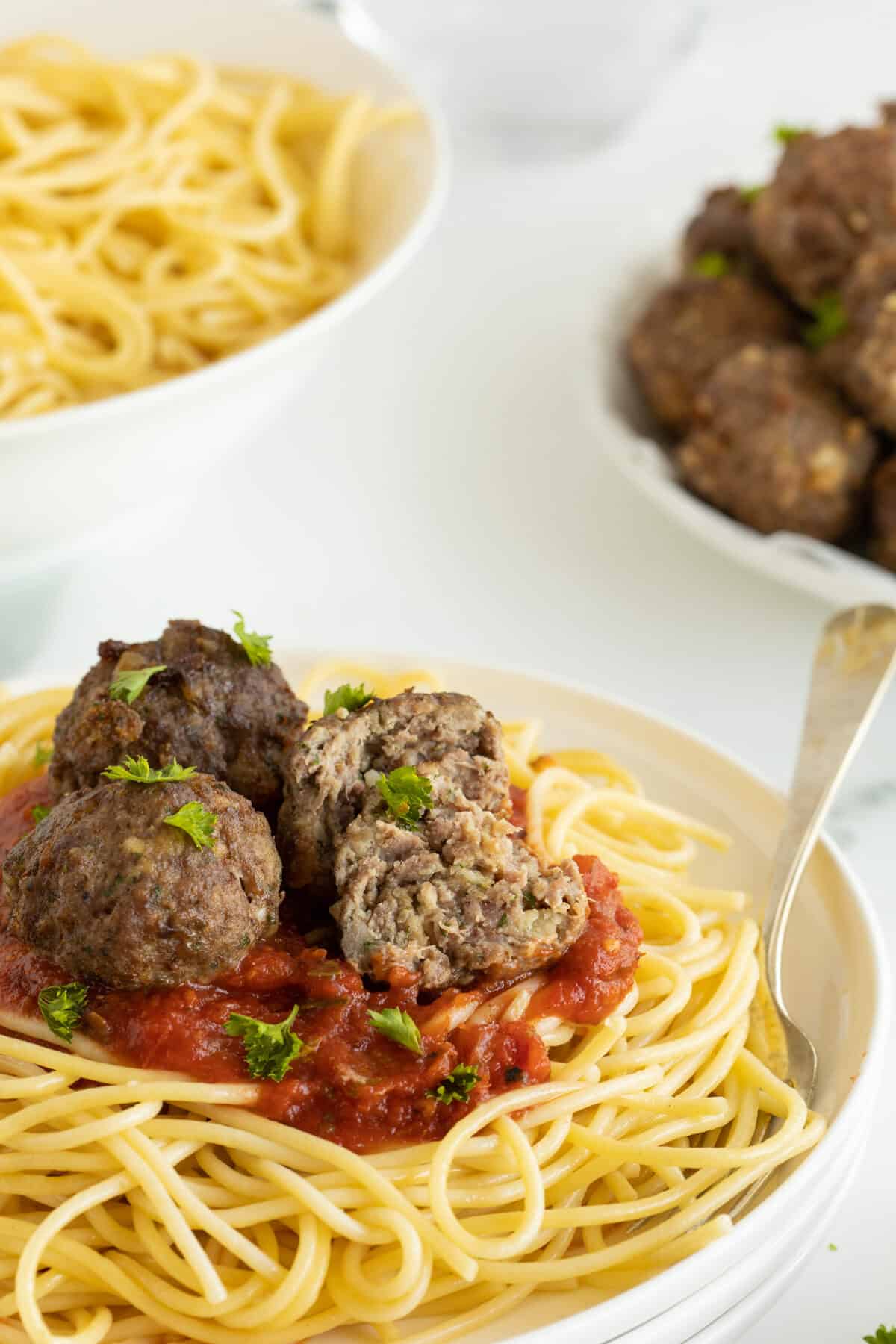 How To Form Your Meatballs
Once you have chosen your meat and seasoning blend, it's time to start forming your meatballs into their shapes.
First, you need to decide on the right size for your meatballs; do you want them big, or small?
Big meatballs are great for serving only one or two at a time per person, usually accompanied with sauce or in something like spaghetti and meatballs.
Smaller meatballs, however, are great for things like turning them into snacks, or for really increasing the amount of browned goodness on each meatball.
Whichever size you choose, mix all of your meatball mixtures together until well combined, being not to overwork the meat, as this can make your meatballs tough.
Roll the meatballs out into whatever size you want, and then get them ready for cooking, either in the oven or in a pan.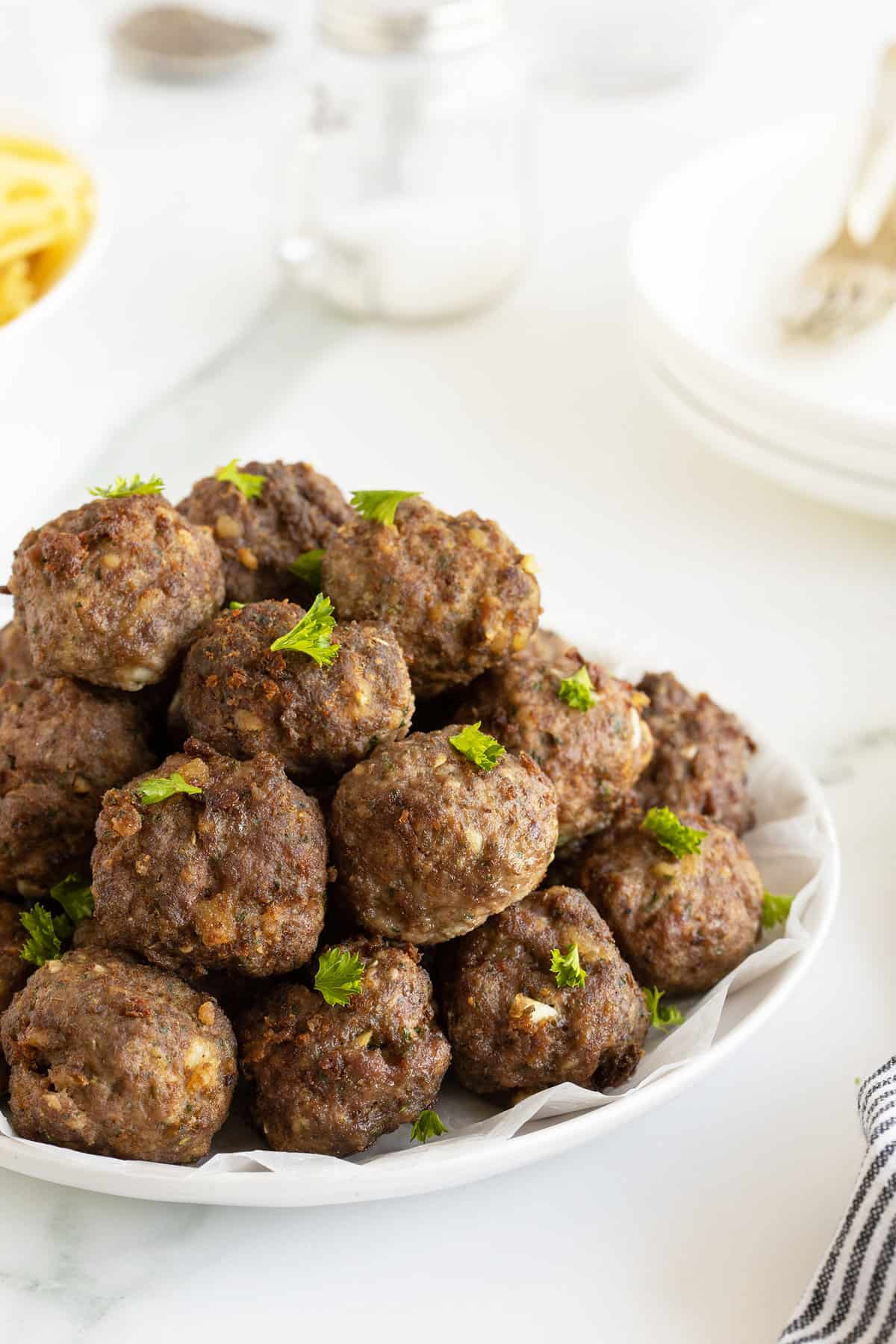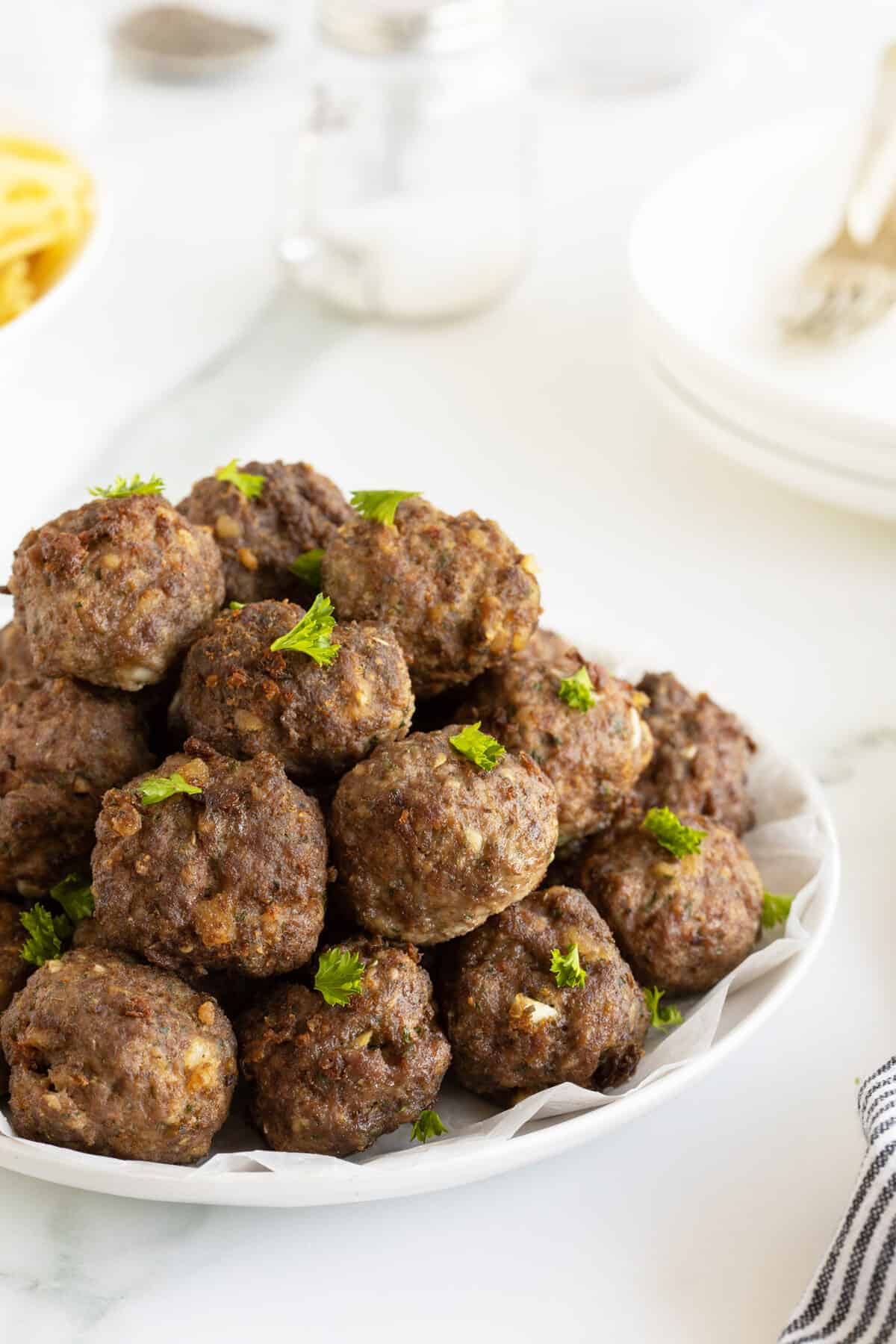 Cooking Your Meatballs
There are all kinds of ways to cook meatballs, from baking and frying to simmering them in a sauce.
By far the easiest is baking, as it requires no added fat and produces tender meatballs with a slightly crispy exterior.
Baking is just throwing your meatballs onto a sheet tray and cooking them at around 400 Fahrenheit for 15 to 20 minutes, or until the meatballs reach their safe temperature, usually around 165 Fahrenheit.
An alternative is to fry your meatballs instead. To fry your meatballs, heat a large skillet over medium-high heat and add a small amount of oil to the pan, followed by the meatballs.
Cook the meatballs for 8-10 minutes, turning them occasionally, until they are browned on all sides and cooked through. While you should pay attention to their internal temperatures, you really just want to be watching the buildup of the browned bits on your meatballs, as well as any fond in the pan to help stop it from burning.
Finally, simmering meatballs in a sauce is a great option if you want to infuse them with extra flavor, as well as avoid the risk of burning.
To simmer your meatballs, heat your favorite tomato or other kind of sauce in a large pot over medium heat. Add the meatballs to the sauce and simmer for 20-30 minutes, or until the meatballs are cooked through.
Everything should taste meaty, rich, and delicious, with plenty of developed flavors from both the sauce and the meatballs!
Can You Eat Your Meatballs Straight Away Or Should They Be Left To Rest?
Once your meatballs are cooked, you may be tempted to dig in right away, but it's important to let them rest for a few minutes first.
Resting time allows the natural meat juices to redistribute throughout the meat, making your meatballs even more flavorful and juicy.
This is actually the same logic as making a steak – give your meat the proper time it needs to become delicious, and you won't regret having to wait those few extra minutes.
Looking for more great How To Guides? Try these out:
• How to Roast and Cook Eggplant
• How to Microwave Corn on the Cob
Happy Cooking
Love,
Karlynn

PIN THIS RECIPE to your DINNER RECIPES Boards and Remember to FOLLOW ME ON PINTEREST!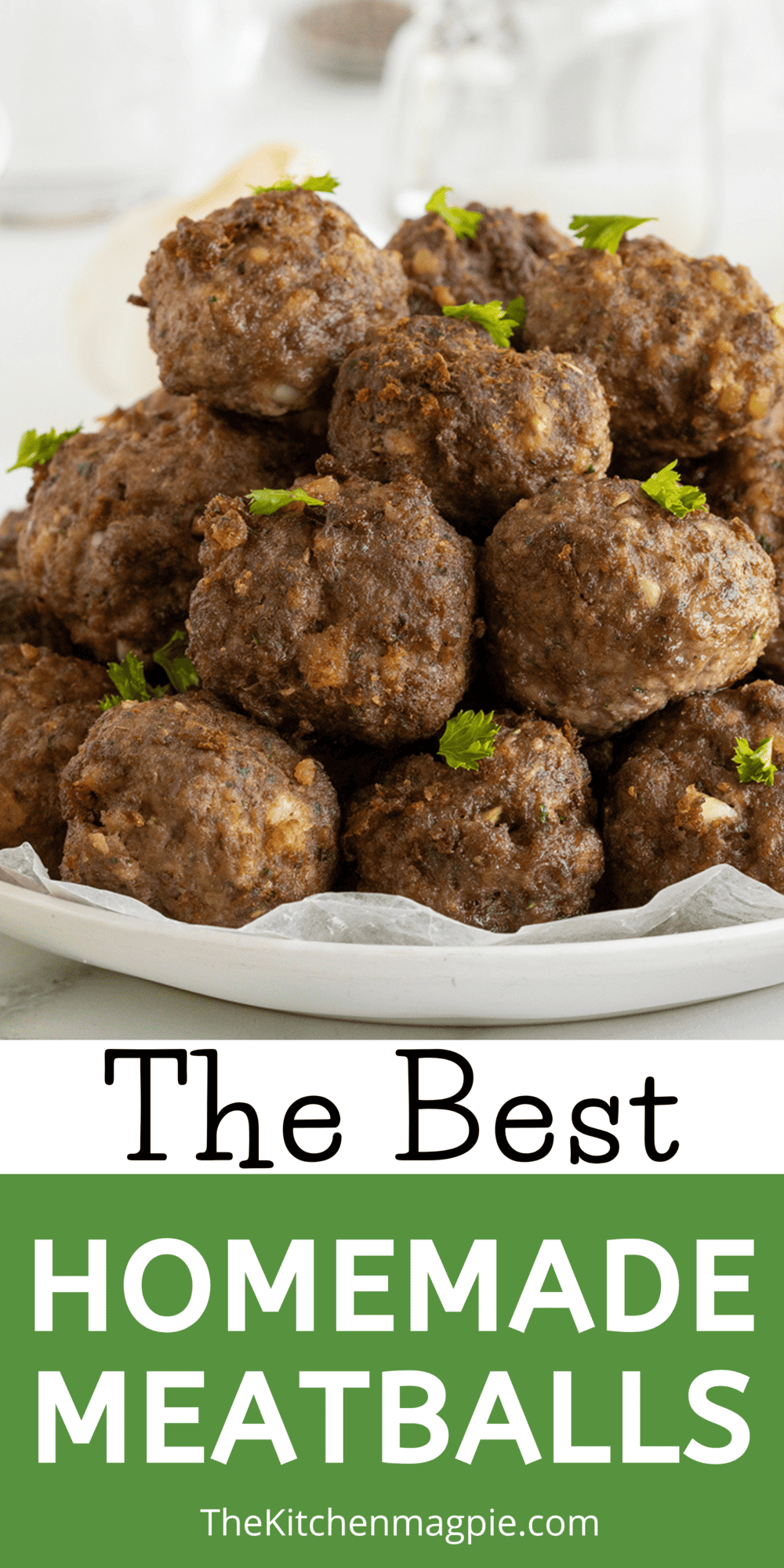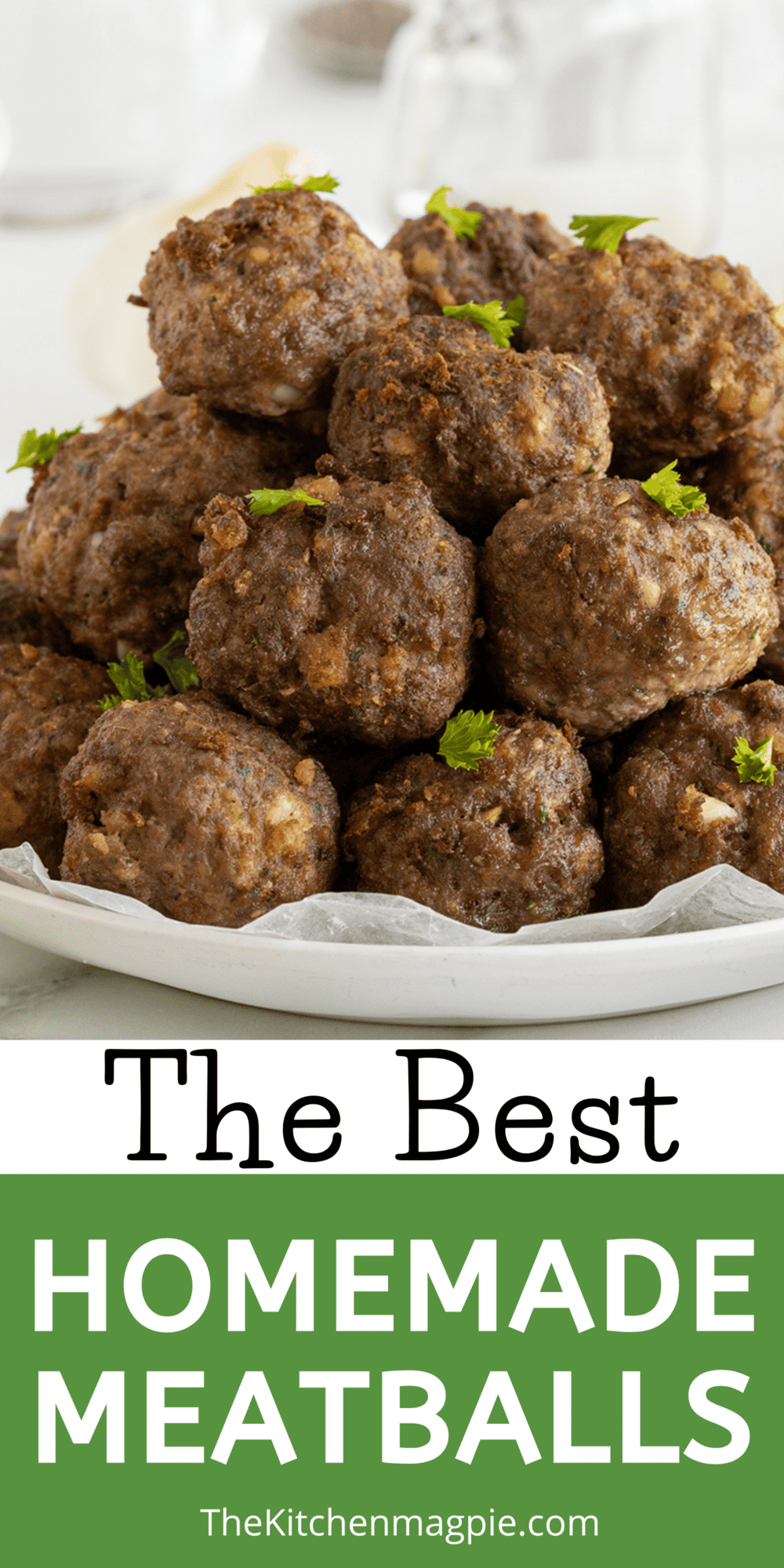 The Best Easy Homemade Meatballs Recipe
How to make delicious homemade meatballs in a big batch that you can then freeze and use for meals later on!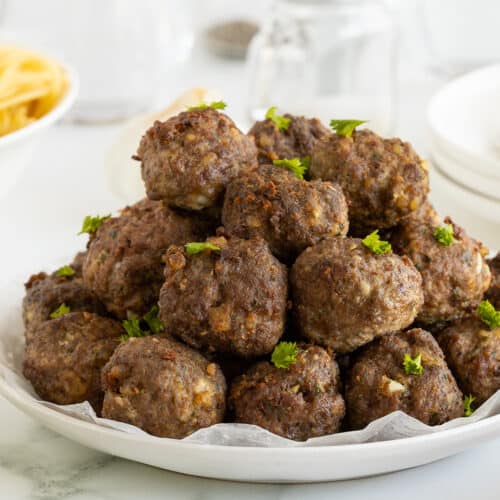 Prep Time

20

minutes
Cook Time

15

minutes
Total Time

35

minutes
Course

Main Course
Cuisine

American
Servings

36
Calories

83
Author
Ingredients
2

pounds

ground beef

4

eggs

3/4

cup

crushed saltine crackers

1/2

cup

powdered parmesan

3

tablespoons

dried parsley

4

whole fresh garlic cloves – pressed

1

teaspoon

salt

1

teaspoon

oregano

1/2

teaspoon

pepper
Instructions
If you have a stand mixer to use it makes this recipe so much easier. If not use a large bowl.

Put all ingredients in large bowl. If using a mixer, use the paddle attachment. Mix until all ingredients are well incorporated.

Get large frying pan and put in about 2 tablespoons vegetable oil in the bottom. Set to medium heat.

Once the meat is well mixed take small amount, about the size of a ping pong ball and roll into a ball and put into the pan. Roll the remaining into meatballs and place in pan.

When cooking them, I prefer to fully cook them until they are well browned on all sides about 15 minutes.

Once cooked make sure they have no pink remaining and are cooked through.

Line a large baking pan with parchment paper. Place all the cooked meatballs on the baking sheet and place in the freezer for minimum 6 hours.

Once frozen, remove the meatballs from the pans and place in ziploc bags in whatever quantity that will suit your family meals.
Recipe Notes
The amount of meatballs this makes will vary depending on the size of the meatball you make.
Nutrition Information
Calories:
83
kcal
,
Carbohydrates:
1
g
,
Protein:
5
g
,
Fat:
6
g
,
Saturated Fat:
2
g
,
Cholesterol:
37
mg
,
Sodium:
126
mg
,
Potassium:
83
mg
,
Vitamin A:
40
IU
,
Vitamin C:
0.2
mg
,
Calcium:
27
mg
,
Iron:
0.7
mg
All calories and info are based on a third party calculator and are only an estimate. Actual nutritional info will vary with brands used, your measuring methods, portion sizes and more.
Made this recipe?
Share a photo of what you made on Instagram or Facebook and tag me @thekitchenmagpie or hashtag it #thekitchenmagpie.
Please rate this recipe in the comments below to help out your fellow cooks!
Learn to cook like the Kitchen Magpie