These Classic Retro Porcupine Meatballs are a taste from my childhood. If you were a child of the 70's, I can almost guarantee that your mom made these. We ate these ate least twice a month when I was growing up and there's nothing like my Mom's porcupine meatballs recipe! 
Porcupine Meatballs Are Fast, Easy & Delicious!
I'm not sure if you knew this, but I've been working on a SECOND cookbook! I know, right? What a surprise!
If there was an award for sarcasm, I'd be a champion every year. Really though you guys, it's crunch time. While getting in my manuscript was definitely an intense project, that's nothing compared to the photography that was due. It's all up to me, no help, no other photographer and let me tell you, this cookbook of mine is going to be stuffed to the gills with photos which means a lot of work from me again.  I will have an official announcement soon as to where and when you can pre-order!
Now, back to making porcupine meatballs!  With being so busy that I'm working pretty much 10-12 hour days lately, I am returning to classic meals like you wouldn't believe. I need tried and true recipes that aren't fussy, that I know my kids will eat and that are easy.
Classic Retro Porcupine Meatballs are easy, amazing, retro and BOTH OF MY KIDS ATE THEM.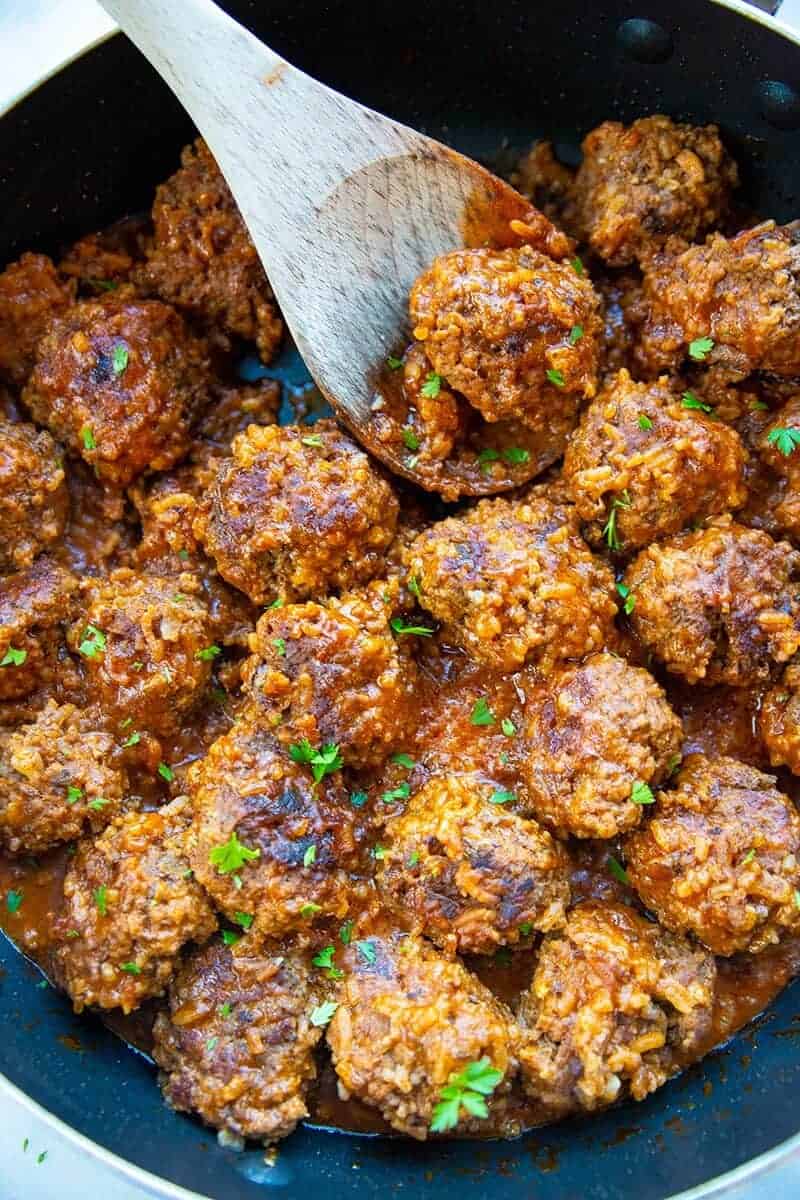 Let that sink in for a moment. Both. Kids.  That's worthy of a fist pump into the air. Now wait, this gets even better, hold on to yer hats.
My daughter SWIRLED HER PORCUPINE MEATBALL INTO HER PILE OF PLAIN BUTTERED RICE SAUCE AND ALL.
Yes, I just screamed that at you in all caps. Every single parent of a picky eater just GASPED OUT LOUD, didn't you? Some of you may have even crossed yourselves and sent a prayer to the Good Lord above. You don't mess with the plain buttered rice. That's what picky kids live off of. She intentionally put this sauce and chopped up meatball into her plain rice. It's basically the end of the world.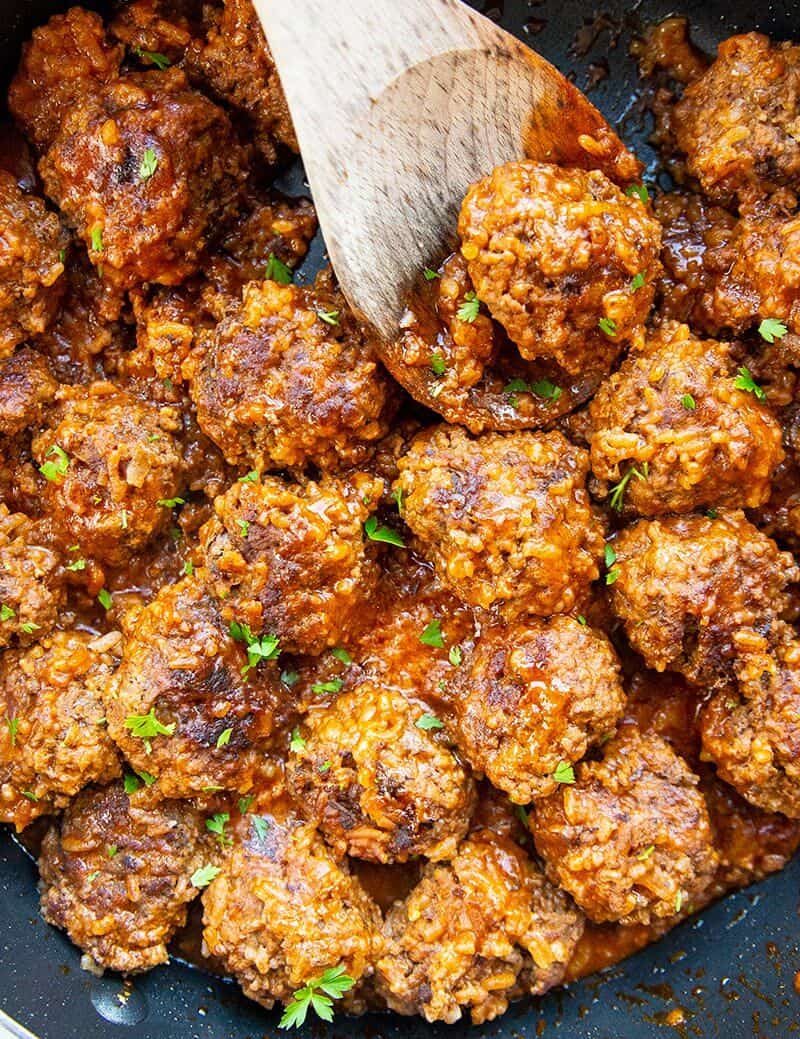 We demolished these last night like a pack of wolves. There are 5 meatballs left from the 25 that this recipe made and I'm quite proud to say that my son made these ( with a little teaching help from Mom, of course.) He's tackling another recipe today, Baba Ganoush, so that will be on the website soon! We have the eggplants all roasted and he's ready to rock!
These classic retro porcupine meatballs brought me right back to my childhood as this is something we ate on an almost regular basis. I actually haven't eaten them in years but they've been on that To-Make list that I keep in my head at all times. Finally the stars aligned and I had a few spare moments to cook in the evening instead of editing photos and voila! Here they are!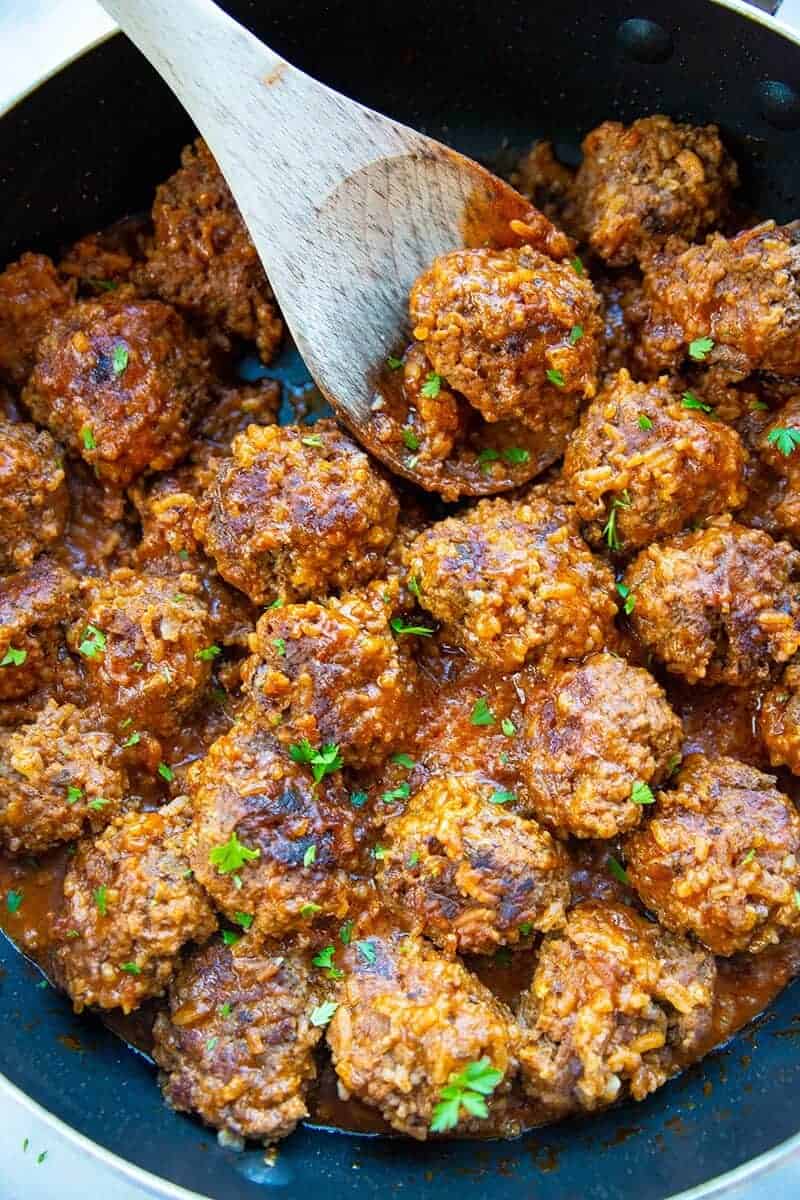 How do you cook porcupine meatballs?
I SWEAR that my mom used to just dump everything for porcupine meatballs into a roaster, cook it and then serve it up. I prefer using a skillet, as I find that it saves a step of transferring everything to a roaster The only thing that I sometimes change in the traditional recipe is to use half ground beef and half ground pork. I find that the ground pork makes for juicier meatballs. You can definitely double this recipe (I did) you simply need a larger skillet for the meatballs. You can use all ground beef if you like, but I suggest trying them with ground pork, they are so delicious!
Do you cook the rice first?
Nope! You don't have to cook the rice before making these porcupine meatballs, that's the beauty of them! The rice cooks inside the meatballs, helping to hold them together ( note I don't use egg in mine, you don't need to but you can add on if you like) and ends up perfectly done every time.
I also use two pounds of ground meat, if you are going to go to all that effort then you should make enough for a few leftovers as well! This porcupine meatball recipe yields around 24-25 large meatballs.
Happy cooking everyone!
Love,
Karlynn
Pin this recipe to your DINNER IDEAS Board and remember to FOLLOW ME ON PINTEREST!
Classic Porcupine Meatballs
How to make classic porcupine meatballs! These rice filled meatballs with tomato sauce are a one of my favourite recipes from my childhood!
Course: Main Course
Cuisine: American
Keyword: porcupine meatballs
Servings: 6
Calories: 485 kcal
Ingredients
1 tablespoon canola oil
1/2 cup uncooked long grain rice
1/2 cup water
1 tbsp onion soup mix
1/2 teaspoon garlic powder
1 pound ground beef
1 lb ground pork
1 (10-11 oz) can of tomato soup
1/2 cup water
1 1/2 tablespoons brown sugar
1 tbsp Worcestershire sauce
Instructions
Place the canola oil in a large frying pan.

In a large mixing bowl combine the rice, water, soup mix, garlic powder, ground beef and ground pork. Mix together well (I always just use my hands since I have to form meatballs anyways) and form into 1 1/2 inch meatballs, around 22-25. They will be loose because of the water, but you need the moisture in there for the rice, trust me they will cook up nicely!

Heat a large lidded saute pan and then fry all of the meatballs until golden brown on all sides. When starting, fry them for a long time on the first side, cooking them until they are really browned so that when you flip them they don't fall apart.

When all of the meatballs are done , drain the excess fat off, then combine the last four ingredients together and pour over top of the meatballs.

Place a lid on top of the saute pan and simmer on medium-low heat for another 20-30 minutes, until the rice in the meatballs is cooked, stirring every 10 minutes or so. I actually just shake the lidded pan back and forth to move things around.

Serve and enjoy! We make rice and serve these and the sauce over top.
Recipe Notes
You can double the sauce if you want a lot of sauce in this recipe easily, it will fit in the large saute pan.
Nutrition Facts
Classic Porcupine Meatballs
Amount Per Serving (4 meatballs)
Calories 485 Calories from Fat 297
% Daily Value*
Total Fat 33g 51%
Saturated Fat 11g 55%
Cholesterol 108mg 36%
Sodium 225mg 9%
Potassium 470mg 13%
Total Carbohydrates 16g 5%
Sugars 3g
Protein 26g 52%
Vitamin C 1.1%
Calcium 3.6%
Iron 13.4%
* Percent Daily Values are based on a 2000 calorie diet.
54