Classic Retro Porcupine Meatballs
I'm not sure if you knew this, but I'm working on a cookbook.
I know, right? What a surprise!
If there was an award for sarcasm, I'd be a champion every year. Really though you guys, it's crunch time. While getting in my manuscript this summer was definitely an intense project, that's nothing compared to the photography that's due mid-October. It's all up to me, no help, no other photographer and let me tell you, this cookbook of mine is going to be stuffed to the gills with photos. My pet peeve has always been recipes without photos in cookbooks, meaning that when I proposed my book, I made sure that I said that there is a photos for every…single….recipe.. in my upcoming book. I just can't stand it when I can't see what a recipe looks like and I can't be the only one who feels that way. Right? Right??!!
Which sounded great at the time, until I realized that I made my workload HUGE.
However, it's going to be one visually beautiful book. (I hope!) I'd be shocked if we come in under 150 photos for it by the time we are done. Just say that to yourself a few times. One hunnnnndred fifty photos. That 150 however means that I will probably have ended up shooting around 200 photos, and chosen the best 150. I'm going to guess that we'll come in around the 160 mark IN the book when we are done.
So you know, while I have all those photos to take, why not start my YouTube channel as well? You can click HERE to subscribe and FYI there is going to be a lot more than just recipes on there. You know me, I'm such an eclectic writer with travel, food, kids and whatever I feel like that my YouTube channel won't be any different.
So with being so busy that I'm working pretty much 10-12 hour days lately, I am returning to classic meals like you wouldn't believe. I need tried and true recipes that aren't fussy, that I know my kids will eat and that are easy.
Classic Retro Porcupine Meatballs are easy, amazing, retro and BOTH OF MY KIDS ATE THEM.
Let that sink in for a moment. Both. Kids.  That's worthy of a fist pump into the air.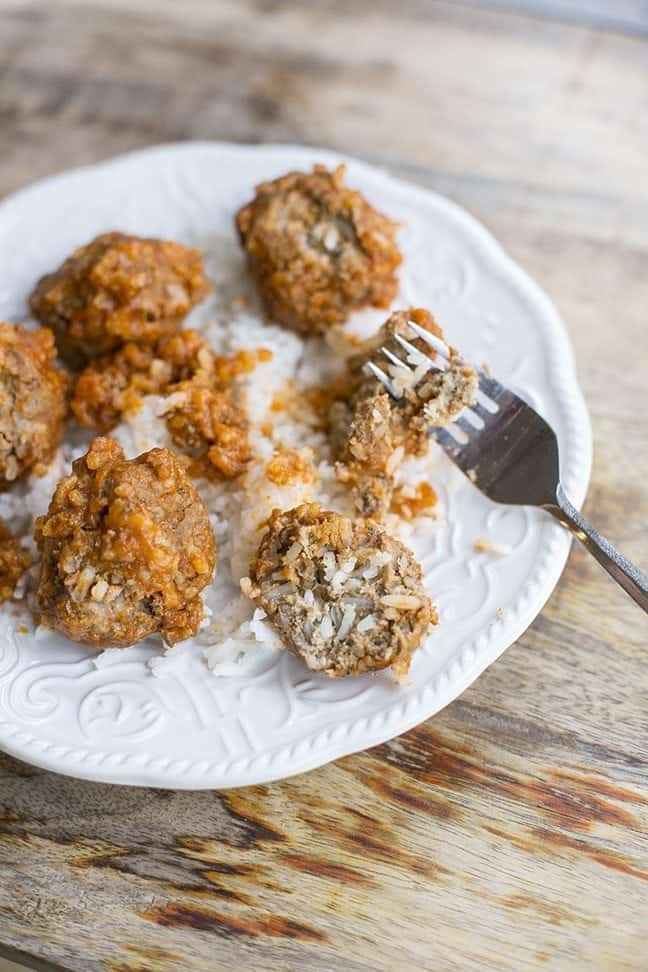 These classic retro porcupine meatballs brought me right back to my childhood as this is something we ate on an almost regular basis. I actually haven't eaten them in years but they've been on that To-Make list that I keep in my head at all times. Finally the stars aligned and I had a few spare moments to cook in the evening instead of editing photos and voila! Here they are!
The only thing that I change in the traditional recipe is to use half ground beef and half ground pork. I find that the ground pork makes for juicier meatballs. You can definitely double this recipe (I did) you simply need a larger skillet for the meatballs. You can use all ground beef if you like, but I suggest trying them with ground pork, they are so delicious!
Happy cooking everyone!
Love,
Karlynn
Classic Porcupine Meatballs
Retrolicious classic porcupine meatballs!
Ingredients
1

tablespoon

canola oil

1/2

cup

uncooked long grain rice

1/2

cup

water

1

tbsp

onion soup mix

1/2

teaspoon

garlic powder

1/2

pound

ground beef

1/2

lb

ground pork

1

can of tomato soup

1/2

cup

water

1 1/2

tablespoons

brown sugar

1

tbsp

Worcestershire sauce
Instructions
Place the canola oil in a large frying pan.

In a large mixing bowl combine the rice, water, soup mix, garlic powder, ground beef and ground pork. Mix together well (I always just use my hands since I have to form meatballs anyways) and form into 1 1/2 inch meatballs.

Heat the skillet and then fry all of the meatballs until golden brown on all sides.

When all of the meatballs are done , drain the excess fat off, then combine the last four ingredients together and pour over top of the meatballs.

Place a lid on top of the skilet and simmer on medium-low heat for 50-60 minutes, until the rice in the meatballs is cooked.

Serve and enjoy!
Nutrition Facts
Classic Porcupine Meatballs
Amount Per Serving (4 servings)
Calories 0
* Percent Daily Values are based on a 2000 calorie diet.
0