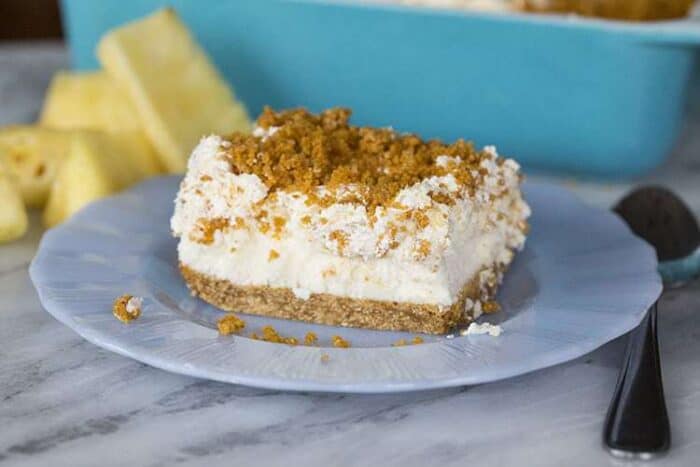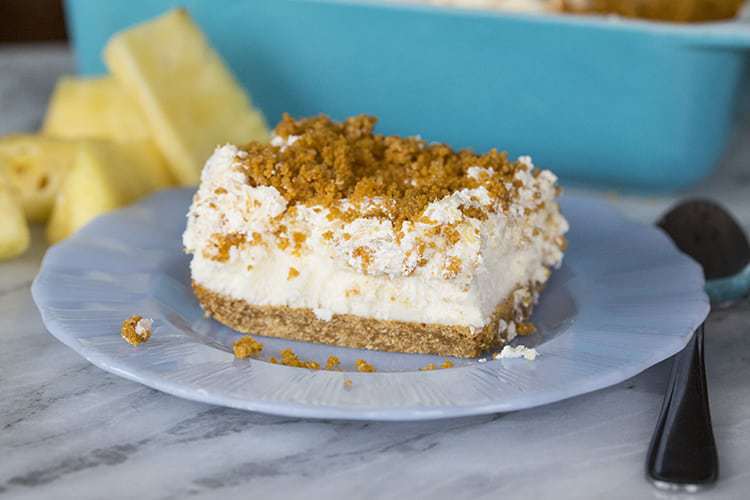 This is another one of my grandma's recipes, and one of my favorites. Oh, fine, they are all my favorites. It's a given. This Pineapple slice is a light, airy, just sweet enough dessert that now has taken top place in my husbands heart over the old one, cherry cha-cha, another family classic.
She used to put 2 raw eggs in the middle layer, not something I recommend for a family-with-young-kids recipe, but I am sure, nay, positive I ate this as a child and well, obviously never croaked, but never got sick either. I wasn't willing to risk it on my kids, because it depended on my own talent at keeping the mixture cool and refrigerated, as well as trusting that the eggs were properly handled before they reached the supermarket. You can buy pasteurized eggs, and perhaps those would be best in this.
Either way, if you're looking for a great dessert for Easter or just for one of the best pineapple slice recipes you can find, you've got it!
This recipe is perfect for Easter, it can be prepared and then is actually best when it's forgotten!
Some other great recipes you might want to check out: Strawberry Pretzel Dessert Salad, No-Knead Focaccia Bread Recipe ( Peasant Bread)

Easter Dessert : Pineapple Slice
This is our family's favourite dessert for Easter, easy and delicious Pineapple slice!
Crust
2 1/2 cups graham crumbs better if you make them yourself
1/2 cup of margarine
Middle layer:
2 cups of icing sugar
1/2 cup of margarine
1/2 cup of cream cheese or 2 eggs
Topping:
1 cup of whipped cream
1 large can crushed pineapple drained thoroughly (20 ounces)
Melt the margarine and combine the first ingredients for the crust. I crushed the wafers myself and it made such a lovely, chunky, solid crust! Press 2/3 of the mixture firmly into an 8×8 (or a 9×9) pan and bake at 300 for 8-10 minutes.
When the crust is cooling, whip up the cream cheese (or eggs) icing sugar and margarine.
When the crust is completely cooled, spread the mixture on top.
Time for the topping! Whip up the cream until, well, it's whipped cream. Fold in the very well drained pineapple.
Put the topping on, then sprinkle the rest of the graham crumb mixture on top. Refrigerate overnight for best results, or at least 4 hours if it's for the same day.
151