For all the fancy recipes I post, I mainly live on oatmeal during the week for breakfast, especially in the wintertime. It's quick ,easy, healthy and filling, the things that count the most when you are trying to feed your family and get out the door to school. Crockpot oatmeal has been around as long as slow cookers themselves have but I never got around to trying it out.
Well, check that off the list of things to try. It's tried, done and was a hit with the whole family!
It was so fabulous to wake up to a warm breakfast already made in the crockpot and not only that, using steel cut oats. I usually don't have time to make steel cut oats in the morning since they take forever to cook and mornings are crazy as it is, nevermind cooking something for 20 minutes or more.
A few tips when making this:
Grease the heck out of the inside of your crockpot! It will stick, but if you don't mind soaking your slow cooker after cooking (and really, they are always crusty after using them)
A slow cooker  with a "keep warm" setting is invaluable for this and I can't suggest more that with your next purchase you make sure your slow cooker has that setting. This took 8 hours on low in my crockpot then stayed warm until we got up. If you have a speedy crockpot however, it make only take 6 hours. I don't know about you, but I sleep (or try to) more than 6 hours a night!
To extend the overnight cooking time, make sure all the contents are very cold! This is a trick I use all the time. Use very cold water and very cold milk and you extend the cooking time a lot!
I didn't add much sugar, you can play with the amount but honestly I would just add sugar on top at the end!
I really hope you enjoy this recipe and give it a try! Let me know what you think! I will be posting more oatmeal recipes in the weeks to come since it's a staple in our house for breakfast. The recipe is below as always!
Thanks for stopping in!
Love,
Karlynn
** Remember to join ZIPLIST to create your own online recipe box and then click SAVE on my recipe below to add it! I use my online recipe box ALL the time! **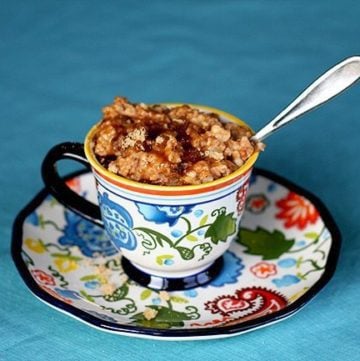 Overnight Cinnamon Raisin Crockpot Oatmeal
Cinnamon raisin oatmeal done the crockpot overnight while you sleep! Nothing like waking up to a delicious hot breakfast all ready for you!
Ingredients
1

cup

of steel cut oats

2

cups

water

2 1/2

cups

milk

1/2

cup

of raisins

1/2

cup

brown sugar

2

teaspoon

cinnamon

1

sprinkle

cloves

1

sprinkle

nutmeg
Instructions
Grease the inside of your crockpot with butter.

Place the first 4 ingredients in a crock pot and stir to combine.

Cook the oatmeal on low heat for 6-8 hours; all crockpots vary in heat and cooking time.

Serve with the toppings of your choice (brown sugar, maple syrup).
Nutrition Facts
Overnight Cinnamon Raisin Crockpot Oatmeal
Amount Per Serving (6 g)
Calories 272
Calories from Fat 45
% Daily Value*
Total Fat 5g 8%
Cholesterol 10mg 3%
Sodium 56mg 2%
Potassium 258mg 7%
Total Carbohydrates 50g 17%
Protein 7g 14%
* Percent Daily Values are based on a 2000 calorie diet.
1